My Creative Workbook
Christine de Beer - effortless floral craftsman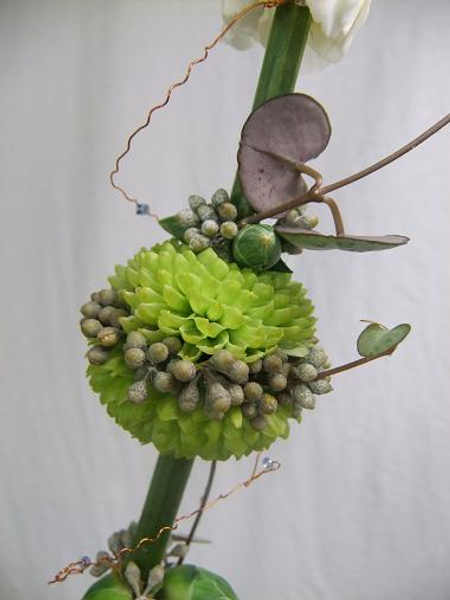 Ceropegia woodii
Pompon Chrysanthemum pom-poms and strands of Rosary vine for my floral lariat necklace in the Canadian Florist Magazine
Common name
Rosary vine, Chain of Hearts, Collar of hearts and String of hearts
Origin
South Africa, Swaziland, Zimbabwe
Varieties
New varieties have been selected but mostly for their beauty as houseplants rather than for the cut flower industry.
Colors
Leaves are variegated or either deep green or pale green (underside pinkish to bright purple) depending on the amount of sunlight the plant is exposed to and the flowers are white or purple in colour
Vase life
As a pot plant the trailing stems will continue to grow and develop side shoots. Cut for design work the leaves will last as long as most succulents without water and will root if designed in water over time.
Uses
The leaves look fantastic in detailed work. Long trailing stems add movement and can also be used to bind stems.
Conditioning
Most designers grow the plants and cut the long strings as needed. Water the plant only when dry and do not allow the plant to stand in water. Keep the plant in a warm area (above 15'C) and in partial shade.
Sign up for my weekly newsletter
Every week I add a new design with related tutorials. Be sure to subscribe to receive an email notification with design inspiration.