My Creative Workbook
Christine de Beer - effortless floral craftsman
Weave a daffodil corona inspired sweater for a lily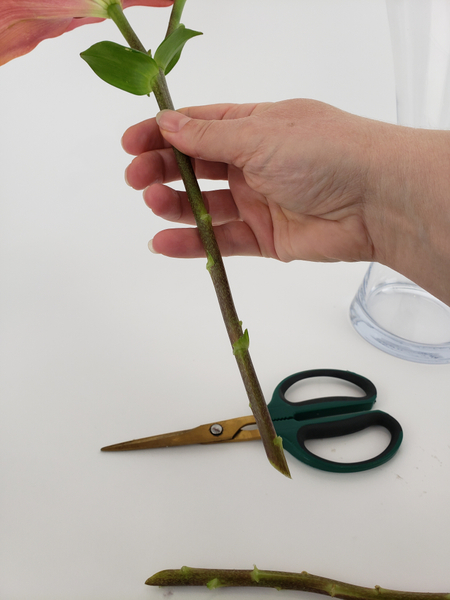 Give a lily stem a fresh cut...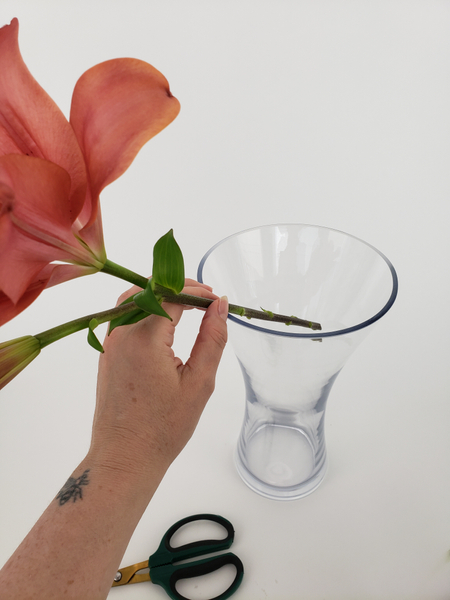 Place the stem in a water filled vase so that it remains hydrated.
Design note: make sure the lily is fully hydrated to minimize bruising the flower as you weave.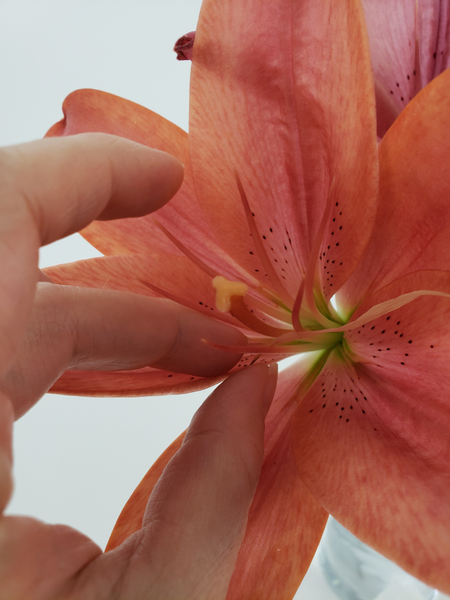 Remove all the anthers and one whole filament. You are using the stamens to weave and there should be only 5 left.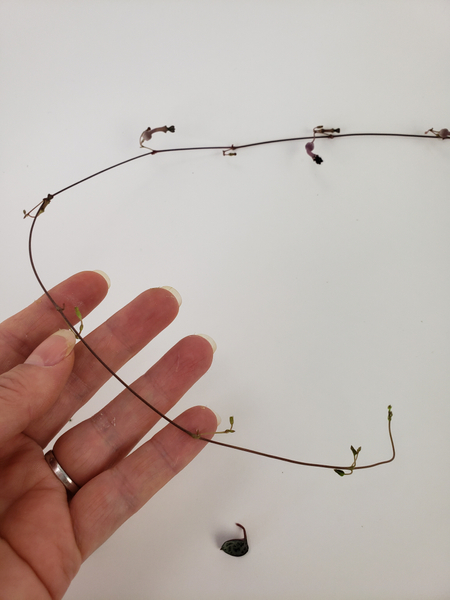 Remove all the heart shaped foliage from a Ceropegia woodii vine. Connect lengths of vine to create one continues weaving garland. Make sure you are signed up for my weekly newsletter email. This week I have a special tip for you on how to cut the vine so that you can glue them into one long piece.
Design note: keep the foliage. They are great to include in designs and will last well cut from the vine.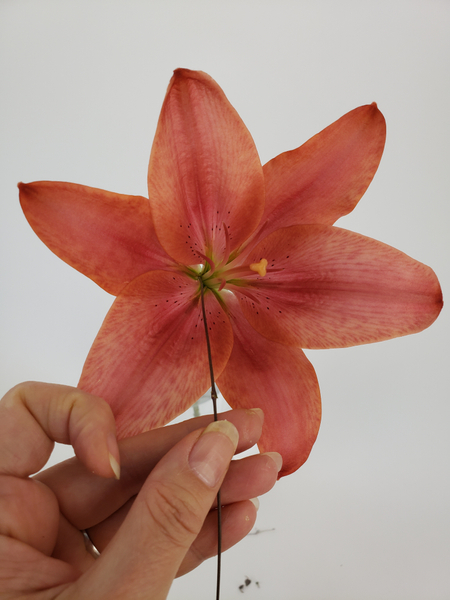 Glue the vine end deep into the lily flower...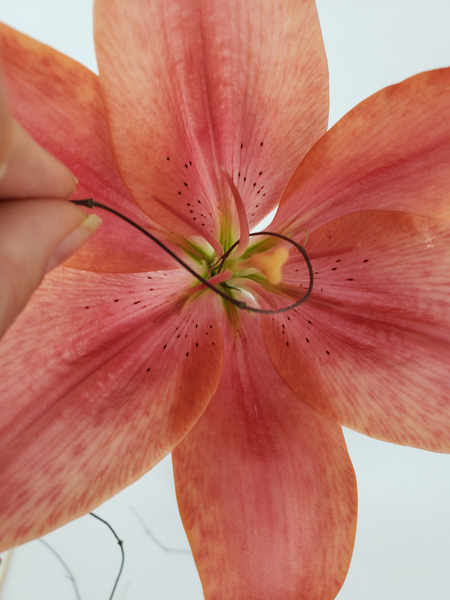 Curve and weave the vine around the filament.
This weave is extremely delicate. Make sure not to bump into the filament or it will break. Also make sure not to bump into the petals so that they bruise as little as possible. I used a basic in and out weaving pattern so that it is not too complicated or distracting inside the flower. See the Tutorial below for more detailed instructions on how to weave with foliage and stems.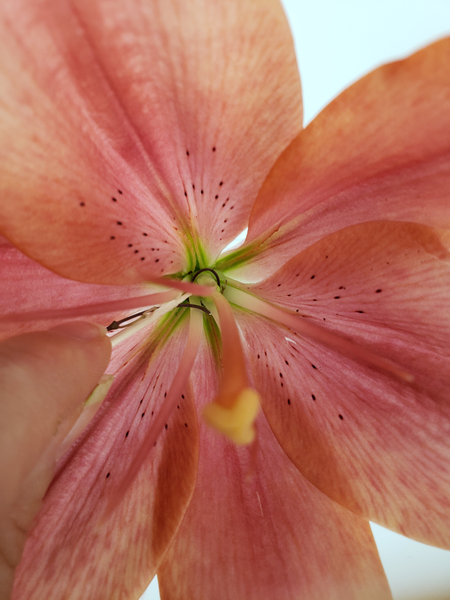 Press the weave deep into the flower with a bamboo skewer.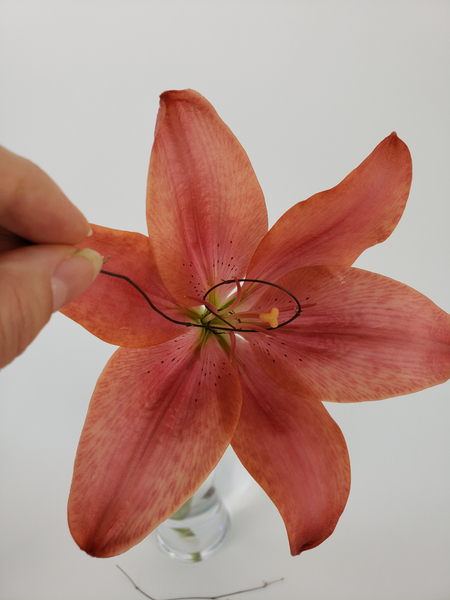 Curve the vine again and weave it in and out of the filaments...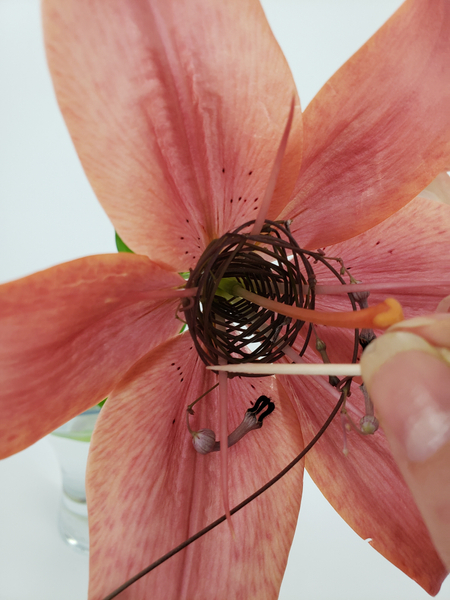 Curve the vine around and around the inside of the lily weaving it in and out of the filament.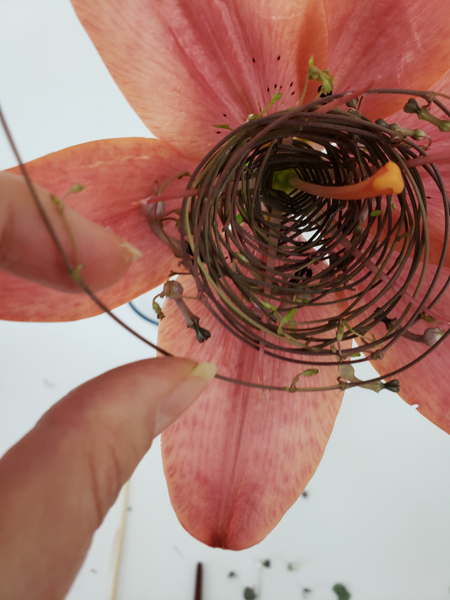 Every time you weave a circle make it open up a little wider to mimic the corona of a daffodil.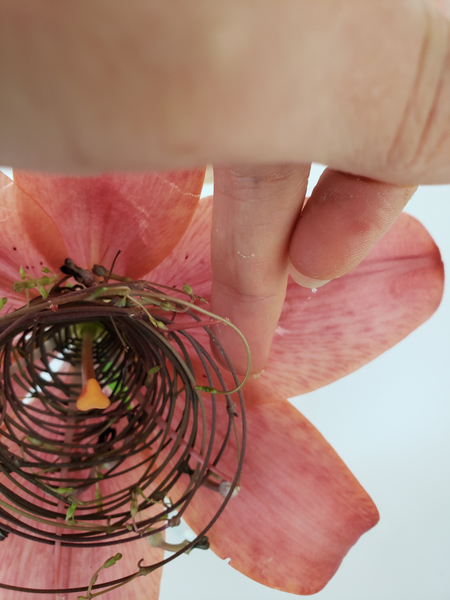 As you weave, make sure the vine flowers curve around the outside of the vine so that it creates a neat weave when you look into the flower.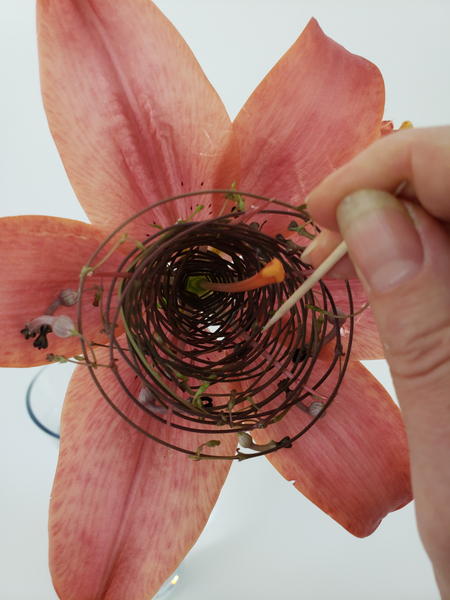 Reposition the vine so that it is spaced out all the way up the filament. If the vine slides back down add the tiniest drop of floral glue to keep it in place.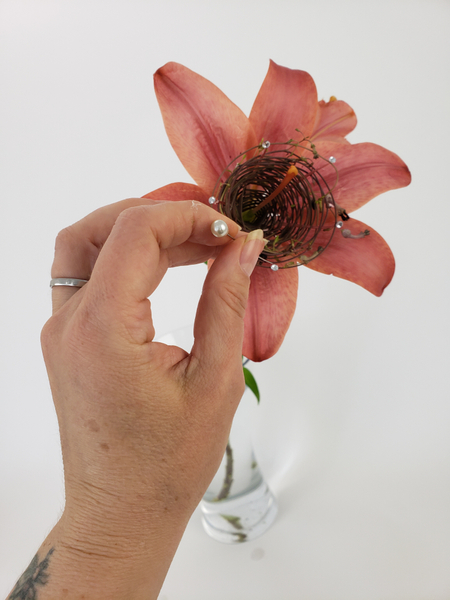 To keep the top most vine in place add tiny dew drop crystals to the filament ends... and then lift the vine to adhere to the back of the crystal.
For a detailed Tutorial on how I glue these tiny dew drop crystals to a delicate design see the Tutorial below.
Sign up for my weekly newsletter
Every week I add a new design with related tutorials. Be sure to subscribe to receive an email notification with design inspiration.