My Creative Workbook
Christine de Beer - effortless floral craftsman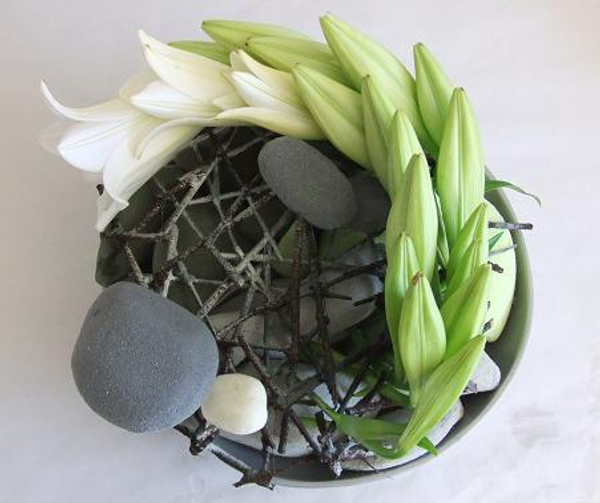 Lilium
A Rock by any other name, lily design
Varieties
There are about 110 species but as cut flowers we usually find: Asiatic lilies which are star-shaped, longi-florum which are trumpet shaped and Oriental which are the tall very scented star shaped flowers or hybrids of them. Longi-florum is the most popular lily to use as cut flower. These tend to be forced for particular markets such as for Easter when it will be sold as Easter Lilies. Also known as Madonna Lilies.
Colors
Range through white, yellows, oranges, pinks, reds and purples. Also bi-coloured, spotted and brush strokes.
Vase life
Ten to fifteen days.
Scent
Distinctively fragrant
Uses
I love the scent of a fully opened lily but in design work I love the graphic look of a tightly closed bud.
Conditioning
Strip all the foliage from the stem that will fall below the conditioning water line. Cut the stem at an angle and set the stems in warm water with dissolved lily flower food. To open the lilies faster place in a steamy room and re-cut the stems frequently. The moment the pollen anthers are visible, reach into the flower and gently pull anthers away to prevent stains.
Sign up for my weekly newsletter
Every week I add a new design with related tutorials. Be sure to subscribe to receive an email notification with design inspiration.