My Creative Workbook
Christine de Beer - effortless floral craftsman
Shelter grass veil for a round container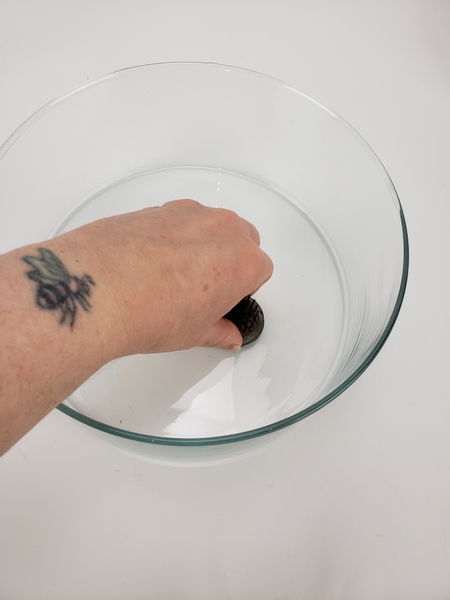 Secure a Kenzan to the bottom of a display container
If you are unsure of using a Kenzan (they are amazing!) turn to page 160 of my book- you will find loads of information. To get you started I have included a detailed Tutorial on how to secure a Kenzan below this post.


For more information about my book: The Effortless Floral Craftsman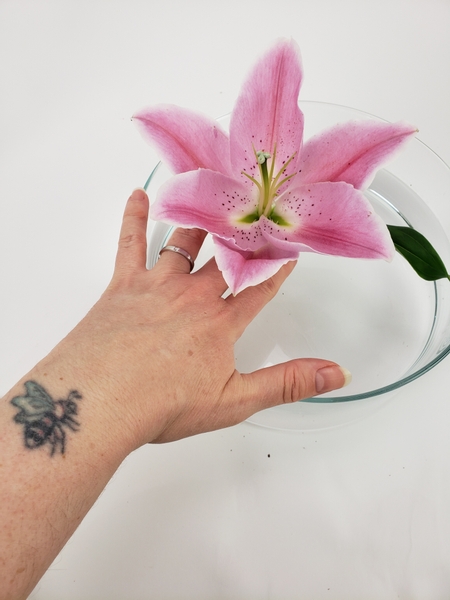 Place a beautiful lily flower into the Kenzan teeth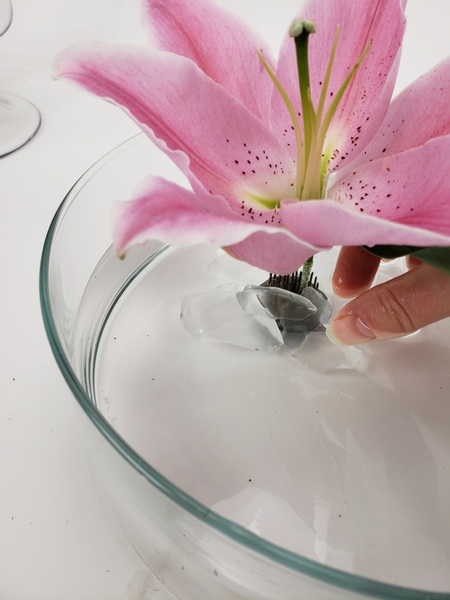 Place sea glass pebbles over the Kenzan to conceal it.
Design note: urgh! we all want flowers to look absolutely flawless in our design. But what a waste to completely discard such a beautiful flower just because it has a few bruises. Here is a clever way of concealing imperfections...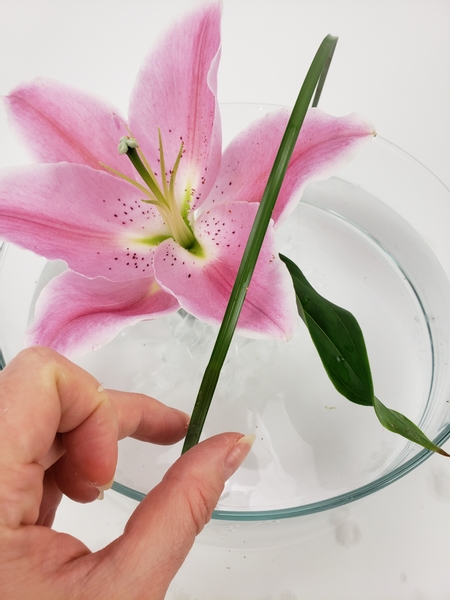 Weave your sturdiest blade of grass over the container...
For me this will always be in a slightly off center position so that the veil falls slightly to one side. But you can adjust this to suit your own style.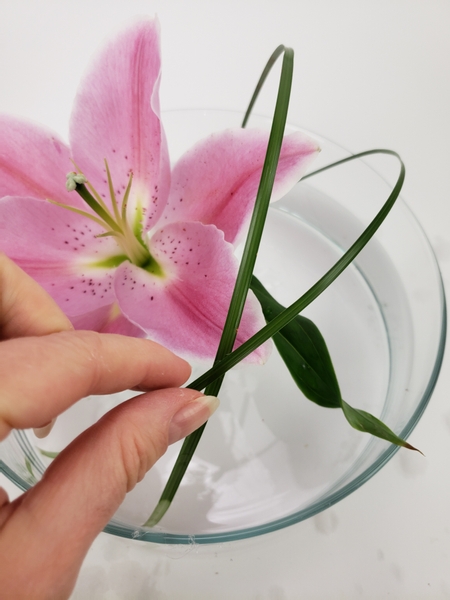 Weave your next stem to cross over the first.
This week in our email I tell you about a memory of mine from the Chelsea flower show and discuss the habit-tip that absolutely saved my design.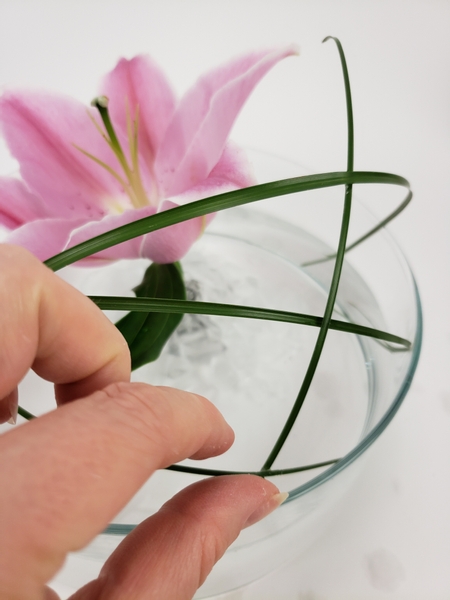 Weave in the next blade of grass and if you need to, secure it like I mention in the email.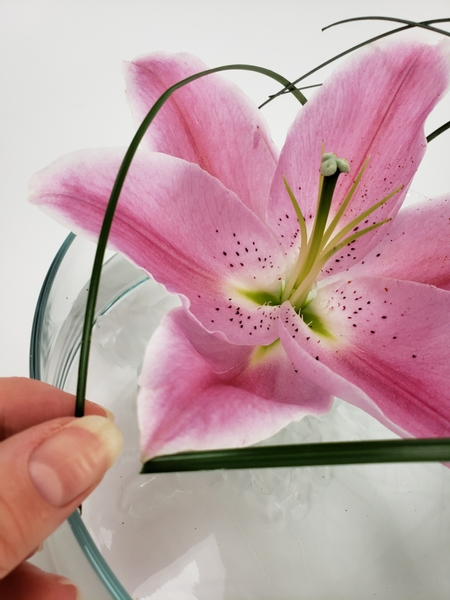 Once you have a stable veil add a few strategic blades of grass that cross over the flower and hides any imperfections from view.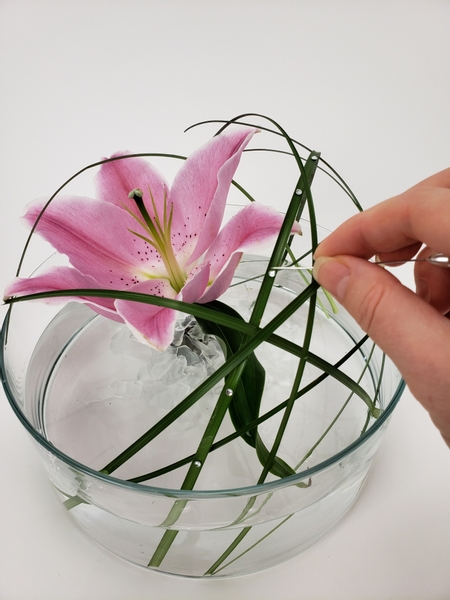 Add in a row of dew drop crystals. I use a corsage pin to add my crystals. It is such a delicate way to place these crystals without ever disturbing the design (see our email) or bruising even the most delicate petals. You can read more about this in my book but I also have a Tutorial for you on my how... and why below this post.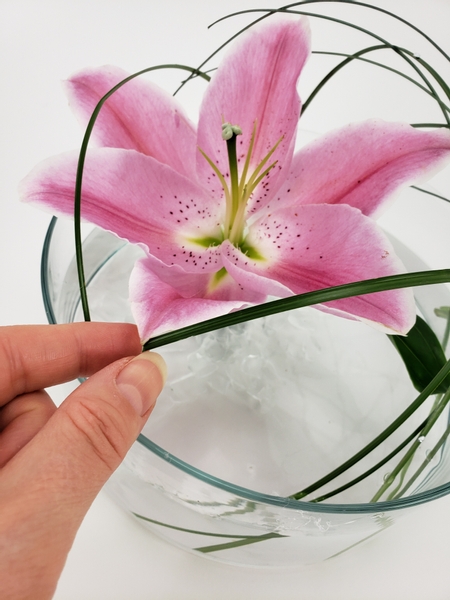 Add in the last few blades of grass to finish the design.
... and now...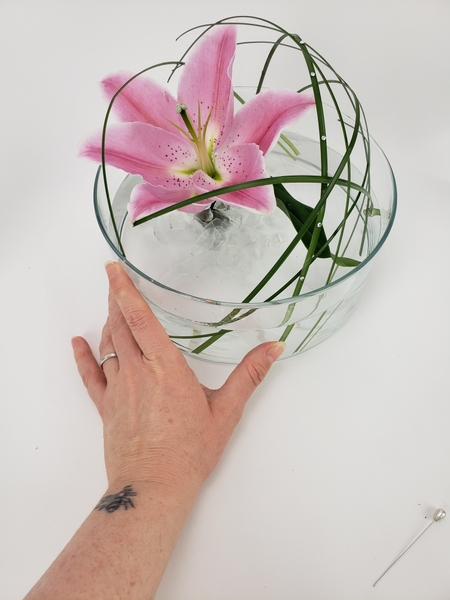 newsletter subscribers... we give the design a...? to test the design to make sure it is stable.
Sign up for my weekly newsletter
Every week I add a new design with related tutorials. Be sure to subscribe to receive an email notification with design inspiration.