My Creative Workbook
Christine de Beer - effortless floral craftsman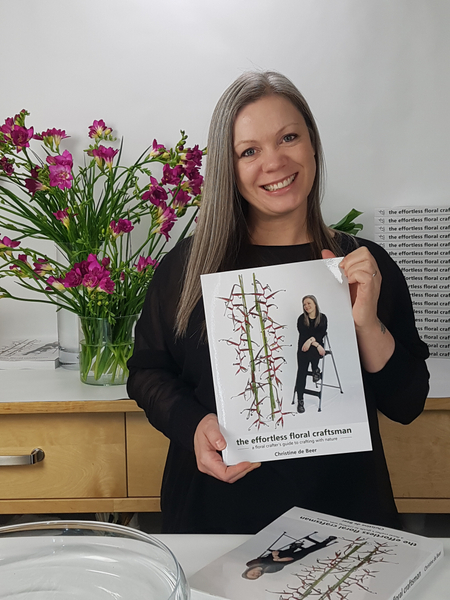 I am so happy to share my book with you. I am so, so proud of how it turned out. Not just the inside but also the physical book itself.
I use traditional techniques in my designs...in a contemporary way. I wanted the same for my book. A beautiful book that is also a beautiful book. Old world book beautiful in a contemporary way. For more information about the construction of the book: Before I show you my book- let me show you my book
and for a look at the Cover Story
But what's inside? "Design with flowers in your own authentic, effortless style. In this picture filled guide you will find everything you need to know about crafting with natural design elements, developing your own effortless style of designing and creating meaningful and remarkable floral designs.

Part how to and part why to, The Effortless Floral Craftsman systematically builds floral artistry as page after page reveals the expert design secrets and creative processes behind Christine de Beer's innovative, award winning floral designs".
With 140 creative design examples and well over 300 step-by-step how to's, hints and core techniques- (that's 1,279 full colour pictures throughout the book!) The Effortless Floral Craftsman is an all-round creativity kick-starter for flower design enthusiast, regardless of their skill level, who believes in making an effort to create great work, not just "good enough" work, but their own brand of great.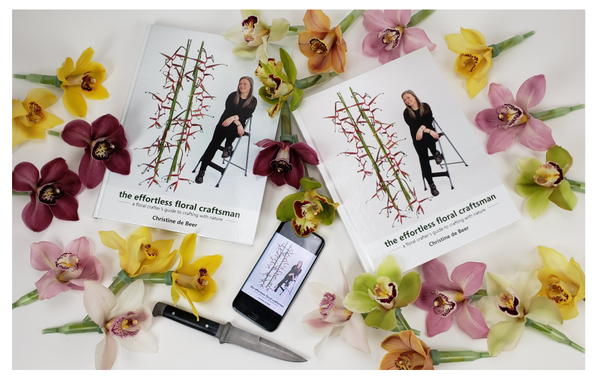 There are 3 editions of The Effortless Floral Craftsman, a floral crater's guide to crafting with nature :
Craftmanship edition: for professional readers who put guidebooks to good use. Partially handcrafted by specialist binders to last. Large in size and print to make it easy to follow the How To's at a glance. Opens to lie flat on your design table for a panoramic view of the two pages. The hardcover is durable and easy to wipe clean. Available here from my web-shop. I sign and gift wrap each copy
Design Room edition: for casual readers who read and refer to it when needed. It also has a durable, easy to wipe clean hardcover. The content is the same as the 'Craftsmanship' edition only smaller in print and size. You can order your copy here:
Amazon Canada
Amazon.com
Amazon UK
E-book: for readers who want How To's on the go. Download from Amazon
Amazon Canada
Amazon.com
Amazon UK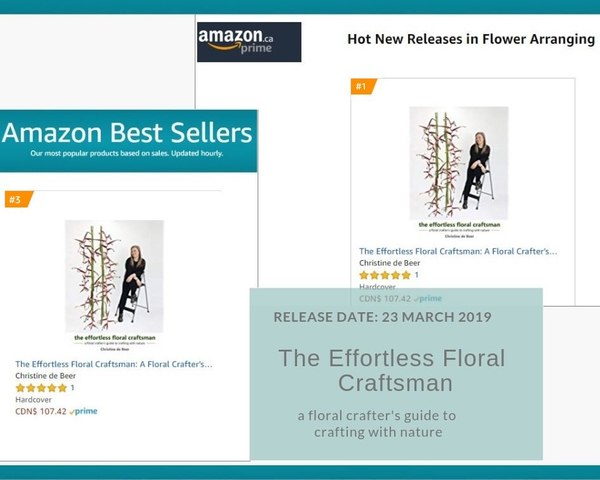 ... the Effortless Floral Craftsman book made its debut at number 1 in the "Hot New Releases in Flower Arranging" list and number 3 in the "Best Sellers" list on Amazon.ca
And...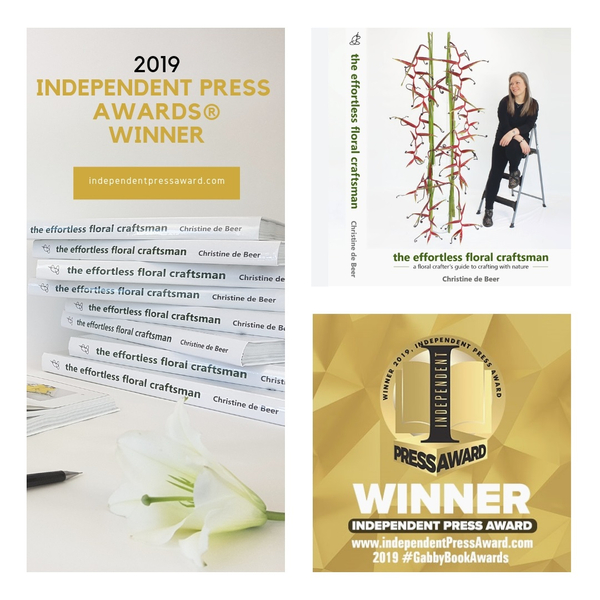 The INDEPENDENT PRESS AWARD assigned 1st place honours to my book The Effortless Floral Craftsman, a floral crafter's guide to crafting with nature in the category: Crafts & Hobbies. The competition is judged by experts from different aspects of the book industry, including publishers, writers, editors, book cover designers and professional copywriters. Selected award Winners and Distinguished Favorites are based on overall excellence to recognize distinction from small presses and independent publishers.
But let's look at where it all began:
My creative career began as Resident Visual Artist for Winsor and Newton- a fantastic situation considering that I had access to an unlimited supply of high quality art and craft material to experiment with and promote in art shows, demonstrations, workshops, writing creative how-to articles in magazines and show case on television and radio.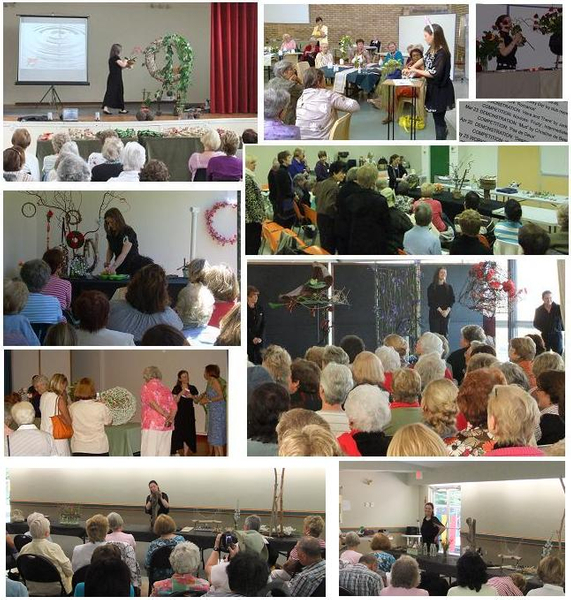 I am still passionate about developing craftsmanship in design work, only now my medium is mostly plant material. As Floral Artist I mainly work as a design skills developer and floral craftsmanship instructor. I also demonstrate, compete in competitions and take part in design shows as a member of the World Association of Flower Arrangers.
My Creative Workbook started as a place for me to capture floral art techniques and designs and it has grown into a design resource used by flower enthusiast from all over the world looking for inspiration or searching for design tutorials.

For just over 4 years I have captured 332 designs and more than 423 Tutorials and I continue to add a new design every week.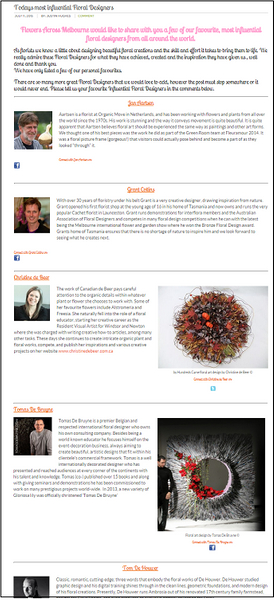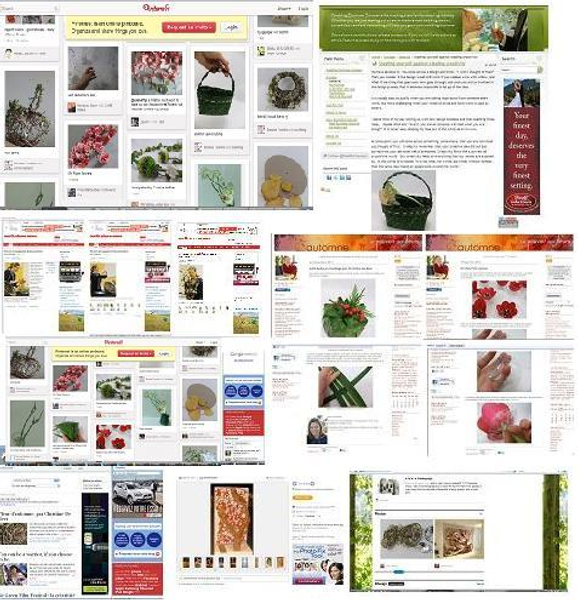 I have been featured in and have contributed columns, articles and designs to educational programs, online, on TV, radio and in printed publications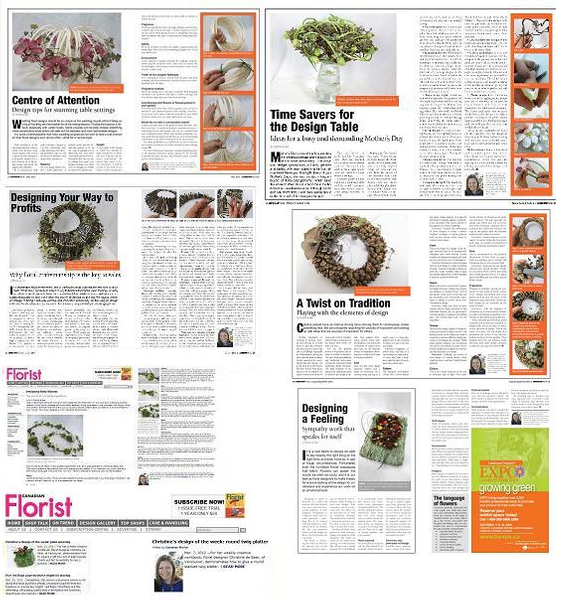 and I wrote articles and designed for the Canadian Florist Magazine for a few years, discussing floral craftsmanship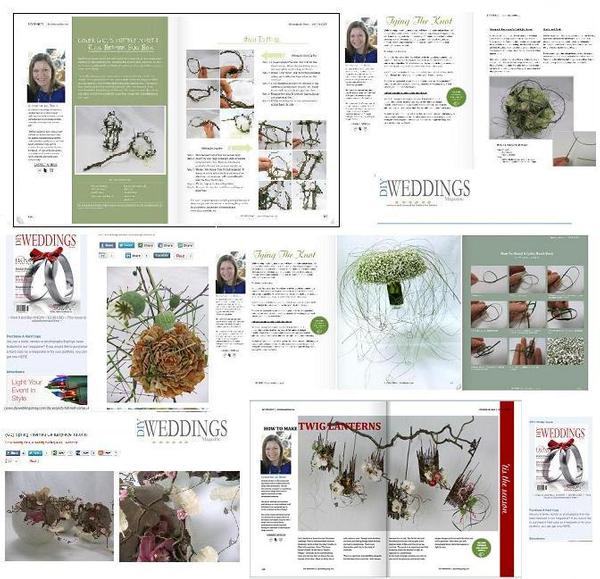 And I am a contributing designer and columnist for DIY Weddings Magazine. My article explores the often contrasting seasonal trends in floral designs and how a do-it-yourself bride or groom can customize the details for their own wedding.
Education:

I have always been playing with flowers. As a little girl I used to spend hours weaving and building fairy castles from twigs and petals. I find that I still use the techniques I made up then.

But I do have two College Certificates, one in more traditional Flower Arranging and one in Retail Floristry (Small Business Management). My lecturer encouraged me to look into the Floral Art side of Floristry because I loved challenging myself to find an unusual way of designing.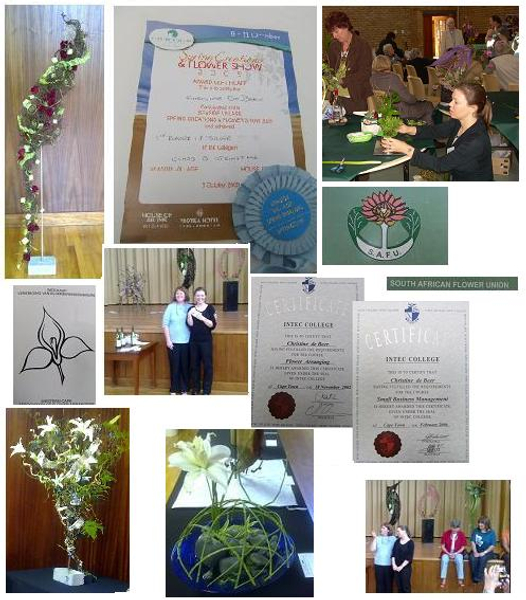 After my studies I did a Floral Art apprenticeship and designed and competed in competitions as a Beginner and then an Intermediate designer for an additional 4 years before I was awarded my Advanced Florist Accreditation (or Master Florist as it's known in many countries) from the World Association of Flower Arrangers in 2010

During this time I won several awards including a ribbon award for the best entry level designer on show from the South African Horticultural Society and a best Beginner on Show medal from the Western Cape Association of Flower Arrangers
In 2009 I won an award for the best Intermediate Designer in the Floral Trends Design Group Show.

Happy Design Moments: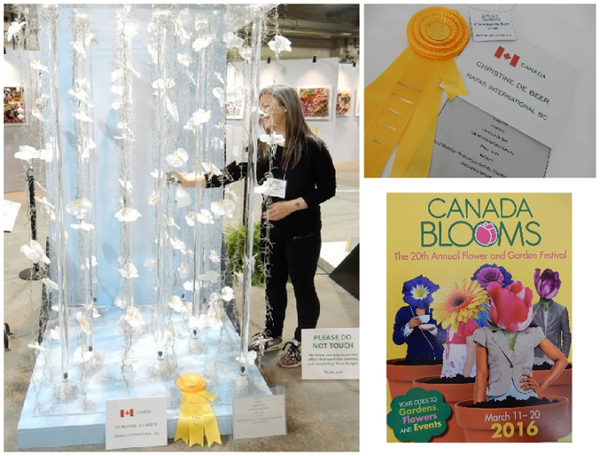 I was invited to exhibit at the 20th anniversary of Canada Blooms and The Toronto Flower Show, as an International Competitor to represent Canada. Competitors came from Canada, Bermuda, France, South Africa, United States, Barbados, United Kingdom, Ireland and Australia to create a design based on the theme "Celebrate!"

My design was inspired by a bubbling glass of Sparkling Wine. But I wanted it to look light and suspended in the moment. I researched aquarium designs and made 9 tubes powered by a small battery to add a constant stream of bubbles between my flowers. Each bubble tube is controlled with a tiny tap to open or close for more… or less bubbles to add dimension.

As plant material I used 140 meters of Tillandsia Usneoides that I wove into garlands with about three strands running up the length of a garland. I also used willow tips manipulated into tendrils and I suspended a total of 120 white Phalaenopsis orchids from 160 meters of beaded wire and fishing line. Each tiny stem was placed in a water filled glass seahorse to keep it hydrated.

I won a Gold Ribbon for my Celebrate! Floral Art Design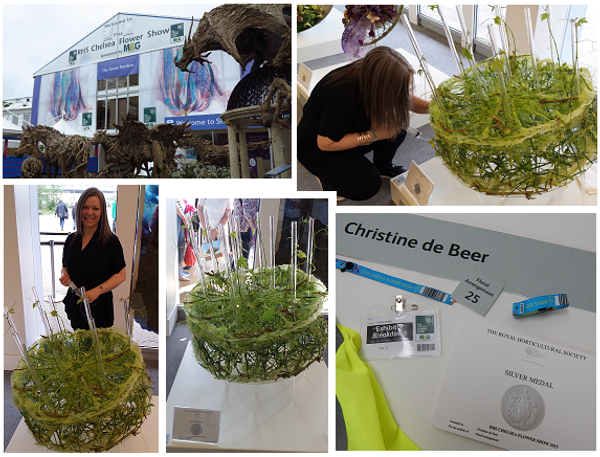 My RHS Chelsea Flower Show 2015 Limelight Floral Art Design. My Limelight design was inspired by a slice of lime. But I wanted it to look like it was spun by a butterfly. I used Sisal, silk and loads of Lisianthus flowers and 9 grapevine plants. Each tiny stem was placed in a water filled glass seahorse or test tube to keep it hydrated.

I won a Silver Medal for my design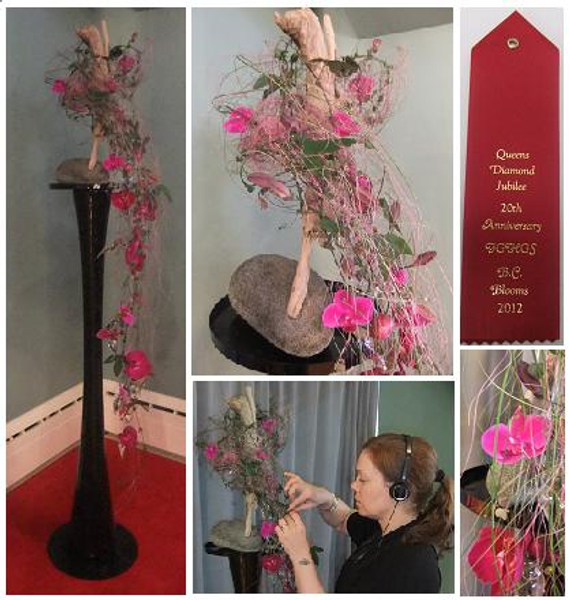 In 2012 I staged a design in the Great Hall of Government House in British Columbia's capitol Victoria, Canada to commemorate Queen Elizabeth II's Diamond Jubilee and the 20th Anniversary of Friends of Government House Gardens Society.

I received a ribbon award from the Friends of Government House Gardens Society for my design.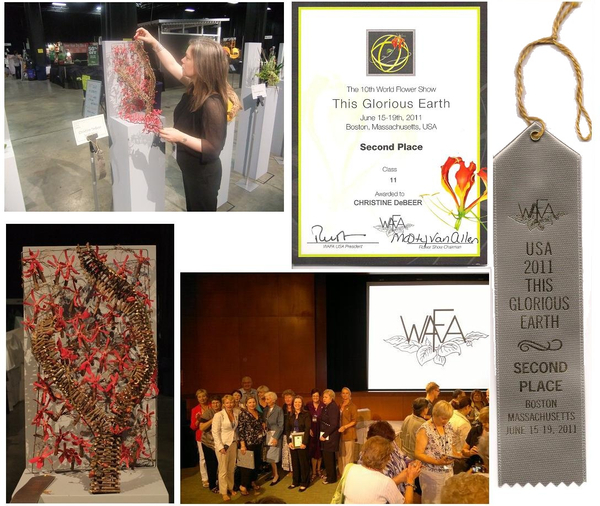 In 2011 I won a Silver Award and Second Place at the World Association of Flower Arranger's 10th International Flower Show in Boston (USA) "This Glorious Earth"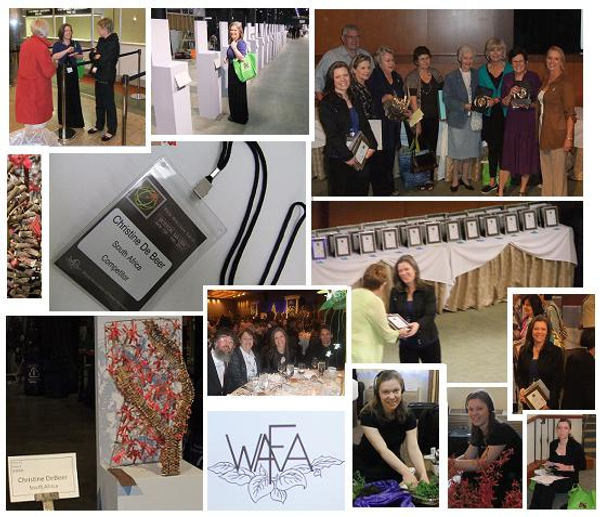 WAFA 10th International Flower Show in Boston USA: This Glorious Earth
The World Association of Flower Arrangers (WAFA) is a not-for-profit, non-partisan organization of International Floral Art Societies. WAFA is the global authority on floral design and aesthetics, acting as a governing body by coordinating floral art events and standards for its 32 member countries. Through its worldwide scope, WAFA enhances the diversity of the floral art form by transcending international cultural barriers and bringing together fresh ideas.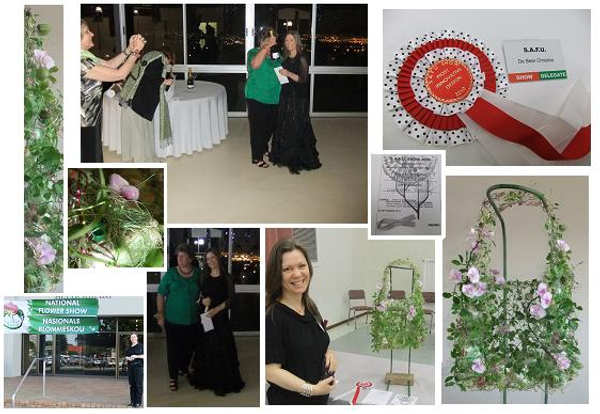 Most Innovative Designer of the year award at the South African Flower Union Congress Show, Founder member of the World Association of Flower Arrangers, 2010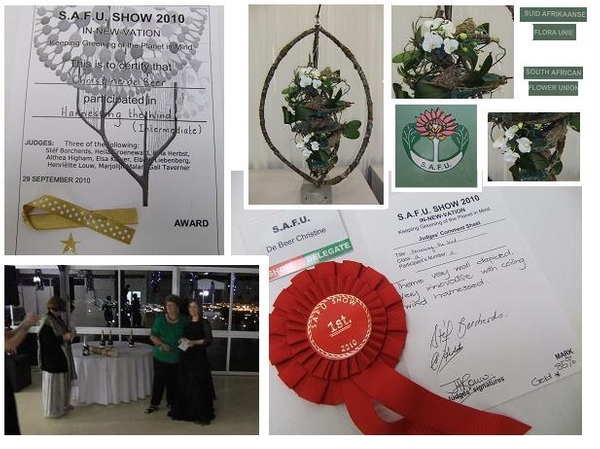 I won my final Gold Ribbon at the South African Flower Union Congress in 2010 (as an Intermediate Level designer) and was awarded my Advanced Florist Accreditation.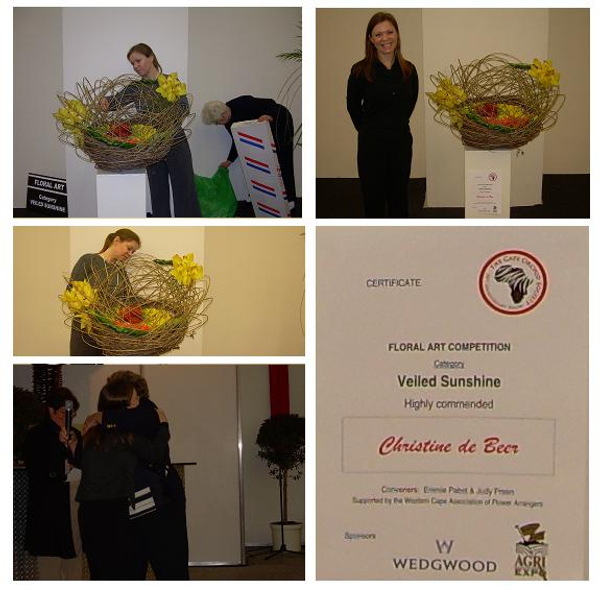 Veiled Sunshine Floral Art design for 50th Anniversary of the South African Orchid Society Competition at the Cape Town Convention Centre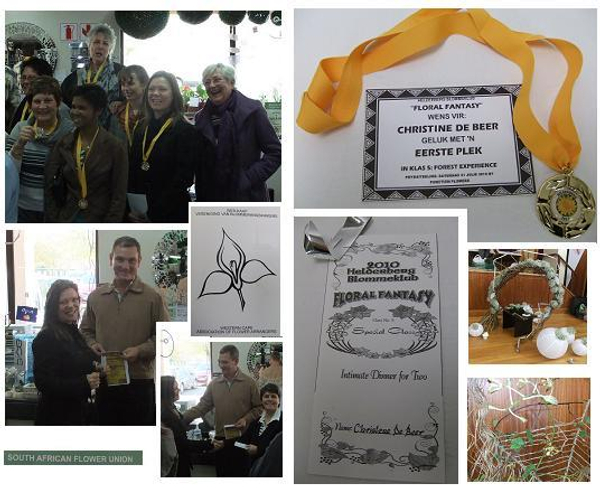 Helderberg Floral Fantasy Show. I won a Silver Award (for my Competition/Exhibition Table Setting) and a Gold Award (for my Contemporary Competition design)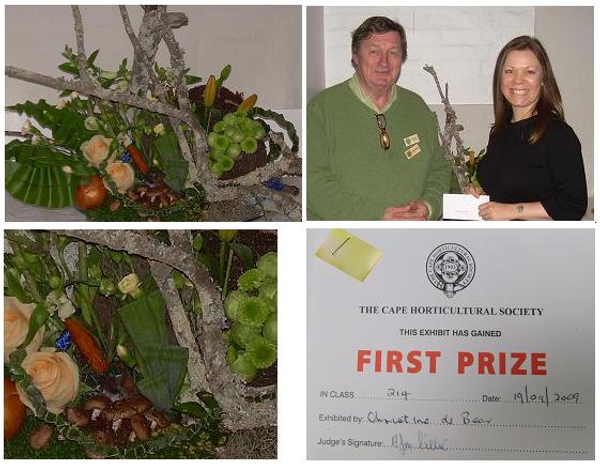 South African Horticultural Society Show, Western Cape, South Africa.
Sign up for my weekly newsletter
Every week I add a new design with related tutorials. Be sure to subscribe to receive an email notification with design inspiration.