My Creative Workbook
Christine de Beer - effortless floral craftsman
The Effortless Floral Craftsman, a floral crafter's guide to crafting with nature Shop page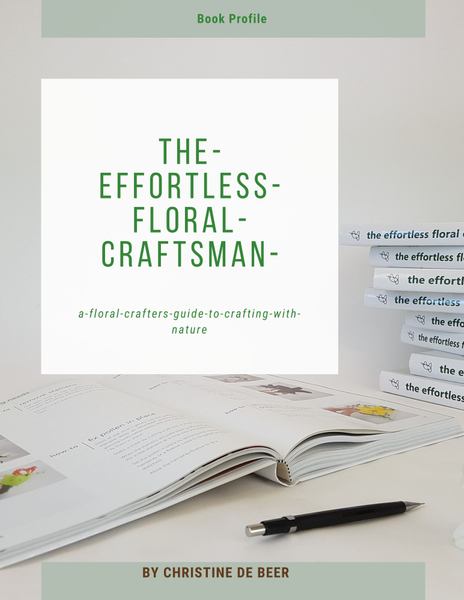 You can order your copy of the effortless floral craftsman, a floral crafter's guide to crafting with nature from online book sellers such as Barnes and Noble, Walmart, Booktopia, Foyles, Waterstones, Hive, OpenTrolley Bookstore, of course Amazon and even Ebay!
... to name just a few.

The Effortless Floral Craftsman, a floral crafter's guide to crafting with nature is an artist quality , print on demand and low volume book printed, bound and distributed exclusively for Christine de Beer by IngramSpark.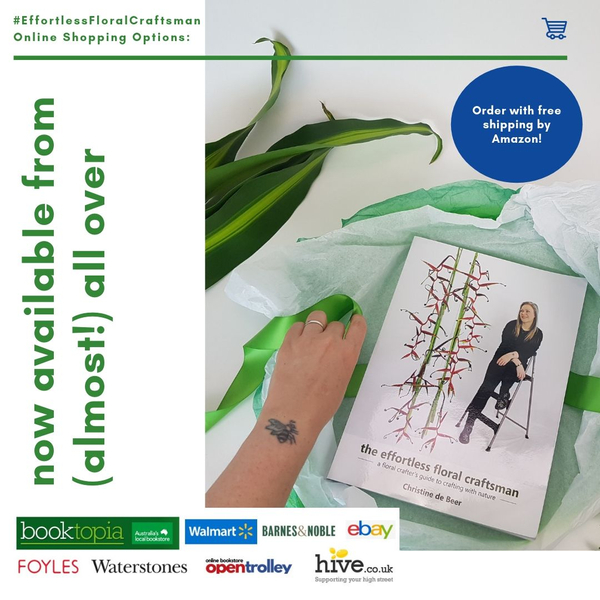 Meta Data
Title: The Effortless Floral Craftsman, a floral crafter's guide to crafting with nature
Author: Christine de Beer
Photographer: Christine de Beer
Number of pages: 404
Number of full colour pictures:1,279
Trim Size:9 x 12in / 23 x 30.5cm


If you can't find it on the racks of your local independent bookstore they will be able to order one for you.
Here is the ISBN number:
ISBN-10: 1999392329
ISBN-13: 978-1999392321


The suggested retail price is:
CDN$103.20 for the hardback book and CDN$53.70 for the EBook
... that is (depending on the current exchange rate) about:
US$82.99 for the hardback book and US$39.99 for the EBook
£64.99 for the hardback book and £30.27 for the EBook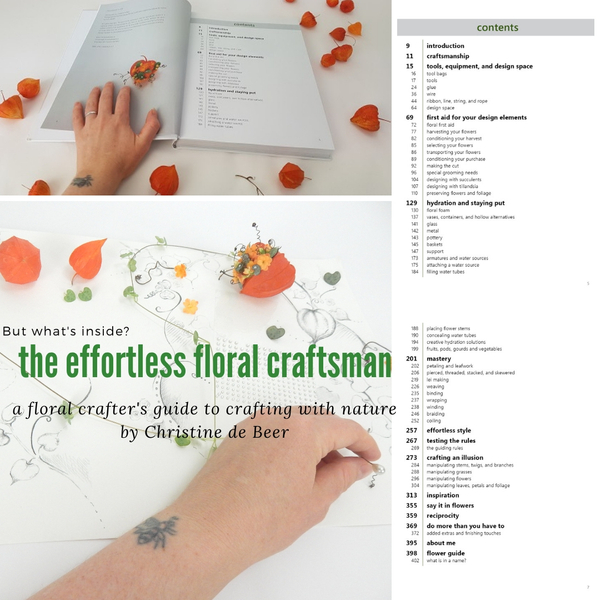 Have a look at the contents page. You can also read the first 38 pages for free on Amazon



Note: The special craftsmanship edition of my book is now sold out and no longer available from my web-shop.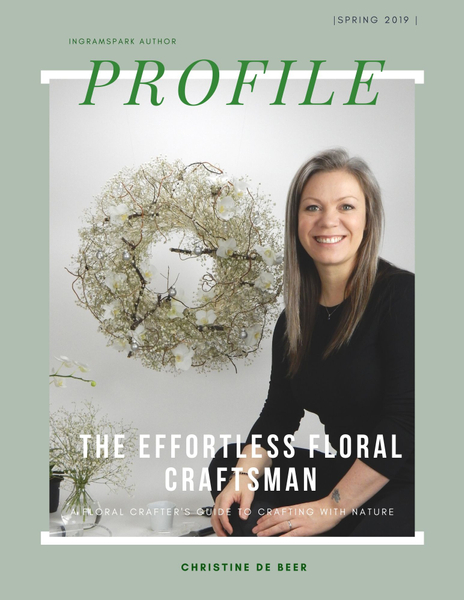 IngramSpark Author Interview: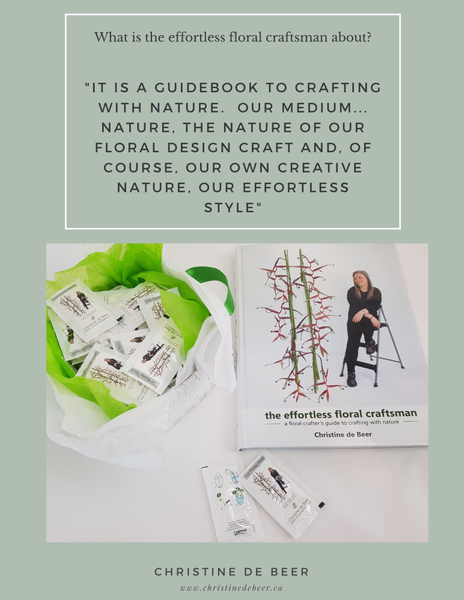 What is the effortless floral craftsman book about?
It is a guidebook to crafting with nature.  Our medium... nature, the nature of our floral design craft and, of course, our own creative nature, our effortless style.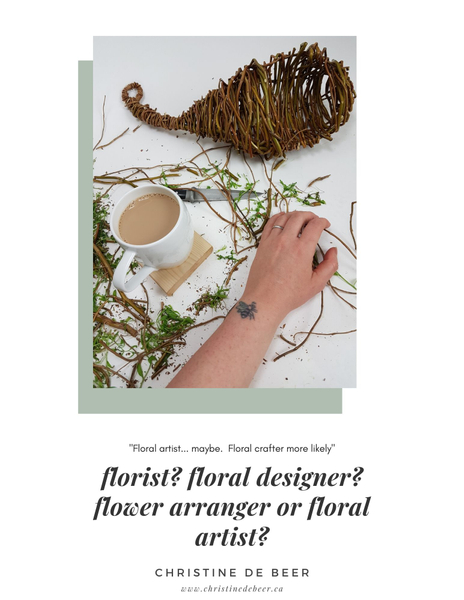 How did it come about?
Like any life lesson worth learning, the hard way.

In 2011 we relocated to Vancouver, Canada, I just received an innovation award for my work, won a silver medal at the W.A.F.A World Show, (Boston, USA) the My Creative Workbook website was gaining popularity and I was writing for two magazines discussing floral craftsmanship. So many dreams were coming true at once.
But life happens. I felt something was "not right".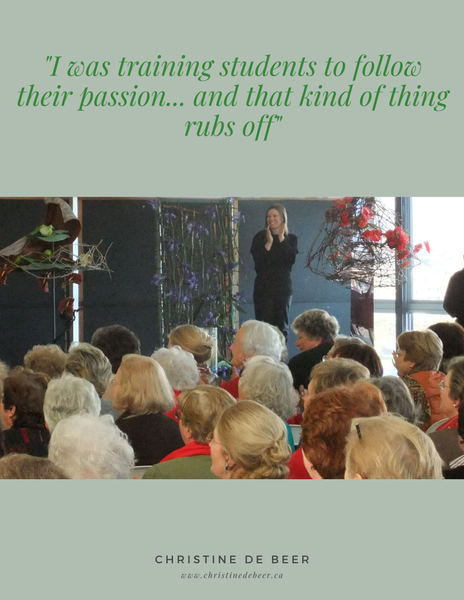 By the end of that year life became complicated. I started to suffer from often debilitating pain and discomfort in my face. Specialist after specialist had absolutely no idea what was wrong. I had to cancel design demonstrations and competitions.
My floral art became a lifeline. 
It's when things get really ugly that we most need to create pretty things. I had to. I couldn't imagine not to.

But I had to make hard decisions. There was no way I was going to compromise on the quality of my work. So I invested what creative energy I had into crafting even greater quality by focusing on craftsmanship.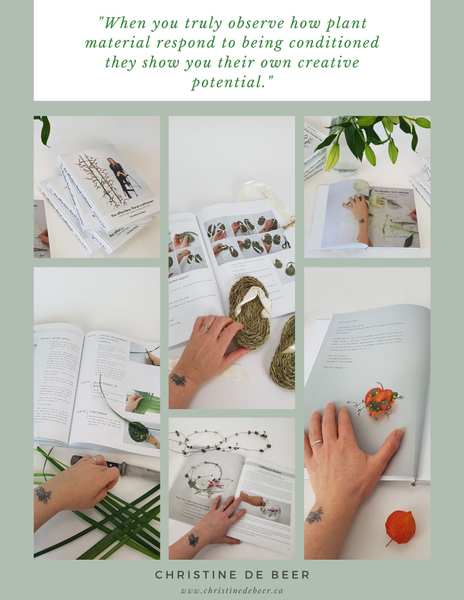 Conditioning is how we show empathy to our plant material. It is how we create the best possible environmental conditions for our plant material to last as long as possible. Conditioning is also the heart of our techniques. When you truly observe how plant material respond to the trauma of being cut and being conditioned in a compassionate way they show you what techniques are most suitable for them to flourish in. They show you their unique creative potential.

In the same way I needed to figure out what are the best environmental conditions for my own creative talent to flourish in.
Simply put: I had no energy to try too hard. I had to show up in my design room as me. I had to develop and rely on my own style. I discovered that when I design in the way that comes natural to me... it feels effortless.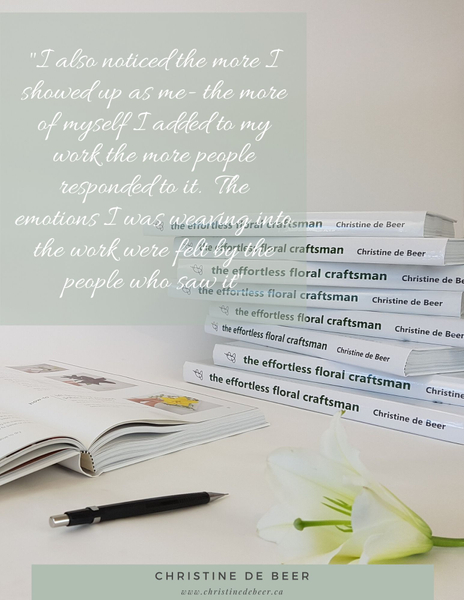 I thought I was crafting my floral art as a form of self expression and as I adjusted and healed I realized that it was also a form of self discovery and ultimately self creation.
I started to study the creative process behind finding and developing my own effortless style and how it can be applied to overcome other things we might consider a challenge or limitation.  
I also noticed the more I showed up as me- the more of myself I added to my work the more people responded to it. The emotions I was weaving into the work were felt by the people who saw it.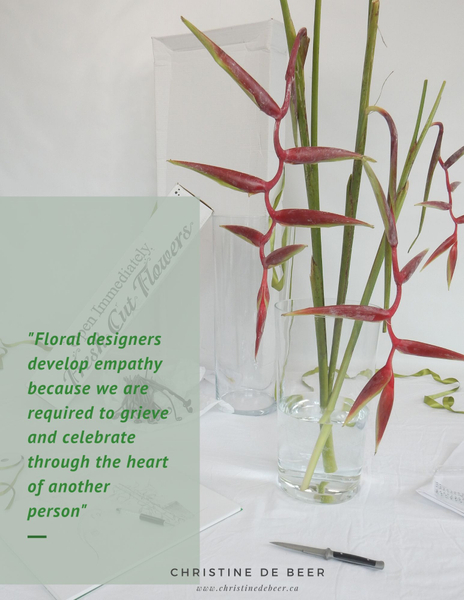 Floral design is just partly craft- the rest is story telling.  Flowers are feelings made visible. 
If conditioning is the heart of our techniques then adding a bit of ourselves is how we add heart to our work. It is how we make our work meaningful and remarkable.
Floral designers develop empathy because we are required to grieve and celebrate through the heart of another person. 

The entire process of writing was life changing. The book unfurled itself as I was designing and typing... and as I faced all those empty pages The Effortless Floral Craftsman happened.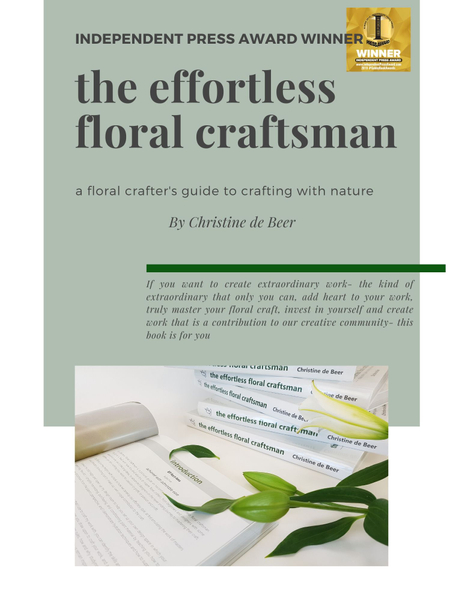 What were your objectives?
My objectives were two fold, first I wanted to create a book filled with exquisite flowers used to create designs that I love, for the reader to use as inspiration and to simply enjoy.
An easy to reference foundation to craft almost anything using plant material. I often hear from my readers that they print out or file my weekly designs so I wanted to offer them that, but updated, sorted by topic, bound and ready to use. There's so much on my site now that some of the great ideas get lost. The book picks up on these, and a few new ideas as I explore each topic to its conclusion rather than in short weekly design posts.

My second objective was that the physical book should be beautiful. Luxurious even. I often hear from readers that my weekly emails are their break from everyday life and I wanted to create something that feels that special. Something worthy of taking a moment.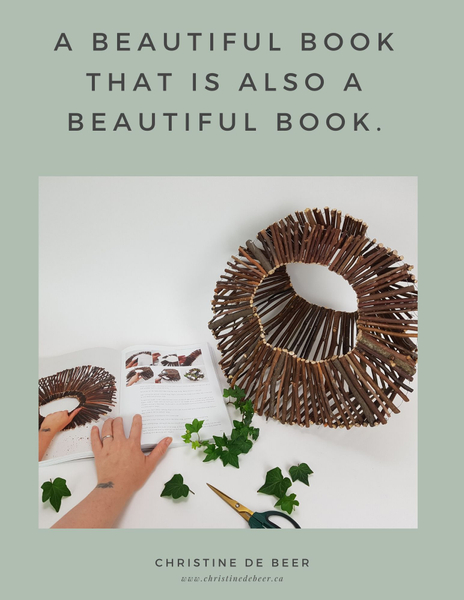 ... and the format of the book?
I wanted a beautiful book that was also a beautiful book. Old world book beautiful but in a contemporary way. Every detail was carefully chosen. Even the green colour used throughout the book was custom blended for me to perfectly match healthy, flourishing foliage. We decided to go for the best quality paper, the best quality bindings and a polished laminated hardcover. The book is meant to be used, so I want it to age well.
We decided to stay with my organic minimalist signature "look"- big, beautiful photos, clear instructions, and uncluttered white space to dream in.

I talk so much about quality and making the extra effort to create something remarkable, it was important to me that even the book's format is remarkable and of course the kind of quality only great craftsmanship can offer.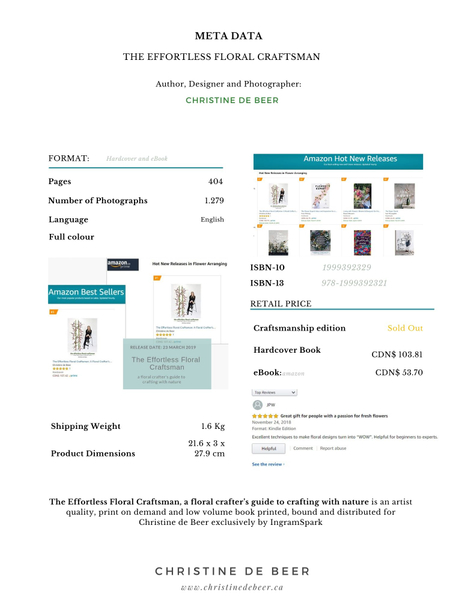 What can readers expect?
It's a comprehensive book- big, heavy and thick. 404 pages filled with everything you need to know to craft with nature. I took inspiration from nature crafts and all forms of floral design traditions- and added to it things I made up along the way.
The 140 designs and more than 300 how to's, hints and inspirations included in the book are crafted from everyday nature with just a touch of floral luxury to make it affordable to follow the training, really master each technique, without becoming frustrated, sapping your resources or compromising on the quality of your work. 
  Readers often comment that they enjoy the big clear picture instructions of my website so we included that... just over a thousand full colour pictures!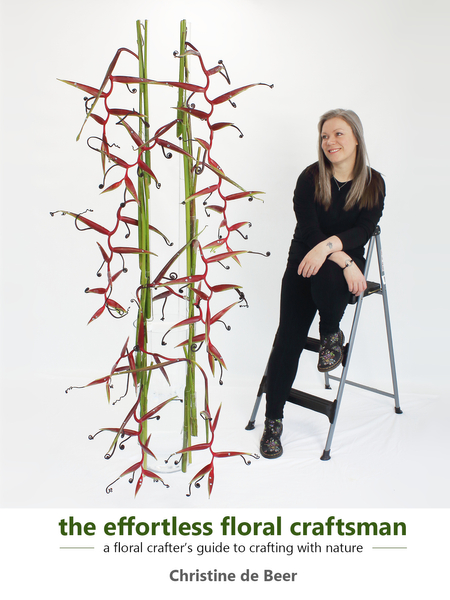 I also wrote about creative processes and floral design practices. I often touch upon these in my articles for Canadian Florist Magazine and DIY Weddings Magazine. But for my book I wanted to give readers more- a practical guide on how to connect with their own talent and connect with the parts of floral design that suits their style. A how to, to use what makes you unique as a way to level up your skills.
What others are saying about the book: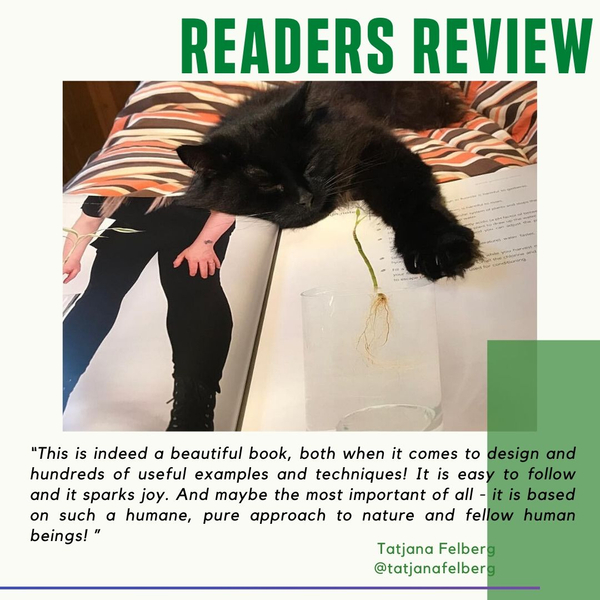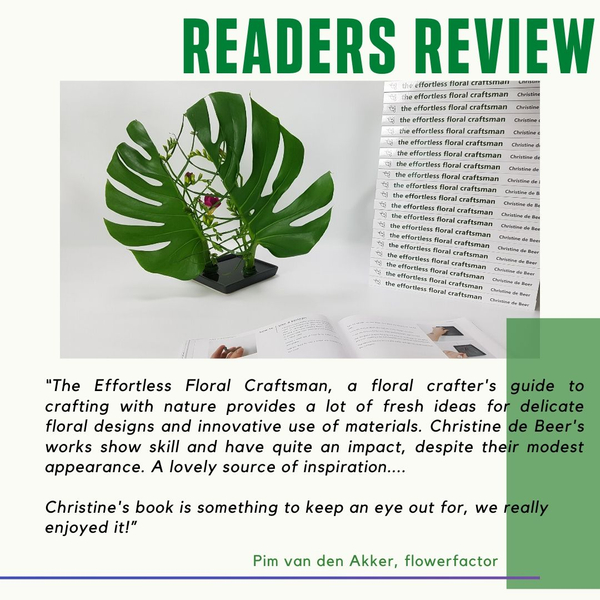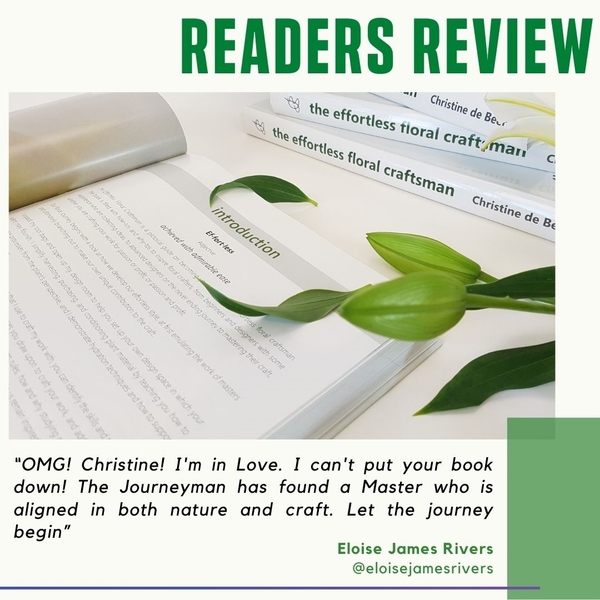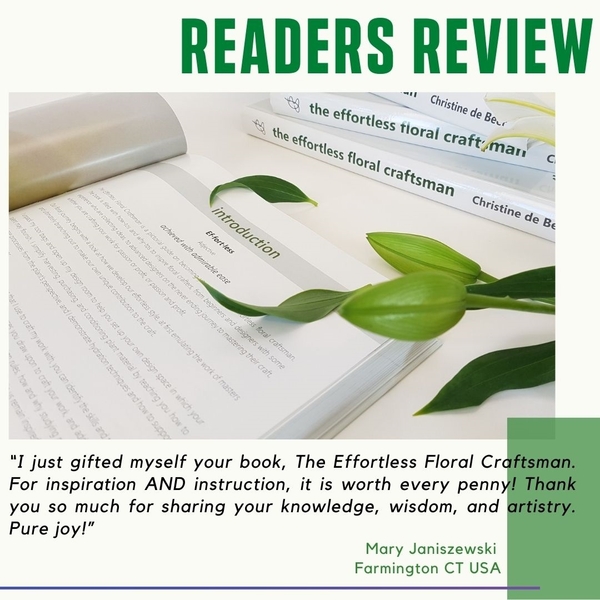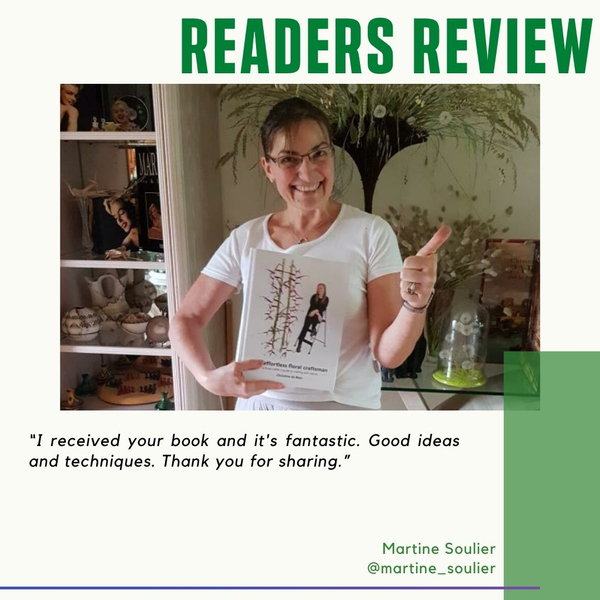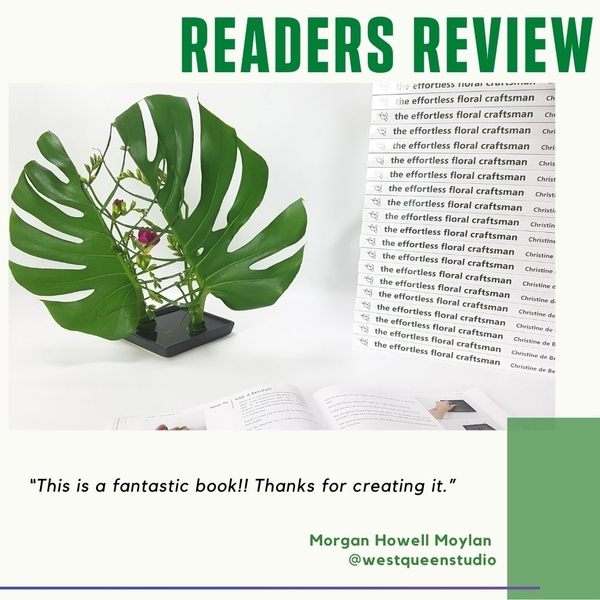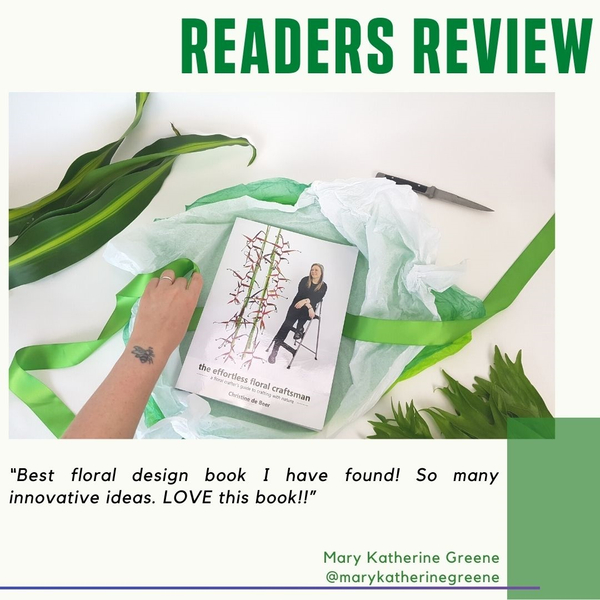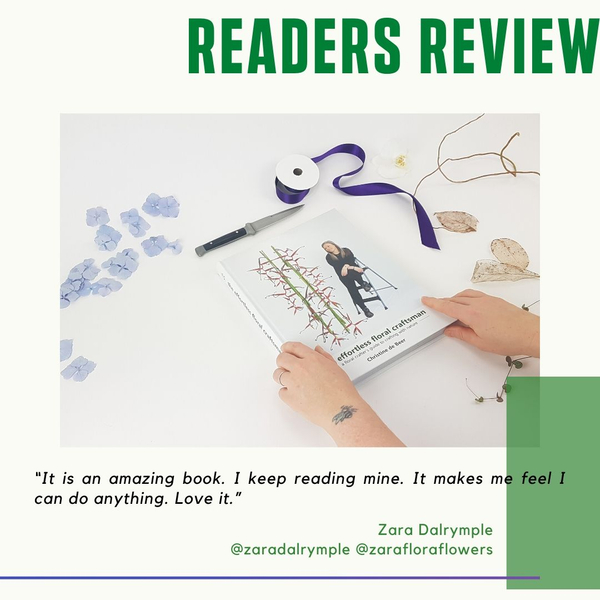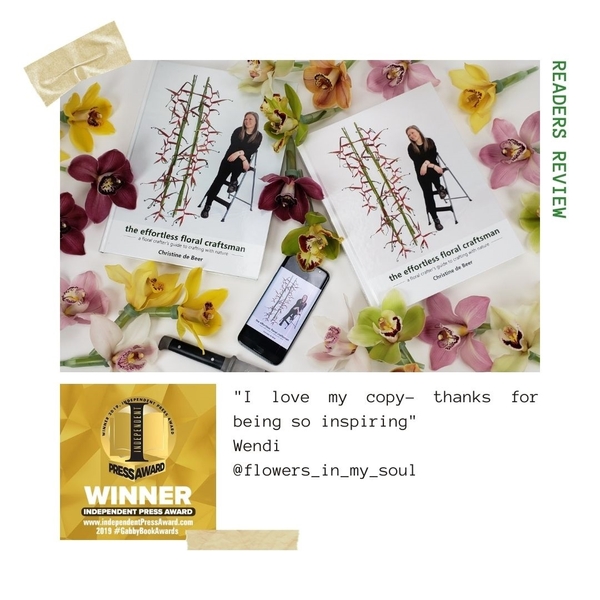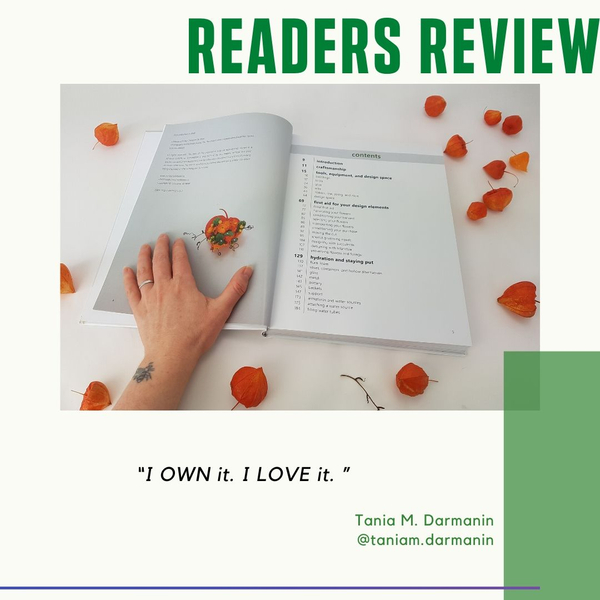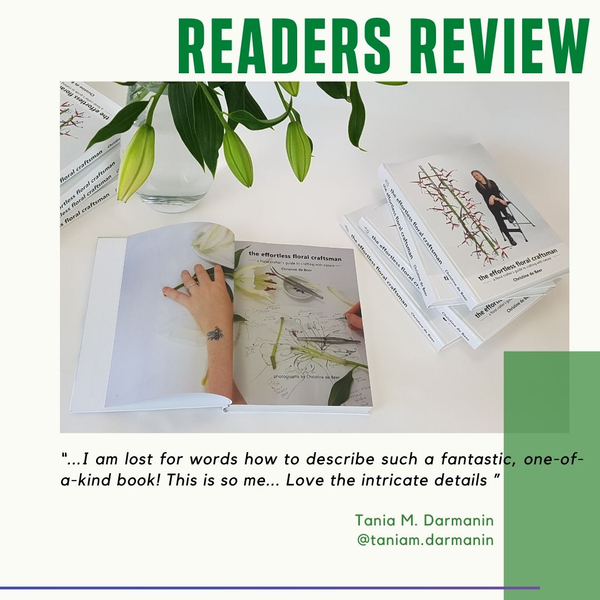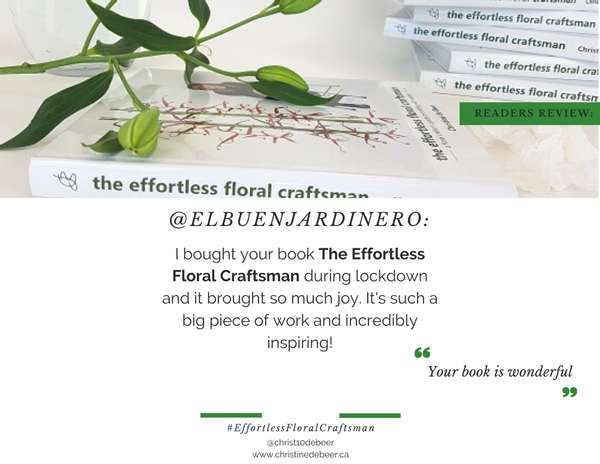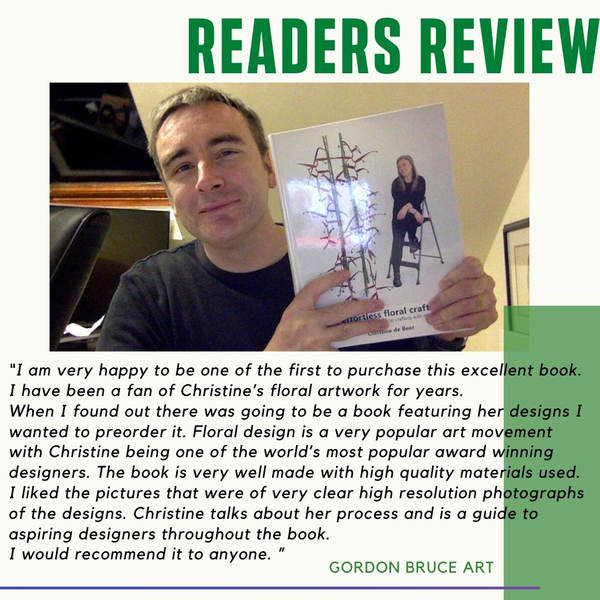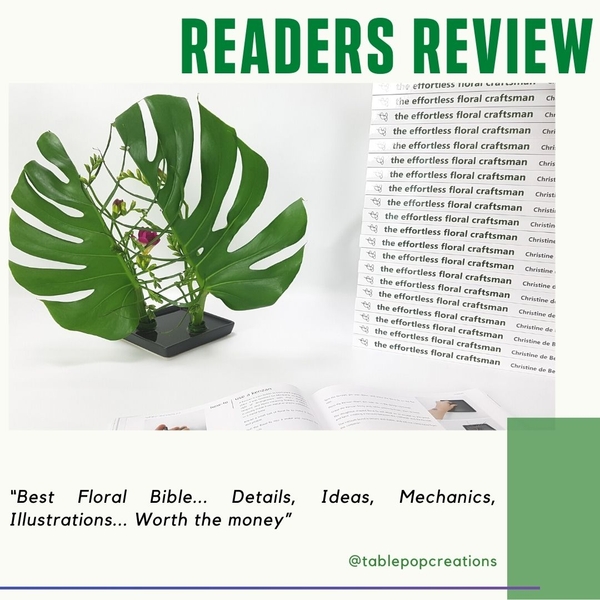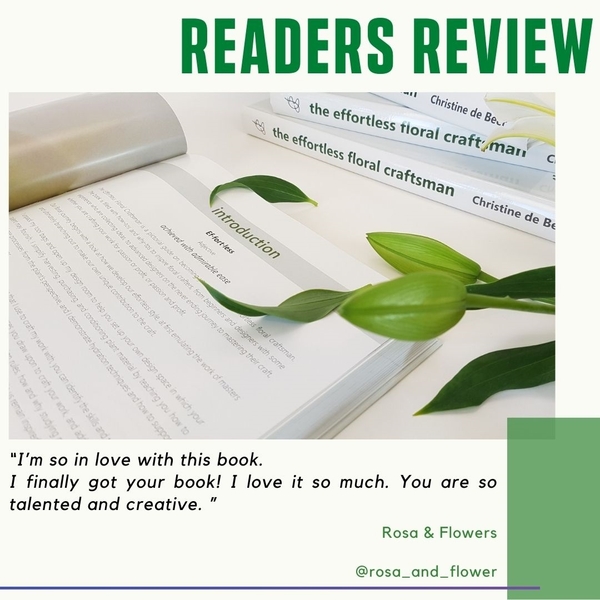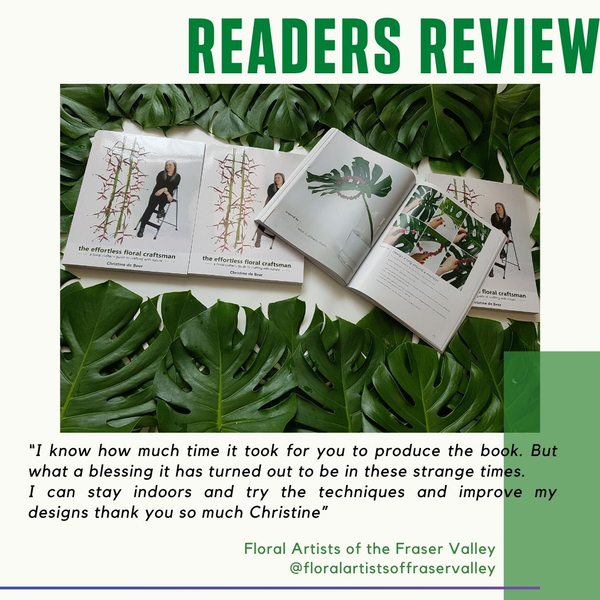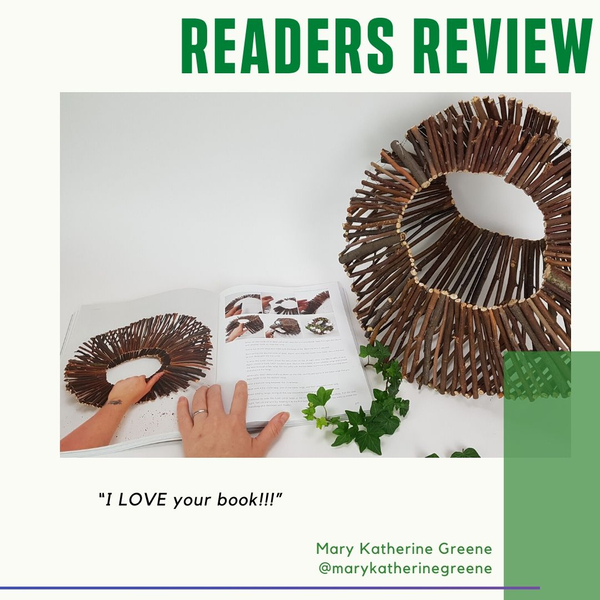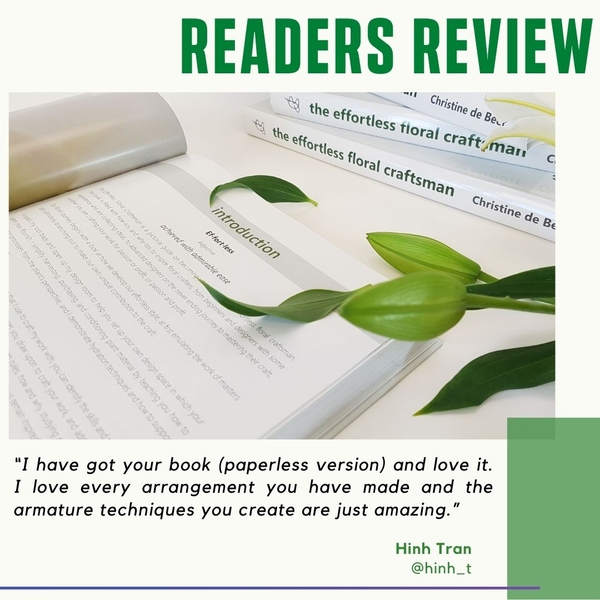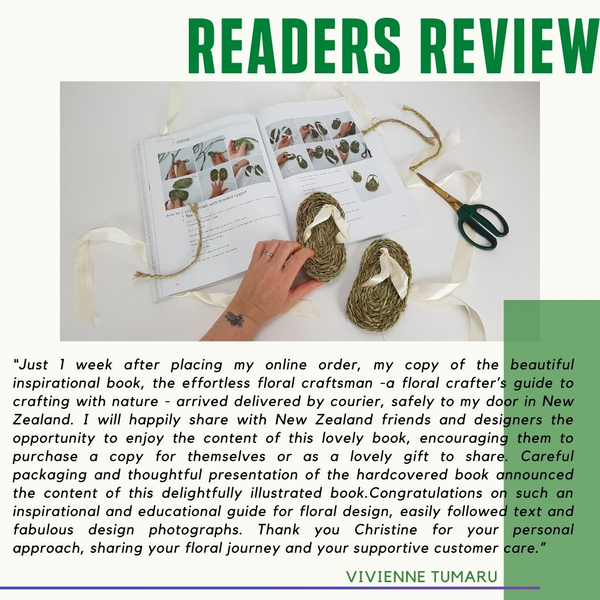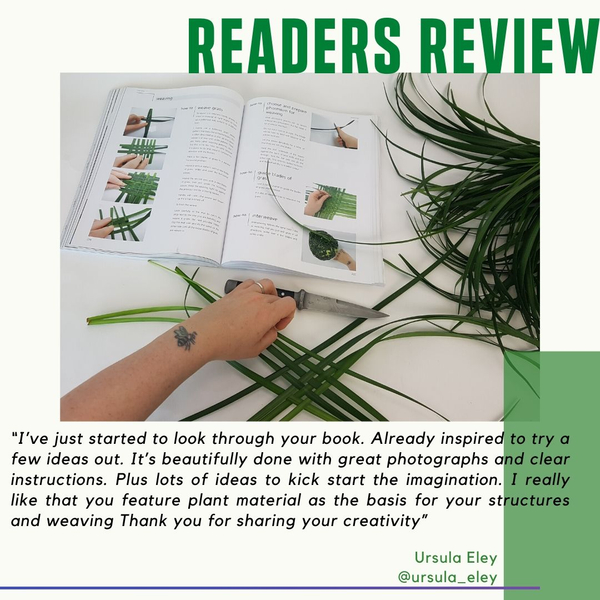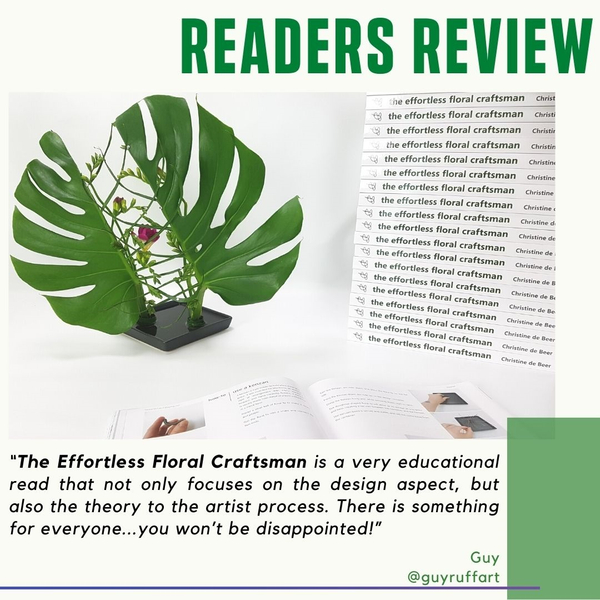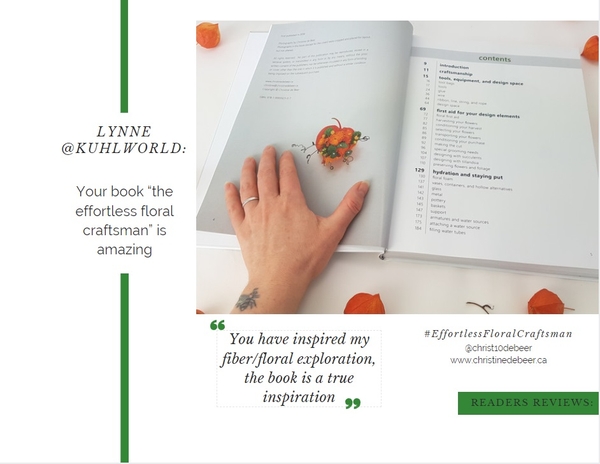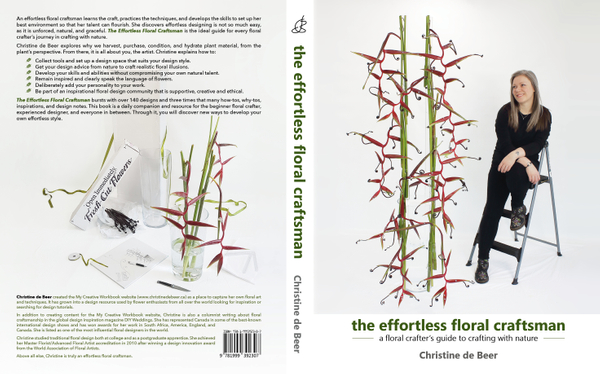 About the Author:
Christine de Beer is a Master Floral Artist known for her innovative and creative floral art objects and contemporary flower arrangements. She has a distinctive way of crafting with nature which has lead to her being listed as one of the today's most influential floral designers in the world. She has represented Canada in some of the best-known international design shows and has won awards for her floral art in South Africa, America, England, and Canada. Her work has been featured in numerous publications, websites and magazines. She is also a columnist writing about floral craftsmanship.

Christine studied traditional flower arranging both at college and as a postgraduate apprentice. She achieved her Master Florist/Advanced Floral Artist accreditation in 2010 after winning a design innovation award from the World Association of Floral Artists.

As an experimental floral artist, Christine created the My Creative Workbook website (www.christinedebeer.ca) as a place to capture her floral art and techniques. It has grown into a design resource used by flower enthusiasts from all over the world looking for inspiration or searching for design tutorials. She is passionate about skills development and is a popular design demonstrator and active member of the international floral art club community.

Christine designs and lives in Vancouver, Beautiful British Columbia, Canada, with her husband Marius.
Read more about Christine's floral journey
Sign up for my weekly newsletter
Every week I add a new design with related tutorials. Be sure to subscribe to receive an email notification with design inspiration.