My Creative Workbook
Christine de Beer - effortless floral craftsman
I am so excited to share my first ever online workshop 7 day floral retreat to jumpstart your creativity with you, one of many- I plan!

I do hope you will join me when we open the registration in the coming weeks. And because I chat to you in these bite sized weekly snippets I thought I would introduce you to the workshop… This week we start the introduction lesson by explaining WHY?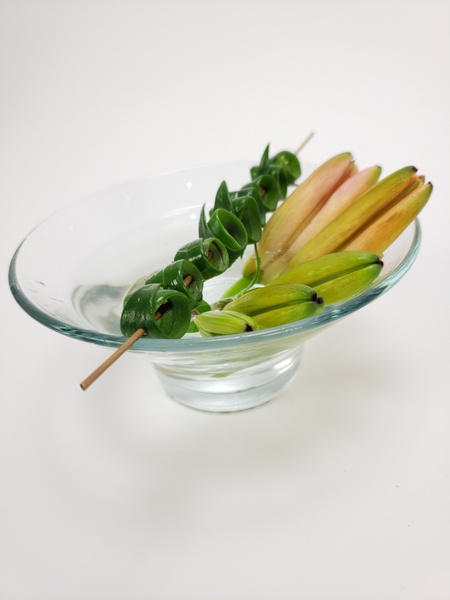 Why is it important to learn how to identify the creative potential of our plant material beyond the obvious design possibilities?
In short: all the low hanging fruits are picked. Meaning that we have seen it (almost) all. Creating remarkable work is going to require effort. And because of the huge amount of information and misinformation (tutorials that simply won't work!) we are required to be more skilled than ever before. Floral design is not merely a garnish to the other design (interior, garden, even fashion) forms. It is a design-form in its own right.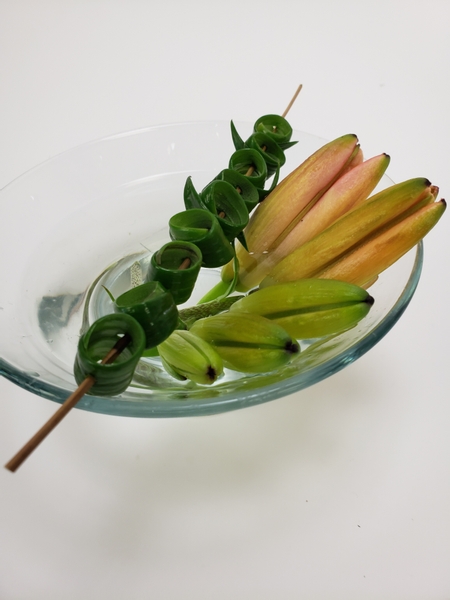 Apart from design work becoming way more fun to do when you are equipped with the know-how you need the moment inspiration hits, for me, as a designer, being able to come up with unique design ideas on demand and to create from that authentic place has also become my way of protecting my own creative spark.
We are all exposed to the same design inspiration and in a way the same flowers and the same design influences. Feeling a pull to come up with something that sets you apart is almost impossible to escape. This is true whether you are designing for passion or profit… or passion and profit. This kind of creative competition, when done right, is a healthy motivator.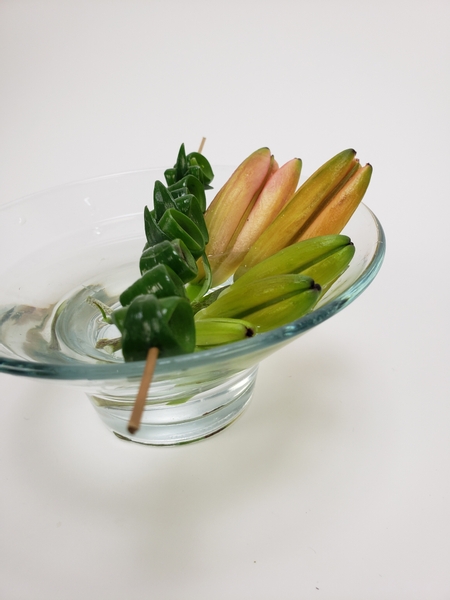 Competition gone wrong, can be so destructive. There can be a great deal of pressure on designers, especially those who share their work online, to create the next viral design- or even the next most "likable" design for their clients. Or maybe you feel overwhelmed by the volume of noise and want to reconnect with your passion for designing with flowers- your way. Yes, of course you want to design something that is everything you dream of, but not at the cost of taxing your resources to the point of exhaustion.
More, is rarely the answer though. More money spend, more flowers added, more elaborate concepts. There is always another… more. Instead I find the best way to bypass the negative side effects of competition is to focus on things that cannot be calculated. Removing the measure of design details' value leaves you free to just enjoy it!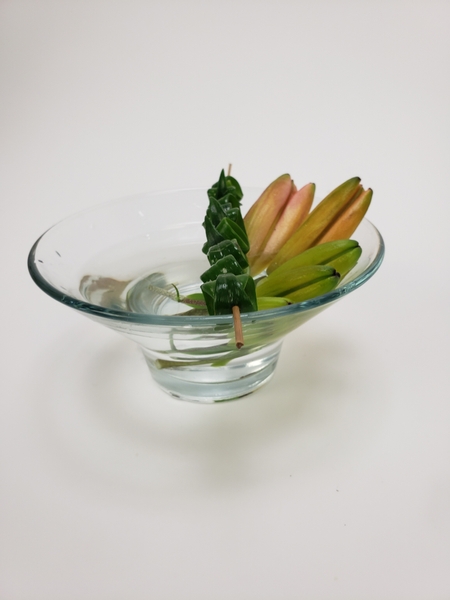 Consider this week's design; it really is not even a full bunch of lilies… and a shallow container- of very little value (money) when looked at separately. However, craft them into a perfectly round foliage kabab and it instantly becomes immeasurably valuable because it cannot be found as an "off-the-rack" purchase.
The ideal is to design the kind of arrangements that if you did not craft your design, chances are, it will never exist. It is now impossible to compare the value of this design to that of another.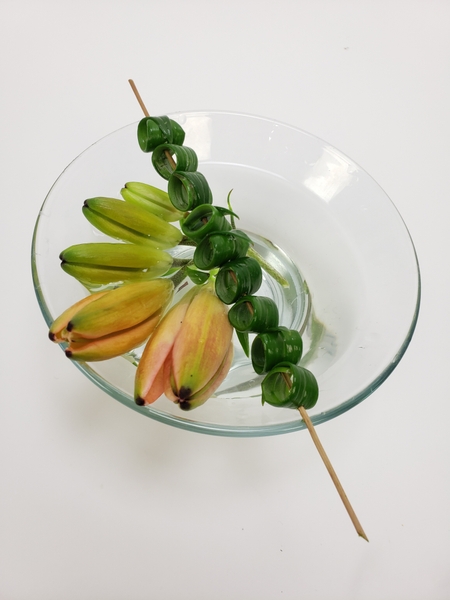 I have shared 699 Designs over the last 588 weeks… that is 832 unique Tutorials for you to try and be inspired by. But of course my intention is not for you to merely copy any or all, my intention is for you to be inspired to use this bit of a Tutorial here… with that bit of the design there… and knot it together with a what…?
And to do that you need to know what kind of plant material would be just perfect for whatever you want to create using the techniques that you have learned.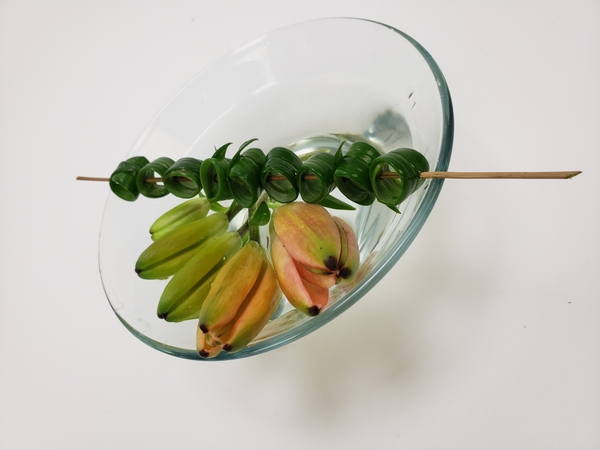 That is exactly what this workshop is about. I will show you my step by step method that I use to test the creative potential of plant material to their limits and beyond, in such a way that you can adapt it to ensure that you come up with design ideas in a unique way to fit your own personal design values and philosophy.
A week of design challenges, one day building on the next, to kickstart your creativity. All online so that you can fit it around your schedule and take a coffee break when you need to think through your answers so that you can be at your most creative best.
Sign up for my weekly newsletter
Every week I add a new design with related tutorials. Be sure to subscribe to receive an email notification with design inspiration.