My Creative Workbook
Christine de Beer - effortless floral craftsman
7 day floral retreat to jumpstart your creativity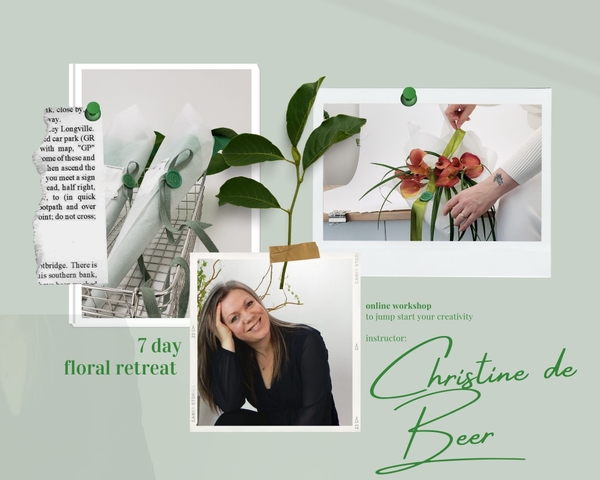 BIG news is coming your way, flower buddies... we're so excited to announce our newest course and my first ever online Workshop:

7 day floral retreat to jumpstart your creativity with Christine de Beer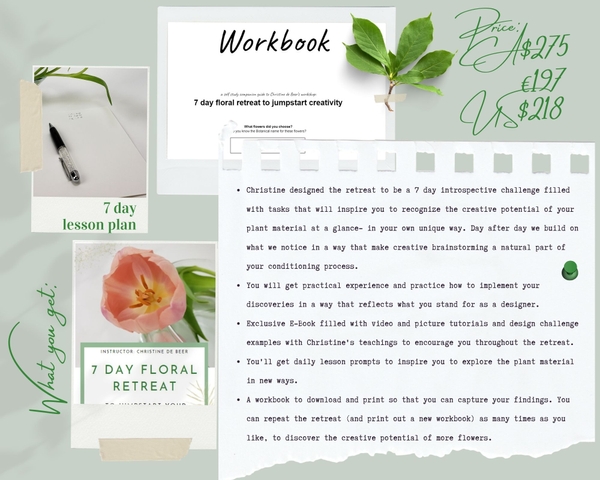 What you will get:
Christine designed the retreat to be a 7 day introspective challenge filled with tasks that will inspire you to recognize the creative potential of your plant material at a glance- in your own unique way. Day after day we build on what we notice in a way that make creative brainstorming a natural part of your conditioning process.
You will get practical experience and practice how to implement your discoveries in a way that reflects what you stand for as a designer.
Exclusive E-Book filled with design inspiration and picture tutorials and design challenge examples with Christine's teachings to encourage you throughout the retreat. You'll get daily lesson prompts to inspire you to explore the plant material in new ways.
A workbook to download and print so that you can capture your findings. You can repeat the retreat (and print out a new workbook) as many times as you like, to discover the creative potential of more flowers.

Price: CA$ 275
... that is (depending on the current exchange rate) about:
€197
US$218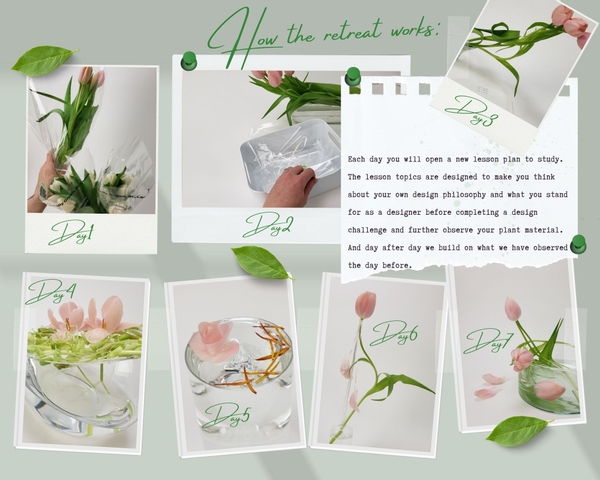 How the retreat works:

Each day you will open a new lesson plan to study. The lesson topics are designed to make you think about your own design philosophy and what you stand for as a designer before completing a design challenge and further observe your plant material. And day after day we build on what we have observed the day before.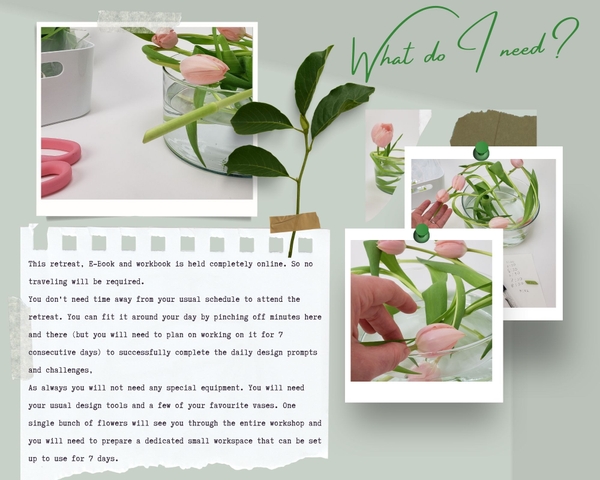 What do I need?

This retreat, E-Book and workbook is held completely online. So no traveling will be required.
You don't need time away from your usual schedule to attend the retreat. You can fit it around your day by pinching off minutes here and there (but you will need to plan on working on it for 7 consecutive days) to successfully complete the daily design prompts and challenges.
As always with Christine's training you will not need any special equipment. You will need your usual design tools and a few of your favourite vases. One single bunch of flowers will see you through the entire workshop and you will need to prepare a dedicated small workspace that can be set up to use for 7 days.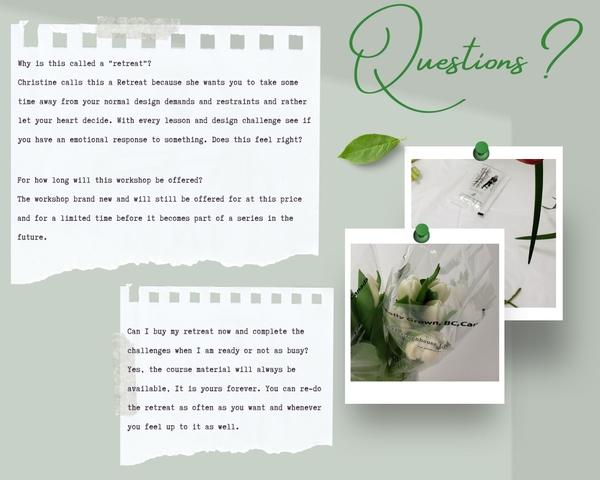 Questions?

Why is this called a "retreat"?
Christine calls this a Retreat because she wants you to take some time away from your normal design demands and restraints and rather let your heart decide. With every lesson and design challenge see if you have an emotional response to something. Does this feel right?


For how long will this workshop be offered?
The workshop brand new and will still be offered for at this price and for a limited time before it becomes part of a series in the future.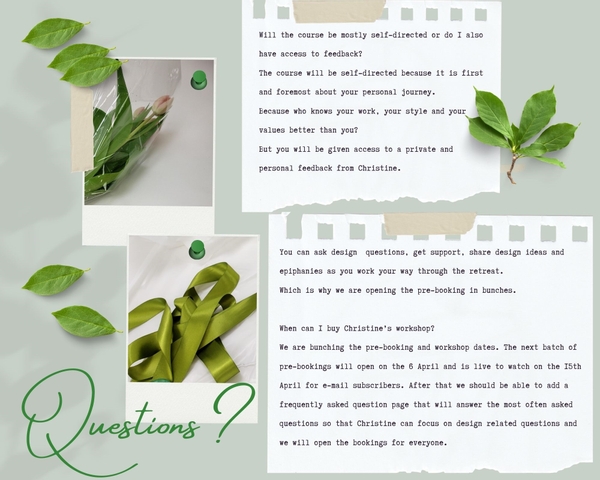 Will the course be mostly self-directed or do I also have access to feedback?
The course will be self-directed because it is first and foremost about your personal journey. Because who knows your work, your style and your values better than you? But you will be given access to a private and personal feedback from Christine.
You can ask design questions, get support, share design ideas and epiphanies as you work your way through the retreat. Which is why we are opening the pre-booking in bunches.

When can I buy Christine's workshop?
Because this workshop is focused on you, as a unique individual, Christine will answer all your questions herself. To make this easier to achieve we are bunching the pre-booking and workshop dates. The next batch of pre-bookings will open on the 6 April and is live to watch on the 15th April. After that we should be able to add a frequently asked question page that will answer the most often asked questions so that Christine can focus on design related questions and we will open the bookings for everyone in the coming weeks.⁠
Sign up for my weekly newsletter
Every week I add a new design with related tutorials. Be sure to subscribe to receive an email notification with design inspiration.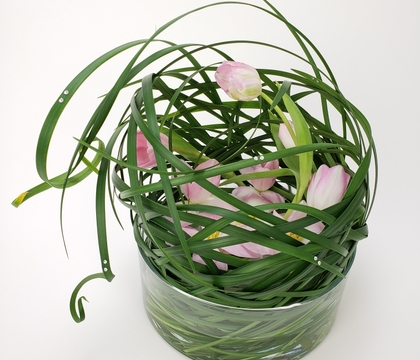 23 March 2022
Chockablock!
Luxuriously filled design... filled with flowers... filled with grass. But most fun, for us as designers filled with hidden techniques