My Creative Workbook
Christine de Beer - effortless floral craftsman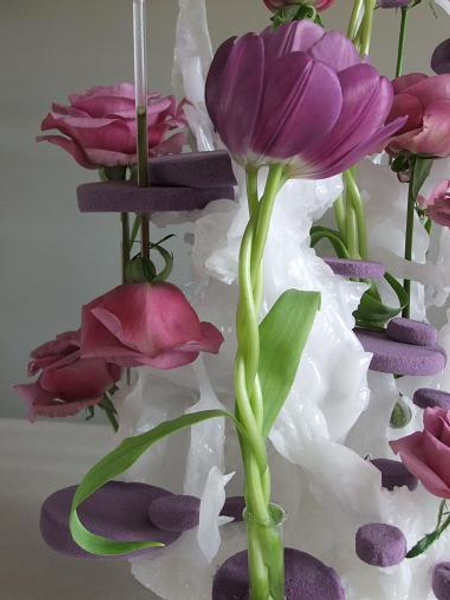 Tulipa
Plaited tulips in my I've got my head in the clouds design.
Origin
Even though we normally associate tulips with Holland it originates from the North Himalayas. Today Holland supplies most of the world market with tulips
Varieties
There are many varieties available. Most important to the cut flower industry is the bell shape traditional tulip, the parrot tulip with its ruffled petals and the lily flowering tulip with its pointed petals.
Colors
yellow, red, green, white, cream, dark purple, lilac, pink and more also bi-coloured
Vase life
Five to ten days with proper care. Tulips are harvested before you can even see their colour with the flower heads tucked into the leaves. They will continue to grow, about the size of the flower head per day, in water.
Uses
The stems curve and bend gracefully. Looks fantastic if you reflex the petals. It is also possible to keep the flowers in tight bud. Arrange in water rather than floral foam.
Conditioning
Because the growers pull the flowers from the bulbs when harvesting you will notice a white end on all the stems. This white area is very firm and prevent the stem from loosing moisture but also from taking up moisture. Cut the stem at an angle just above the white area. Place the stems in cold water to condition. To open the flowers quicker you can condition the flowers in warmer water. Add flower food formulated for bulb flowers to the water. Tulips are geotropic, condition them in an upright position. The stems will also be straighter if you wrap the tulips in brown paper or leave it tightly wrapped while conditioning. Tulips can cause allergic reactions. Wash your hands after working with tulips.
Sign up for my weekly newsletter
Every week I add a new design with related tutorials. Be sure to subscribe to receive an email notification with design inspiration.