My Creative Workbook
Christine de Beer - effortless floral craftsman
Article in the June 2012 Issue of
Canadian Florist Magazine

It is a rare talent to always be able to say exactly the right thing at the right time. Even more so, in sad or tragic circumstances. Fortunately, even the humblest flower possesses that talent. Flowers can speak the words we wish we could, and it is our task as floral designers to make it easy for anyone, looking at the design, to understand and experience the designs on an emotional level.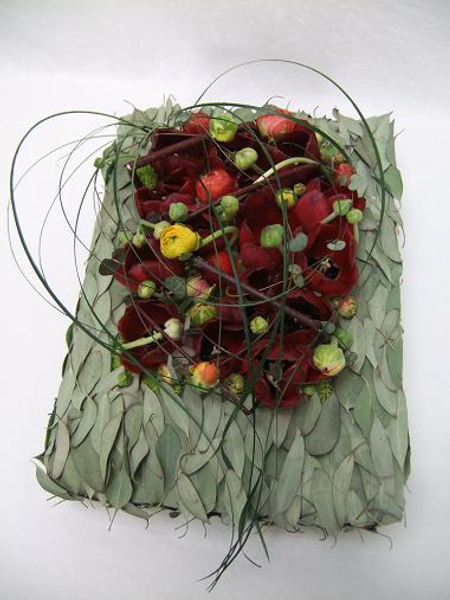 Designing to speak to emotions is a subtle and sensitive skill that delivers truly great work and transcends aesthetics.
A well designed arrangement is a physical object that becomes personal, for us to connect with and respond to. Sympathy flowers can celebrate life, love and memories shared, and the design can show concern for those we care for.

The secret to cultivating this skill is to focus on the emotion you, as designer, invest, and the emotions you experience when looking at your own designs. Your customers come to you because they love what you do, and trust you to relay an important message. That means there is already a connection between you for them to feel it, if you feel it.

Our busy schedules often prevent us from acknowledging our emotions while designing. But while we create we are instinctively drawing on some emotion that dictates every design decision. The real challenge is to intentionally direct this instinct and consistently create appropriate and meaningful work. This involves taking the time to deliberately think about, and note down, your design choices and the reasons for making them. The questions below are designed to guide you through this process. There is no right or wrong answers, just your answers.

Plant material: Think of different situations and the plant material you naturally choose for them. What plant material would you use to express happiness, hope, gratitude, love or sorrow? How will your choices affect the design?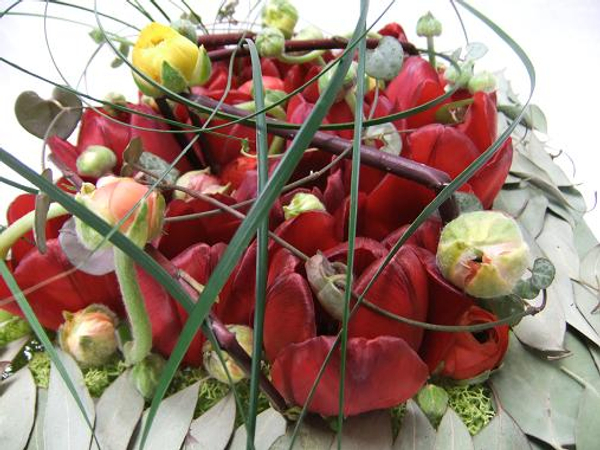 Do you favour traditional associations, such a lilies, tulips and carnations for sympathy designs? Or do you lean towards custom tributes, for example, will you give preference to sunflowers if they were the deceased's favourite?
Elements and principles of design: Consider lines, patterns, space, texture and colour. How will each of these affect the emotional reaction to a design? How will scale, contrast or balance and the other principles of design affect the way you interpret the design? What is your view of the budding variety of unusual forms and styles in contemporary arrangements such as wreaths that are no longer assumed to be round? Or do you gravitate to comfort with more traditional styles?

Techniques: Think of examples where some techniques are more appropriate than others to convey emotion. How will the design choices, design variety, budget and location affect the techniques you choose to use?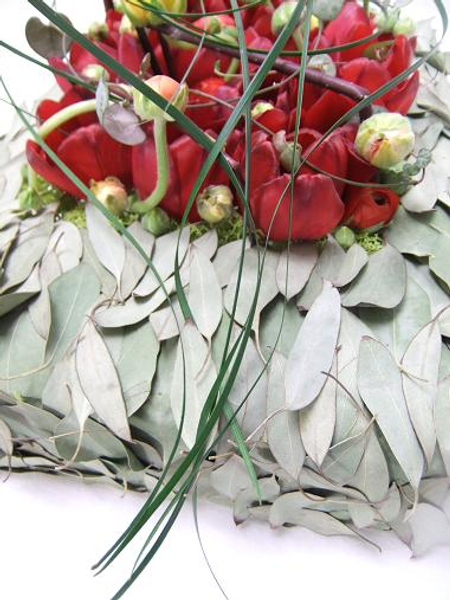 Every technique is important, even the simple ones.
Accessories: What are your accessory preferences, and why? What is the emotion behind choosing one type of ribbon over the other? How can you "stretch" accessories to encompass other emotions? What does a "happy" bow looks like? How can it be adapted to say: "I am thinking of you in this sad time?"

Imagery: What images or symbols do you associate with different emotions?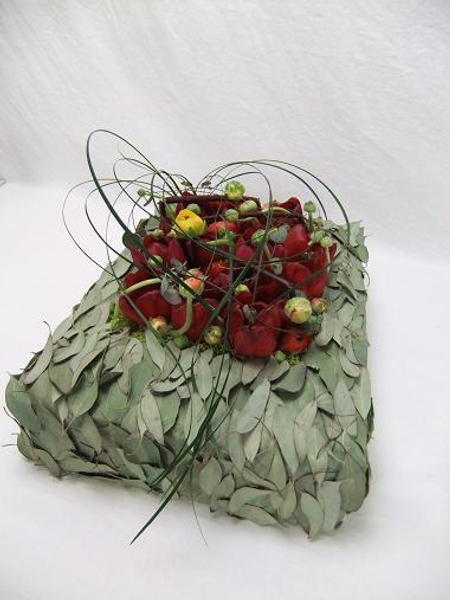 In sympathy work, we are often asked to design wreaths, pillows, hearts, religious signs, symbols and emblems.
How do you incorporate these in your designs and remain authentic to your personal style?

Cultural believes: How are your design choices affected by your, and your customer's culture? Are there cultures or religions for which your designs are more or less appropriate?

Consideration: What steps do you take to consider the emotions of people who will place, or take delivery of, your designs? How will your design avoid frustration? Are there third parties (e.g. funeral directors and church officials) to liaise with? How do transport and delivery times affect your design decisions?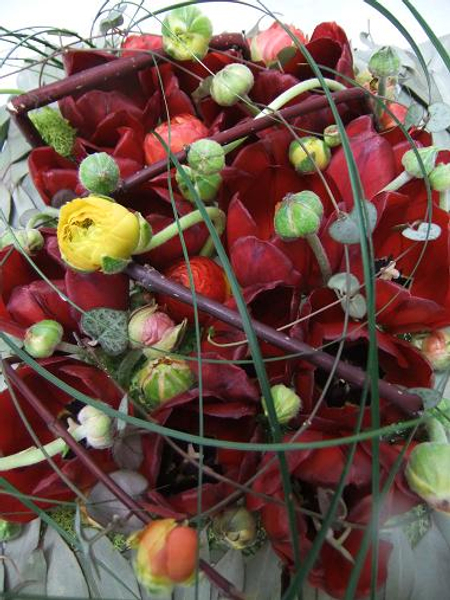 You will be ready, even at busy times, to create designs with meaning, by investing time to broaden your own signature style to include a wide range of your emotions.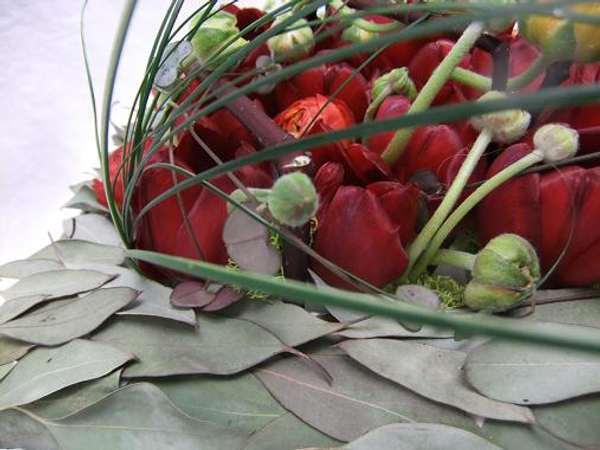 Design note:
Sympathy designs include crafted forms and shapes. Add contrasting floral ingredient such as a few pieces of free flowing grass to contour a heart over the manipulated shape, for a contemporary design and respectful liveliness.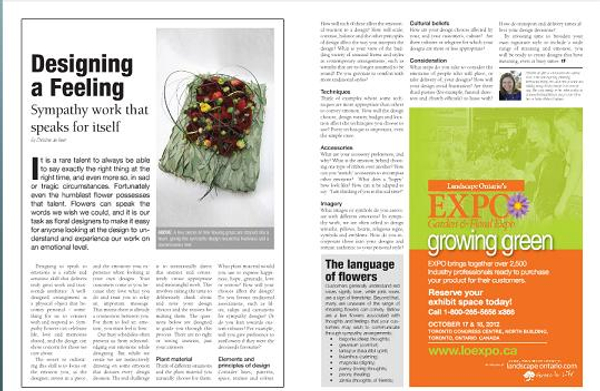 Thank you Canadian Florist Magazine for inviting me to be part of your June issue. It is an inspirational resource for all Florists. Have a look at the on-line magazine.
Sign up for my weekly newsletter
Every week I add a new design with related tutorials. Be sure to subscribe to receive an email notification with design inspiration.