My Creative Workbook
Christine de Beer - effortless floral craftsman
A Double vase, Sticky tape, Reflexed AND Woven Nestled Grass and Tulip Whirl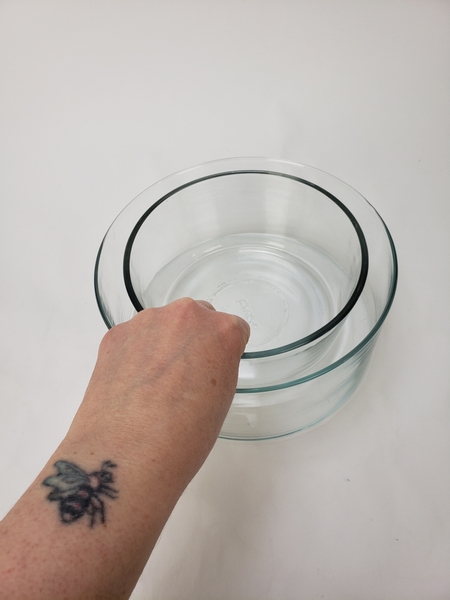 Place two containers (one slightly smaller than the other) on your design surface.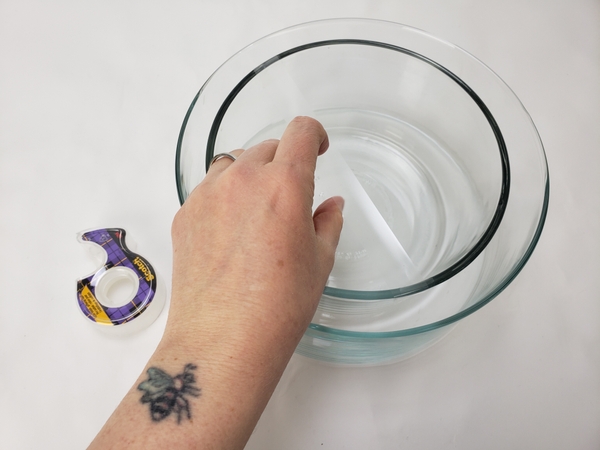 Tape a grid over the inside container using clear tape.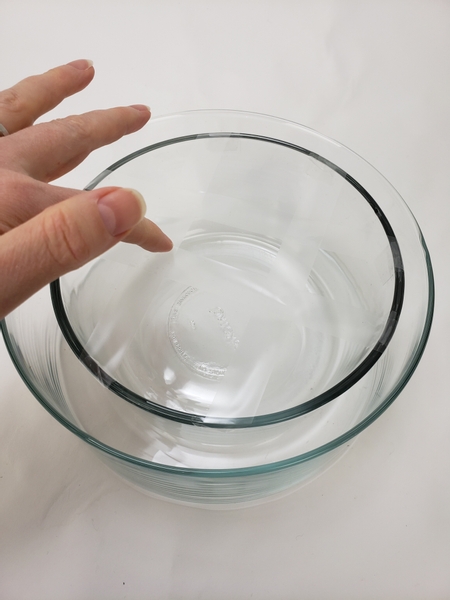 My twist to this technique is to turn the tape sticky side up so that you can secure some design details to the tape to keep them in place.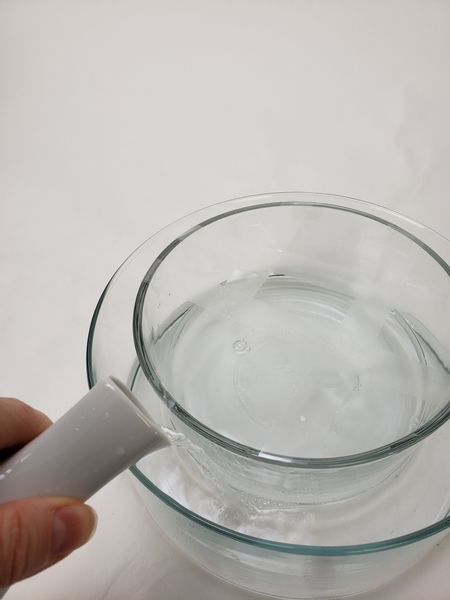 Pour water into both containers.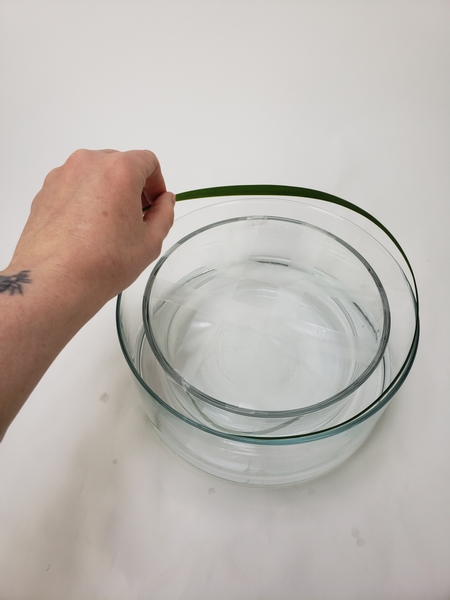 Start the grass whirl by placing the blades around the outside ring.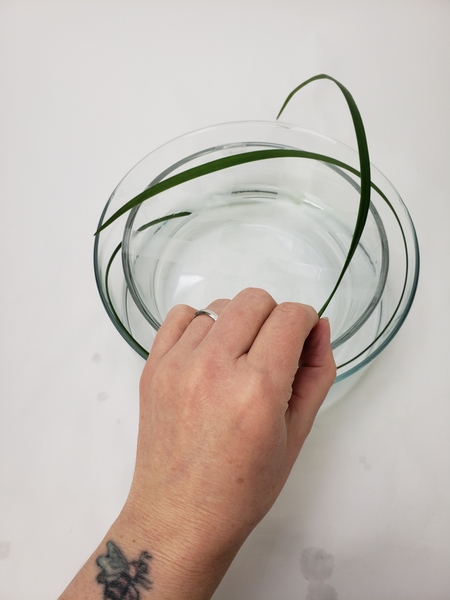 Place the second blade of grass to whirl in the same direction.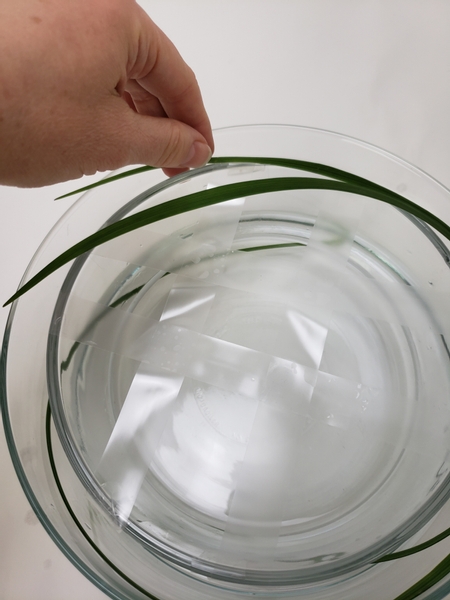 Rest the tips on the sticky tape to lift it out of the container so that you can start interweaving the stems.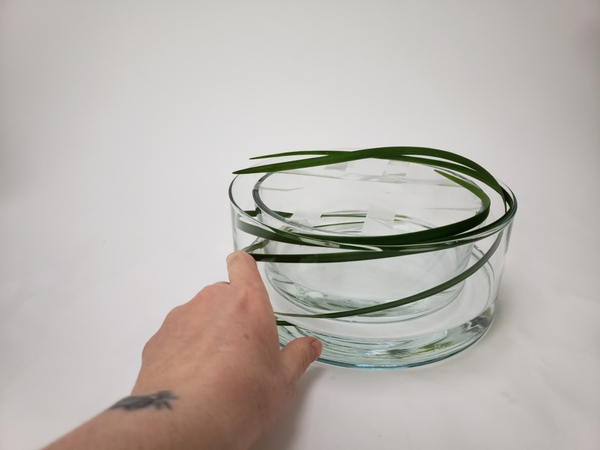 Continue adding blades of grass.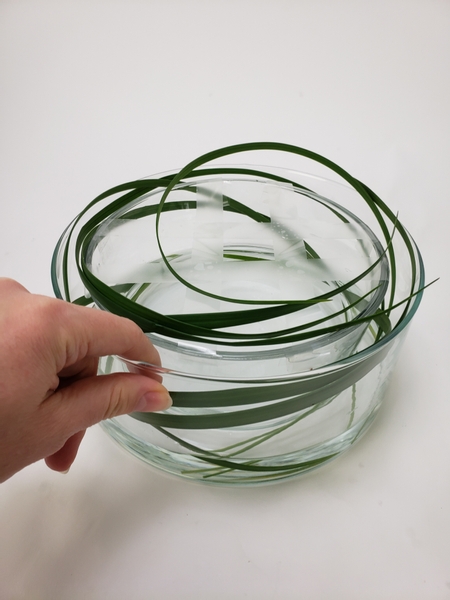 Making sure the cut ends are under water and the tips whirl in the same direction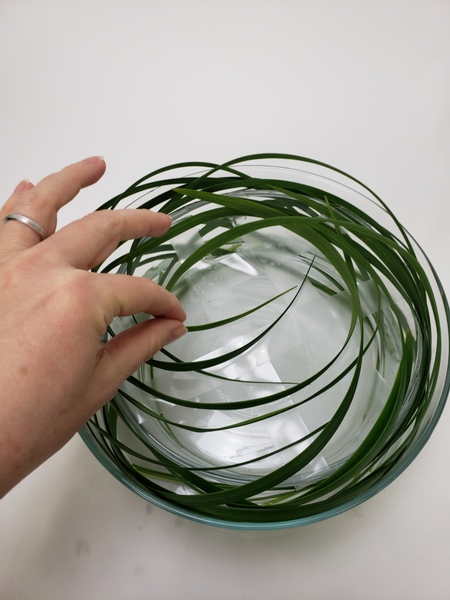 And the tips swirling on the sticky tape.
In this week's email I explain how the sticky tape keeps the design from looking heavy. Make sure to sign up so that you receive all the bonus tips each week that points out something special to learn from each design. The sign up button is below this post.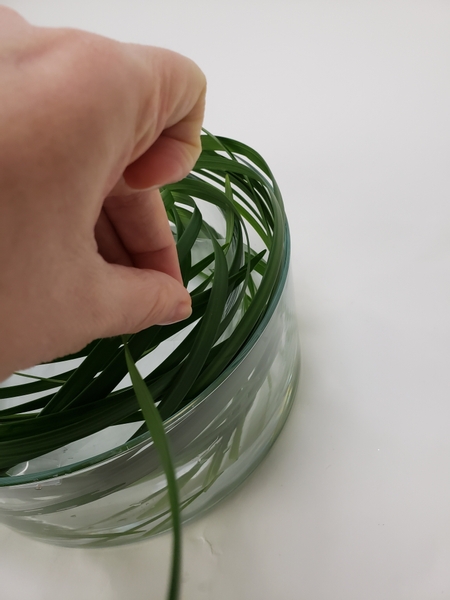 Once you have enough grass in the container interweave the blades to allow the grass to extend above the taped grid to make a cavity for the tulips to nestle in.
You can find more detailed instructions about weaving... and interweaving in the Tutorial below.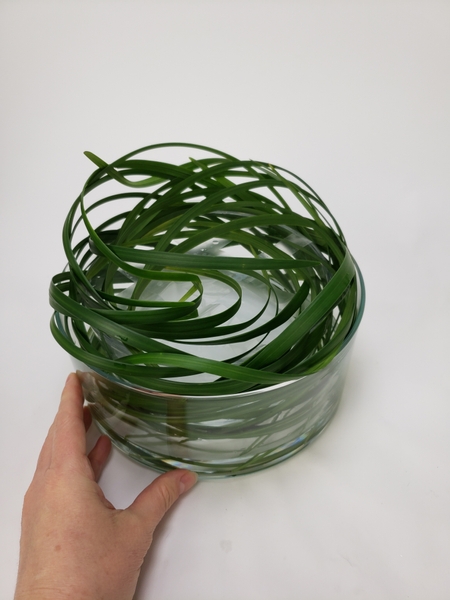 Interweave an edge above the containers about one and a half times the height of the containers.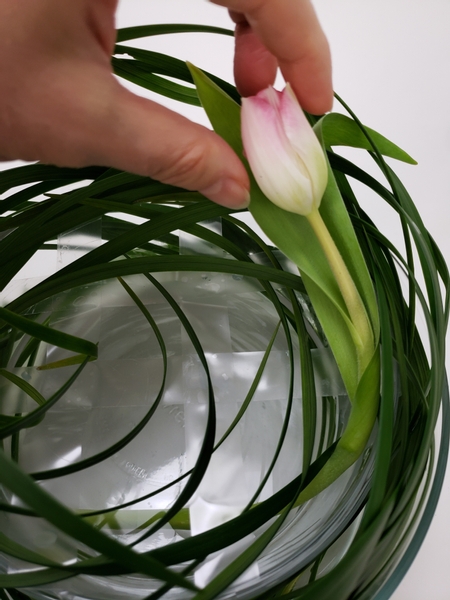 Place the tulips into the inside container...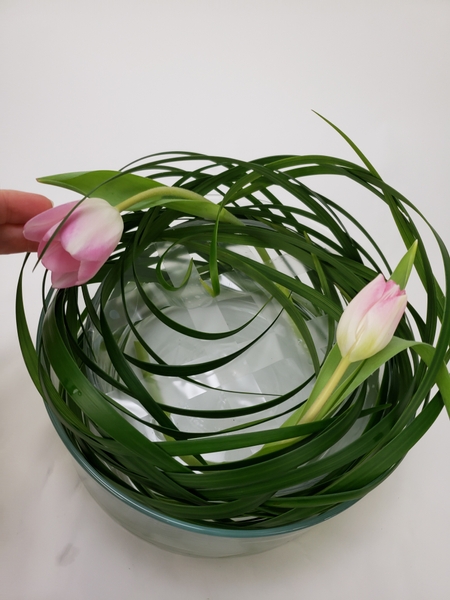 ... to follow the whirl...
Design note: I did not want to slow down the Tulip growth because I love the idea that the design continues to grow... and develop as it matures.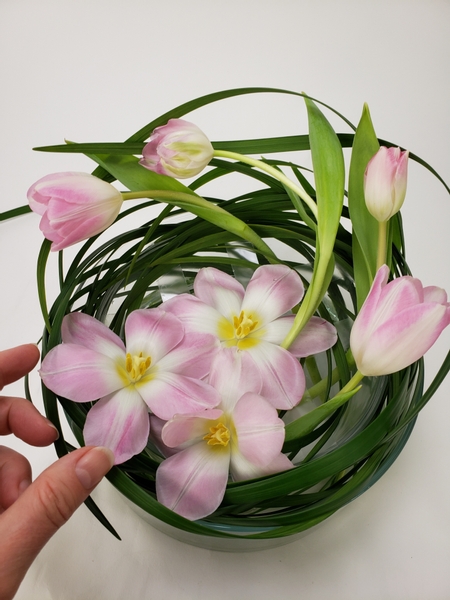 Or to be nestled and kept in place on the taped grid.
See the Tutorial below for more information on how to reflex the tulip petals to create a fully opened flower.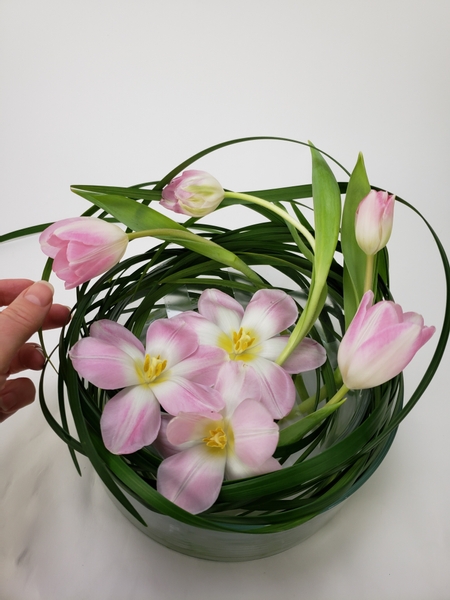 Continue to interweave blades of grass around the tulips.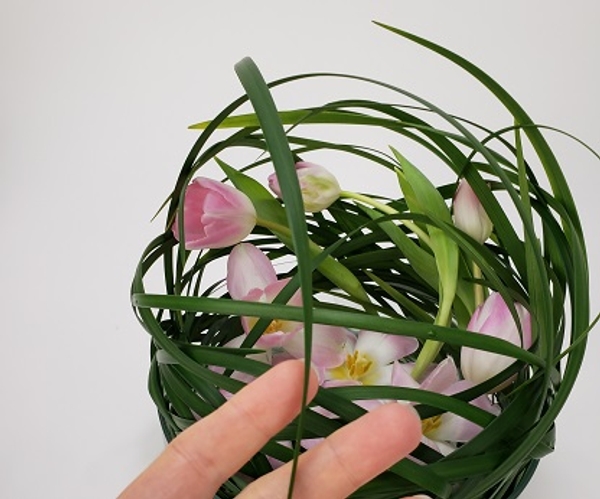 Interweaving and draping the grass into a neat shape.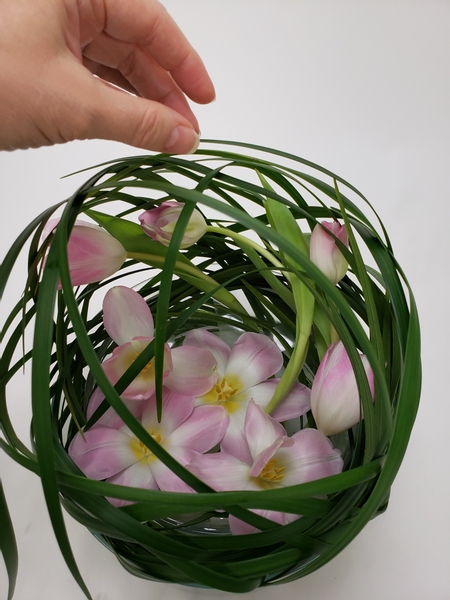 Weave in a few long blades of grass to drape over the containers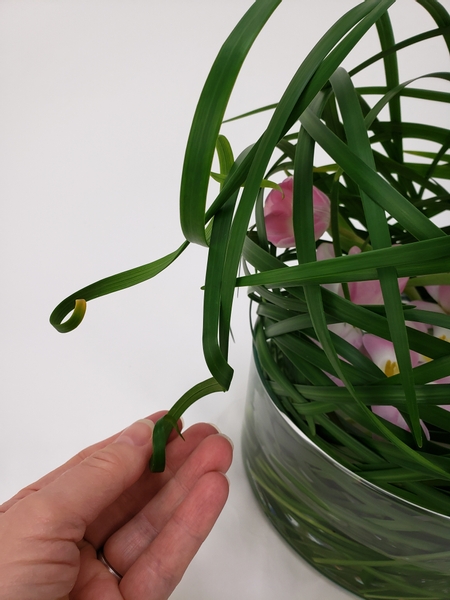 And curl only these blades into tight ringlets.
Book readers turn to page 289 for the best method of curling grass. I also have a video of this for you to show you a close-up in my online workshop.
For more information about my book: The Effortless Floral Craftsman

... but to get you started I also have a more traditional method that you can try. See the Tutorial below for more details.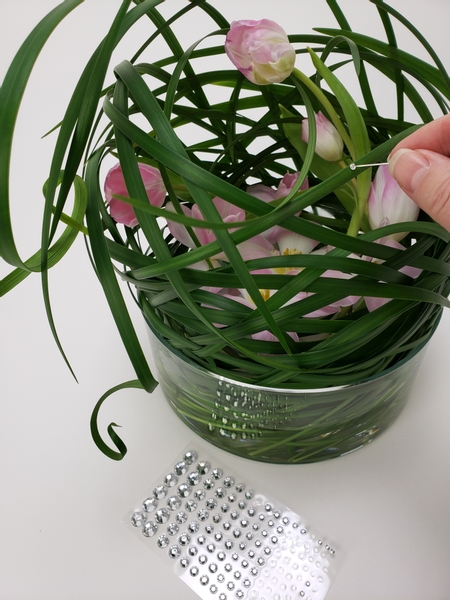 Finish the design with a few dew drop crystals.
Notice I put the crystals on using a pin? This is because it is the only way I have found that will not damage the plant material. See the Tutorial below for more detailed instructions.
Sign up for my weekly newsletter
Every week I add a new design with related tutorials. Be sure to subscribe to receive an email notification with design inspiration.