My Creative Workbook
Christine de Beer - effortless floral craftsman
It's Tulip time! Since early spring the tulip plants have been slowly pushing through pillows of spongy moss and finally they are in full bloom- everywhere. Traditional Tulips. French Tulips. Parrot Tulips. Everyone is saying that they are a bit late this year (because of the cold, wet spring) but I am just so glad they made it.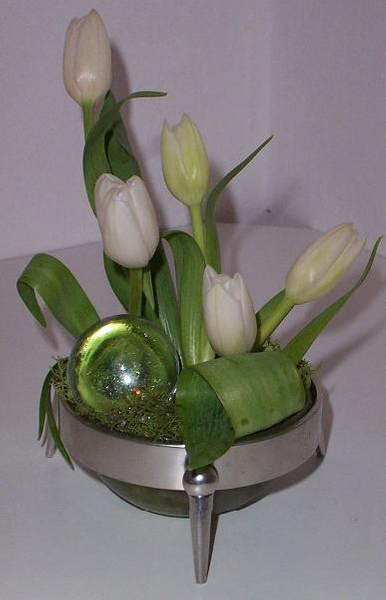 Moss, a glass raindrop and elegant swirling tulips.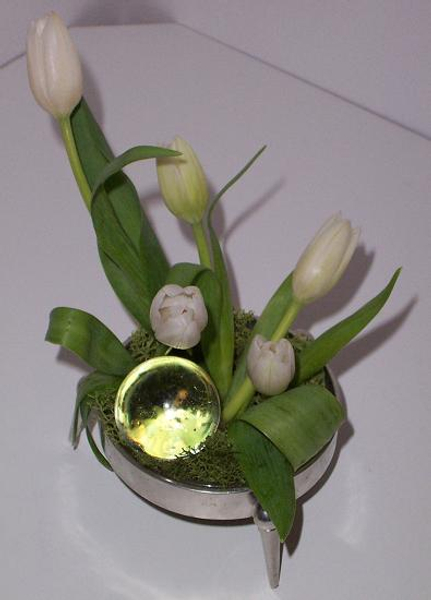 To keep the tulip stems standing upright in the shallow container I used a Kenzan as my mechanic.
A Kenzan is a heavy pin holder most often used in Ikebana designs.
Place the Kenzan in the container. Fill the container with water. Skewer the tulip stems into the nails of the Kenzan in the position you require. Cover all the mechanics with Moss.

I also used a Kenzan in my Touchstone design

In March I showed a design ANTI-BACTERIAL in which I specifically wanted the tulips to continue growing. The twists and turns of the stems enhanced the natural lines of the design to complement the artificial glue nest the stems were nestled into.
Sign up for my weekly newsletter
Every week I add a new design with related tutorials. Be sure to subscribe to receive an email notification with design inspiration.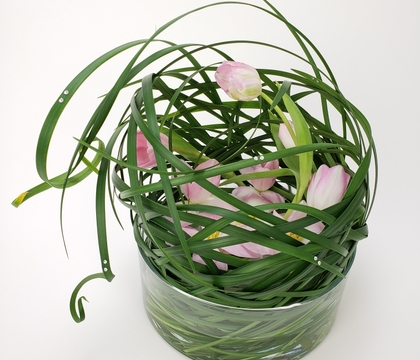 23 March 2022
Chockablock!
Luxuriously filled design... filled with flowers... filled with grass. But most fun, for us as designers filled with hidden techniques