My Creative Workbook
Christine de Beer - effortless floral craftsman
Tips and tricks for crafting beautiful art
Article in the April 2012 Issue of
Canadian Florist Magazine

Today's fashionable clients are looking for floral accessories that reflect their own individual style, challenging the floral designer to think beyond corsages and boutonnières, especially in prom season. Floral- necklaces, Hath panjas (Indian hand jewellery) and even floral key chains suit our industry's naturally creative spirit, but creativity is not the constraint in body flowers. The primary challenge is in the mechanics that bind them.

Body flowers requires design on the smallest possible scale, and is a large scale test for mechanic design skills. Training and experience becomes the focal point because a unique creation of our imagination can quickly become a time consuming struggle without the finer "how-to's." Here is a checklist for fashioning body flowers this season.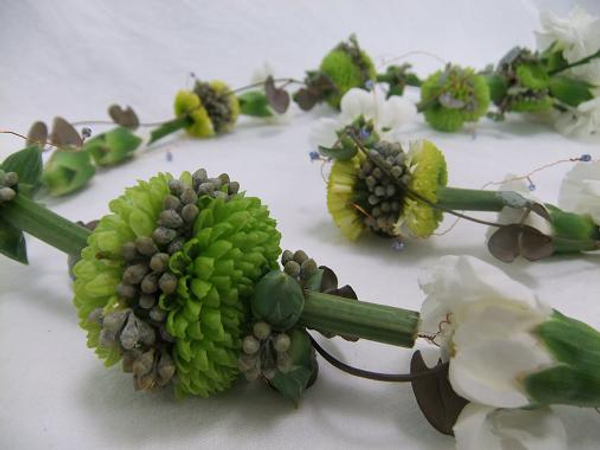 Story Let the flowers tell your story. Flower and plant material should always predominate in any floral design composition. Use wires and pins and beads but do not over accessorize your design.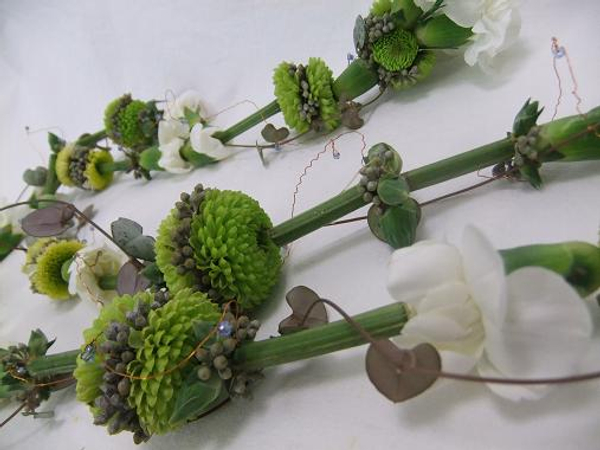 Durability Your creation should last when handled, admired and worn with pride. A clumsy and fragile design will be a distraction.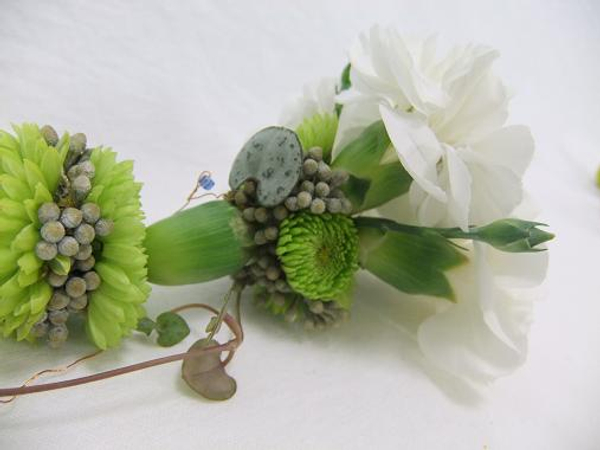 Comfort Take extra care to finish the design smoothly. There should be no sharp edges or wires that could snag on delicate fabric or cut and scratch. Then go beyond merely not hurting the wearer and add comfort and even a bit of soft luxury by covering the inside of a bracelet with soft fabric ribbon or creating a soft feather base or a cool petal handle that feels wonderful worn close to your skin. Also give attention to make sure the design is light and well balanced. Remember to try on the design as a final comfort check. If possible make the design adjustable for a tighter or looser fit according to the wearer's preference.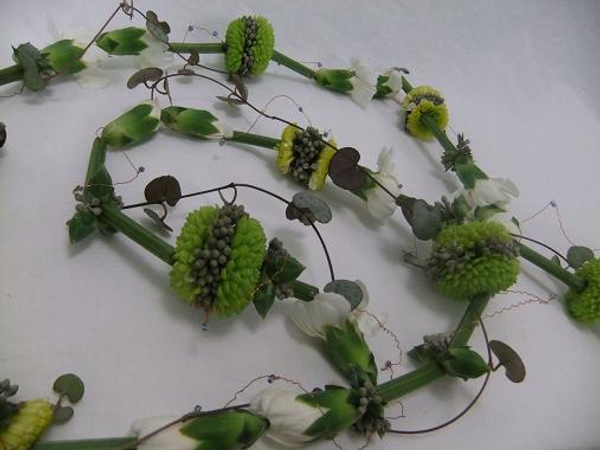 Scent Floral fragrances are magnificent but make sure the recipient wants to wear something fragrant and that it does not overwhelm or contrast with their perfume.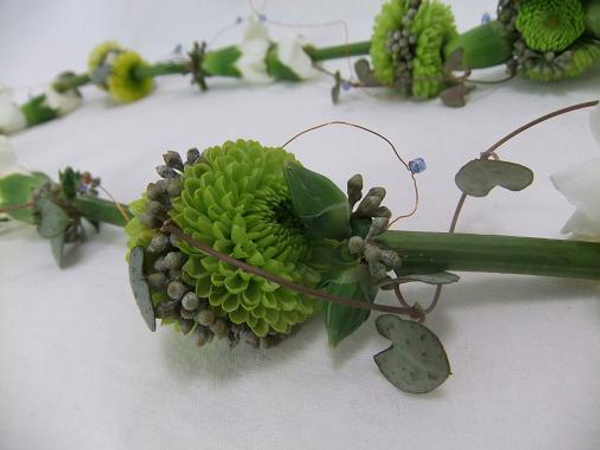 Condition Creating body flowers is labor intensive, whether you choose to wire the design or simply glue the components in place. Most body flowers will wilt rapidly because they have no water source. Make sure the flowers you choose for the designs are well conditioned and handle each bloom with care. Dehydrated flowers also bruise easily and often the bruises become visible only after the design is removed from the fridge and the flowers are at room temperature.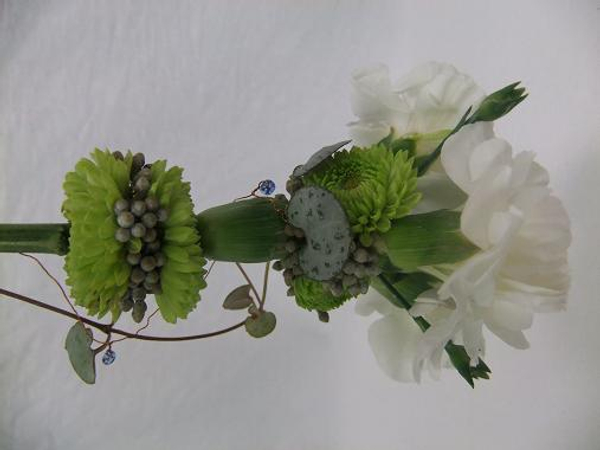 Allergies As a rule avoid any plant material that may cause allergies. It is also best to steer clear of any flowers with a milky latex sap that should be caramelized when conditioning, any fuzzy foliage that can cause itching and flowers in full bloom with lots of pollen. Some people are also allergic to daffodils and tulips.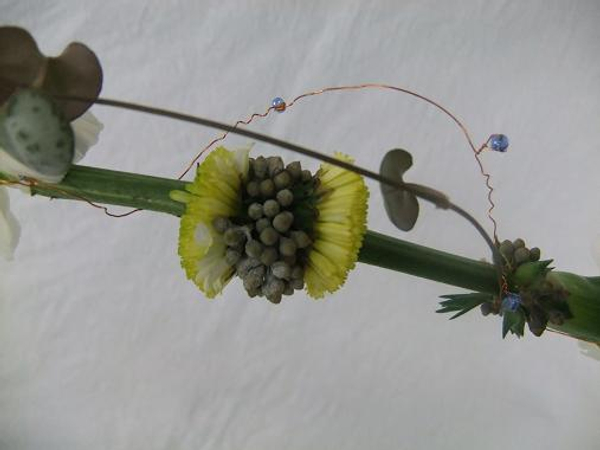 Stains Seal any pierce wounds in flowers or fruit to prevent juice or sap from leaking. Died flowers will also stain fabric and skin, and it is best to avoid using them altogether. Rather incorporate unusual colors into a neutral color scheme by adding ribbons or beads or other accessories. Always remove lily pollen.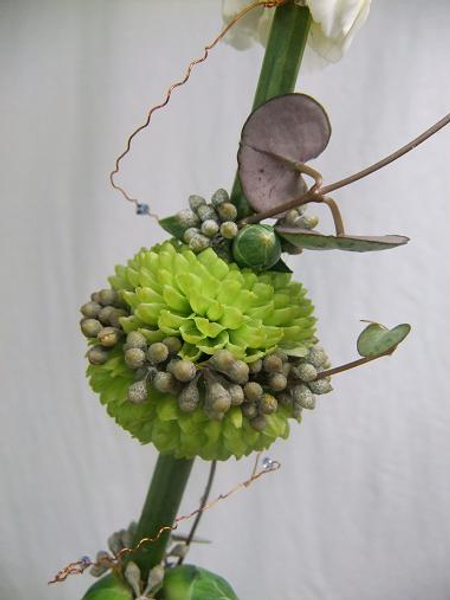 Craftsmanship Make sure you finish the design impeccably. There should be no bits of glue showing and no visible mechanics. Each component should be secured and every stem securely tied. Remember that stems dehydrate and shrink out of water and the binding might come undone if you do not tie the design firmly. The neater the craftsmanship the more professional (and valuable) the piece will appear. Give attention to the back of the design to make sure it looks just as good as the front. Add something personal or interesting to the back of the design, such as the wearers initial, as a special added extra.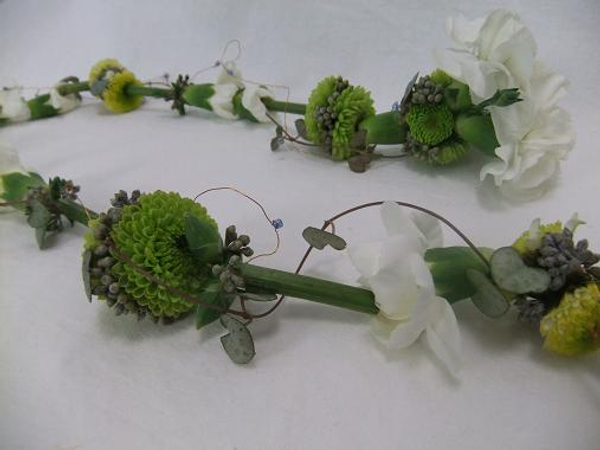 Instruct If your client wants a more ambitious piece, and you needed to use every trick in the book to accomplish the results, make sure you instruct them in the correct way to fasten, hold and wear the design. A design can look different once pinned than what it looked like on the design table. Wear the design and look in a mirror to see the effect. Look at the design from every angle to make sure it has a profile when viewed from the side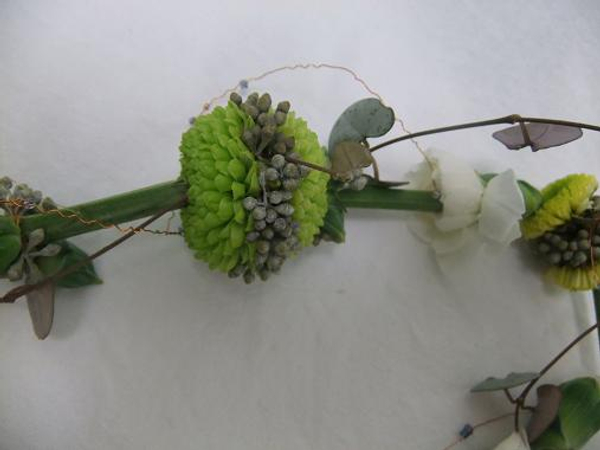 Variety Use a combination of fresh flowers, dried material and accessories to construct the piece. This way you can do some of the preparations ahead of time and add only the freshest plant material at the last moment.
These are broad boundaries, leaving sufficient scope for creating exciting body flower designs while ensuring the wearer will have a positive and memorable experience, making you the natural choice for their future floral needs.

The design:
Thread flower buds, stems and full blooms to create a long floral string that can be worn as a lariat necklace. A lariat is a long necklace without a clasp, worn draped a few times around the neck, or the ends can be crossed over, looped or tied.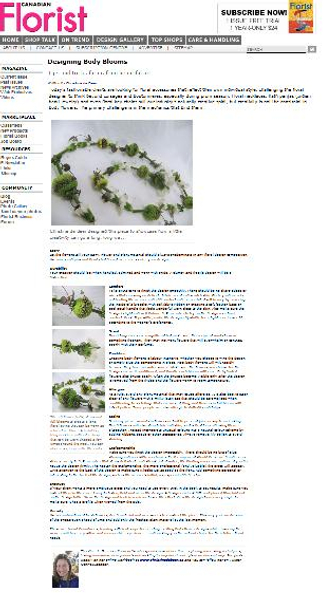 Thank you Canadian Florist Magazine for inviting me to be part of your April issue. It is an inspirational resource for all Florists. Have a look at the on-line magazine.
Sign up for my weekly newsletter
Every week I add a new design with related tutorials. Be sure to subscribe to receive an email notification with design inspiration.