My Creative Workbook
Christine de Beer - effortless floral craftsman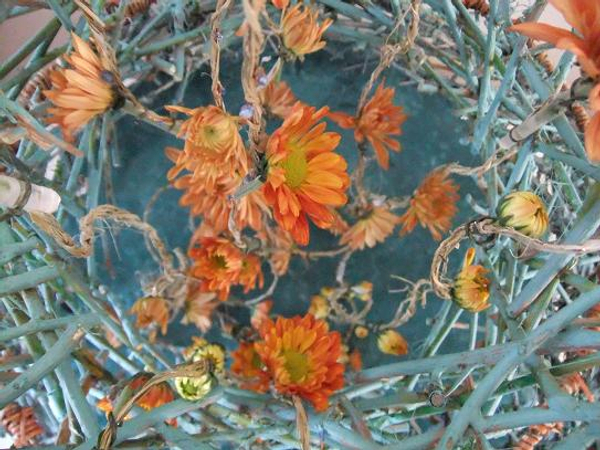 Chrysanthemum
Chrysanthemum Design: the Floral Hour glass was made as part of my wax series
Common name
Chrysanthemum or "mums"
Origin
Chrysanthemums were first cultivated in China as a flowering herb as far back as in the 15th century. A medicinal tea is still brewed from the flowers.
Varieties
Chrysanthemums have many classifications: irregular, regular, thistle, in curved, decorative, pompon (yes, that is how you spell it!), single, semi-double, anemone, spoon, quill, spider and brush. Grown year round in tunnels to supply flower lovers.
Colors
Many variations of almost all shades.
Vase life
Vase Life Seven to ten days or even longer.
Scent
Spiced can even be used as a harmless insecticide
Uses
Many designers considered the flowers a bit over-done but in 2010 Stein Are Hansen (Norway) used Chrysanthemums in his winning entry for the Interflora World Cup Competition entitled "Flowers of the Orient". Today Chrysanthemums are trendy again. The chrysanthemum plants have been shown to reduce indoor air pollution by the NASA Clean Air Study
Conditioning
Chrysanthemums have a woody stem. Remove the foliage that will be under the water line while conditioning. The foliage helps the flowers to hydrate so do not remove all the foliage while conditioning. Cut the stem at an angle and place in warm water with dissolved flower food
Sign up for my weekly newsletter
Every week I add a new design with related tutorials. Be sure to subscribe to receive an email notification with design inspiration.