My Creative Workbook
Christine de Beer - effortless floral craftsman
Capilano Flower Arrangers Club Assignment:
Contemporary Design Inspired by Ikebana: Floral Parasol

It is always a challenge to take something that you have so much respect for, such as the art of Ikebana, and re-interpret it in your own voice.
I wanted my design to be thoroughly me, and thoroughly contemporary yet respectful of the guiding rules and methods shared by the different schools of Ikebana.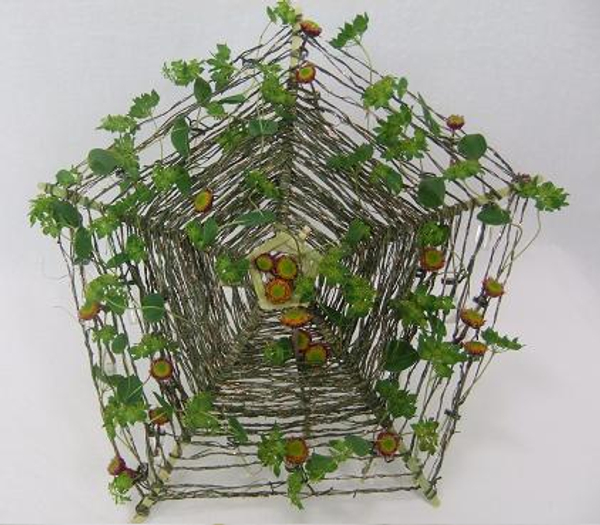 So, even though my design is an oriental inspired parasol, I still made sure my floral placement is asymmetrical, with empty space between the design details and that the materials and the situation for which I am designing is in harmony. I also restrained the use of plant material to three: flax, bupleurum and chrysanthemum hearts.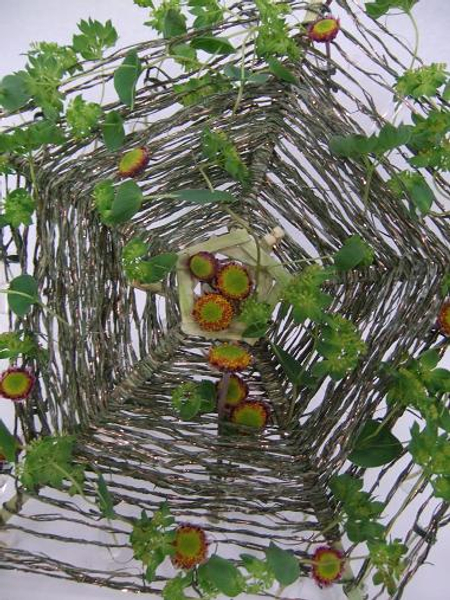 I ripped the flax, with an Ikebana Kenzan, to twirl around 5 wooden peg supports to weave the decorative, all natural, oriental shaped parasol. Traditional Ikebana strongly features triangular shapes and I weaved very clear triangles in my overall design with line, colour, mass and shapes contained inside.
Just as in traditional Ikebana designs I placed great emphasis on the use of lines. The straight flax lines brings stillness and as it slowly radiates out it adds balance to the design. The beautiful stems of Bupleurum curl and curve around the parasol softening it and adding movement.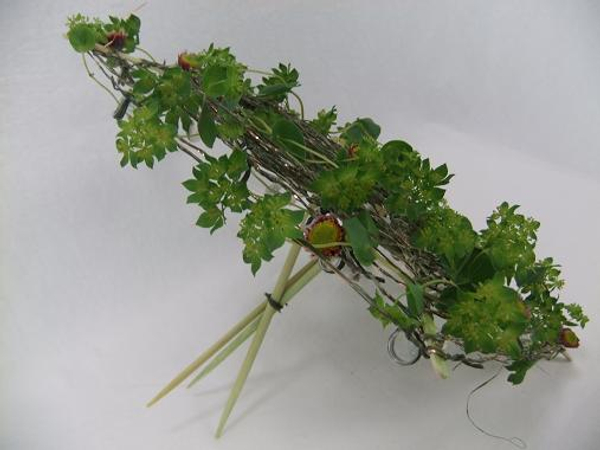 I made the central mast or handle from 3 chopsticks using the Ikebana hana-kubari technique
Ikebana designs are often used as an integral part of celebrations. Just like Floriography, Hanakotoba is used to express sentiments through the symbolic use of flowers and plants.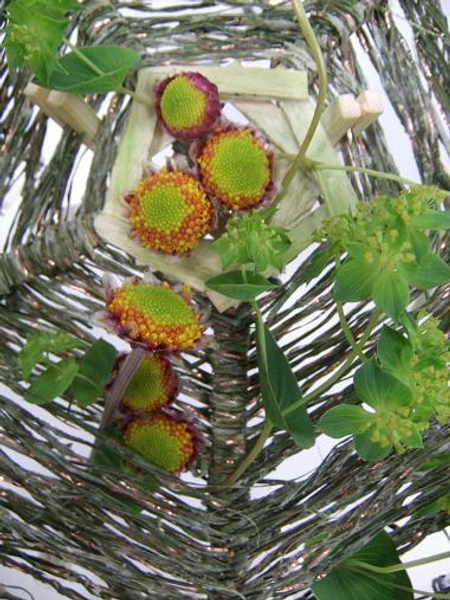 Jú (chrysanthemum in Chinese), means "gathering together so the beautiful bright green and burgundy flower hearts (or stamens) of the chrysanthemums are the perfect choice for focal flowers used at a club meeting! It is also used to convey messages of love and symbolizes union or marriage.
As always, each little stem is in a test tube wired into the design to supply the plant material with water.
Sign up for my weekly newsletter
Every week I add a new design with related tutorials. Be sure to subscribe to receive an email notification with design inspiration.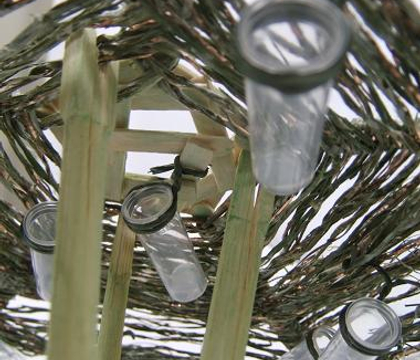 19 October 2011
Hana-Kubari chopsticks
Splitting the chopsticks or a wooden branch, such as a willow twig creates a natural (and glue-less!) clamp.