My Creative Workbook
Christine de Beer - effortless floral craftsman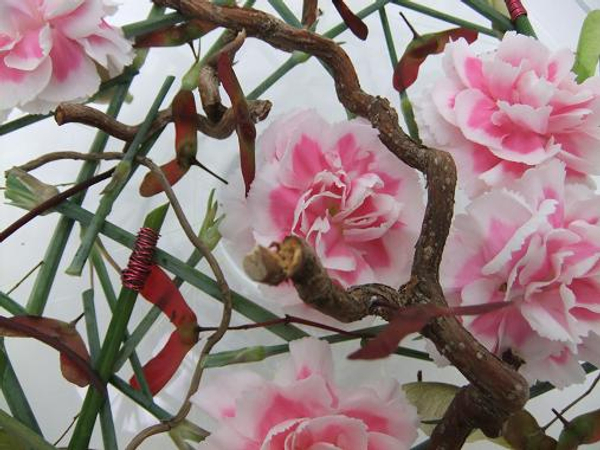 Dianthus
Detail of my Pink floral art design
Common name
Pink, Carnation, Clove Pink, Chinese Pink
Varieties
There are many varieties available including standard, spray, micro and special varieties
Colors
Originally pinkish purple but the flowers are now available in white, yellow, green, red, purple... an huge amount of colours (mono, frosted or duel) are available and the flowers are also often dyed
Scent
Unfortunately most carnations grown for cut flowers no longer have a scent but garden and border pinks have a wonderful clove or peppery-floral fragrance
Uses
Create textured low pave design, loose tied bunches or pomanders. Green carnations are popular in St. Patrick's Day designs and pink, red or white(depending on local customes)Carnations for Mother's Day
Conditioning
Buy the flowers when they are still in tight bud. Remove all foliage. Cut the flower stems just above the node. Condition in warm water (with flower food) for at least 2 hours before designing.
Sign up for my weekly newsletter
Every week I add a new design with related tutorials. Be sure to subscribe to receive an email notification with design inspiration.