My Creative Workbook
Christine de Beer - effortless floral craftsman
Skewer and thread a double layer foliage ruffle collar to slip over a bud vase
Design note: I wanted my ruffle to be extra ruffled to pick up on the carnation petals so I doubled it up. Maybe also because a single layer did not feel dramatic enough for me to balance next to the extra shiny lime green wire and crystals I was planning to use. Newsletter subscribers: this week I tell you more about adding those (very uncharacteristic... for me at least!) design details. Make sure to sign up to read my weekly tips.

You can always skip the double layer and simply thread the leaves for a single ruffle if that is more your style.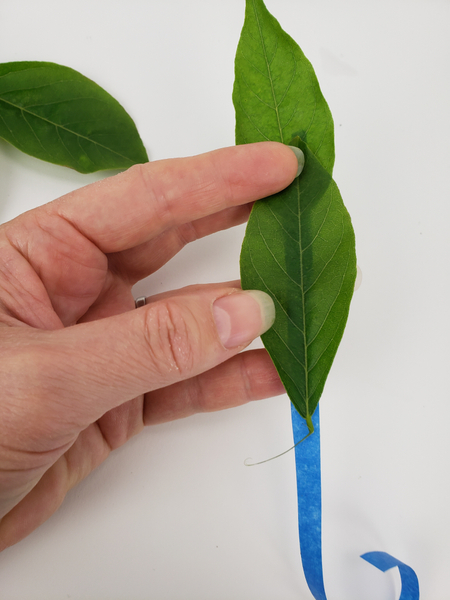 Cut a strip of painters tape in half down the length of the tape. Stick foliage down this thin strip so that they overlap slightly tip to stem end.
Design note: the tape gives the leaves just that extra bit of strength it needs not to rip when skewered... with the added benefit of it creating a neater ruffle AND it helps it keep its shape as it dries. All in all definitely worth the effort not to skip this step.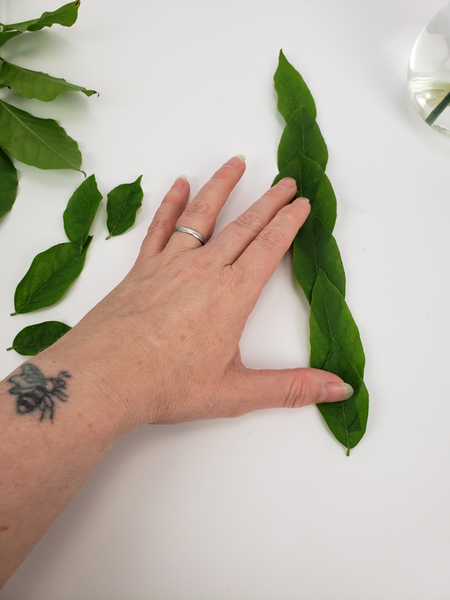 Cover the entire strip of tape...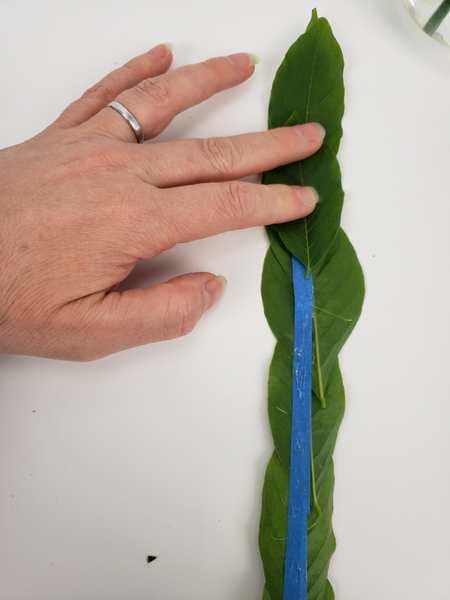 Before flipping it over to cover the over side of the tape.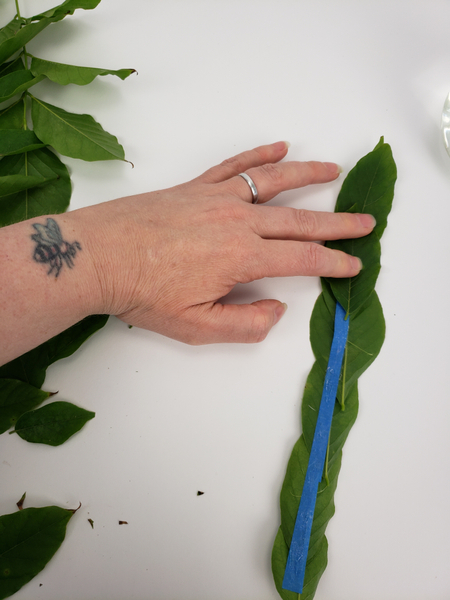 Just a tiny drop of floral glue should be all you need.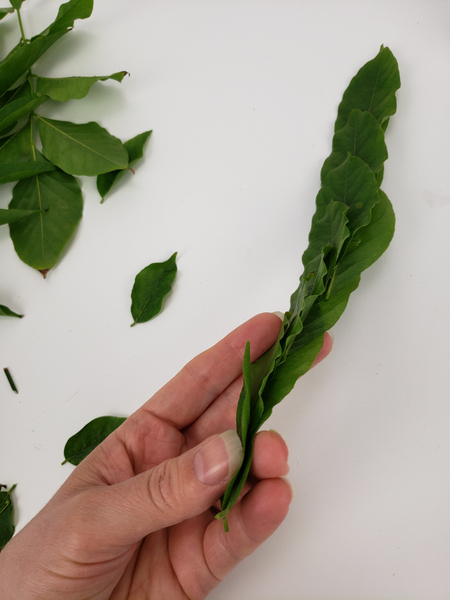 Creating a double layer of foliage to ruffle up.
Book readers: turn to page 206 (where I talk about Mastery) to read more about my core techniques: pierced, threaded, stacked and skewered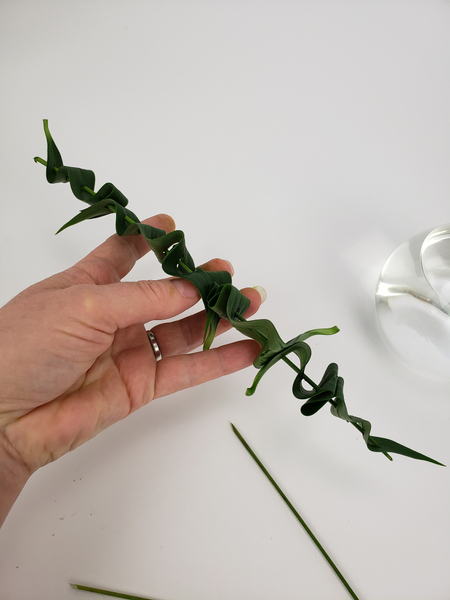 Design note: For this design I wanted to use the bright wire (again... see my newsletter for this week) but you can also keep it natural and skewer the leaves with a thin reed or stick.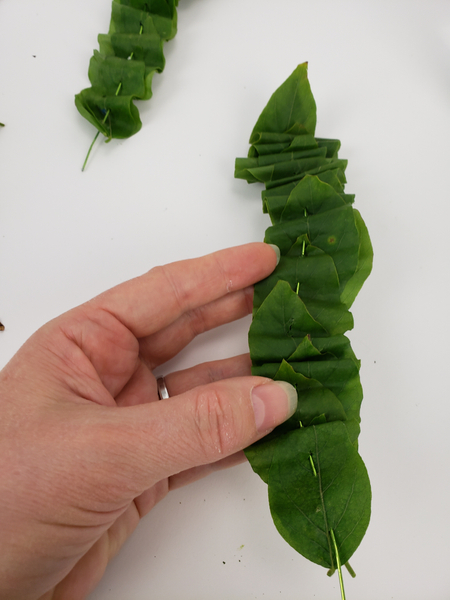 Skewer the leaves with a sharp wire creating a slight ruffle as you go along. Don't fold the leaves flat only curve it down the wire. (But if you want to create a fold it rather than curve... of course I have a Tutorial for you for that as well! See the section below)
Design note: I am placing my ruffle around the neck of a bud vase... so I made two.
To connect the ruffles: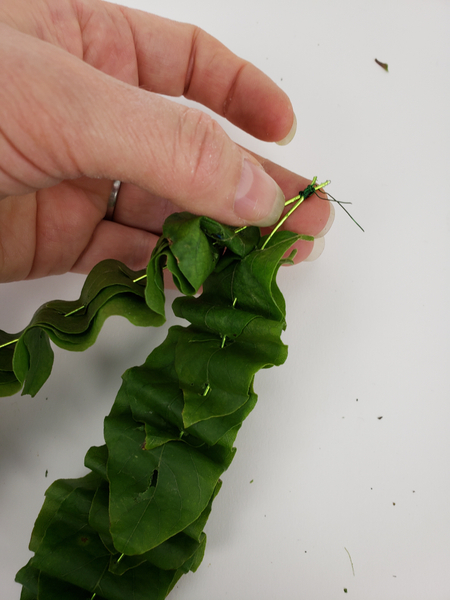 Wrap the wire around the wire ends at both sides to connect the two ruffles.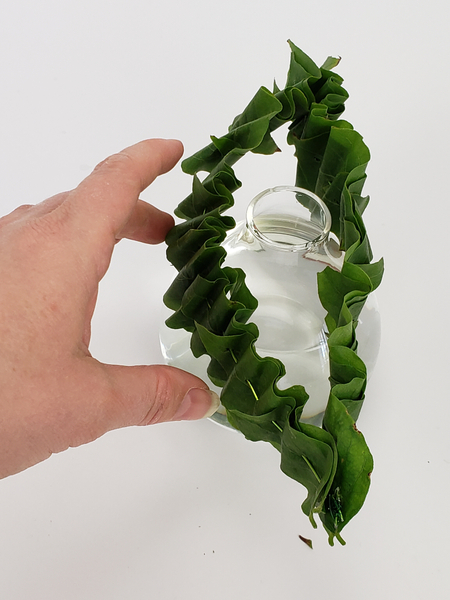 Slip the ruffles over the neck of a bud vase to create a boat shaped collar.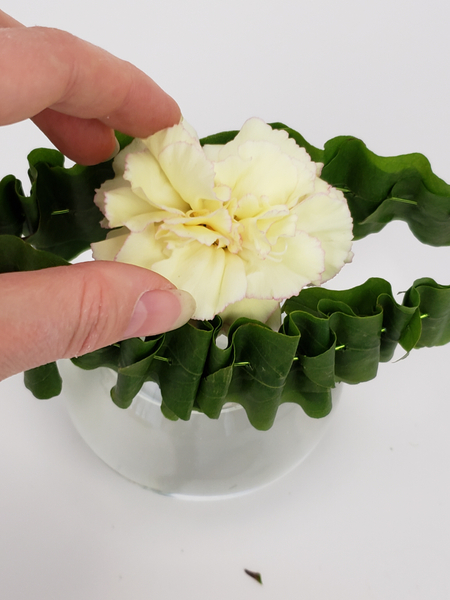 Place the carnation low in the bud vase to be framed by the ruffled foliage collar...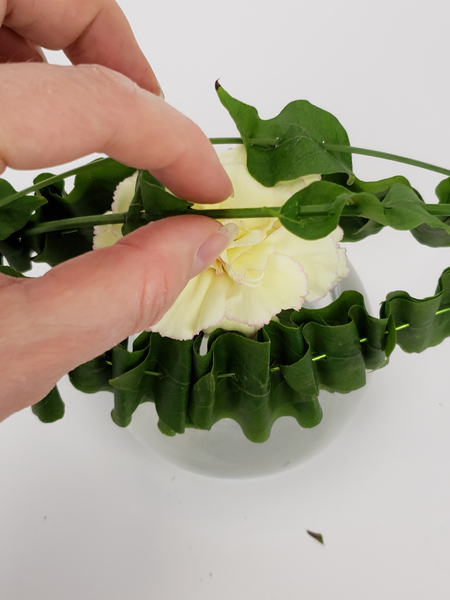 to finish the design and give it a bit of a lift add a few ruffled leaves skewered onto twigs to arch over the design... and finally a few lime green crystals to add to the sparkle.
Sign up for my weekly newsletter
Every week I add a new design with related tutorials. Be sure to subscribe to receive an email notification with design inspiration.