My Creative Workbook
Christine de Beer - effortless floral craftsman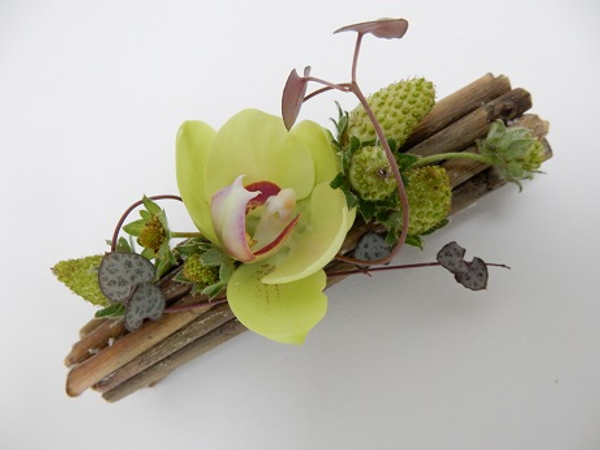 Sometimes a perfect design solution emerges from constraints and knowing when to compromise.
Constraints can range from existing features or venue colours, to sharing a venue and floral details with another bride with very different style ideas and tastes.

It is natural to feel disappointed when a compromise is needed. Realizing it can also be a blessing, is the first step towards overcoming the challenge and finding common ground.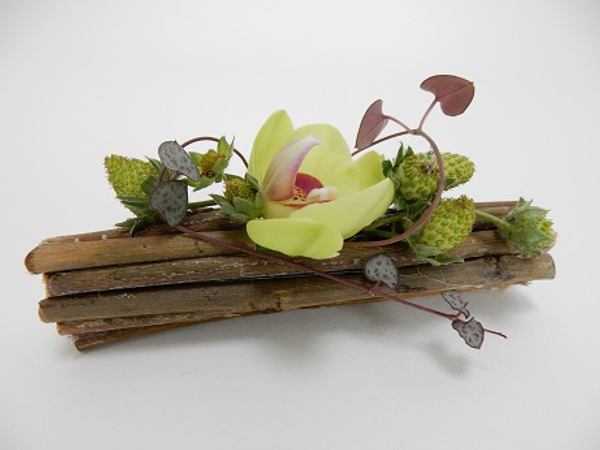 The blessing of a constraint is in limiting the number of "things" you spend creative energy on, allowing you to focus on the details that will personalize your wedding and give it your distinctive personal style.
The venue colour and season may dictate which flowers you can use, but you can make it "yours" with a unique corsage design. You may have to share a large altar arrangement with another bride, but that could free you to spend more time on a bouquet. The wedding before yours may leave a floral and vine garland decorating a door frame, but you can personalize it with an embroidered ribbon.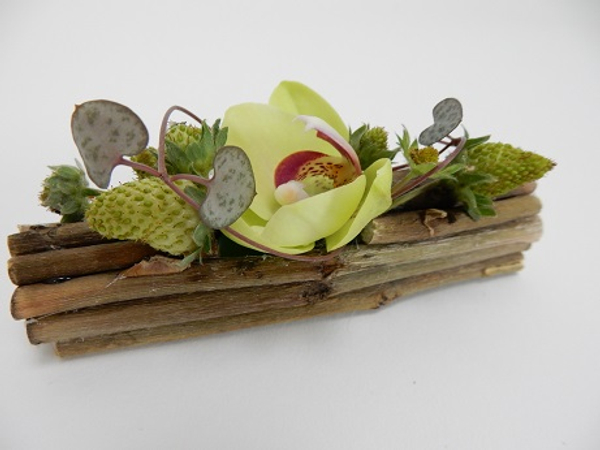 Constraints can also help your budget, giving you freedom, and extra resources, to build on your vision.
Sharing church-flowers with another bride, also means sharing the associated cost, time and labour, allowing you to spend more on reception flowers. Venue constraints may limit the number of arrangements, allowing you to spend more on the flowers in each arrangement. In each case, you may end up feeling the compromise delivered a better result.


The most challenging constraint is that of design solutions for shared flowers between two couples.
Here are a few ideas to find common ground and love the design:


Have an open mind, you never know… maybe you adore the ideas your new friend brings along.
Focus on what you have in common, rather than the differences.
Choose neutral types of flowers, colours and design styles to create a beautiful backdrop for your individual design details.
Add style details and accessories that can easily be removed or replaced. Ribbons and bows can instantly transform a design. A single drop of food colouring can tint clear water. Monogram pins or embroidered ribbon can temporarily personalize your designs.
Add accents that celebrate your culture. Anything that add meaning to your special day will instantly transform any design.
Purely natural elements are the most versatile. A natural armature, such as a branch with flowers, on can easily be adapted and blends into all settings.
Elaborate or distinct vases and containers will often limit your style choices, but simpler designs will disappear into the background
Flowers often include more than one colour. Research your options and find something that will match both of the couple's visions.
You may have to agree to disagree if it is really, really impossible to find common ground on your design tastes, in which case you can look at which constraints are shared between the two couples. The venue is a good starting point. Two distinctive personal themes can be combined by connecting design elements to the venue.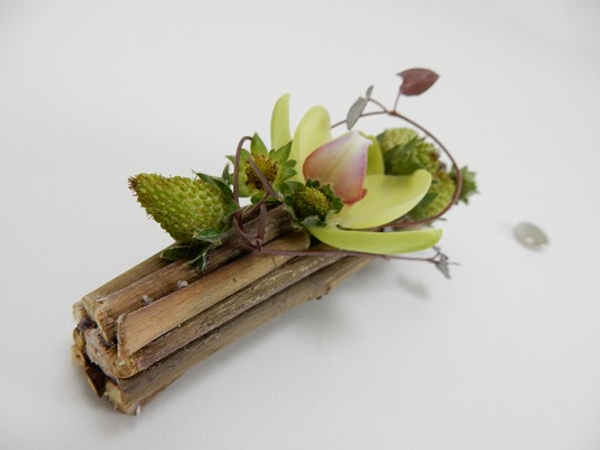 Agree on shared design ideas with the other couple and then spend your creative energy on the small details that are in your control and that can be personalized. Simply add your distinctive style to the corsages, buttonholes, your bridal bouquet and bridesmaid and flower girl bouquets. These designs are the ones most seen by your guests and will appear on most of the wedding photographs.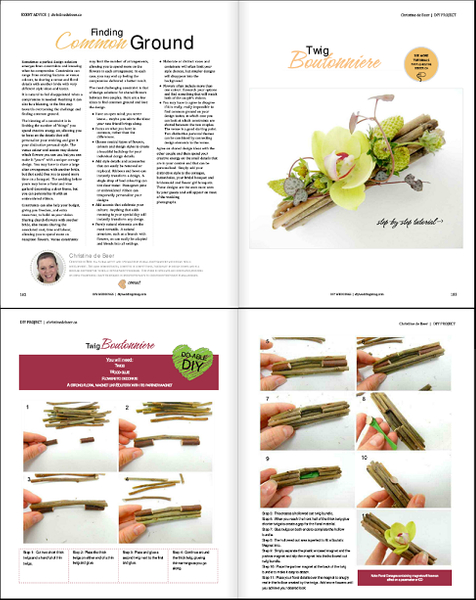 Thank you DIY Weddings Magazine for inviting me to contribute.
Sign up for my weekly newsletter
Every week I add a new design with related tutorials. Be sure to subscribe to receive an email notification with design inspiration.