My Creative Workbook
Christine de Beer - effortless floral craftsman
Loop and Twist a Wire and Twig Tangle Grid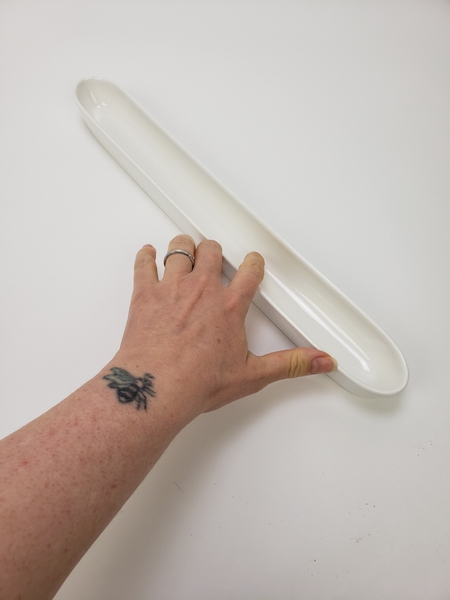 Place a shallow container on your design surface.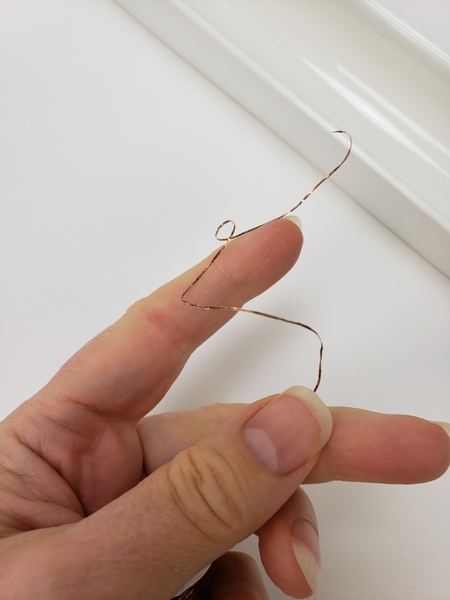 Gather your super fancy flat copper wire.
And with gather I mean unroll it from a copper pot scrubber. And by super fancy I mean you can curl it like gift ribbon. To get you started I have a Tutorial below to show you how I unravel the wire and how I use it. It really is my favourite. Book readers turn to page 37 where I tell you about this wire and how I customize wire for unique design solutions.

For more information about my book: The Effortless Floral Craftsman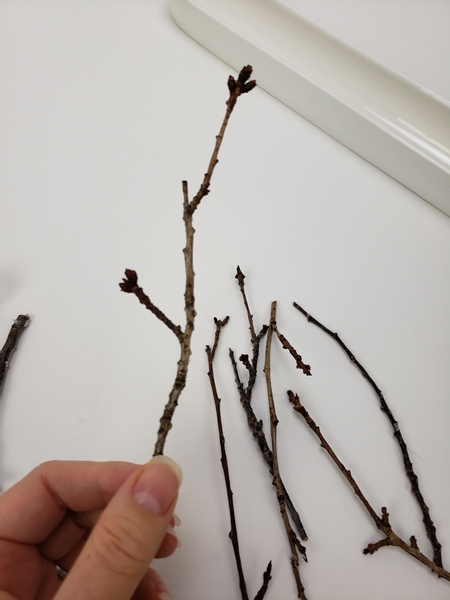 Cut a few twigs and gather a handful of autumn leaves.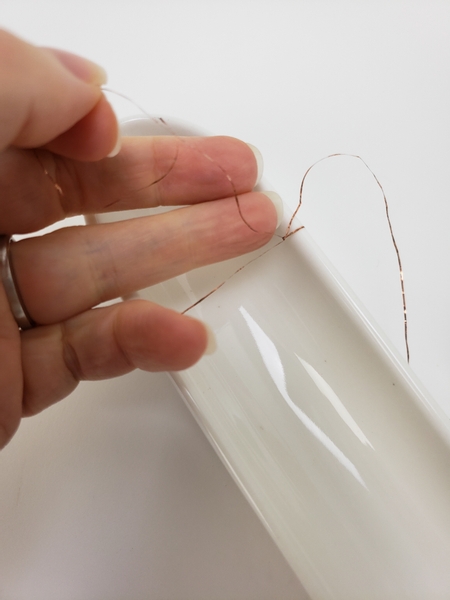 Twist tie the wire around the container.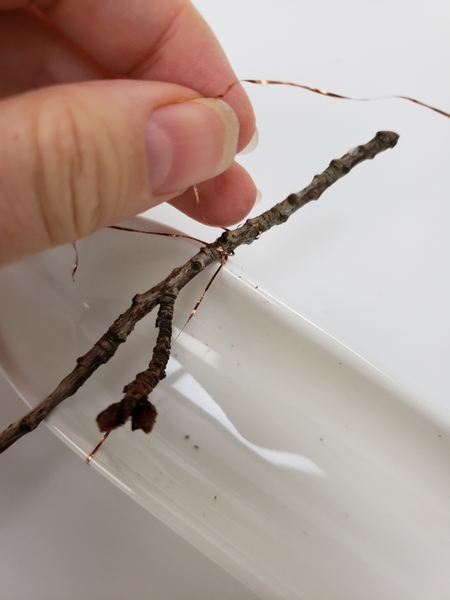 Tie a twig down over the container with the wire.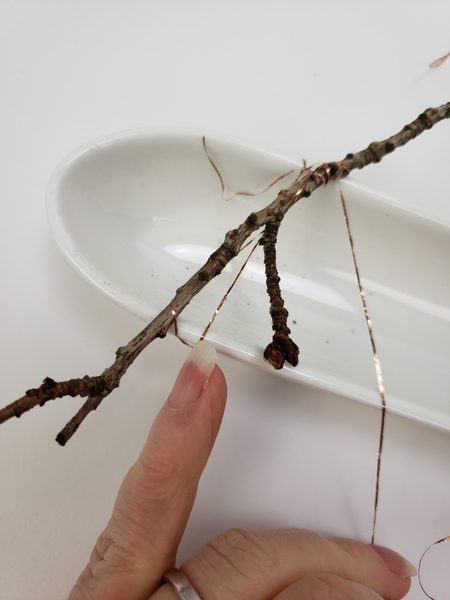 Loop the long end over the wire and secure the twig on the other side.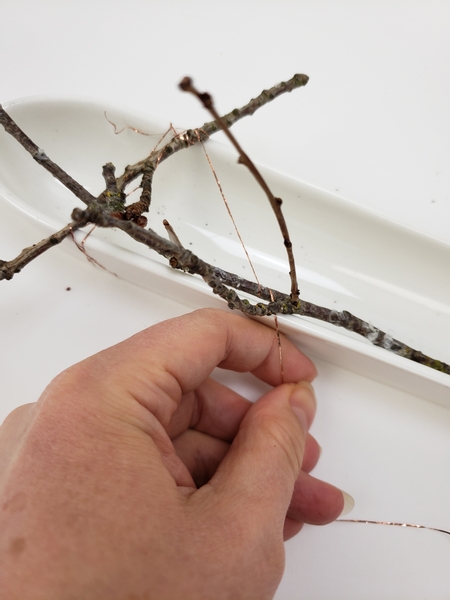 Loop the wire around the bottom and add another twig. Loop the wire around it to secure.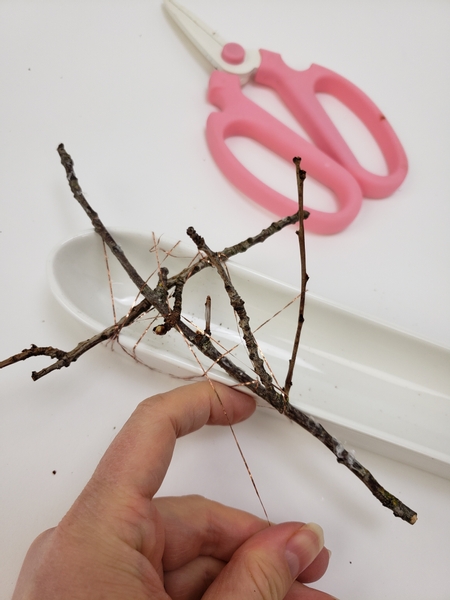 Break up the neat wrapping pattern to create a tangle.
I love the idea of a more tangled look for Autumn- it just seems to "go". Maybe for winter I would have used a silver wire and looped it more neatly creating a more formal look. Or for summer I would have used clear line to create a cool clear look. For spring some ribbon. Easy to customize and add a distinctive personality.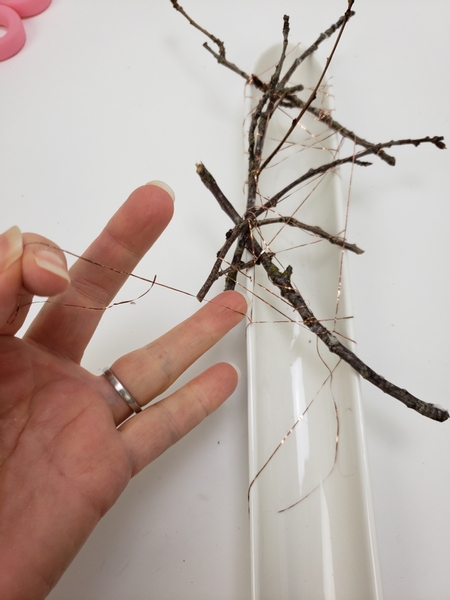 Work your way down the container tangling wire and twigs.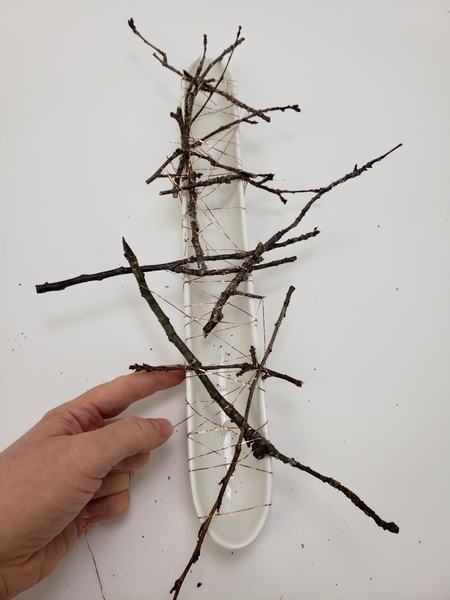 Wind the wire around and around the container to create a copper shine around the base of the container.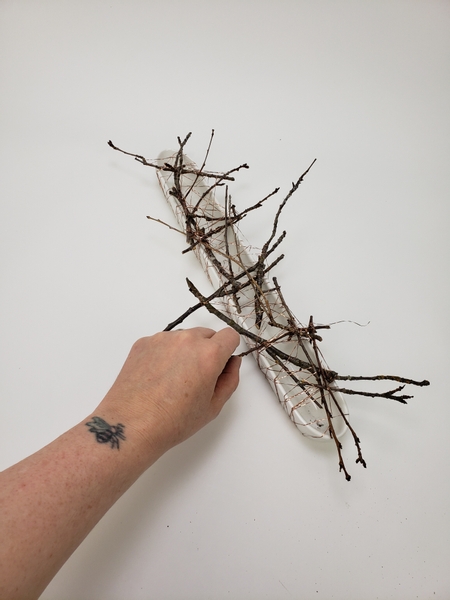 Wiggle the twigs to make sure they are secure and wire down any that are not yet secure.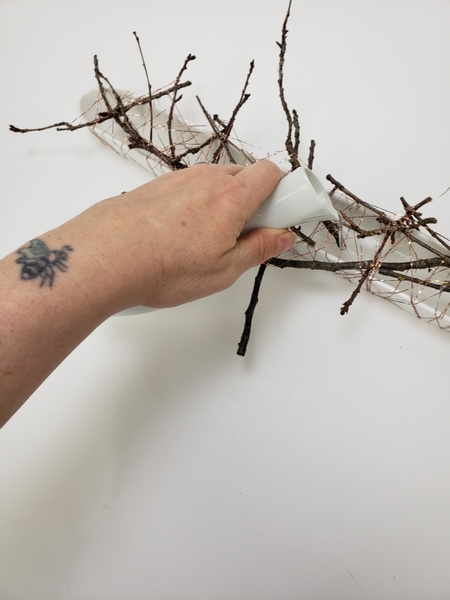 Fill the container with water.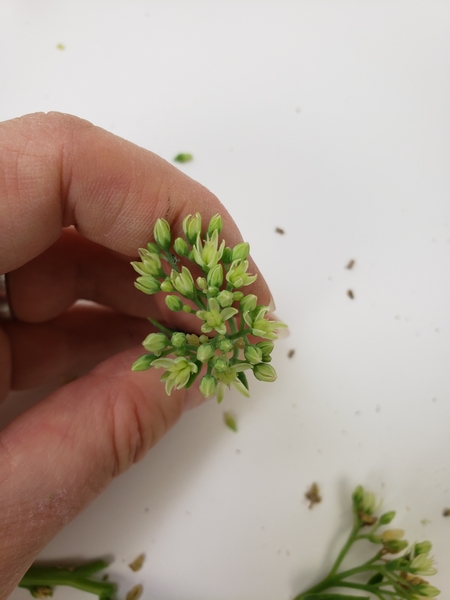 Cut the sedum clusters short and groom it to both thin the cluster and remove the faded flowers in between.
For my design I wanted to use mostly fully opened sedum so that it is not too compact. I have a tip for you in this week's email discussing how I thinned out the sedum to keep the design light and airy. You can sign up for the always on a Wednesday morning email by entering your details below this post.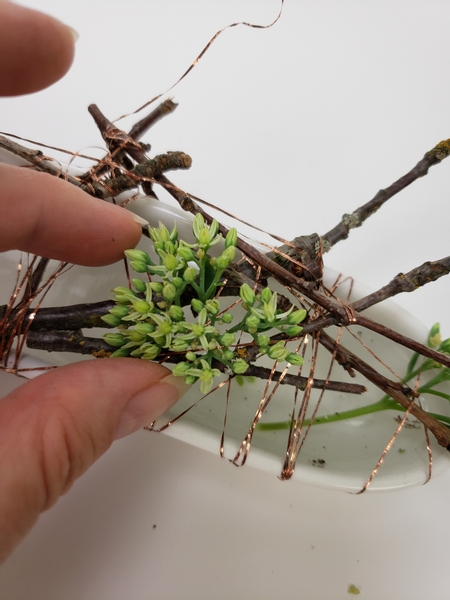 Place the opened sedum flowers to rest on the grid.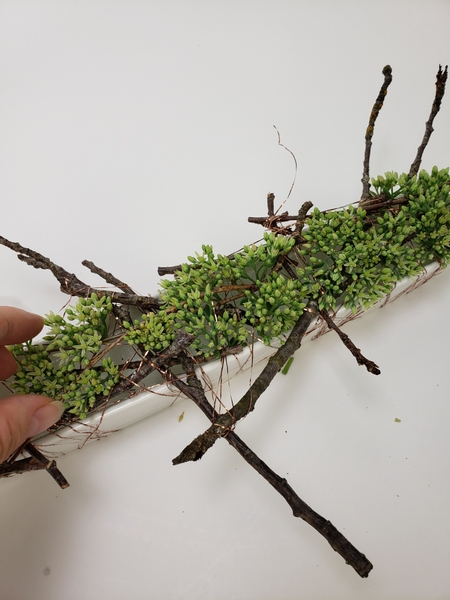 Add flowers to the container to rest gently in the tangle.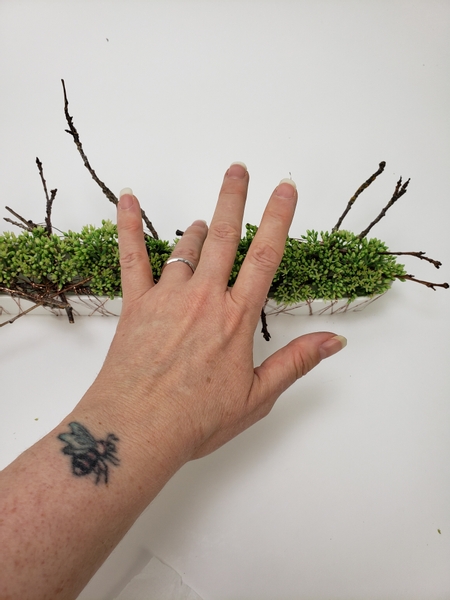 To make sure all the flowers are in the water gently tap them down using your ring finger. Your ring finger is your weakest tapping finger and you will not knock off any flowers. If a stem has more bounce than the rest it means it is suspended too high. Either reposition the stem or cut it shorter and place it back in the water.
If you want- especially if the design is going to be transported you can go back and loop a few wires around to secure the sedum.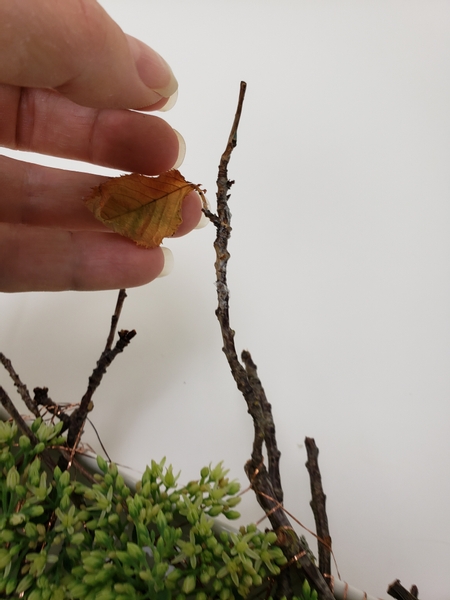 Glue in a few autumn leaves.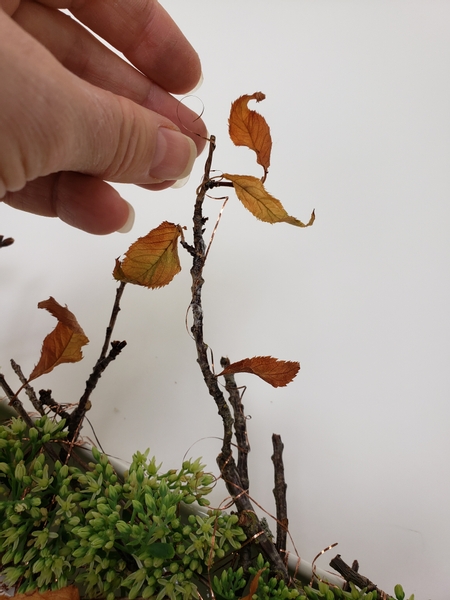 And wind a few strands of copper wire to curl around the twigs.
This is honestly why copper scrubber make the best wire. You can curl them by simply running your nail or scissors down the length! It creates such gorgeous curls. Well worth the effort of unraveling it.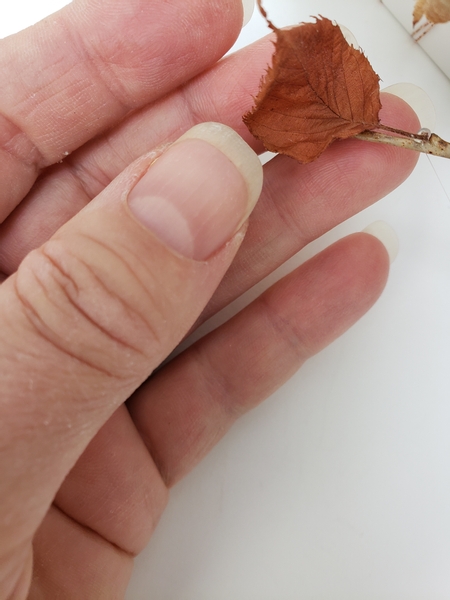 Book readers turn to page: 111 for a fun way to make dried material less brittle. This is especially handy so early in the season where you might not have such a huge variety of material to choose from and might have to reset or rescue some.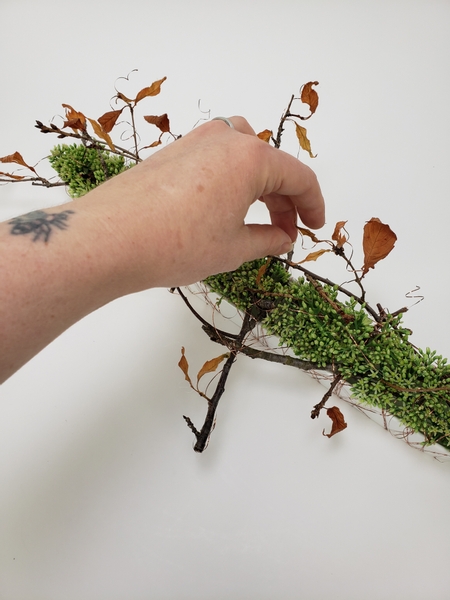 If you include something fun in the design you might as well show it off. Extend some of the wire ends beyond the twigs to make them more noticeable.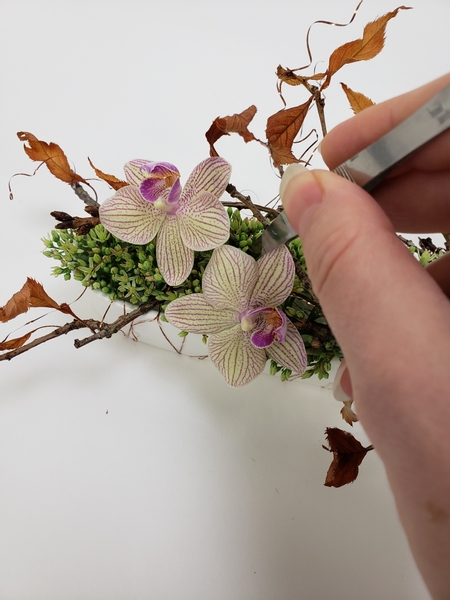 Wiggle the orchid stem ends between the sedum to sure the stems are deep in the water. I use a tweezer to make it easier.
Also cut the stems as long as possible. I have a bit more information on how I cut flowers from a spike in my book but to get you started I have added a Tutorial below to show you how.
Sign up for my weekly newsletter
Every week I add a new design with related tutorials. Be sure to subscribe to receive an email notification with design inspiration.