My Creative Workbook
Christine de Beer - effortless floral craftsman
Create a centerpiece foundation with lumber and the cellophane your flowers were wrapped in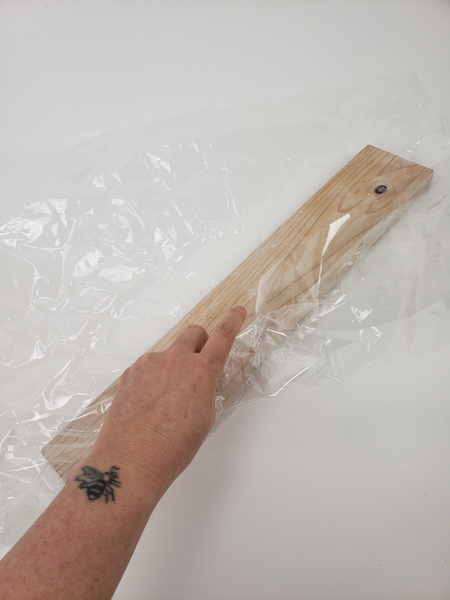 Wrap a piece of lumber in cellophane. This is a fantastic way to re-use the cellophane you bought your flowers in
... talking about buying flowers, this week I have a special flower buying tip for newsletter subscribers.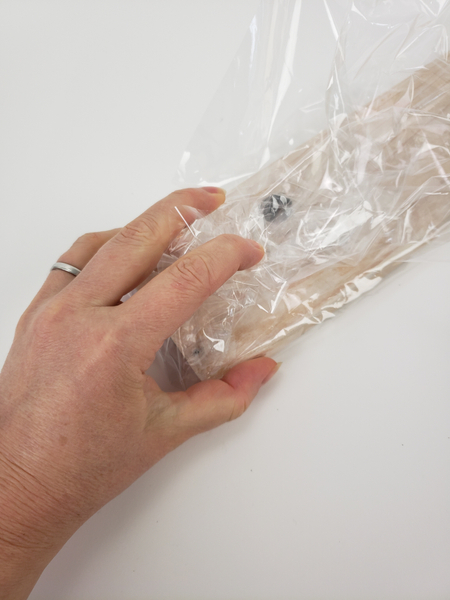 Scrunch up the wrap at the top side of the lumber.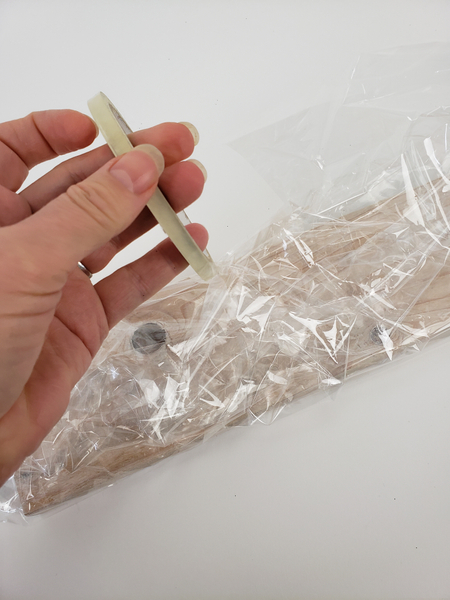 Secure the cellophane with clear tape.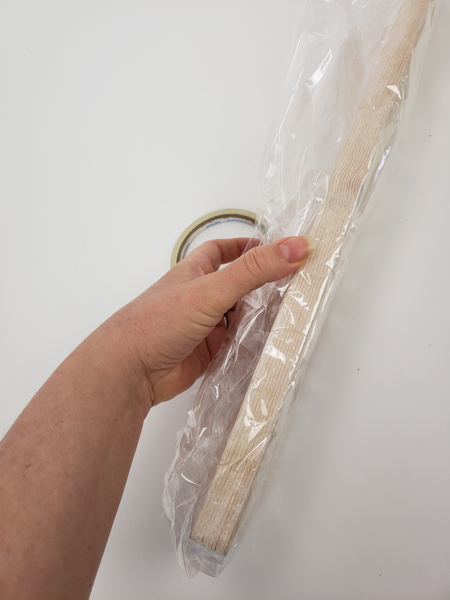 So that the underside (resting on your table) is flat and the top is puffy covering the lumber and creating the look of cracked ice.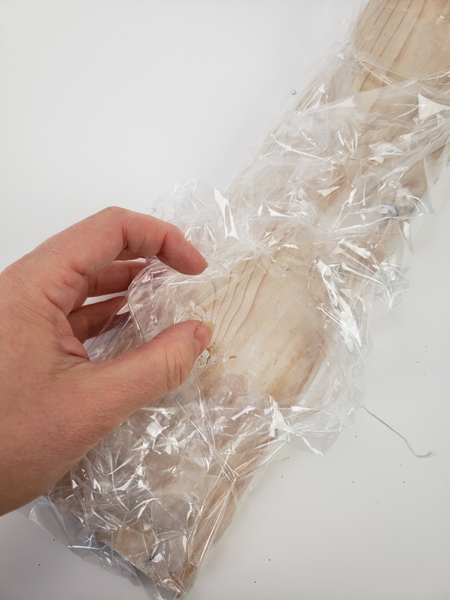 Open pockets in the cellophane...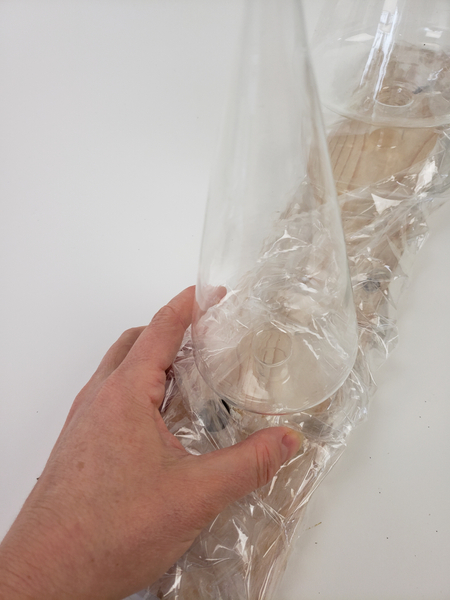 To keep your heavier design details in place. I used glass Christmas trees but it also works with candles or any design detail you want to add.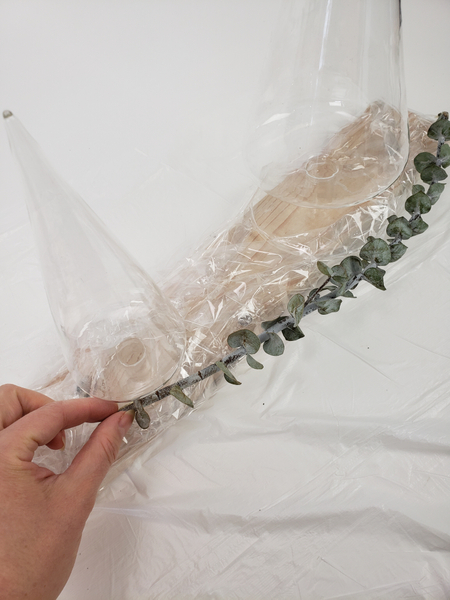 Glue dried twigs to the wrap.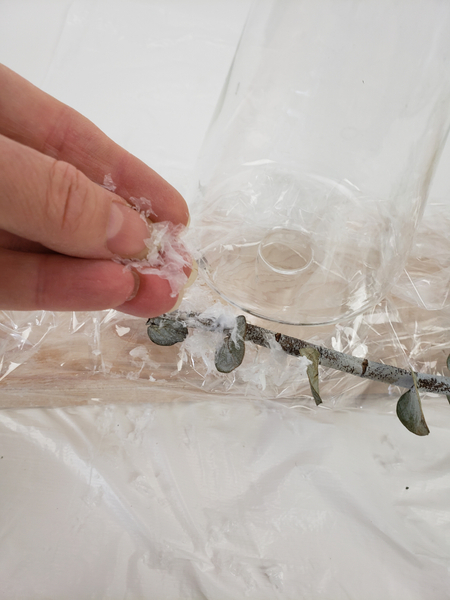 Add artificial snow to the twigs as you build up the foundation.
See the Tutorial below in the Tutorial section for more detailed instructions on how to add snow.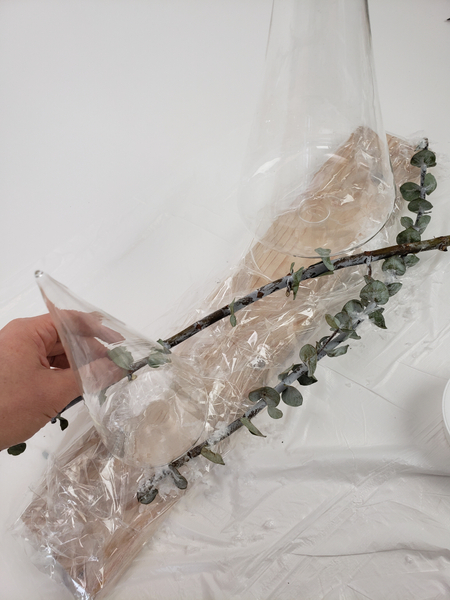 Add another twig down the length of the foundation.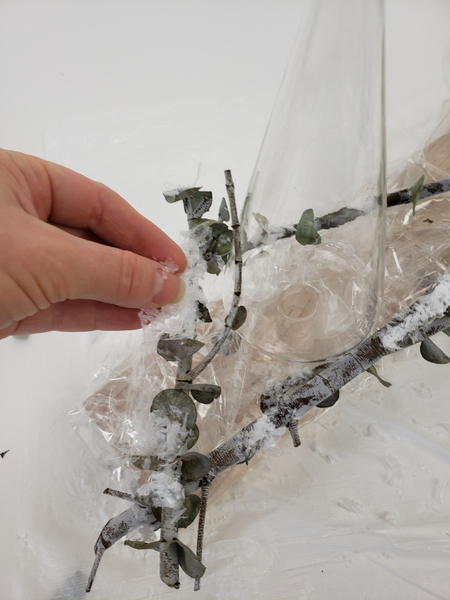 And another twig, each time adding a dusting of snow to the twigs.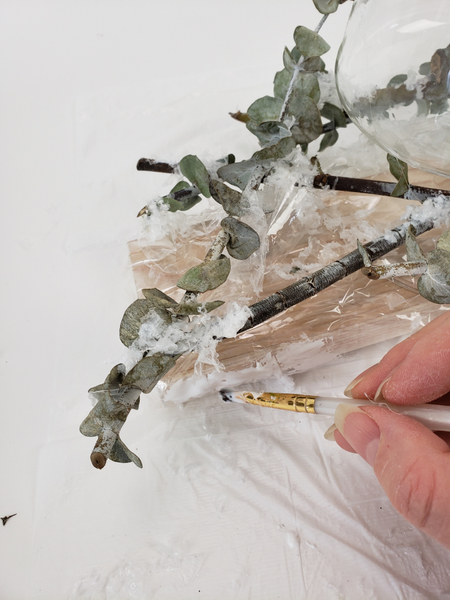 Paint around the edge of the lumber with wood glue...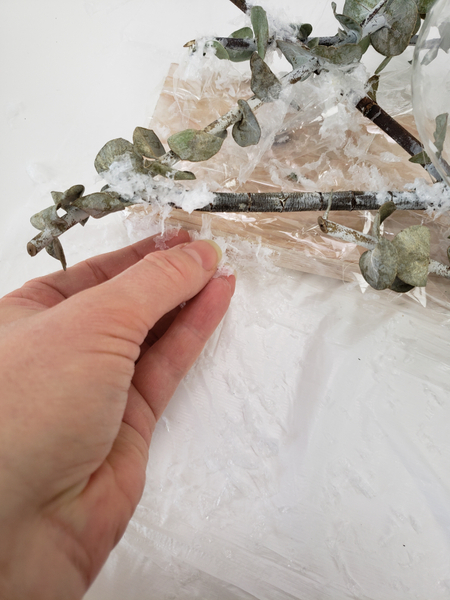 And sprinkle with artificial snow to conceal the lumber.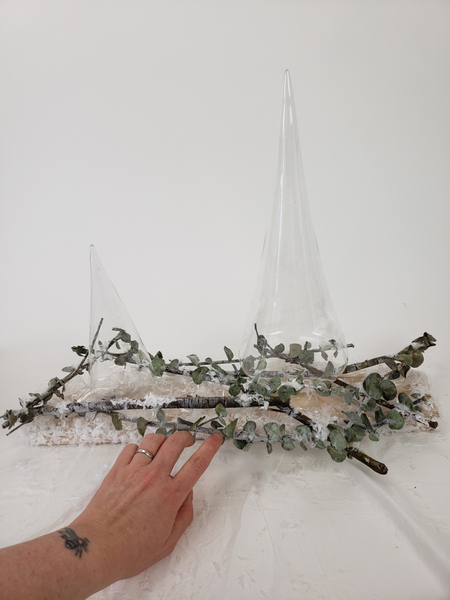 Set the foundation aside for the glue to dry.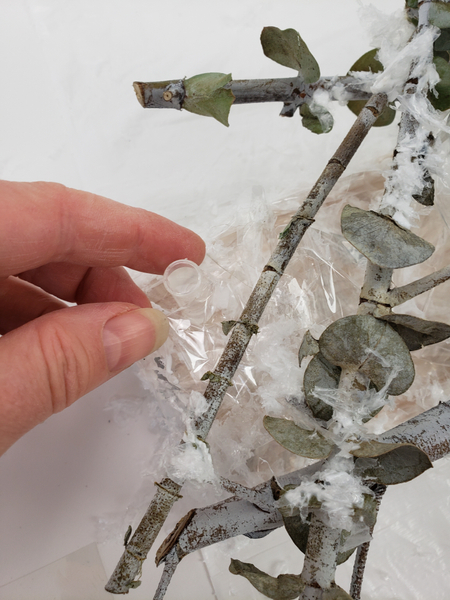 Glue in drinking straw water tubes to keep the orchids hydrated.
See the tutorial below for detailed instructions on how I make the tubes.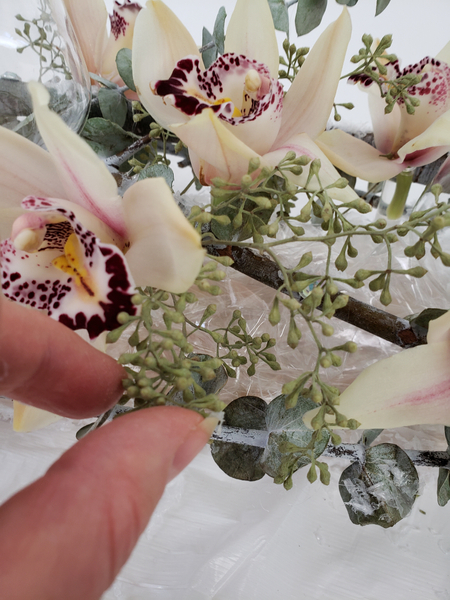 Add in dried seeded eucalyptus...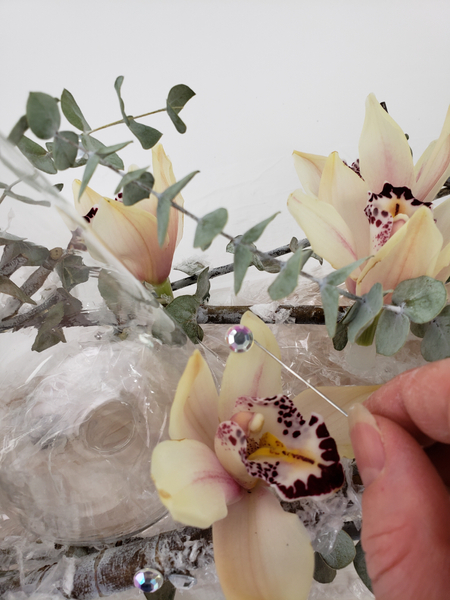 ... a few dew drop crystals...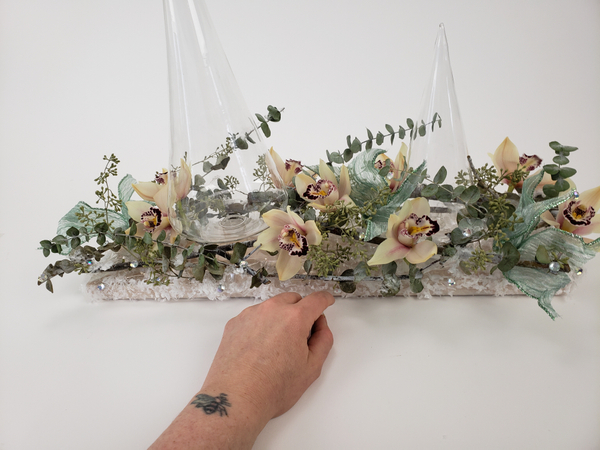 ... and a few more around the edge of the design...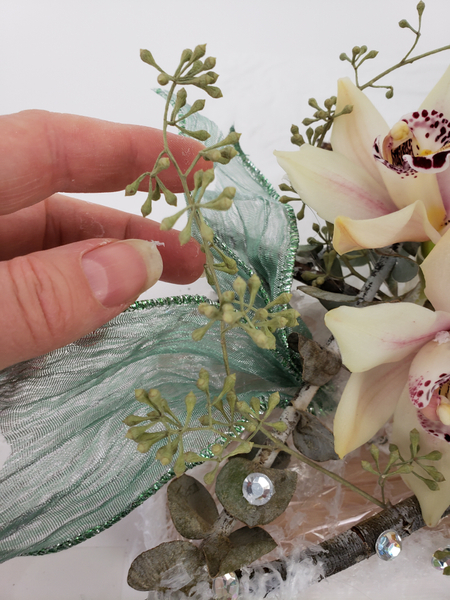 Fold a ribbon in half and add that to the design... this is a great way to bring in the exact colour of an event without having to go to extreme measures like adding dye to your flowers.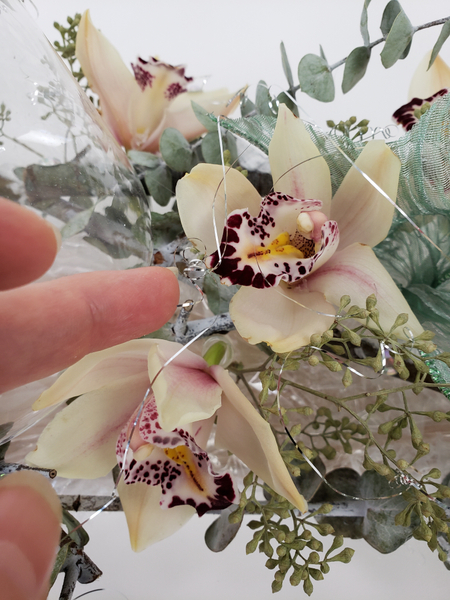 Add a few tinsel curls... it's New Year's Eve after all!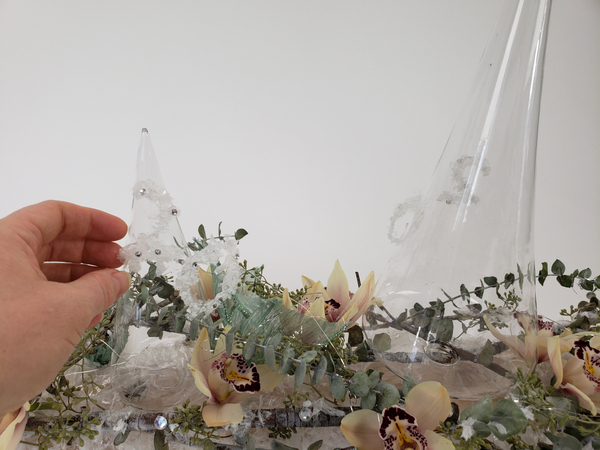 And finish the design with a design detail that makes it unique... in this case the most delicate dusting of a snow date. 20 from this side and 20 from that side, just for fun.
See the Tutorial below for detailed instructions on how to make the delicate snow date.
Sign up for my weekly newsletter
Every week I add a new design with related tutorials. Be sure to subscribe to receive an email notification with design inspiration.