My Creative Workbook
Christine de Beer - effortless floral craftsman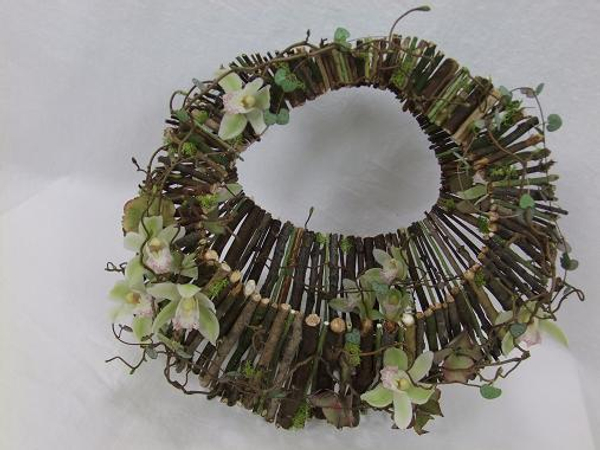 Cymbidium
Cymbidium orchids for my Designing your way to profits article that was featured in the Canadian Florist Magazine
Common name
Cymbidium, Boat Orchid
Origin
Historically grown in India but are now cultivated in both the Southern and the Northern Hemisphere
Varieties
You can purchase large or small varieties of Cymbidiums. The price of the stems will be determined by the size of the flower head and how many flowers are growing on the spike. If you are buying a Cymbidium plant the price will also vary according to the amount of flowering spikes on the plant. Cymbidiums are popular with growers and new varieties are added almost daily. As cut flowers they are sold according to colour rather than specie name.
Colors
Green, white, cream, yellow, red, pink, and most amazingly brown
Vase life
I have had flowers that last up to five weeks. But usually two weeks to a month depending on size and conditions.
Uses
Some species are edible but mostly the flowers are cultivated as cut flowers. Very popular in bridal and competition work because they are so long lasting and surprisingly hardy. It is more than just slightly extravagant but I love to weave with the leaves. If you do want to weave with cymbidium leaves make sure only to harvest the outside two leaves not to damage the bulbs.
Conditioning
Take the stem out of the plastic test tube it was shipped in. Give the stem a fresh cut and hydrate in water. Make sure you support the stem to allow the water to reach the upper flowers. Temperature fluctuations will cause the buds to drop. The flower petals bruise easily so do not over handle.
Sign up for my weekly newsletter
Every week I add a new design with related tutorials. Be sure to subscribe to receive an email notification with design inspiration.