My Creative Workbook
Christine de Beer - effortless floral craftsman
Center the more adventurous design ideas on your centerpieces
Article in the May 2012 Issue of
Canadian Florist Magazine

Wedding floral designs should be as unique as the wedding couple without being so unique that it might be memorable for all the wrong reasons. Finding the balance is difficult, especially with varied tastes. Some couples will naturally choose something more conservative while others will seek out the trendiest and most fashionable designs.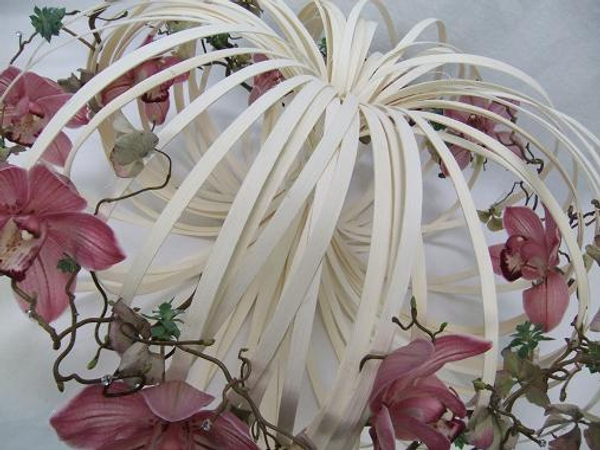 It is quite understandable that most wedding couples do not want to take a wild chance on their floral designs and, all too often, settle for a neutral style. Table centerpieces is the one design element I always advise, even the most traditional couples, to take a bit of a chance on. It is a frequently neglected as a style element yet is the design guests will spend the longest time admiring.
Be as adventurous with table centerpiece designs as you feel comfortable while adhering to the following guidelines and you will be assured of impressive and memorable centerpieces:

Balance: Not just design balance but also a stable appearance. A perfectly stable and safe design that appears to be on the verge of toppling over is distracting and even nerve wrecking for guests to look at. Remember they have no way of judging how good your hidden mechanics are. Make sure your designs are credible no matter how adventurous.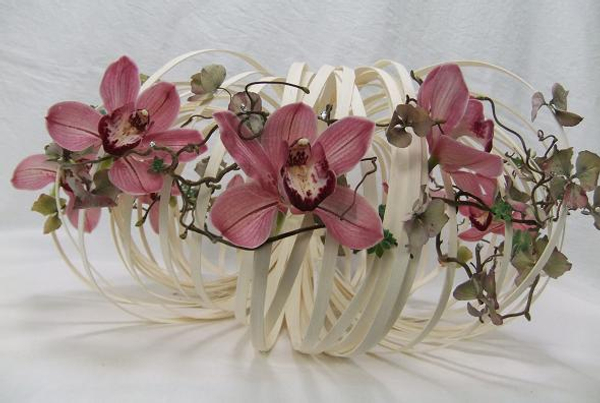 Height: A successful table design is either low enough or high enough not to block the view of guests and obstruct conversation. No matter how pretty a flower centerpiece, it will be a pain in the neck if you need to crook your neck to talk to the person across from you and, without a doubt, be moved.
Fragrance: Over powering floral scents can cause allergies and interfere with the taste of food and wine. A subtle fragrance is lovely but be careful when mixing flowers or designing with open lilies or jasmine that has a reputation for being especially fragranced.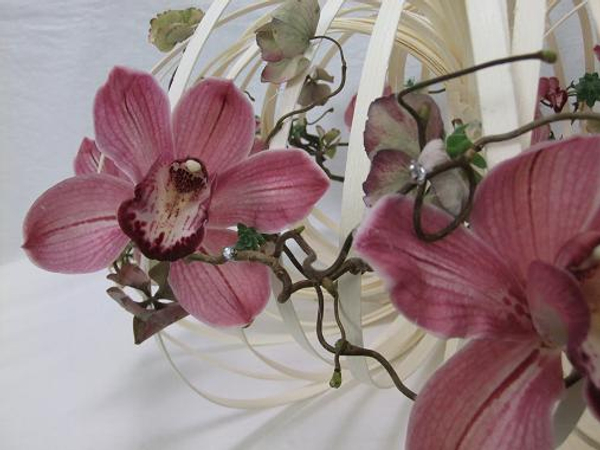 Safety:Be aware of where you place lit candles, exposed wires and sharp edges. Take extra care in finishing designs to be "touch and admire safe."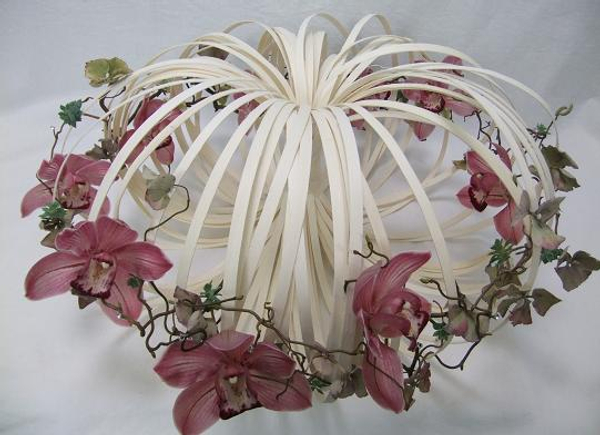 Environment: Good centerpiece designs will connect the wedding ceremony theme and the reception venue. Make sure you marry the floral designs at the reception with the interior of the venue and the couple's style.
Finish all the designs flawlessly. Your centerpieces will be viewed from all sides and in standing and seated positions. Critically review your craftsmanship from all angles.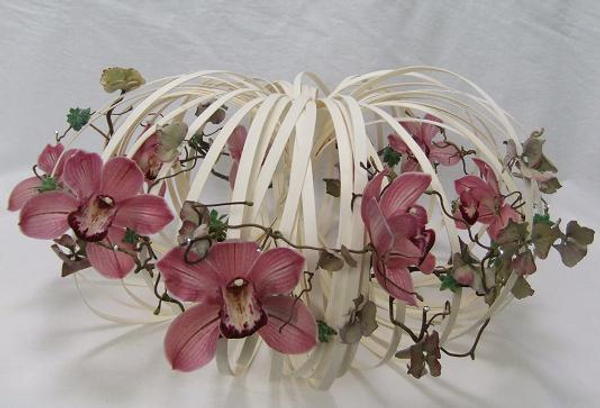 Proportion matters: Match the design size to the space available. Well designed mechanics can optimize table space, connect settings and even divide longer spaces to look more inviting.
Conditioning wild flowers or flowers picked in your garden: If you harvest flowers from a field or garden, take care not to introduce a few uninvited guests to the wedding. Soak flowers in water or let it condition overnight in water filled buckets to make sure you catch and remove any bugs.

Break the ice with a conversation starter: Chances are that some of the guests seated at the same table have never met. Consider including a conversation starter. Something neutral and friendly that can be complemented and commented upon. Better still; include something custom made that the guests can all relate to, such as interesting table names, a tiny jewel, monogram or unusual bow.

Use these guidelines as a framework for your creativity and express yourself in table centerpieces.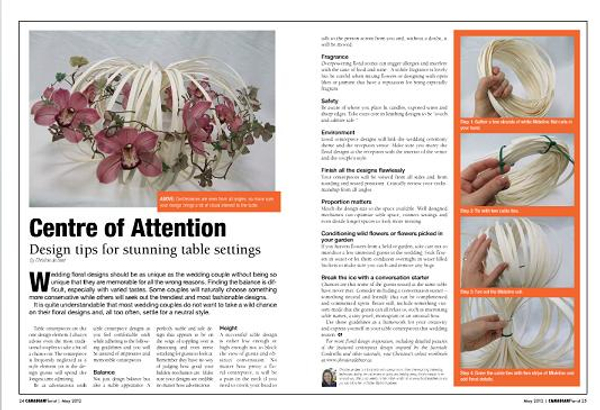 Thank you Canadian Florist Magazine for inviting me to be part of your May issue. It is an inspirational resource for all Florists. Have a look at the on-line magazine.
Sign up for my weekly newsletter
Every week I add a new design with related tutorials. Be sure to subscribe to receive an email notification with design inspiration.