My Creative Workbook
Christine de Beer - effortless floral craftsman
Craft a spinning diamond shape to frame your small design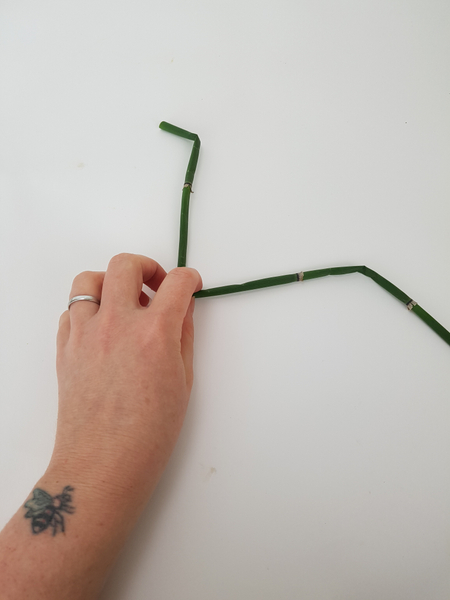 Bend equisetum into a deep v with two legs... well... for the lack of a better description.
Design note: I wired these stems so that they keep their shape. Simply slip a wire into the hollow stem. See the Tutorial below for more detailed Instructions.
Place another equisetum stem on top of the first one and copy the bend.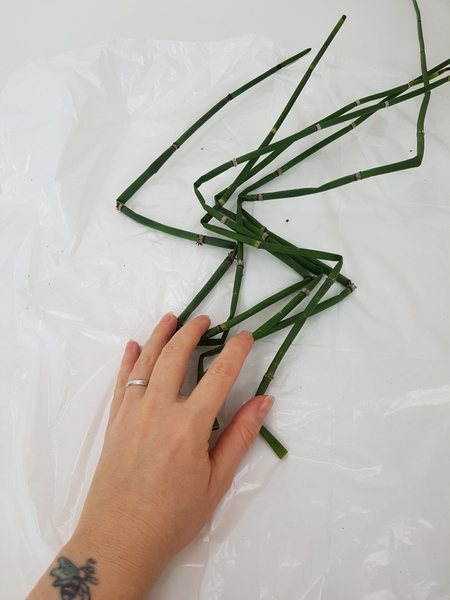 Bend six equisetum into the exact same shape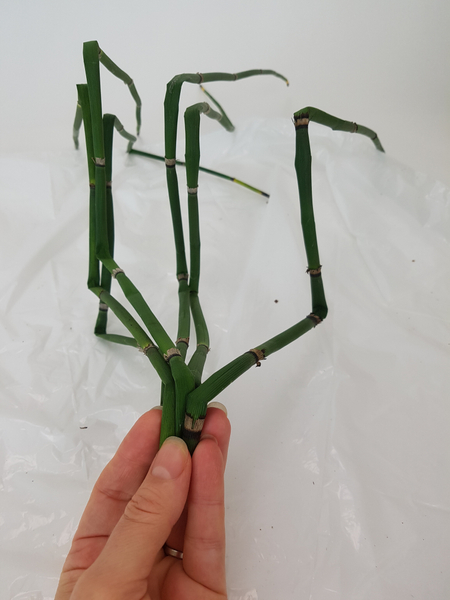 Gather the equisetum at one end...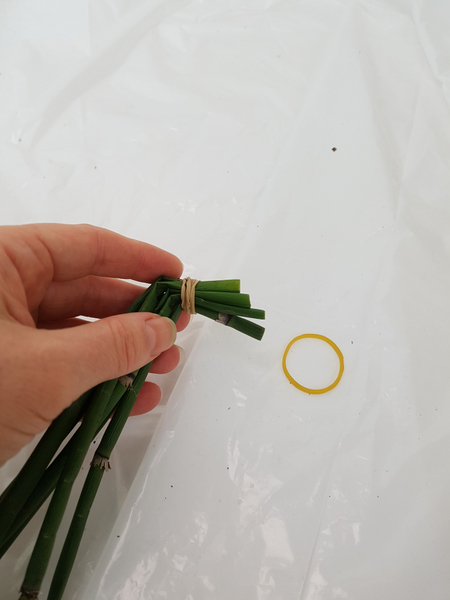 Secure it with a small elastic band. I used an elastic band because the hold should have some "give" to preposition the stems as you design.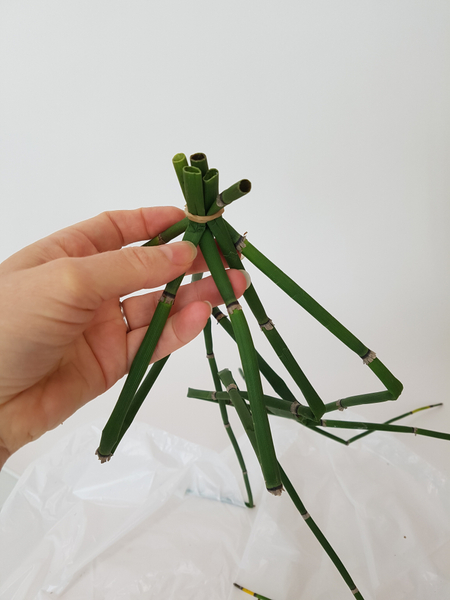 Fan out the equisetum stems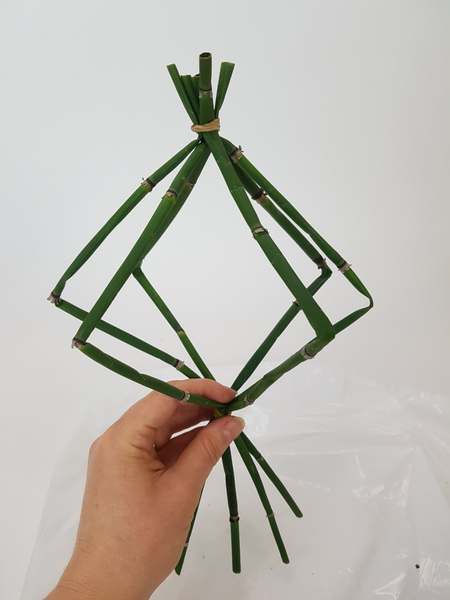 Gather and secure the second leg with an elastic band.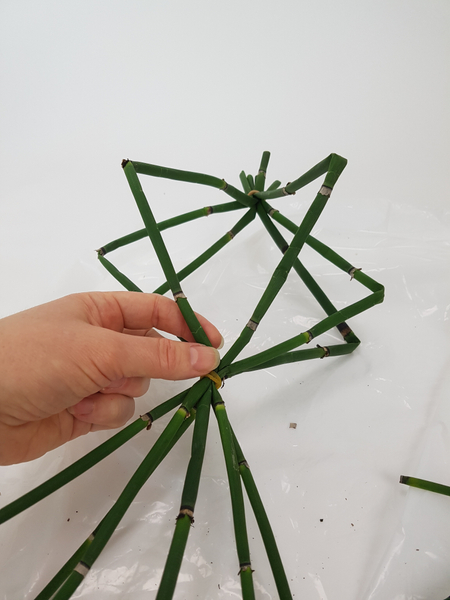 Re-position the stems so that they neatly radiate out from the gathered ends.
Your diamond spiral is now ready to design with.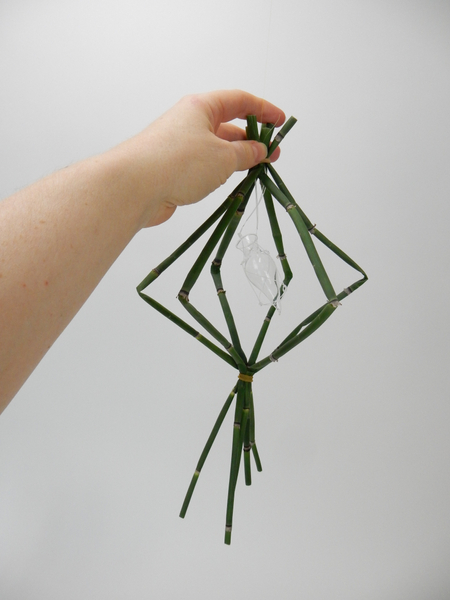 String up a glass seahorse vase (or any other tiny vase or cleaned out perfume bottle) to hang in the middle of the mobile. There is a Tutorial below that shows you in detail how to hang these little vases. But it can be difficult to see with the clear fishing line. So I have a tutorial in my book for this where I use black ribbon to make it easier for you to follow the steps.
Book readers turn to page 196, 197 for loads more unusual ideas for keeping your flowers hydrated. Also... I think the idea on page 179 would be so adorable for this!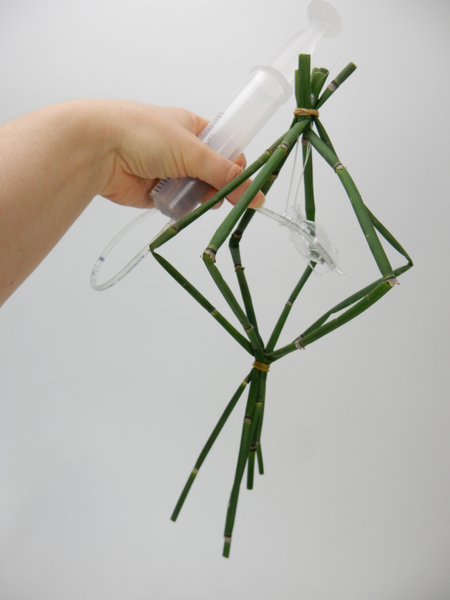 Fill the tiny vase with water.
See the Tutorial below for detailed instructions on how I made this syringe with a tube to fill small water sources in awkward places.
Place the flowers and the vine in the vase.
Newsletter subscribers: I have a fun tip for you this week. It's again one of those tiny little touches that makes such a huge difference in the quality of your work. Make sure you are subscribed to my weekly newsletter so that you don't miss out!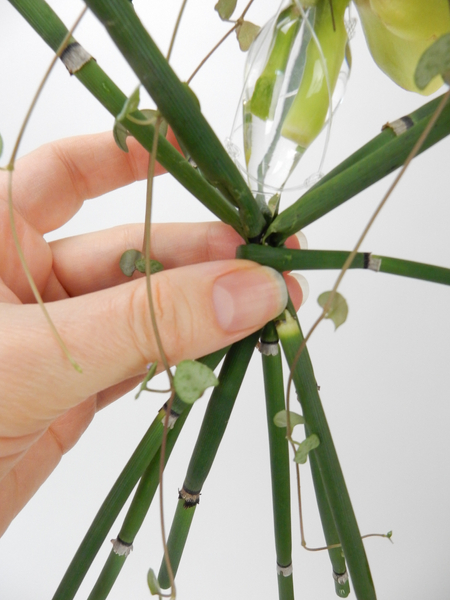 Cover the elastic band by wrapping a stem of wired equisetum around the area...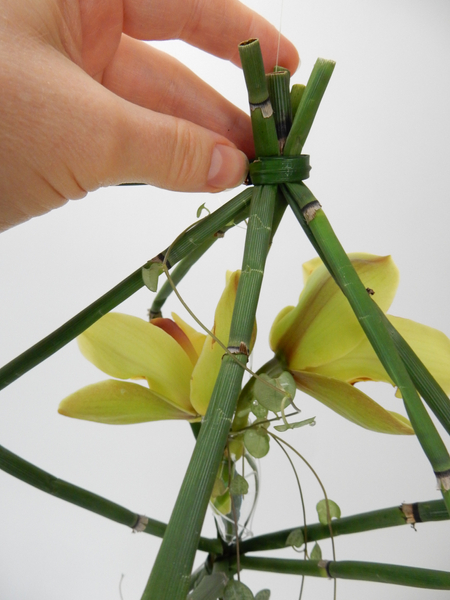 And press the equisetum flat to secure.
Sign up for my weekly newsletter
Every week I add a new design with related tutorials. Be sure to subscribe to receive an email notification with design inspiration.