My Creative Workbook
Christine de Beer - effortless floral craftsman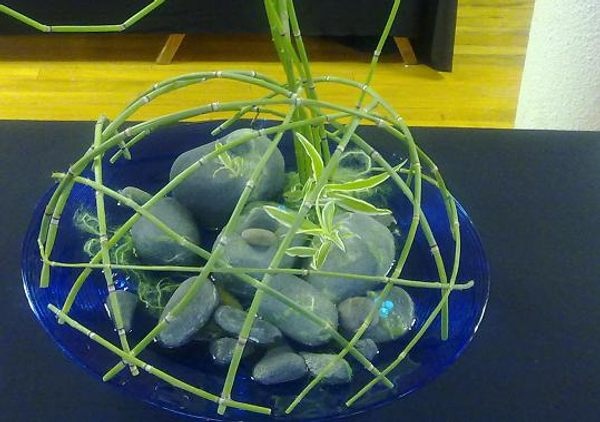 Equisetum
Equisetum dome made for "One Singular Sensation". Floral Trends Design Group Inter-club Mini Show: Old and New
Common name
Scouring Rush, Horsetail, snake grass, puzzle grass
Origin
Equisetum is near- cosmopolitan, being absent only from Antarctica. Equisetum is a .living fossil., as it is the only living genus of the entire class Equisetopsida, which, for over one hundred million years were more diverse and dominated the understory of late Paleozoic forests. Some Equisetopside were large trees reaching to thirty meters tall.
Varieties
Over twenty five species
Colors
Bright green with black horizontal bands
Vase life
Dries to a natural light green out of water. If used in a vase the stems will root, over time,and can be planted.
Uses
Knot one end of the stem to create a natural flower "test tube", bend it, plait it, press LED lights into it, press a wire through it to curl and shape it (as seen in photo above). Simplistic and distinctive in designs.
Conditioning
Give the stem a fresh cut and hydrate in warm water.
Sign up for my weekly newsletter
Every week I add a new design with related tutorials. Be sure to subscribe to receive an email notification with design inspiration.