My Creative Workbook
Christine de Beer - effortless floral craftsman
Foxtail in a bud vase forest floor
Design note: the big secret to this design is balance. Once done the fern should point away from the vase as straight as possible. It should not look like it is under strain or drooping. The bark creates a sturdy platform for your floral details.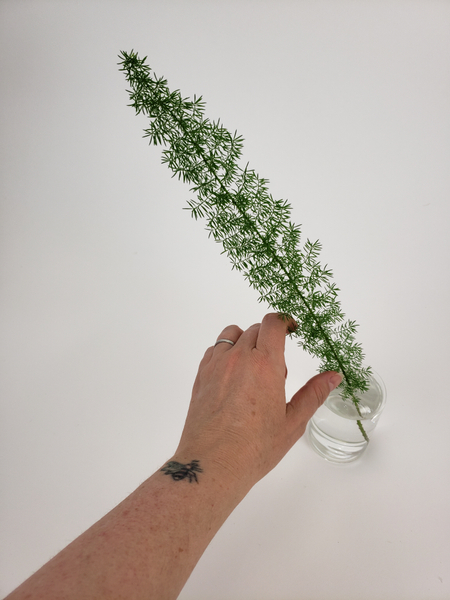 Place the foxtail in a water filled bud vase.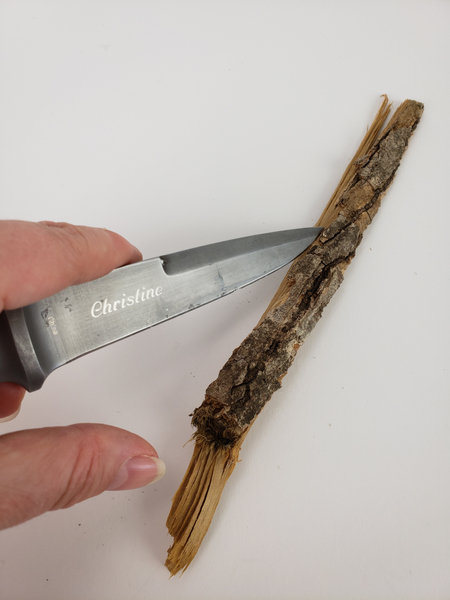 Strip bark from wood with a sharp knife.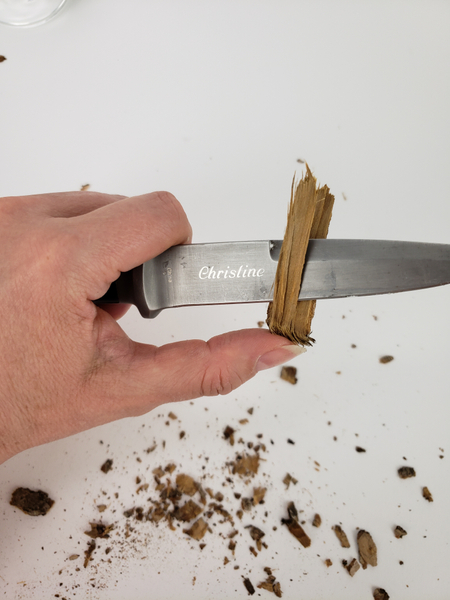 Trim away as much as possible the wood from the bark. The design should be as light as possible.
Newsletter subscribers: I have a really great tip for you this week. It makes placing the bark so much easier... and accurate!
Remember to sign up below this post if you are not yet subscribed so that you do not miss out on the weekly bonus tip.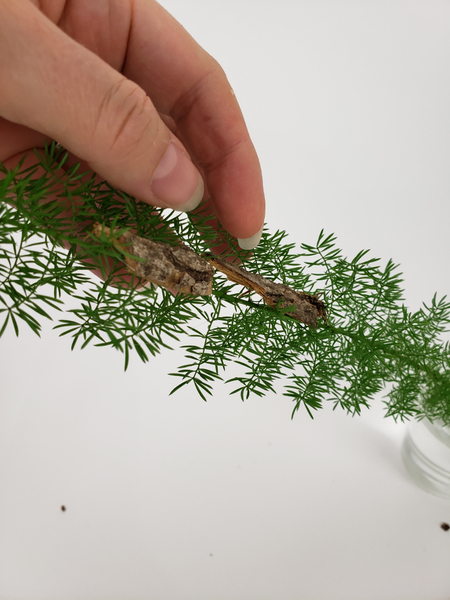 Glue long strips of bark to run down length of the fern.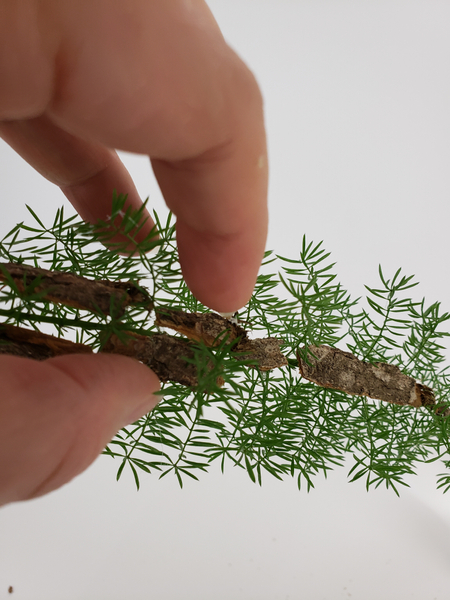 Work around the fern so that it pokes out of the wood at places.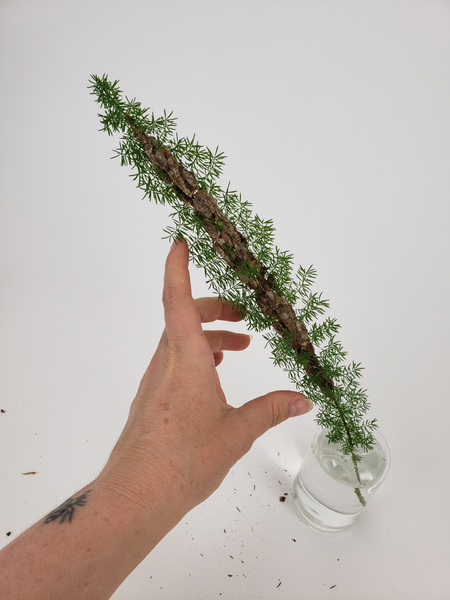 The bark platform is now ready to design with... as you add the heavier floral details it will start to bend over. Make sure you are mindful of this curve as you design.
Book readers turn to page: 317 for a more robust version of this design- this time using my ultimate favourite flowers!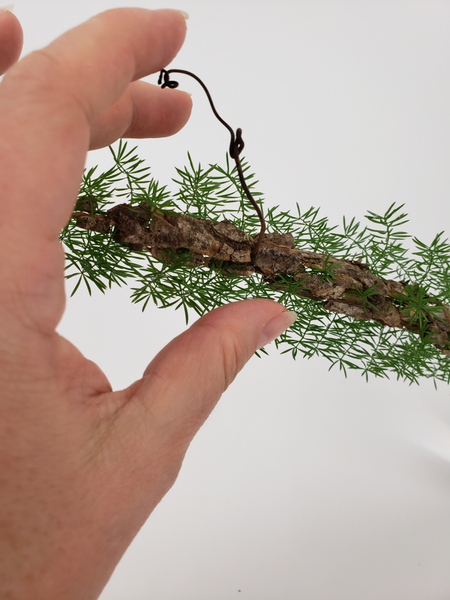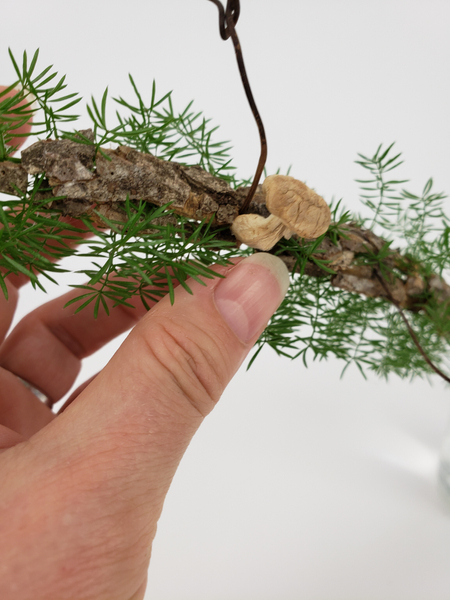 And dried mushrooms.
See the Tutorial below for more detailed instructions on how to dry your own mushrooms to use in your floral designs.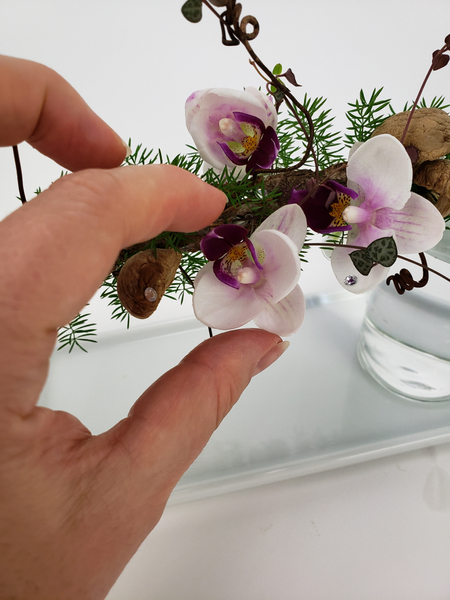 Glue in water tubes to keep the orchids hydrated.
I make water tubes from drinking straws or tubes. See the Tutorial below for more detailed instructions.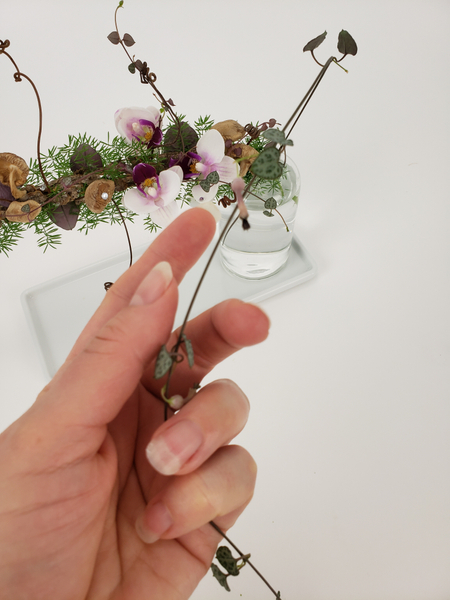 Finish the design with an elegant rosary vine stem twirled around the fern and a few dew drop crystals.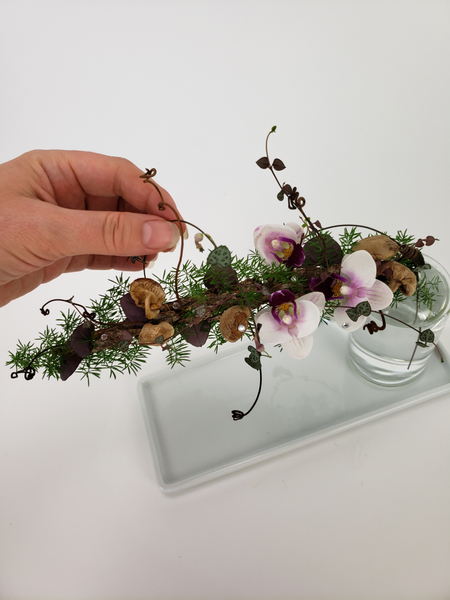 Design note: Make sure the design elements are balanced. Ideally the fern should be horizontal and not at all droopy. Add a few bits of bark (again, use the technique I mentioned in the newsletter so that you do not damage any design details) to adjust the balance.
Sign up for my weekly newsletter
Every week I add a new design with related tutorials. Be sure to subscribe to receive an email notification with design inspiration.