My Creative Workbook
Christine de Beer - effortless floral craftsman
Driftwood base for a floral foam pebble design
A few weeks ago I had a few young friends visiting my design room and this perfect, flat piece of driftwood was a gift from them. Thank you Luke, Liam and Nate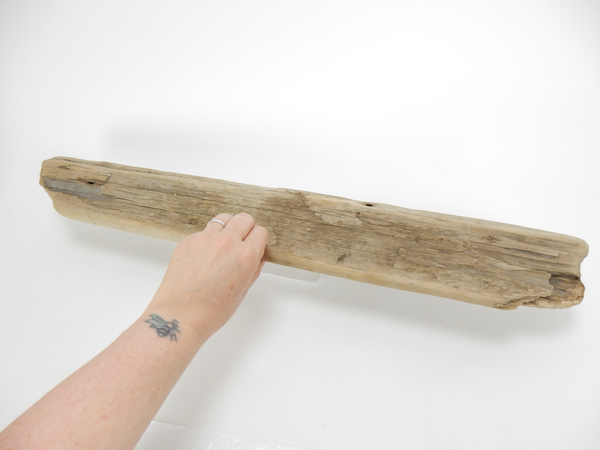 Place a piece of hollowed out driftwood on a stable base. No need to line the base, I am adding a waterproof barrier to the floral foam
But if you wanted to line the base see the detailed Tutorial below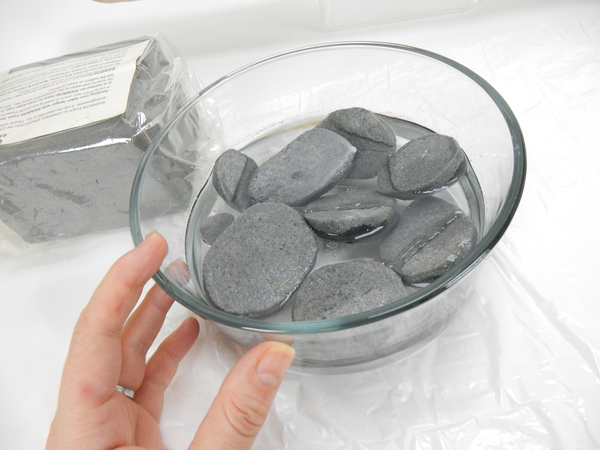 Carve pebbles out of floral foam and soak in water until the foam sinks to the bottom of the container. I also seal each pebble with hot wax to make it water tight.
See the Tutorials below for more detailed instructions on carving pebbles from floral foam and how to soak the foam and how to seal it with hot wax to make it water tight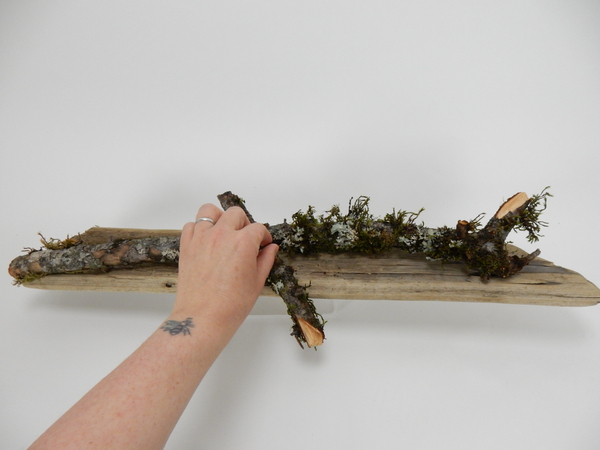 Place moss covered sticks on the driftwood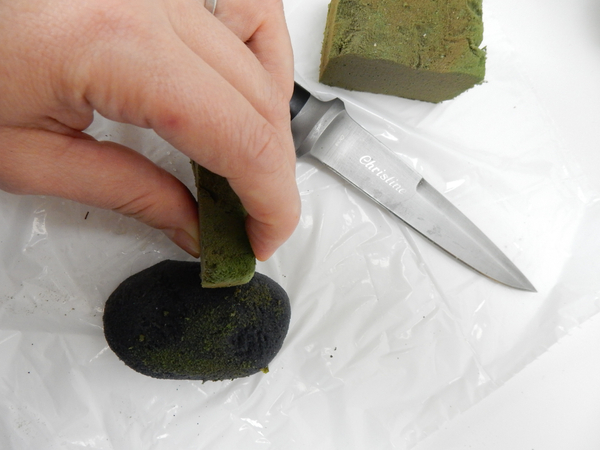 Smooth the grey soaked foam with an off cut of green foam to give it a mossy appearance, every here and there.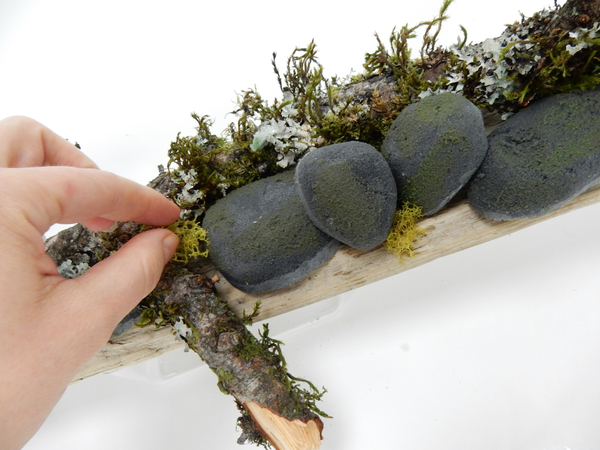 Place the pebbles on the driftwood and add reindeer moss to fill in the gaps between the pebbles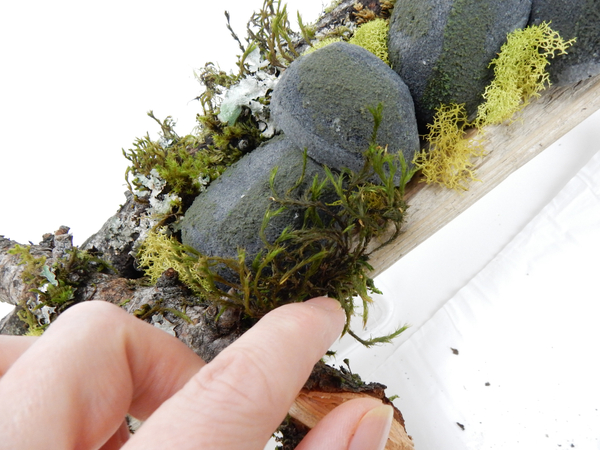 Add more moss to create a lush base and to conceal the wax line on the pebbles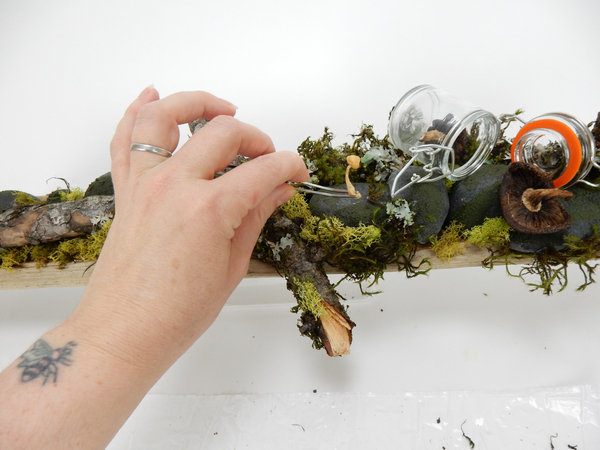 Place a small container with dried mushrooms to tumble over in the design and add a few more mushrooms by placing it in the foam. The foam will re-hydrate the dried mushrooms. If you prefer the mushrooms to remain dry place it in (unsoaked) dry foam or foam for dried arrangements
I used dried mushrooms for my design. See the Tutorial below for more detailed instructions on how to dry mushrooms for floral art.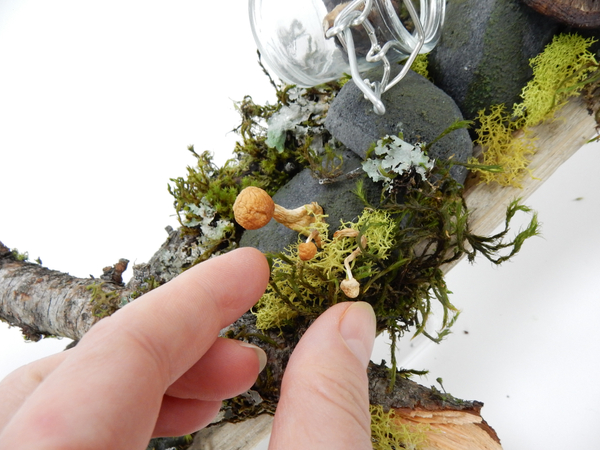 Cover the base with a small bit of moss to conceal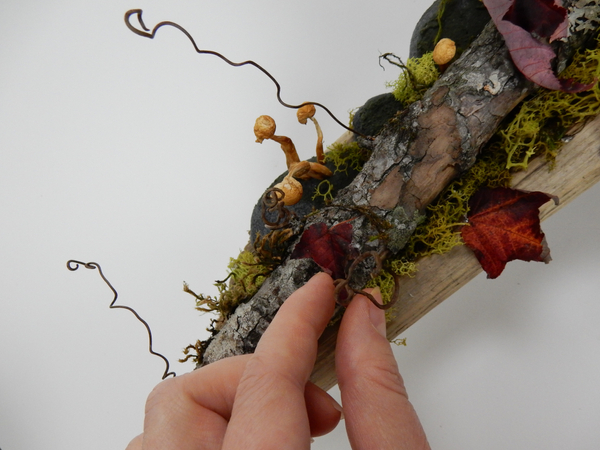 Glue in a few grapevine tendrils and autumn leaves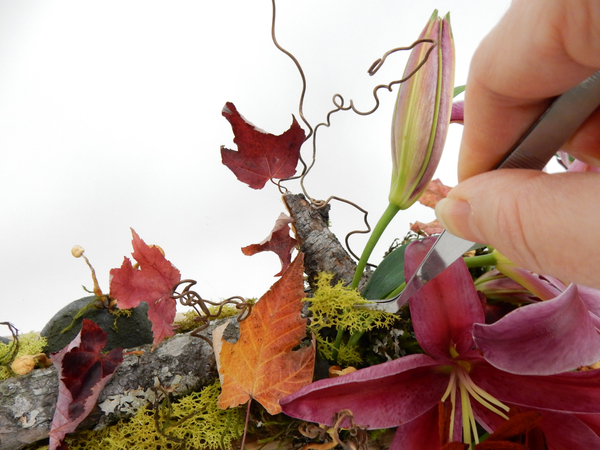 Insert the flowers in the wet foam and conceal the base with moss
Design note: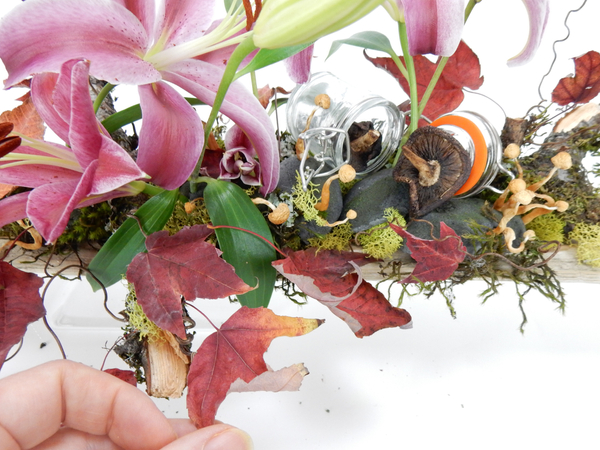 The tiny little glass container is the focal point of the design. Place a few of the design details to point to the glass container to lead your eye that way. There is also a bright orange rubber in the lid of the container, place three leaves that have more orange colour to them close to the container to draw attention to the colour. I also left the stamens in to add that extra touch of orange. Lily stamens are messy, See the Tutorial below for detailed instructions on how to "fix" pollen on stamens or how to remove it all together.
Sign up for my weekly newsletter
Every week I add a new design with related tutorials. Be sure to subscribe to receive an email notification with design inspiration.