My Creative Workbook
Christine de Beer - effortless floral craftsman
My article and Bamboo Lantern design featured in
DIY Weddings Magazine


Brides around the world are embracing the 2017 floral design trend of vertical design and hanging lantern centrepieces. It is easy to see why since such designs create such a lovely and unusual ambience. Hanging designs are however some of the most challenging and demanding design trends predicted for 2017. This is true for the experienced floral designer and DIY bride alike.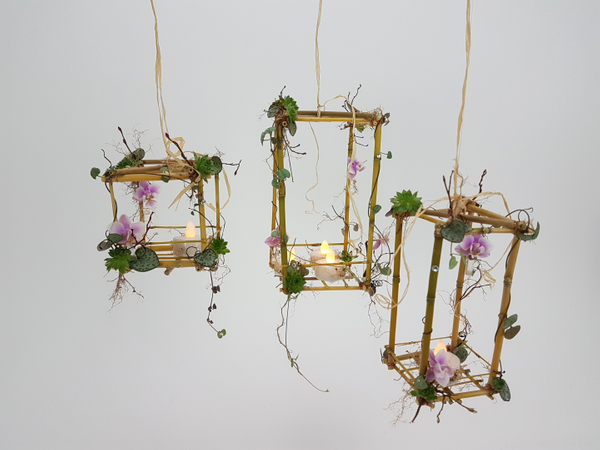 But, it should not be made hard to resist just because it is hard to make. A design idea, step-by-step tutorial for some know-how, and the following hints and tips will help you along the way to create your own special hanging design.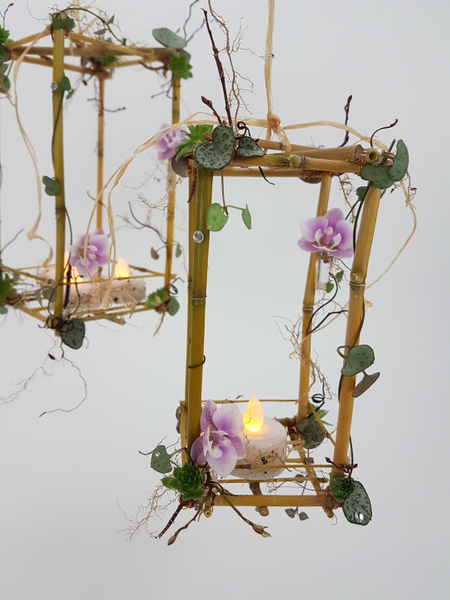 Time: Allow for extra time so that you are not rushed. Do a test to see how long it takes to design and craft the arrangement, and then allow for ample extra time to hang and test each design for safety and height. Try to pick a design with some dried floral material or a prop as base so that you can get a head start in the time leading up to the wedding and then make sure you have helpers to assemble and hang the arrangements.
Placement: A hanging design should be placed where it will not be in the way or where someone can bump into it. Walk around and imagine the placement from all angles.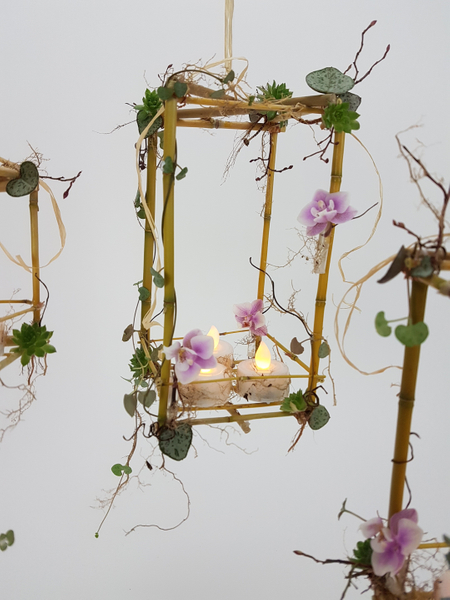 Support: Make sure the venue allows designs to be hung from the ceiling. Test the hooks and your own method of attaching the design. Ensure the beams and ceiling are stable and will not move once the design is up. Similarly, check for droughts. Swaying hanging-designs can be extremely distracting.
Height and Perspective: You want your hanging centrepiece to be so high that it does not obstruct the view of guests seated at the tables, and low enough to be noticed. The ideal is to look slightly up at the design. So you have to make sure to add some visual interest to the bottom.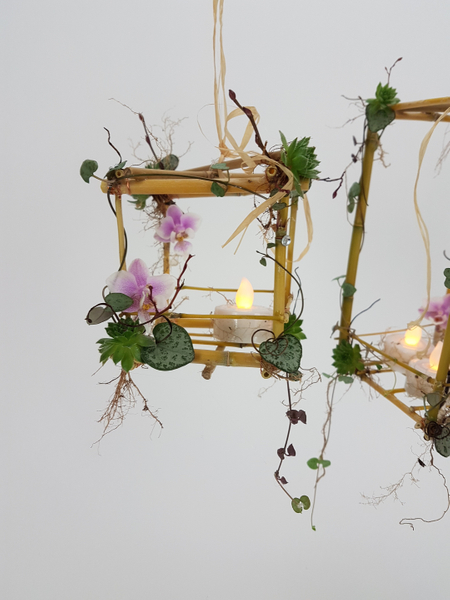 Make it easy: Add clips or hooks to make it is easy to hang the design at the event. Measure the height required and the size of the design ahead of time. If at all possible, pre-prepare the designs so that they can simply be clipped into place. This will significantly reduce frustration and make it easy for others to help.
Keeping those flowers hydrated: You can simply hang the flowers without a water source, but then you run the risk of sad and wilted designs once they start to dehydrate. With a little bit of effort and skill you can add a water source (floral foam, test tubes, water filled bottles or vases) to the design and keep the flowers fresh throughout the event, and even longer. Any florist or flower supplier can help you with advice and special tricks to keep the flowers looking fresh. My website has these and a few unusual ideas on how to add a water source to keep your flowers hydrated.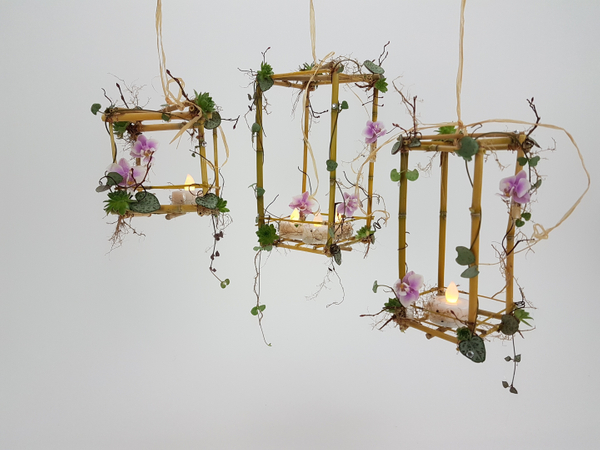 Lighting: You can either add your own, or use what is already at the venue. Check with the venue before deciding to use candles as many do not allow it, and always make sure there is no fire hazard. I use battery-powered tea-lights in my lanterns that can be easily switched on and off. Remember to check for access to power if you want to use fairy lights.
With a bit of know-how, you can design a struggle-free and stunning vertical hanging-design as that something special to take advantage of the visual vertical-space above the guest tables. You can be right on trend, whether it is tall tapers in cascading florals, or minimal low hanging lanterns.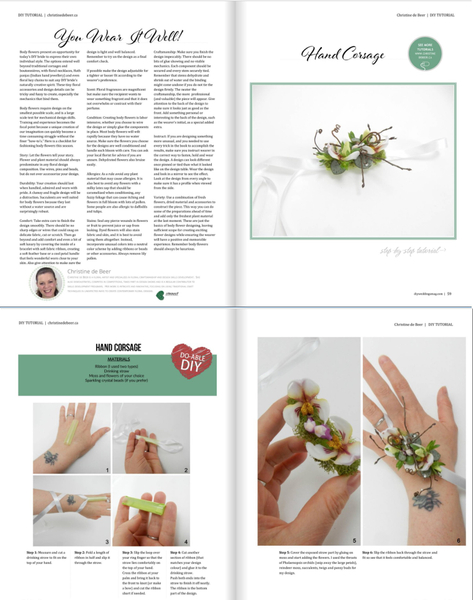 Thank you DIY Weddings Magazine for inviting me to contribute.
Sign up for my weekly newsletter
Every week I add a new design with related tutorials. Be sure to subscribe to receive an email notification with design inspiration.