My Creative Workbook
Christine de Beer - effortless floral craftsman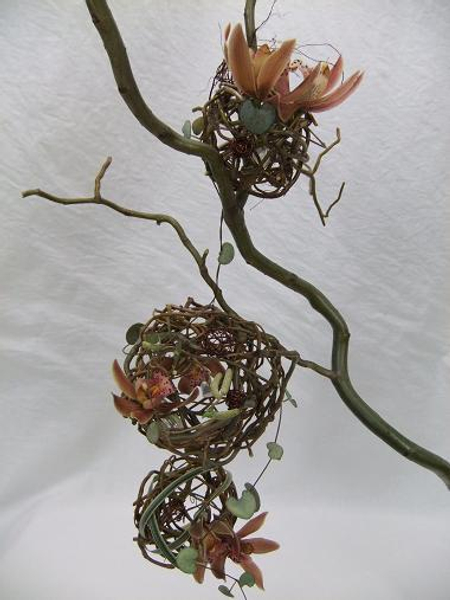 Salix matsudana "Tortuosa"
I wove three willow spheres for my Floral Art design Three Drops of floral chocolate.
Common name
Curly Willow, Chinese Willow, Tortured Willow, Globe Willow, Dragon's Claw, Hankow Willow
Origin
It is native to Northwestern China.
Varieties
Around four hundred species of Salix are listed. There are a few hybrids of the Salix matsudana but this cultivar is still susceptible to cankers and is weak-wooded and prone to storm damage.
Colors
Light green leaves
Vase life
Twigs in water will develop foliage that later yellows and drops. Will root in deep water. If the branches are kept in clean water it will last for a few years.
Uses
The most obvious is probably using willow stems in an arrangement but I love wrapping wire or test tubes with thin willow twigs and weave the stems into baskets, supports, accessories or panels. Recently, I began researching living willow sculptures as a possible addition to floral art. Living sculptures are created from live willow rods planted in the ground and woven into shapes such as domes or tunnels. Willow wood is used to make boxes, brooms and furniture and for the floral artist it has great manufacturing possibilities. The wood can be pulped for paper, or fibers can be made into string. It is also used as drawing charcoal.
Conditioning
Give the stems a fresh cut and whittle some of the bark away to allow the twigs to hydrate
Sign up for my weekly newsletter
Every week I add a new design with related tutorials. Be sure to subscribe to receive an email notification with design inspiration.