My Creative Workbook
Christine de Beer - effortless floral craftsman
Weave a willow wreath around a minimal pumpkin display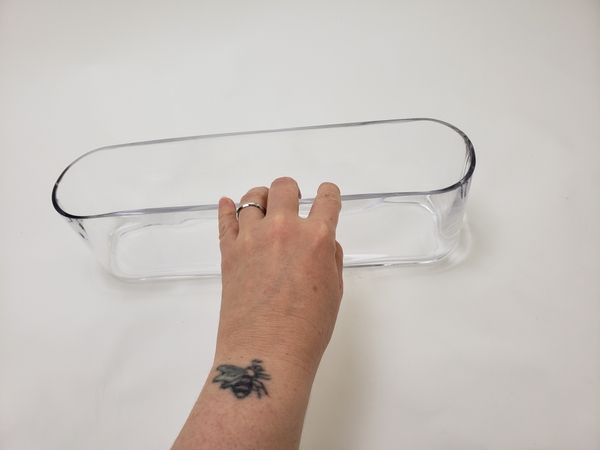 Place a display container on your working surface.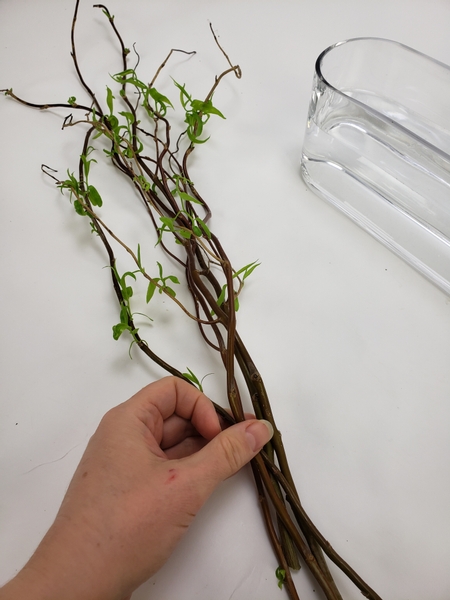 Groom your weaving stems. Any pliable stems will do. You can (of course) cut autumn leaves to display.
Let's have a conversation about these weaving stems. I explain how I prepare them in this week's email and give you a few tips. Make sure you are signed up to join in. The sign up button is below the post.

Book readers turn to page 74 for more details on this kind of design. I actually think the design example you will find there is one of my all time favourite designs.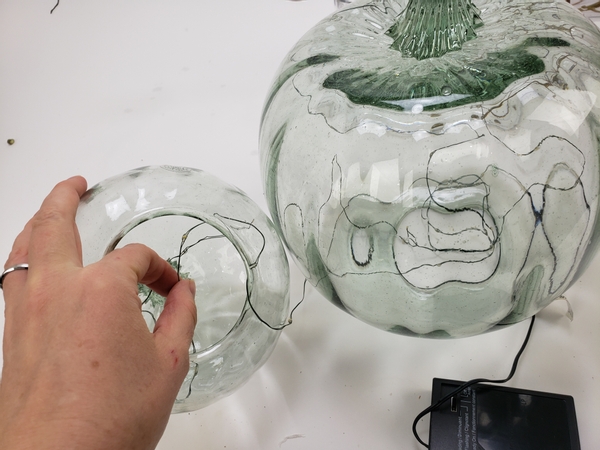 Prepare the pumpkins. If you are using real pumpkins, wash and oil them (if you want) to make them last longer. I used these gorgeous glass pumpkins that I filled with tiny lights.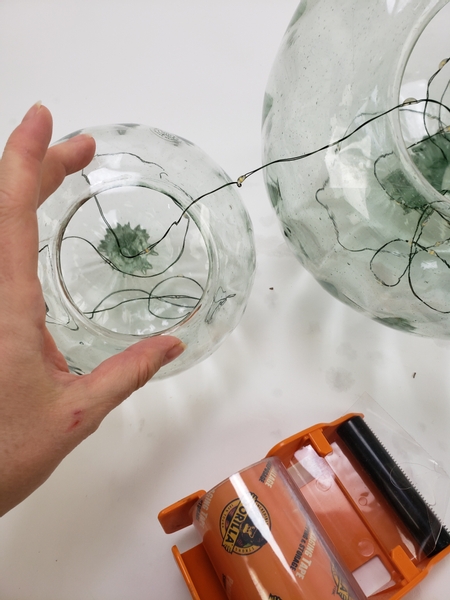 Design tip: cover the cavity with packaging tape so that the lights stay inside without dropping into the water.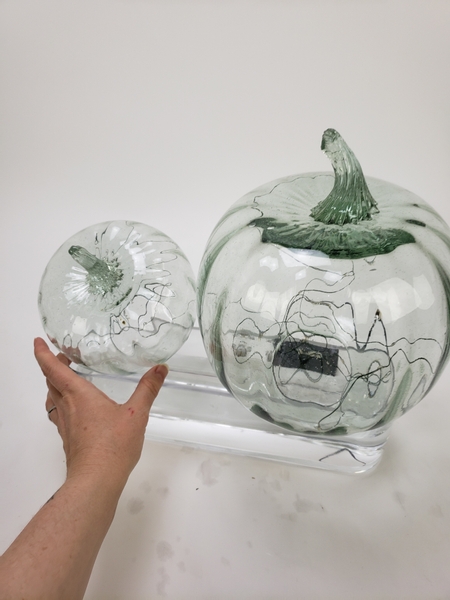 Fill the display container with water and place the heavy pumpkins on top.
The pumpkins are actually part of the mechanics so choose pumpkins that are not only pretty but also heavy for their size. We are weaving the willow stems that places them under tension and the heavy pumpkins are ideal to place on top of the stems to keep them in place exactly where you want them.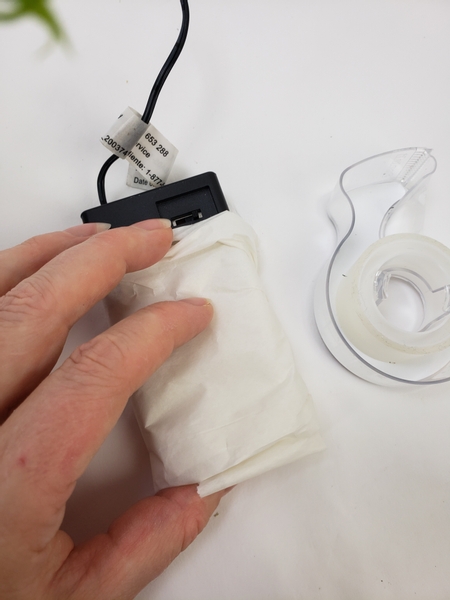 Cover the cord and battery pack to hide it in your display. Remember to keep the switch open for easy access.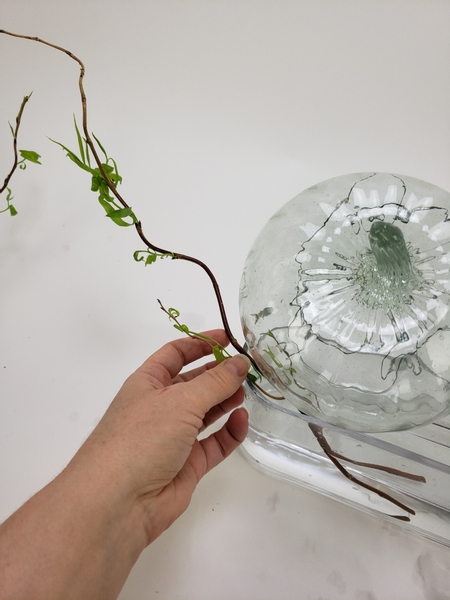 Slip a willow stem below the pumpkin...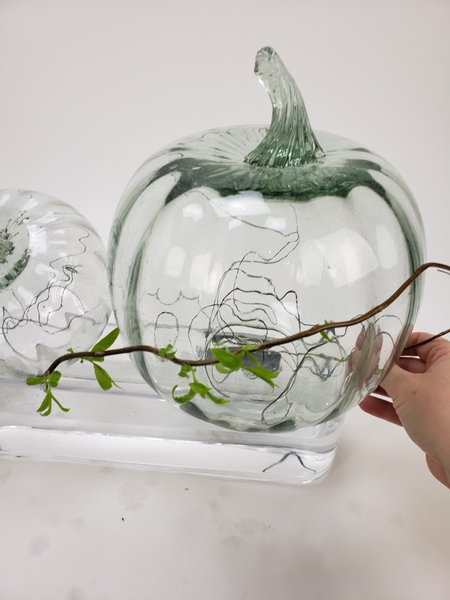 Place another stem on the opposite side...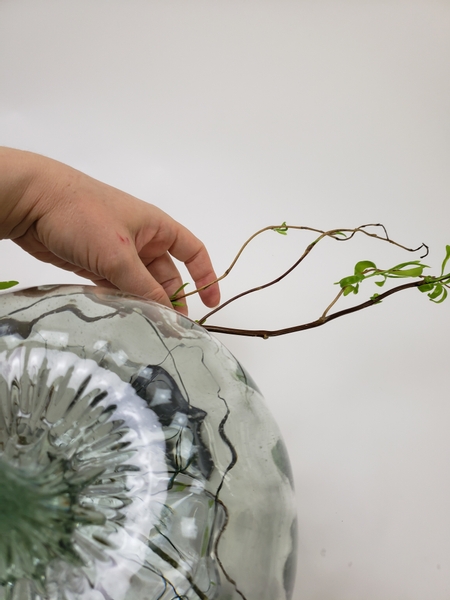 ... add the next stem and weave it into the first two.
I used the exact same technique that I would have used weaving a wreath. Only instead of hooking the stem end into the weave I hooked it under a pumpkin so that the cut end dangles in the water to remain hydrated.
If you are unsure, or want to brush up on your wreath weaving skills see the Tutorial below.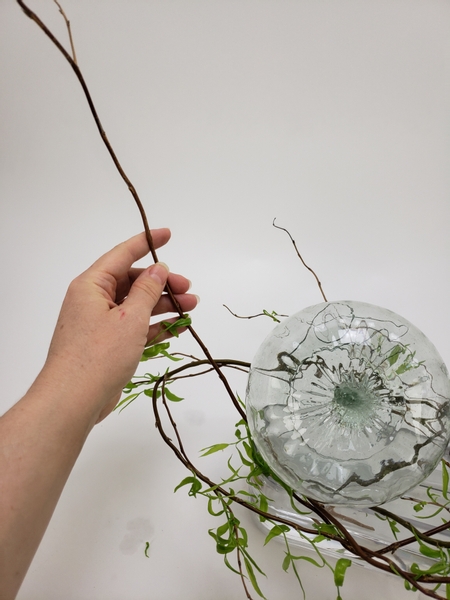 Keep adding weaving stems. Curve them around to the stem next to it and weave them in to create a loose-ish wreath all the way around the pumpkins.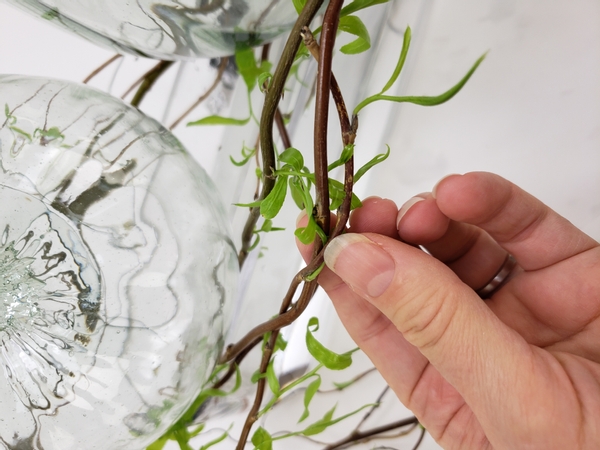 Simply weave each new stem in so that the tips are free, the firm bit just below it is woven in...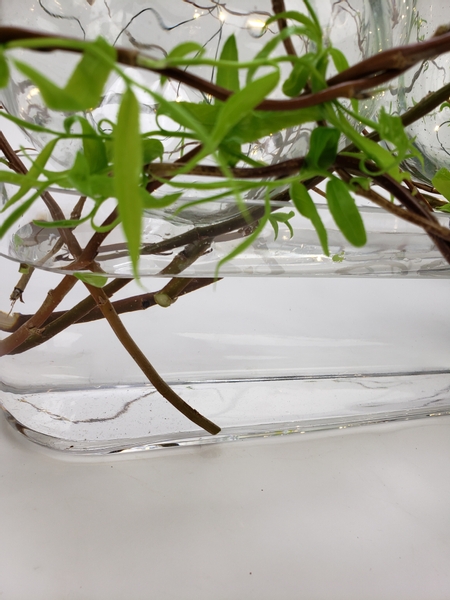 ... and the cut ends are well below the water.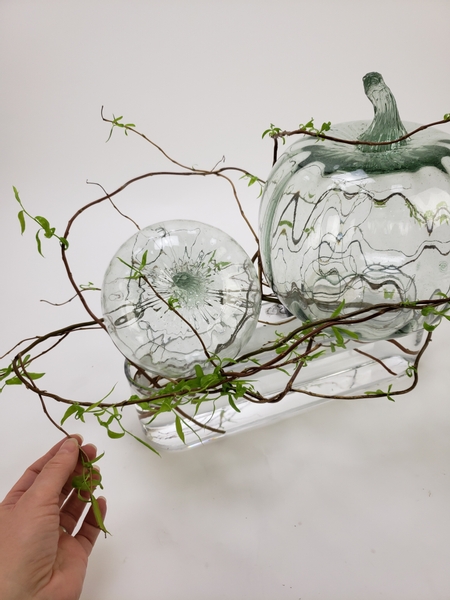 To create a fun and growing wreath design.
If this is too much green for you for Autumn... prepare the design well in advance. It gets even prettier as it ages. Roots will sprout below and the foliage will turn yellow. Perfect if you want to enjoy the design for a while.
Sign up for my weekly newsletter
Every week I add a new design with related tutorials. Be sure to subscribe to receive an email notification with design inspiration.