My Creative Workbook
Christine de Beer - effortless floral craftsman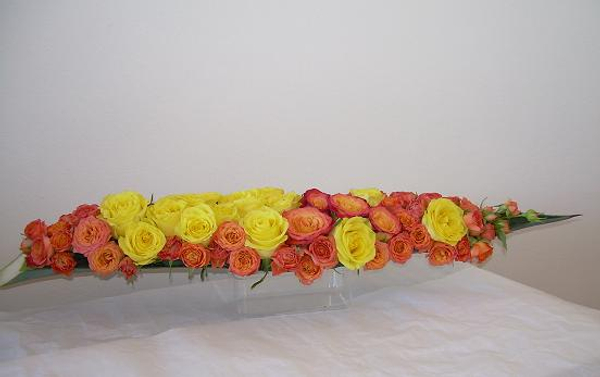 Rosa
My all in the same boat floral art arrangement with roses in an Agave sisalana (sisal) leaf.
Origin
India, China, Europe, North America and Africa
Varieties
A new variety of rose appear daily and it would be rather silly to think you will be able to keep up with the names of all the roses available as cut flowers. Some of the new varieties are thorn-less and special attention is given to breed roses with a distinctive and traditional fragrance after years of fragrance free cut flowers.
Colors
Many variations of colour and bi-colours of almost all shades.
Vase life
Seven to ten days or even longer. A bit longer if it was grown for the cut flower industry and a little less if it is a garden rose.
Scent
Widely grown for its distinctive fragrance. Though cut roses have no scent new varieties are now available with a strong fragrance.
Uses
Very versatile. Roses can be used in formal designs and is equally appropriate in a country bouquet. Great to practice spiralling a bunch of flower stems because the stems are straight.
Conditioning
I prefer not to rip or strip my roses because it damages the stem bark. I just cut the thorn tips away with my knife. Gently peel the foliage from the stems that will fall below the conditioning water line. Cut the stem at an angle and condition in water with dissolved rose flower food. Roses should be designed and conditioned in deep water. Do not spray or submerge the flower head in water as this traps the water between the petals and causes Botrytis and bacteria to spread.
Sign up for my weekly newsletter
Every week I add a new design with related tutorials. Be sure to subscribe to receive an email notification with design inspiration.