My Creative Workbook
Christine de Beer - effortless floral craftsman
Hovering golden wheat Ghost Ship armature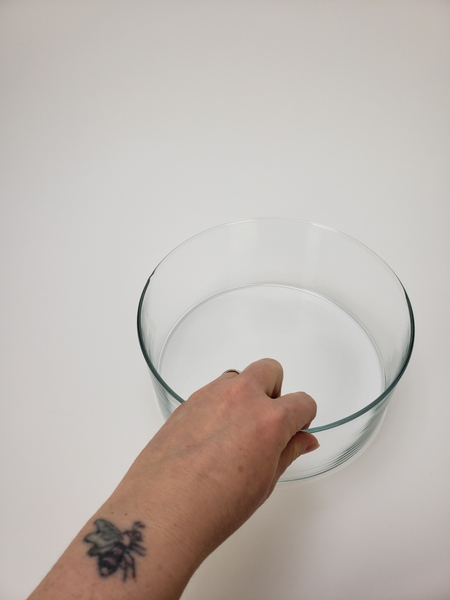 Place a wide container on your working surface.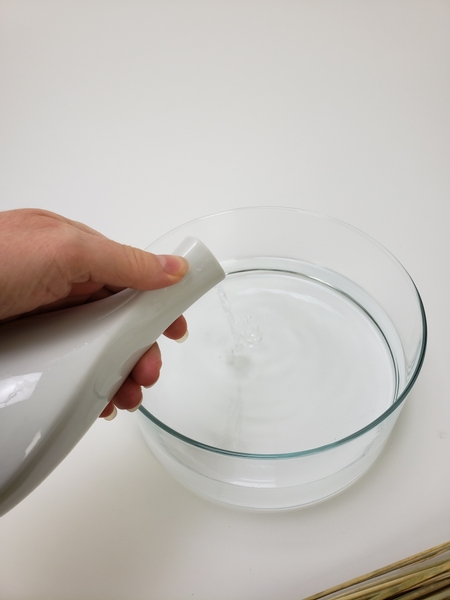 Pour some water in the container.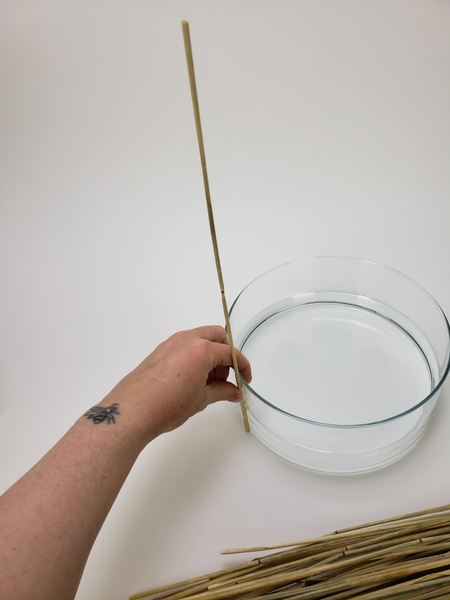 Glue a reedy stem end of wheat to the container with hot glue.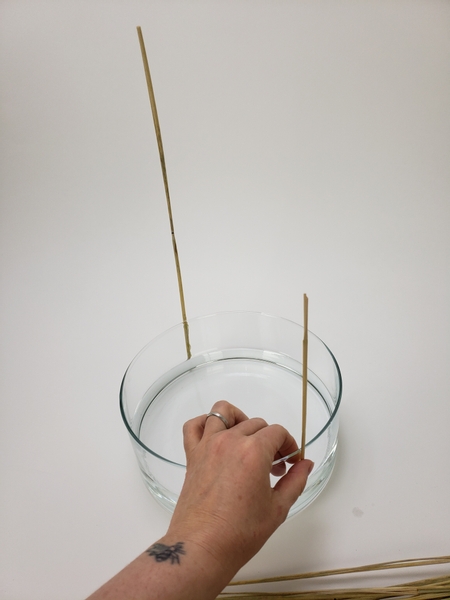 Glue in another golden wheat stem.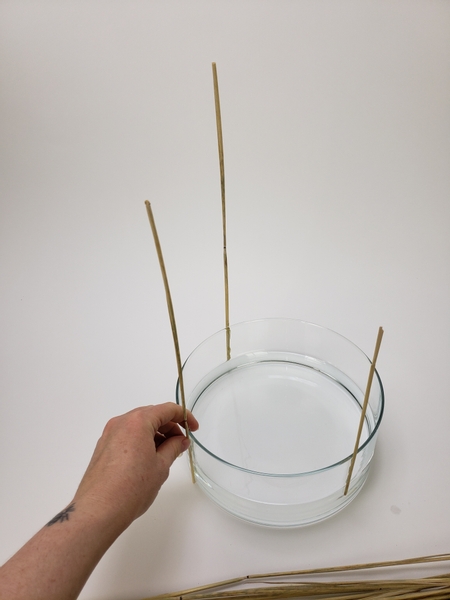 And a third dried wheat stem next to that.
Make sure these are sturdy pieces and add a bit more glue than needed. The dried plant material hangs from these supporting stems.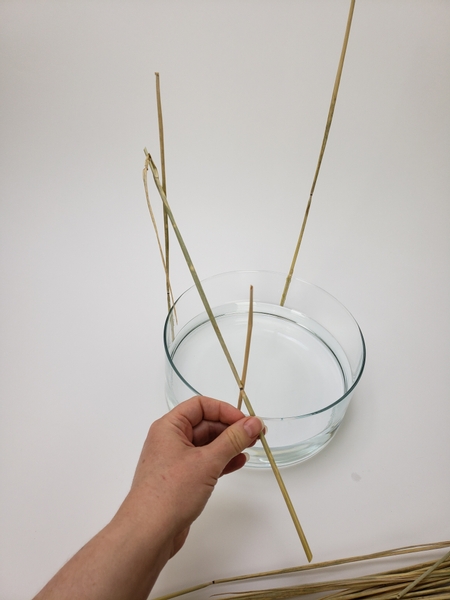 Start to build up the ghost ship shape by connecting the wheat stems.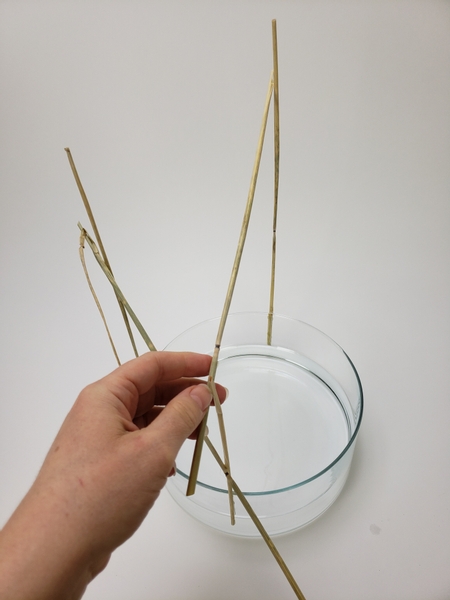 Glue in the next section to connect the other two wheat stems.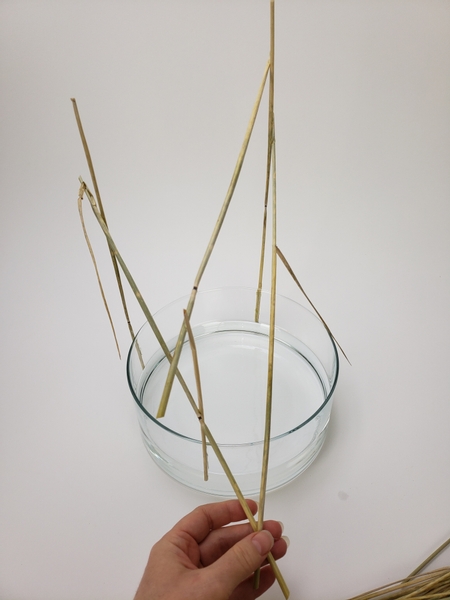 This shapes the basic hull of the ghost ship from which the design is sculpted.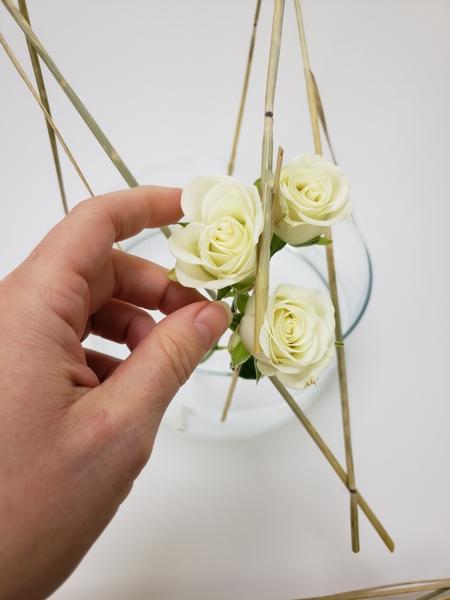 Place some spray roses between the wheat stems...
Book readers turn to page 265 of my book before cutting the stems for a tip on how to help the roses stand upright.
For more information about my book: The Effortless Floral Craftsman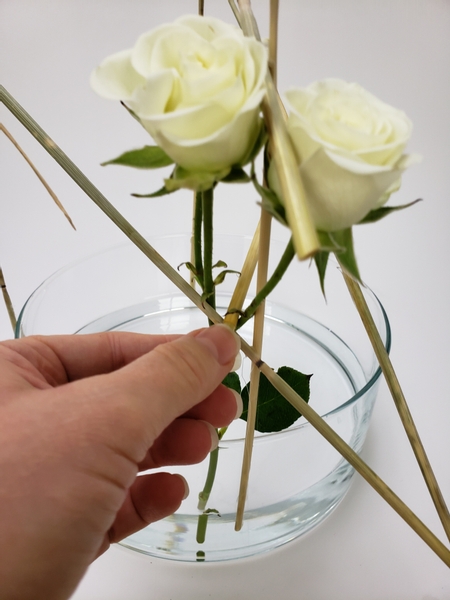 And add in wheat stems to anchor (see what I did there? :o) ... the roses in place.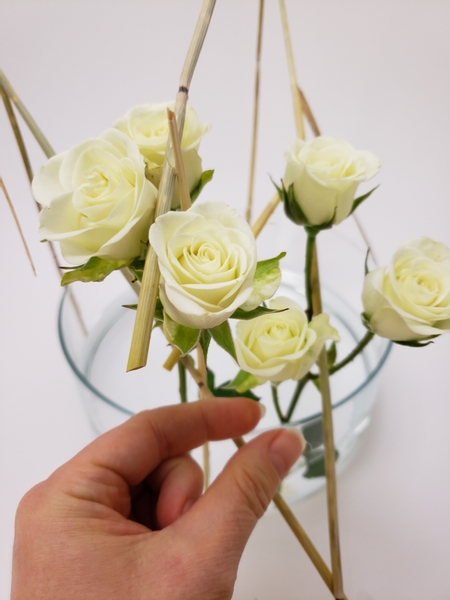 Place the next stem of spray roses...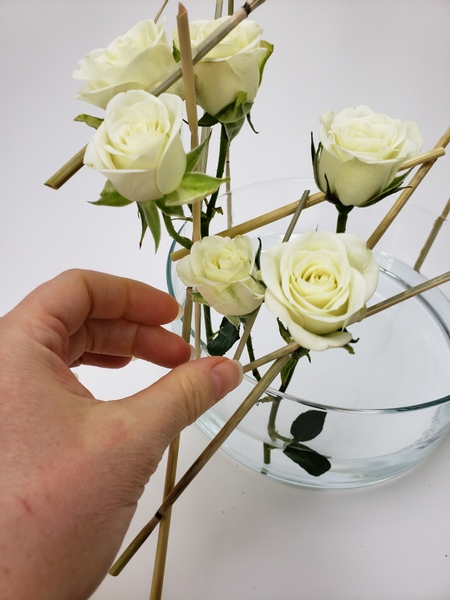 ... And anchor them in place with wheat.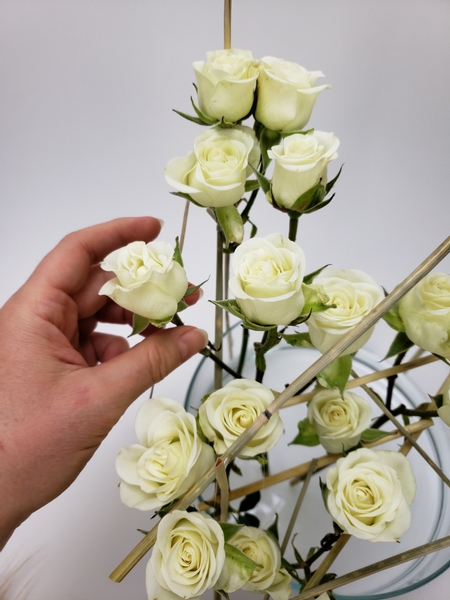 Fill the space with spray roses and neatly keep them upright with stems.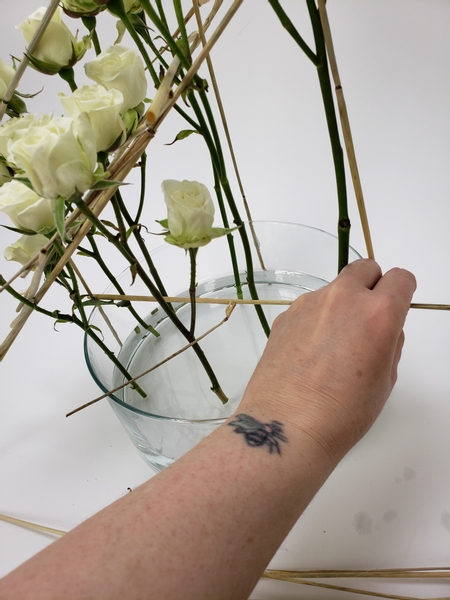 Turn the design around and start adding support stems from the back.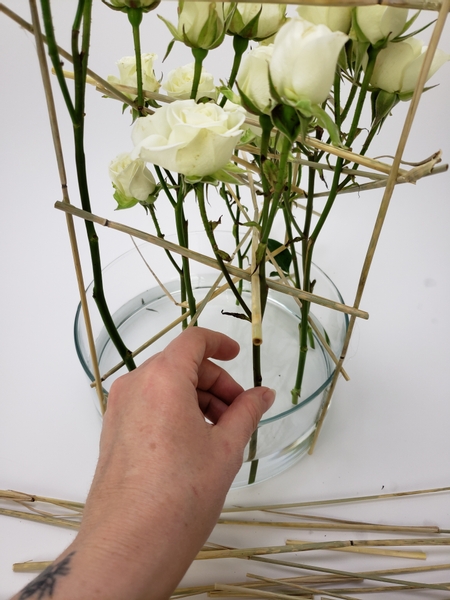 And add a few spray roses into the the gaps.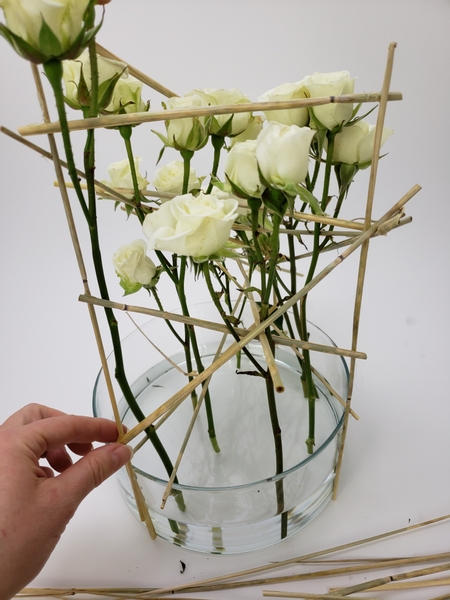 Anchor the roses with wheat stems.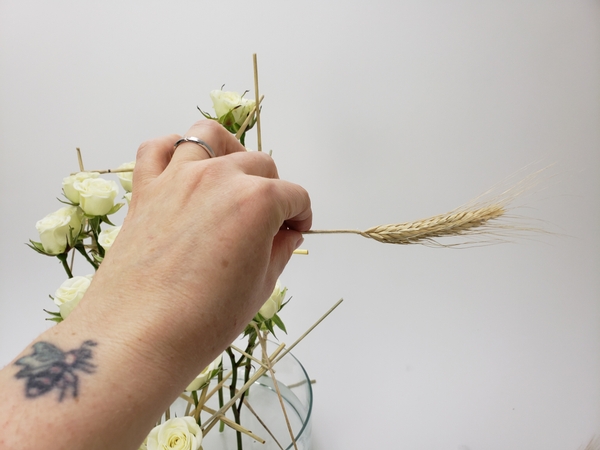 Next we add in the wheat
Last week we tamed the twigs (remember the hot glue hair net in our email?) this week we do the exact opposite. Do not glue the wheat part, only the reed part.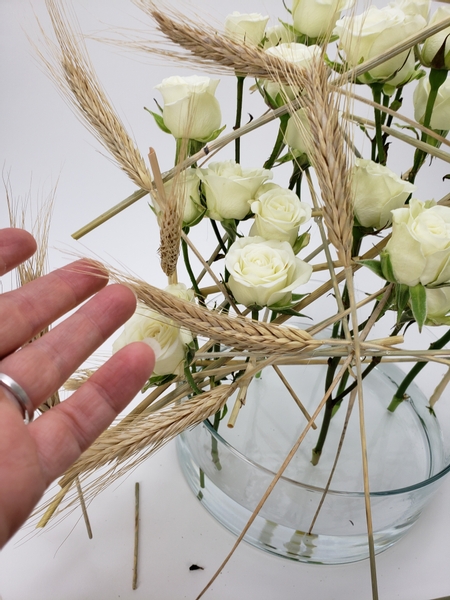 I do this to avoid even the slightest hint of a droopy look to my design. When adding stems, even stems like dried wheat always make sure it looks fresh and vibrant rather than droopy and wilting. A sure fire way is to glue in things with a natural angle to point... up.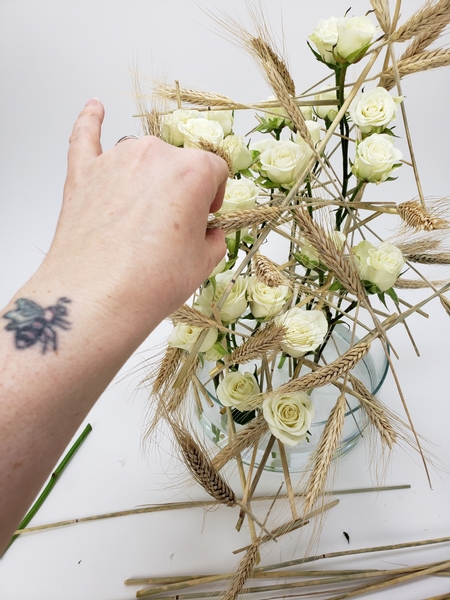 Turn the design and add wheat all around to create a golden ghost ship shape around the roses.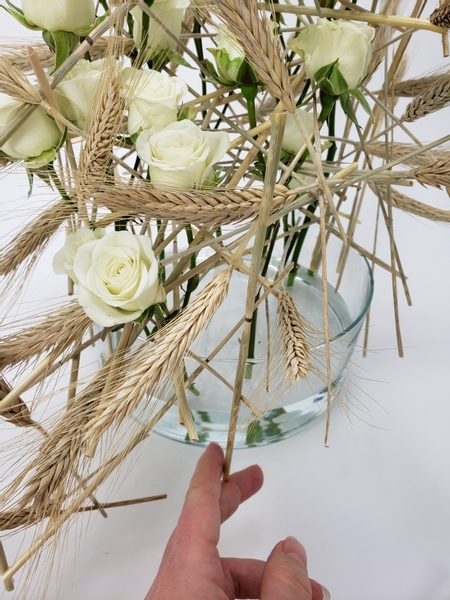 Adjust the spray roses to be perfectly upright (see our email of this week for how) and add in some parallel stems to mirror the spray rose stems to create a sailboat mast look with towering poles mounted to the deck of the ghost ship.
For a bit more about these parallel lines and this week's tip on how to keep them at least almost straight see our email. If you are not yet signed up to receive the once a week email you can sign up below this post.
Sign up for my weekly newsletter
Every week I add a new design with related tutorials. Be sure to subscribe to receive an email notification with design inspiration.