My Creative Workbook
Christine de Beer - effortless floral craftsman
Magnolia Rose Bowl with the brightest Holly berries and Kalanchoe flowers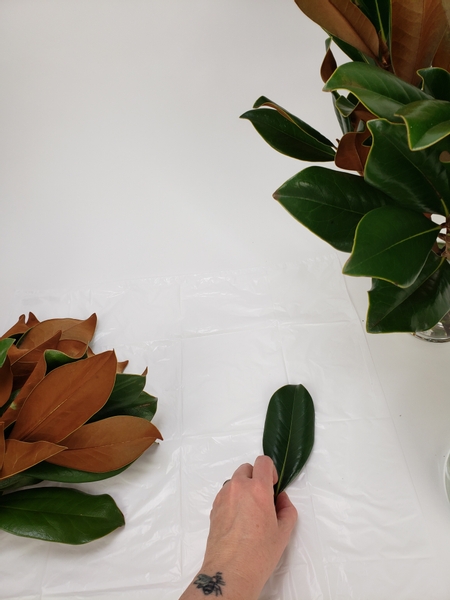 Place a magnolia leaf on a flat working surface... I placed mine fuzzy side down and stem tip facing up.
You can (of course) alternate the leaves so that the fuzzy brown side sometimes face up... it really is something that makes Magnolia leaves so special to design with. I wanted mine to have a brownish glow on the outside with the bright red flowers and berries just peeking out from the inside so I stuck to the green up brown down throughout my roll.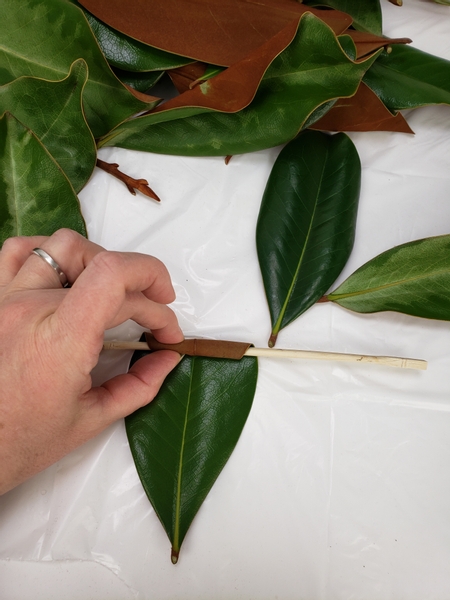 Place a skewer on the tip of the leaf and start to roll it...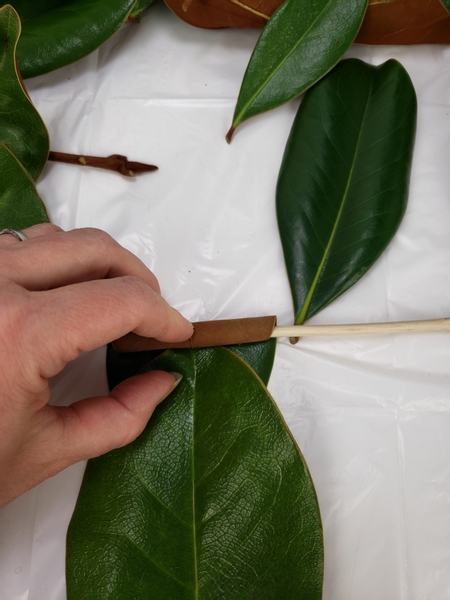 When about half of the leaf is rolled up place the next leaf and continue to roll...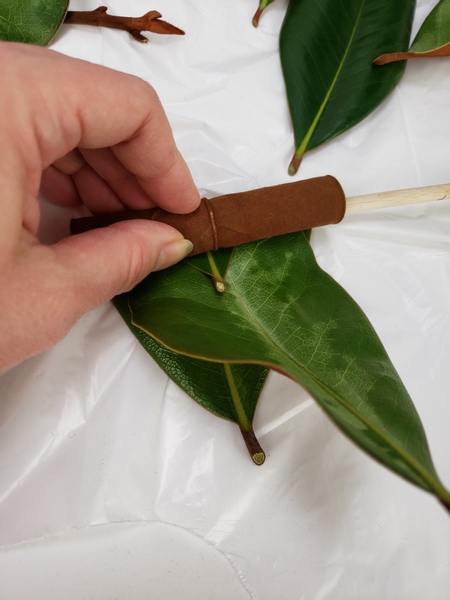 To keep the roll from just rolling flat I added a bit of volume to the design to create a ruffled rose petal effect.
I wanted to show you a bit more in detail so I added pictures to this week's notification email with details on how to add volume. You can subscribe to the weekly email below the post to receive your weekly bonus tip. The button is below this post.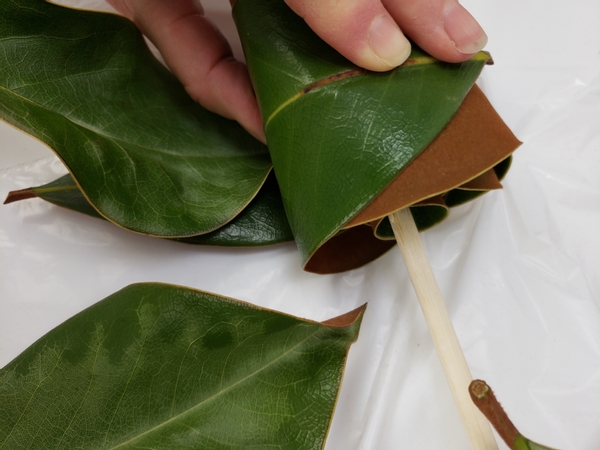 Keep the roll on the working surface to help you keep it all together and add another leaf...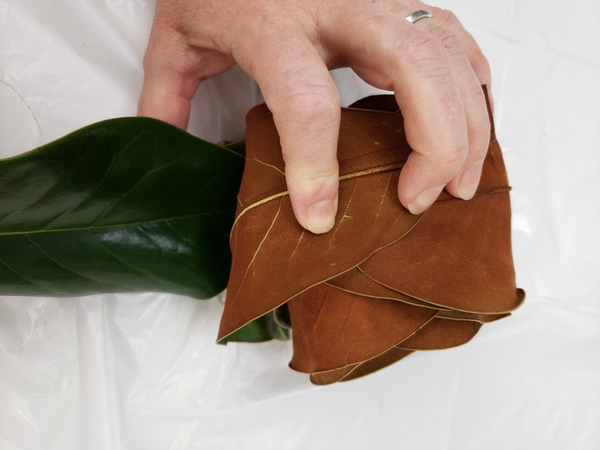 until you have a large enough leaf roll to design with.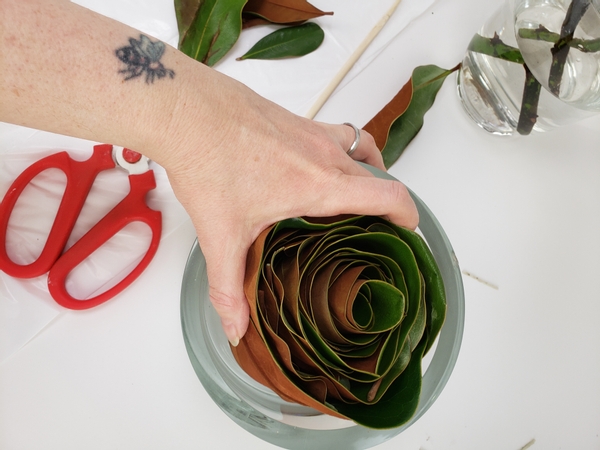 Slip the Magnolia leaf roll into a display vase.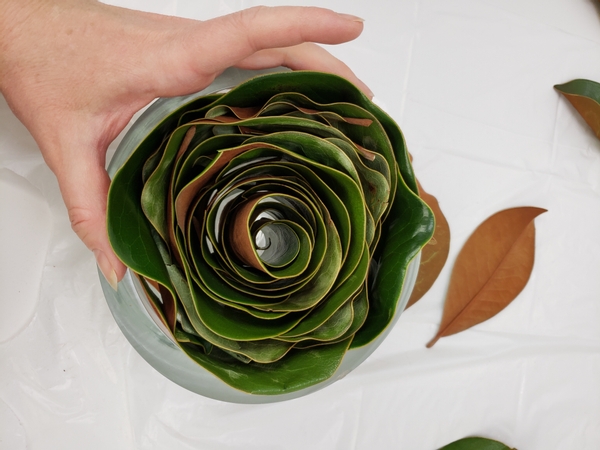 And let the Magnolia leaves settle to fill the vase.
Book readers turn to page 22 for a unruffled version of this design that can stand upright without a vase.
... and page 210 for a How To stitch the leaves into a garland first before rolling it into the spiral.
For more information about my book: The Effortless Floral Craftsman
but to get you started I have also linked a few options of how to create other versions of this down below this post.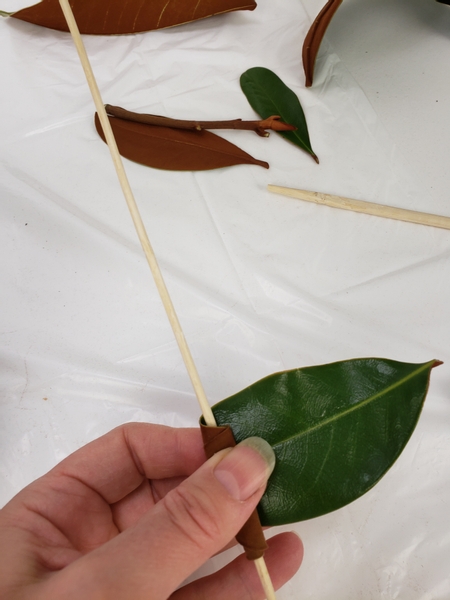 If you find that the gap in the middle is to prominent roll a few more leaves to fill it.
Design note: For robust leaves like this it is better to use a thicker bamboo skewer (or chopstick) so that the leaves are not damaged in the process. If you need to make a tighter roll go back and use a thinner skewer and roll some of the freshest new leaves.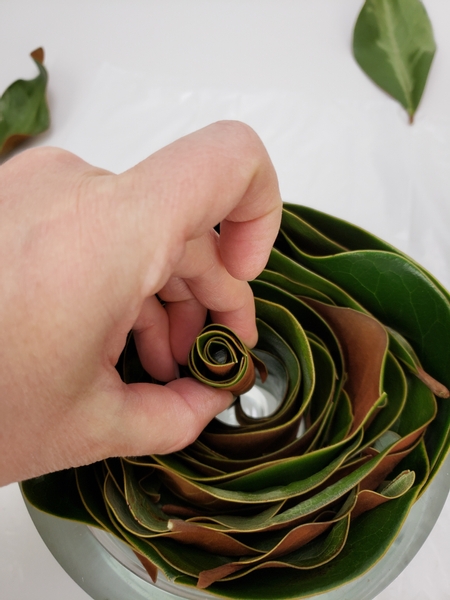 Slip the new leaf roll into place.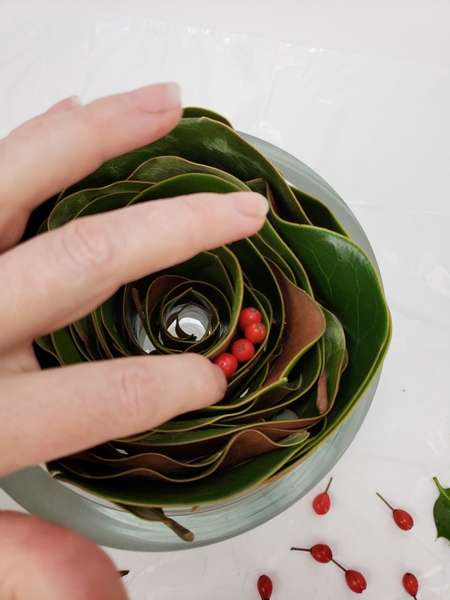 Cut a few holly berries from the stems and place it in the leaf roll...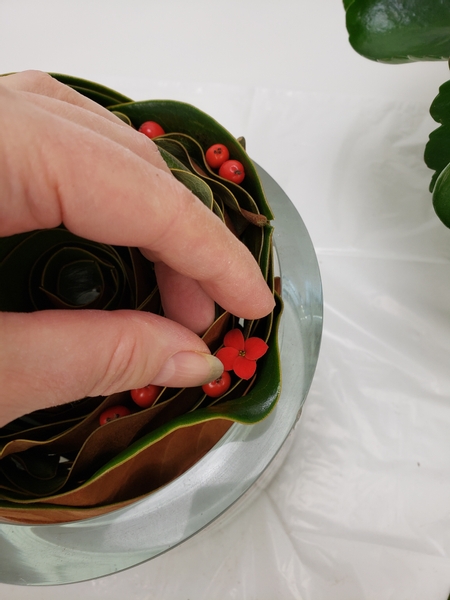 And add a few tiny kalanchoe flowers in between. These little succulent flowers last so well without any water source... amazing!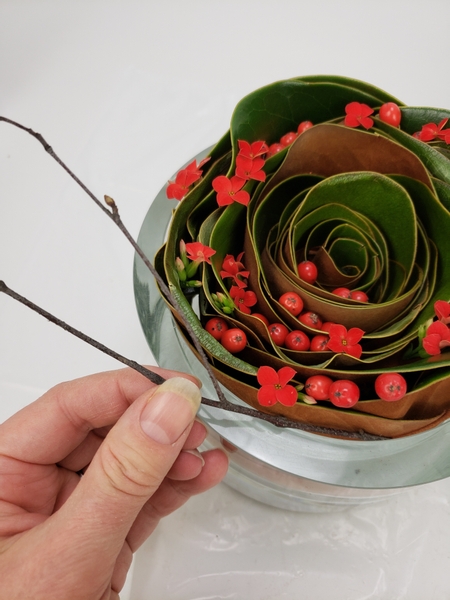 Slip a twig into the side of the roll...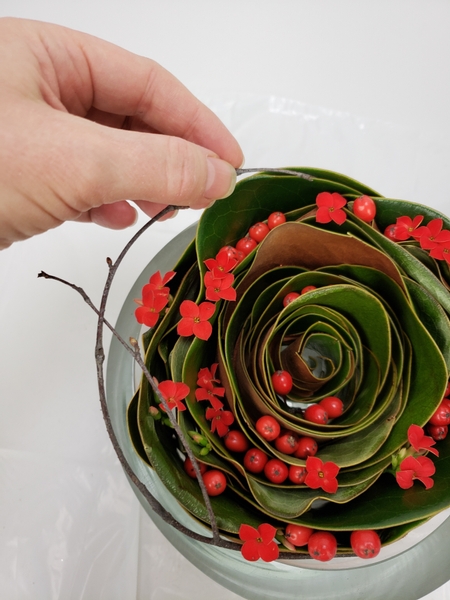 Curve the twig and secure so that it is held in place by the Magnolia leaves.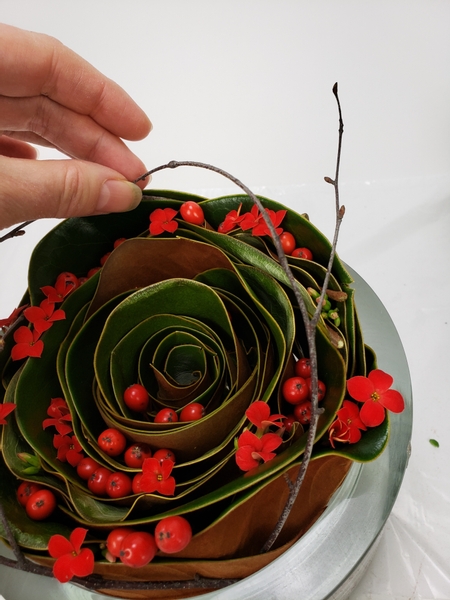 Add in a few more curved twigs to frame the design...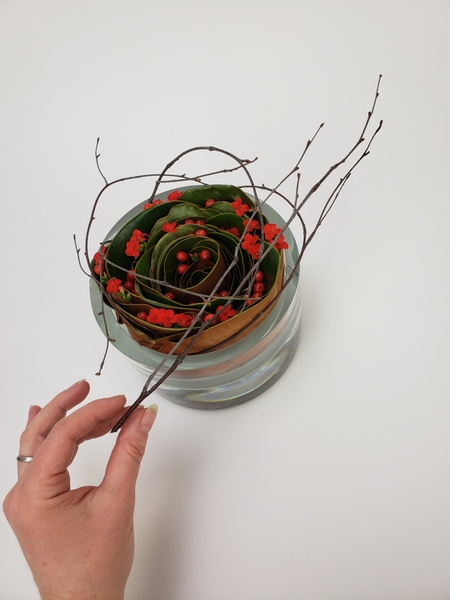 Slip in a straight twig for contrast...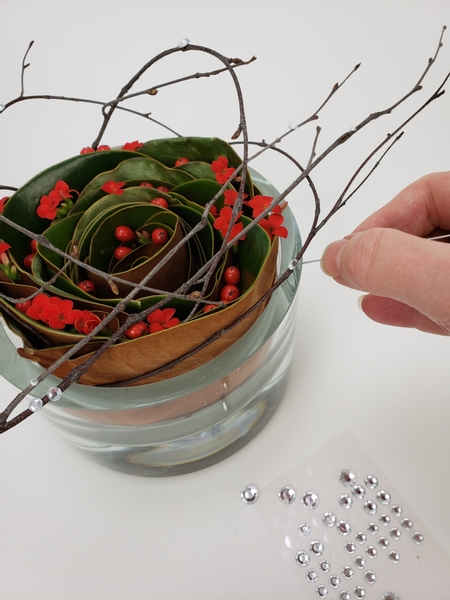 And finish the design with a few dew drop crystals.
See the Tutorial below for detailed instructions on how to use a pin to place the crystals on a delicate design.
Sign up for my weekly newsletter
Every week I add a new design with related tutorials. Be sure to subscribe to receive an email notification with design inspiration.