My Creative Workbook
Christine de Beer - effortless floral craftsman
My article and floral wand design featured in
DIY Weddings Magazine

One of my favourite lines in the Harry Potter movies is when Mr. Ollivander tells Harry: "The wand chooses the wizard, Mr. Potter." As a creative person, I have always loved the idea that there is magic that somehow finds us while we do the work. Call it inspiration, talent or the creative process, there is something truly magical about creating something special. Rarely can the artist explain how it happens, even more so if you are creating with the unpredictability of Mother Nature. As it is with flowers.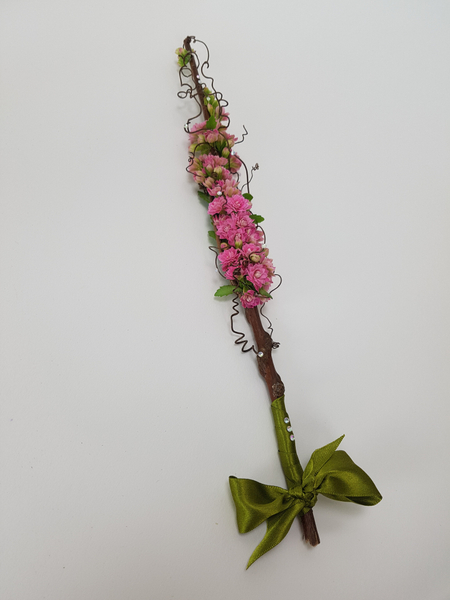 Allowing for magic to find you is not always easy. It is tempting to "force" the work, especially if you are under stress from designing for your own wedding. But you can only force so much.
The greatest lesson every floral designer learns is that Mother Nature knows best. Yes you can manipulate stems and wire flowers to coax lines to flow, shape and bend, but there are limits, and it takes patience and great effort to do so. Mostly it is just easier to work with nature and allow the available plant material to dictate where and how they need to be placed.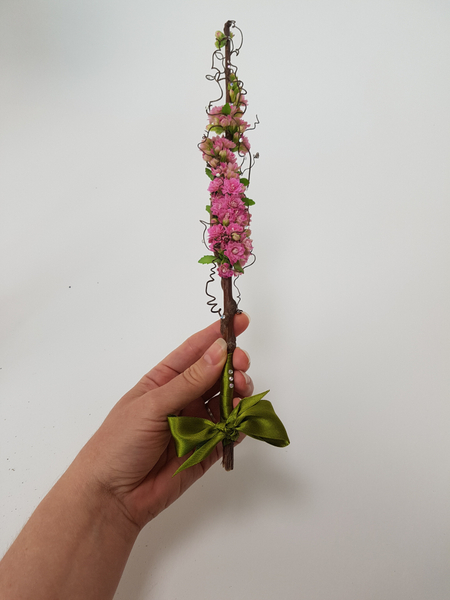 Practice and ask for advice so that you can forget the "how" and add the magic.
A florist can really help you with the finer details and techniques, even if you plan to do your own flowers for your wedding. Consider ordering an example and learn by looking at how it was created, or take a class to learn the skills you need. Most florists will be happy to assist. Consider ordering at least some of your flowers, especially your focal flowers from a florist so that you know you get great quality flowers and have the benefit of having an experienced designer "on your team." A florist can also show you how to manipulate plants and when to allow for some spontaneity.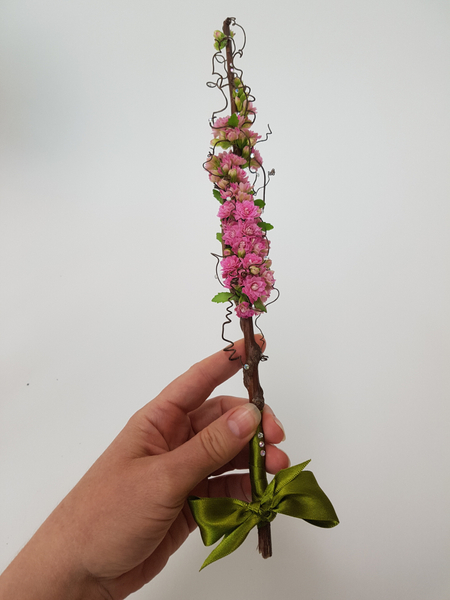 Use what is already there and expand to create. A pretty length of ribbon can be added to incorporate an extraordinary colour into your colour scheme.
Use flowers that are in season. It is more affordable and also much more likely to stay fresh throughout your event. Some flowers and plant material just lasts longer. If you look at my wand design, I used Kalanchoe flowers to decorate the wand. Kalanchoe is a succulent and will remain looking fresh for about a week without a water source. Yes really! So you can have a wand design party a few days before the wedding for each person to design their own wands. Other flowers need to be designed as close to the event as possible. Again, ask for advice if you are unsure.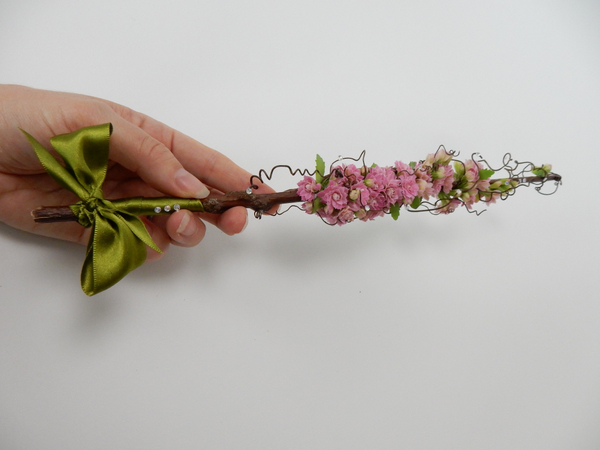 Learning to read and place plant material in their natural state can be frustrating, especially if you are the type of designer that strives for perfection.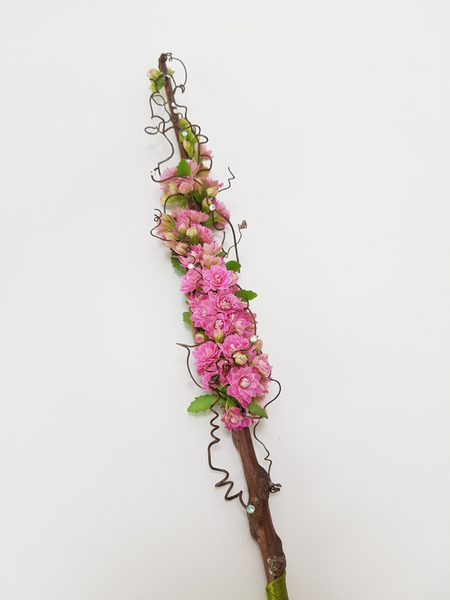 Remain fascinated by nature and continue to see and understand the way plants grow, lines curve and how flower heads bend...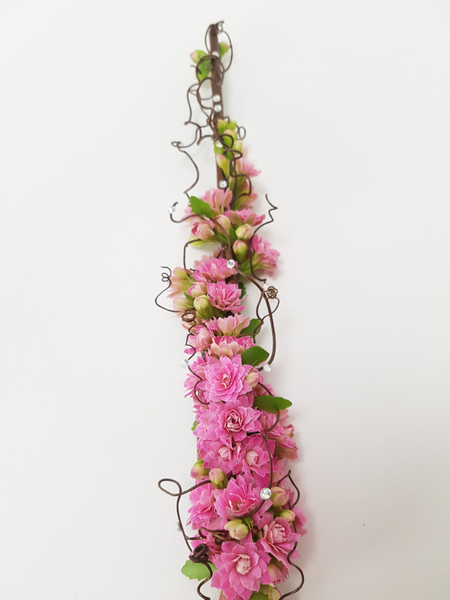 ... and you will find your way to let some of the magic happen rather than struggling against the natural tendencies of nature.
Sign up for my weekly newsletter
Every week I add a new design with related tutorials. Be sure to subscribe to receive an email notification with design inspiration.