My Creative Workbook
Christine de Beer - effortless floral craftsman
A woven grass grid cage for flying Column and Augmented petal Phalaenopsis orchids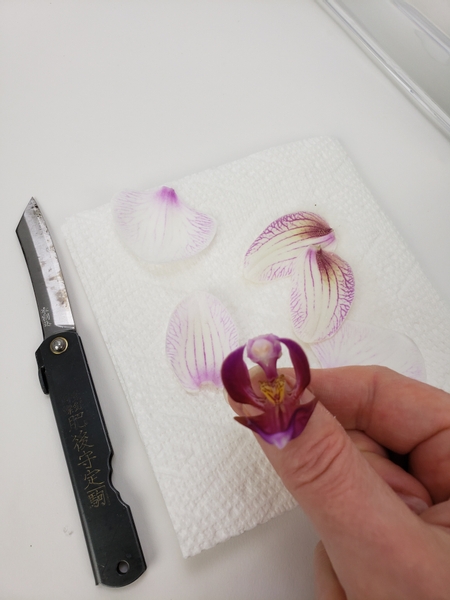 Use the sharpest knife from your tool bag to cut away the petals from a Phalaenopsis orchid.
Looks a bit like a bird, right?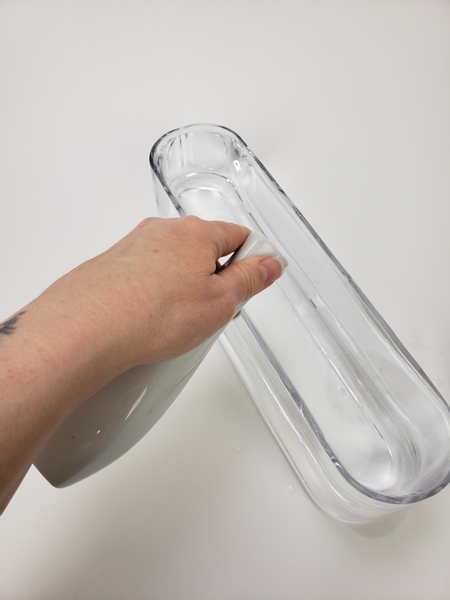 Pour water into a narrow container.
Place a few blades of weaving grass on a flat working surface.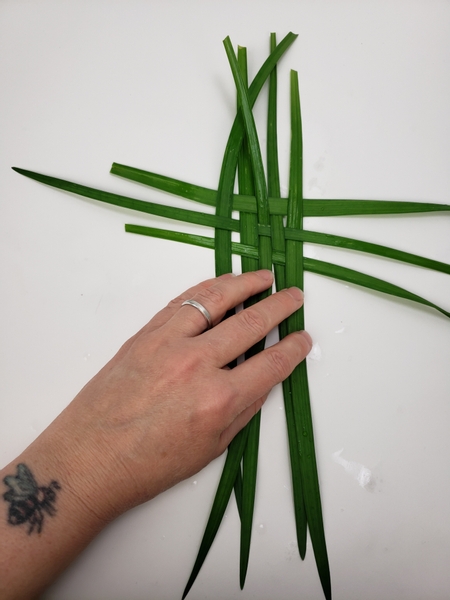 Weave in a few blades of grass. I used a simple over and under pattern.... which I prefer for my work because it is less distracting than more elaborate patterns. But you might find your design needs a bit more...?
If you are new to weaving or looking for more inspiration on how to incorporate weaving into your designs turn to page 226 of my book where I talk about Mastery.
For more information about my book: The Effortless Floral Craftsman

... but as always, to get you started I also have a few foundation Tutorials for you linked below this post.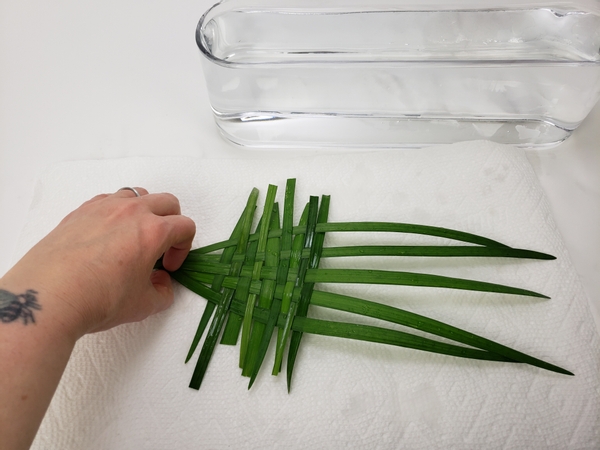 To make it easier to slip the open ended weave into the container I keep them tightly together on one side...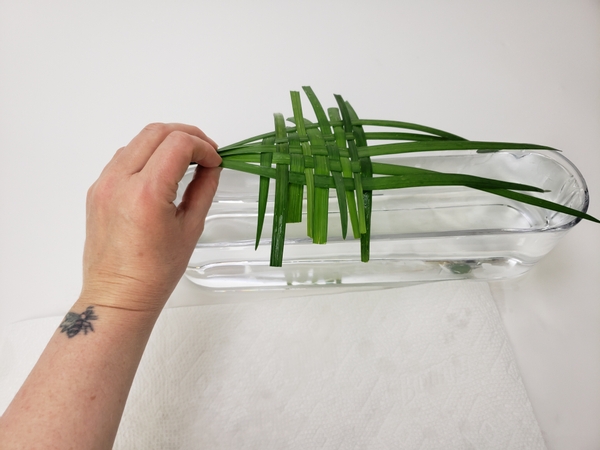 Place the woven grass on your container... make sure the weave stays neatly together.
Design note: If it comes undone it is quicker to take it all out and start again. Be gentle as you lower the weave into the container... handling a loose weave take some practice.

If you find this too frustrating there is a Tutorial below for a Flower Catcher that is secure.

And if you find you love the look of a loose weave I have a Parachute Tutorial below for you to try.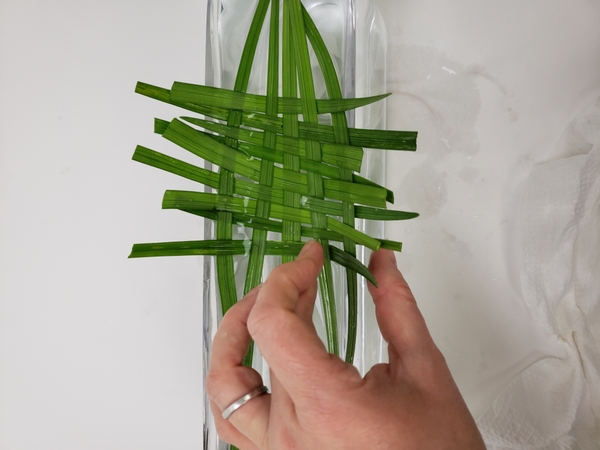 Curve the weave into the container.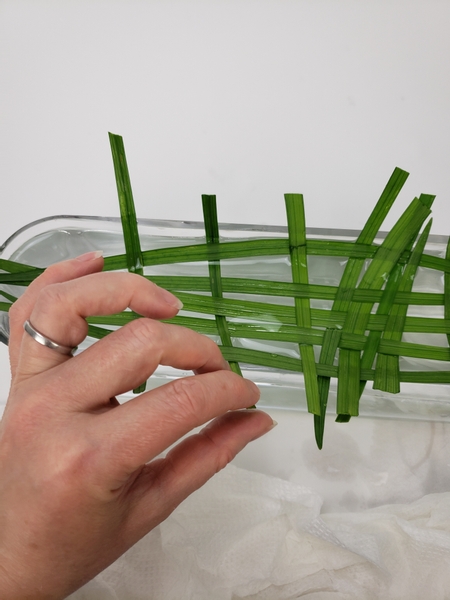 Spread out the woven grass supports to create gaps.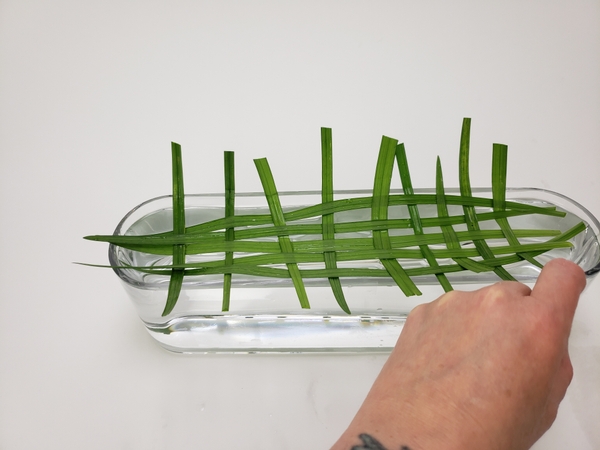 Lining the container with a woven grass grid.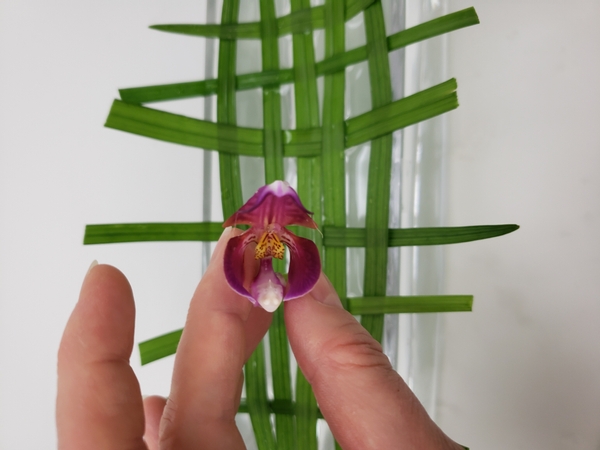 Place the Phalaenopsis orchid columns to rest on the woven grid.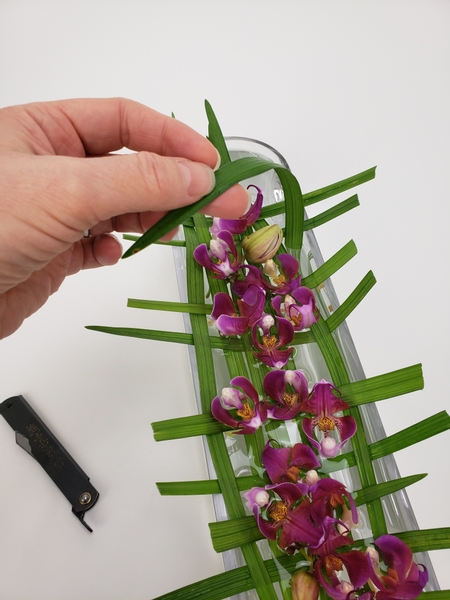 And slip a blade of grass over the design in the gaps created in the woven grid.
This part can get a bit tricky to get the grass to remain upright.. and arched in the same way. I have measuring and adjusting tips for you in this week's email. I send out a notification email every Wednesday morning (Vancouver time) the moment the new design is ready... and I add a bit of design details that I think you might find handy to have before looking at the design. The email is also a convenient way for us to connect on a one on one basis. Reply to the email if you have comments or questions... or to say hi. It might take me a bit of time to get to all the emails (yes, I answer them all) but I really enjoy this way of getting to know you better and it makes it feel less like I am talking to myself. So keep them coming!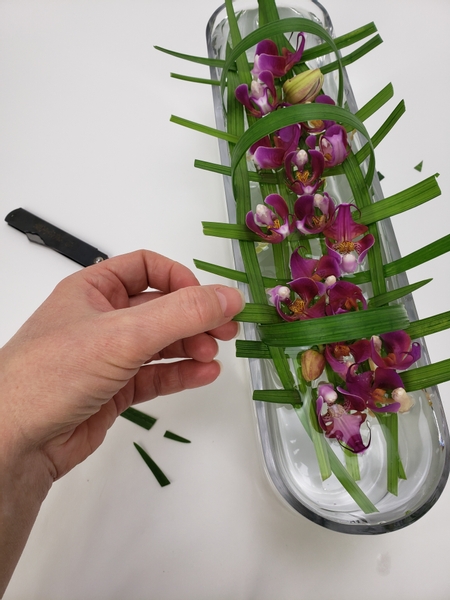 Cut all the woven blades of grass to the same length, extending from side to side...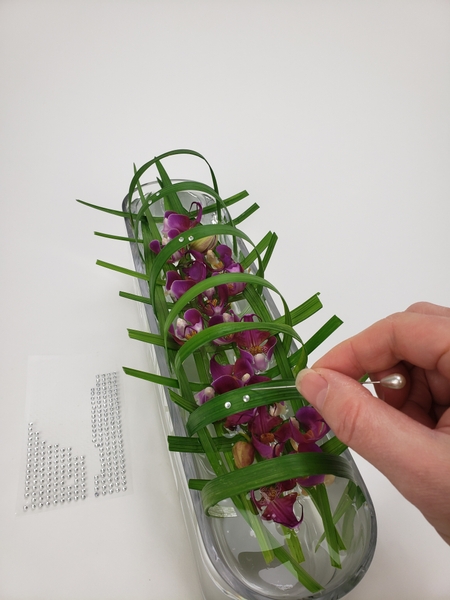 and finish the design with a few sparkling dew drop crystals over the grass cage.
Design note: I thought it looks like a rib cage. Marius went with row boat. What do you think?
Sign up for my weekly newsletter
Every week I add a new design with related tutorials. Be sure to subscribe to receive an email notification with design inspiration.