My Creative Workbook
Christine de Beer - effortless floral craftsman
Roof-tile pumpkin from dried physalis pods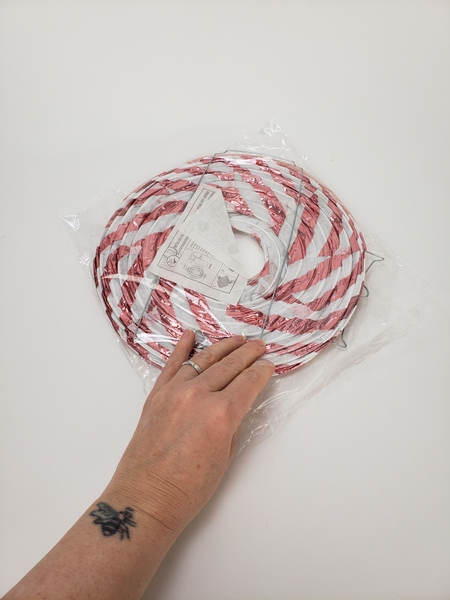 I am crafting my pumpkin around a paper lantern. This is a great way to repurpose a ripped lantern and keep it from becoming trash.
.. if you do not have a paper lantern you might have a balloon or a round bowl to use instead.
Using a balloon or bowl will add a few extra steps to the Tutorial. It works perfectly well... so it's worth it. I have links for you below the post for Tutorials on how to craft it.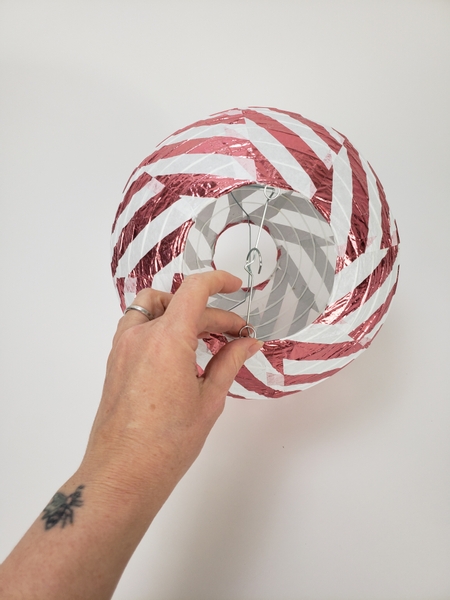 Secure the lantern by hooking in the wire support.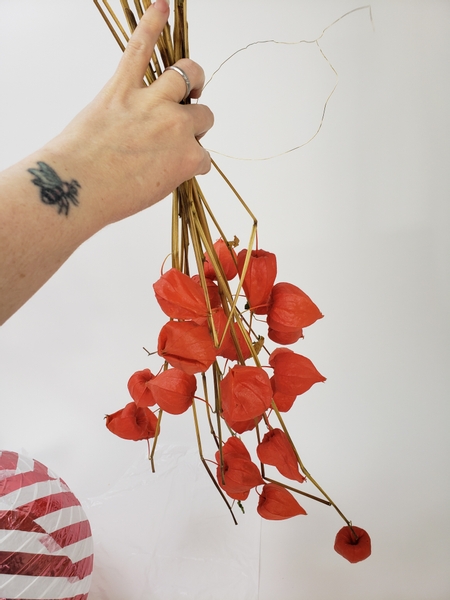 For my design I am using dried lanterns...
Book readers turn to page 116 and 117 for more information and inspiration about designing with Chinese lanterns... they are so gorgeous!
For more information about my book: The Effortless Floral Craftsman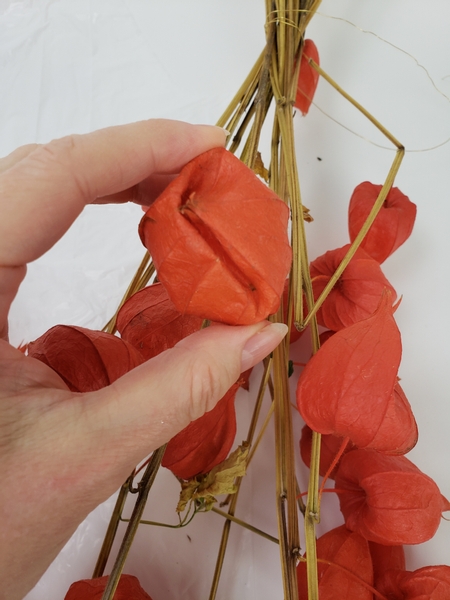 ... more specifically those lanterns that have folds or imperfections.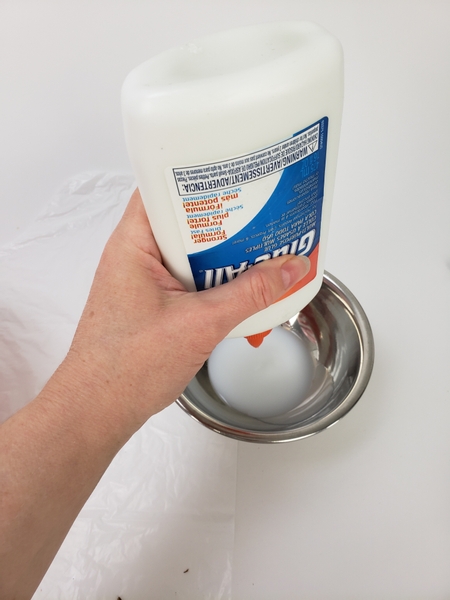 Pour out wood glue into a bowl.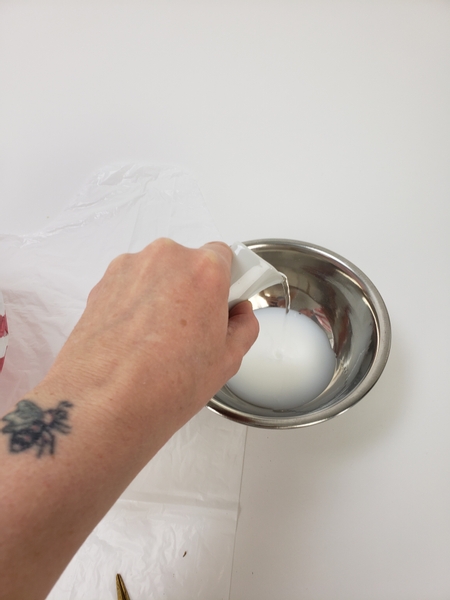 Thin the glue with warm water.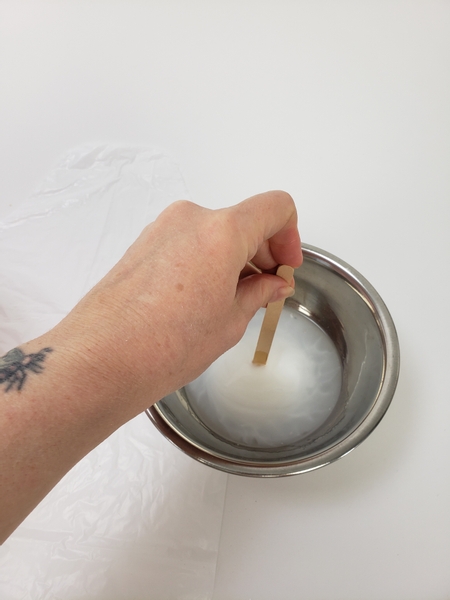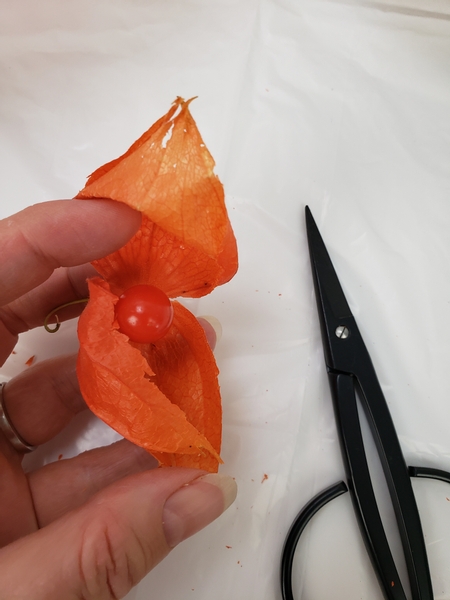 Cut the pod open to remove the berry...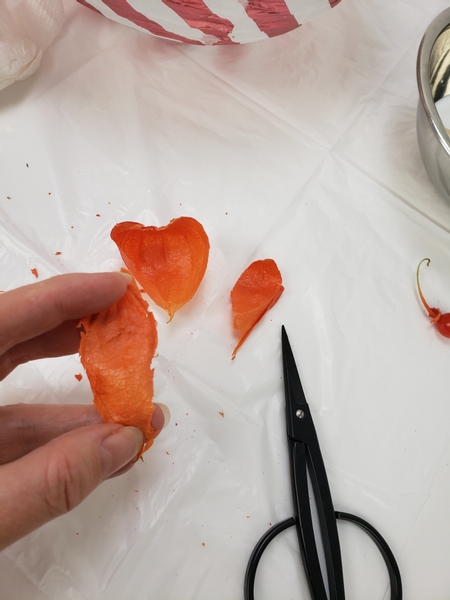 Cut the husk into strips.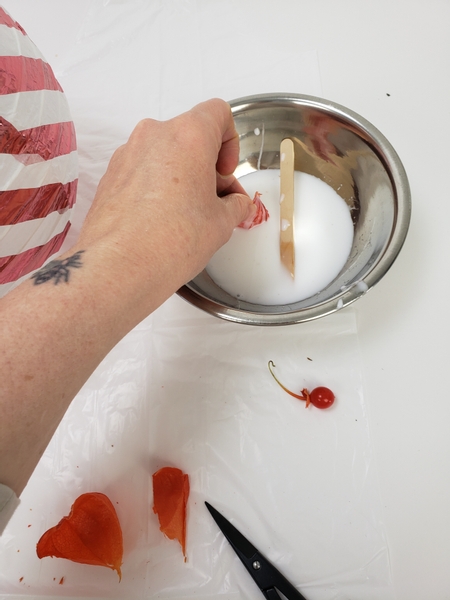 Place the husks in the warm water to soak. Let it stand for about 10 minutes to become soft and pliable.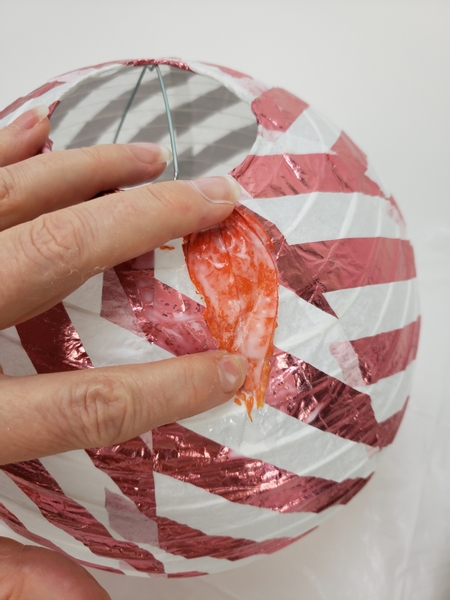 Smooth the husk down onto the paper lantern.
There's a trick to it! I explain more in this week's notification email so that you can comment or ask questions. Make sure you are signed up to receive your bonus tip every Wednesday morning (Vancouver time). The sign up is below this post.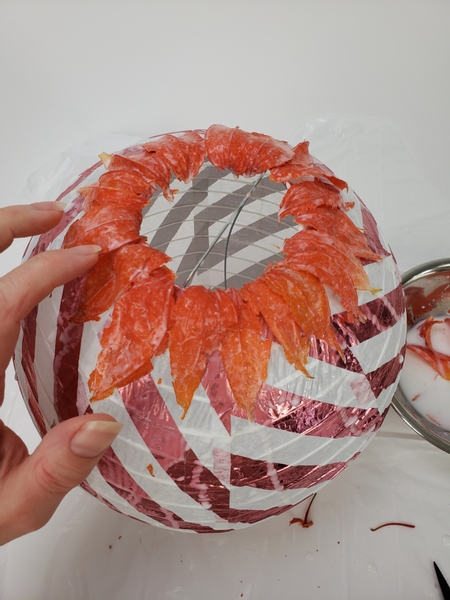 Place husks all around the pumpkin stem end...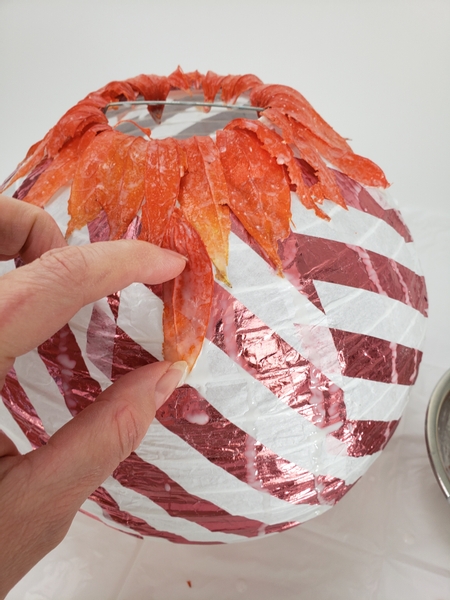 And then start the next row just below that.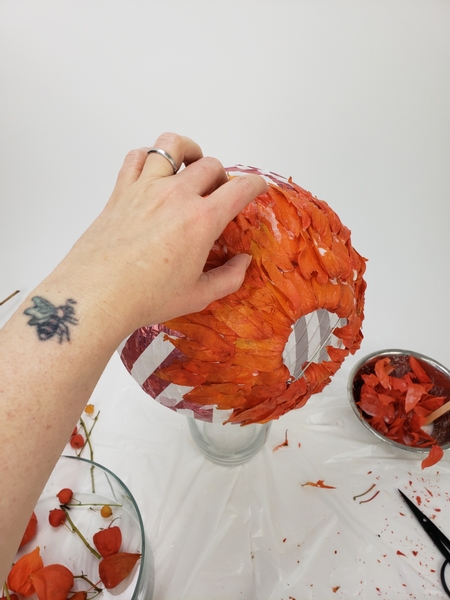 Continue to craft the pumpkin building up row after row.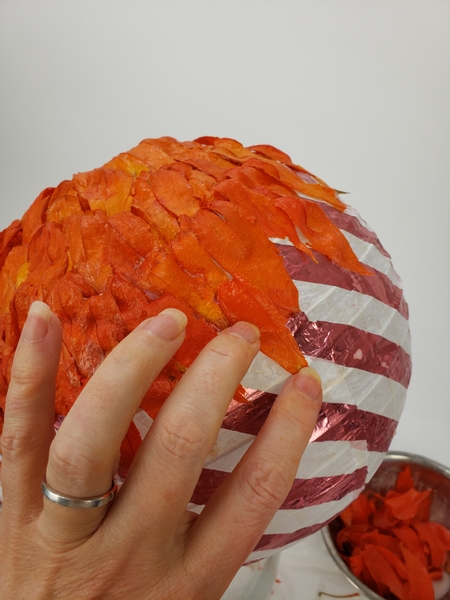 Overlapping and smoothing down the husks as you go around.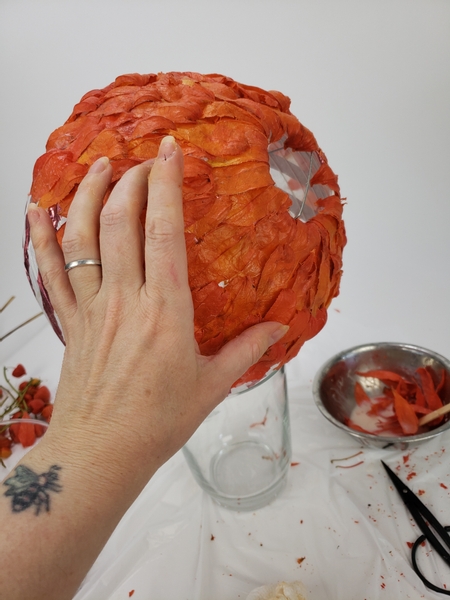 Design tip: If you find that the lantern starts to roll because of the heavier plant material and glue place it on a vase to keep it steady.
Set aside the lantern to dry overnight.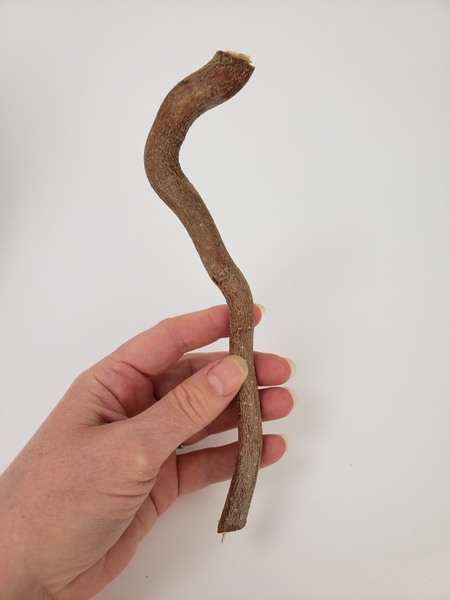 Cut a sturdy twig for the stem end.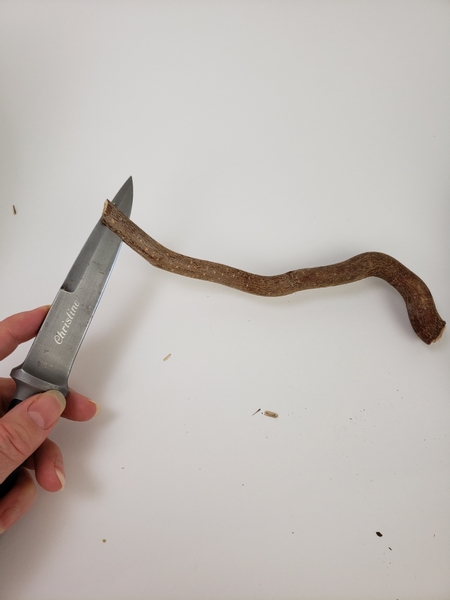 Cut a slit into the twig with a sharp knife.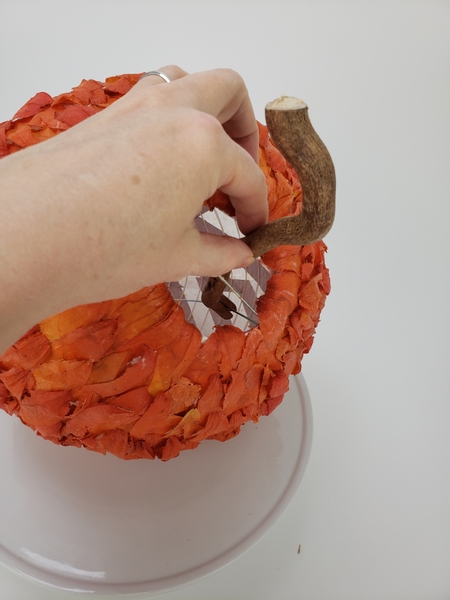 Slip the slit end over the lantern wire.
If you used an alternative method of crafting the pumpkin cut the stem twig longer and glue it to the inside of the pumpkin.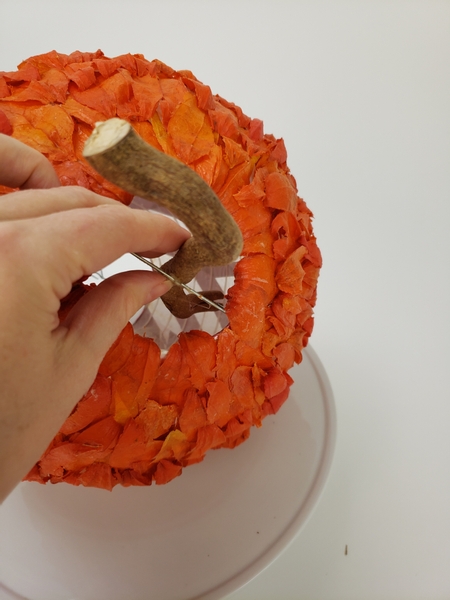 And secure it to the lantern support wire with hot glue at the exact angle you need.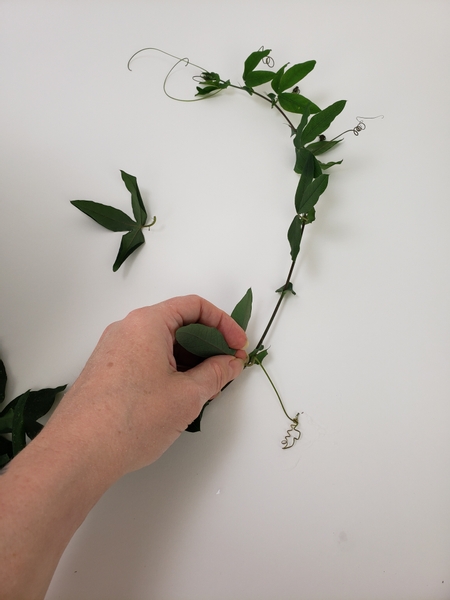 Remove the foliage from a few passion fruit vines leaving the gorgeous tendrils.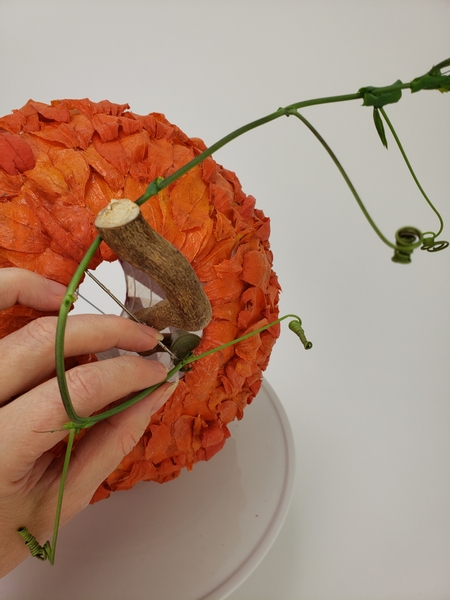 Place the passion fruit vines in water tubes and slip them into the husk pumpkin.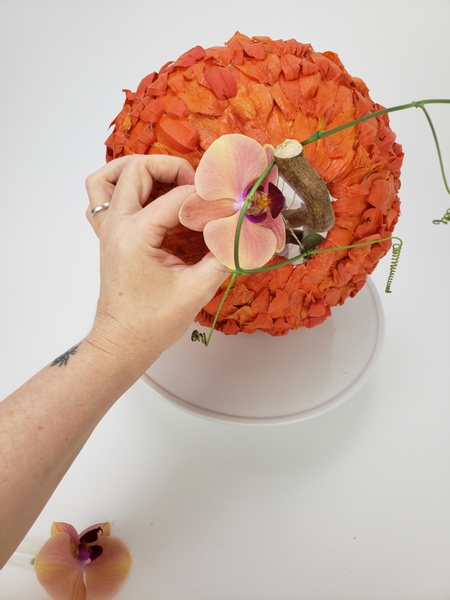 Place the Phalaenopsis orchids into water tubes and arrange them around the stem end opening.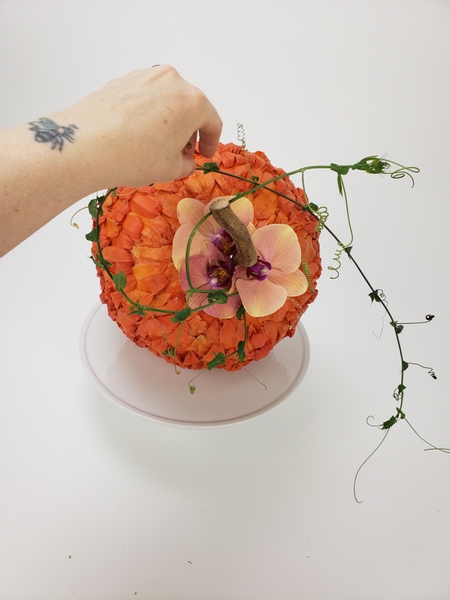 Place a few more vines into water tubes and slip the tubes into the lantern next to the flowers. Drape the vines around the pod pumpkin.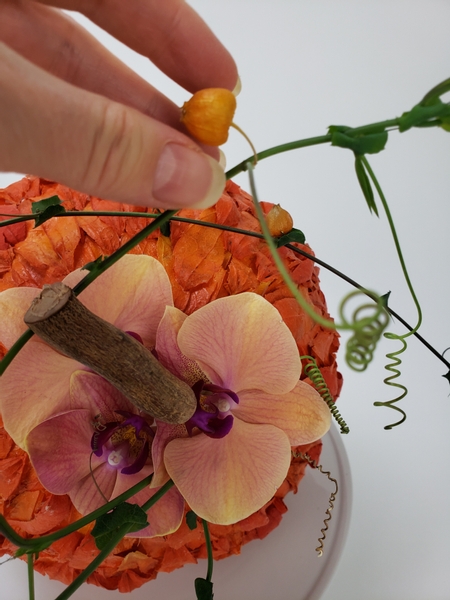 Glue a few tiny physalis pods to the vine...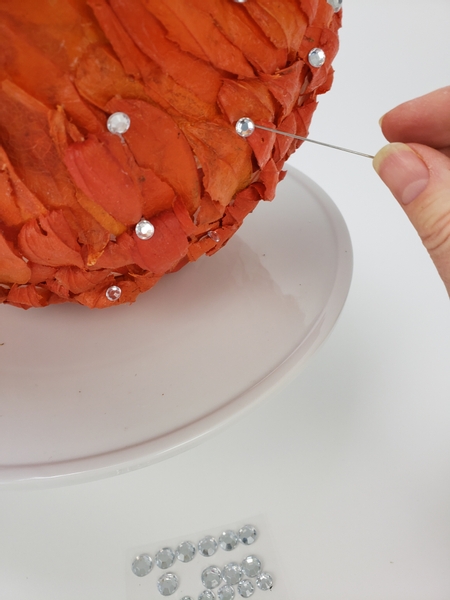 ... and finish the design with a few shiny dew drop crystals.
Sign up for my weekly newsletter
Every week I add a new design with related tutorials. Be sure to subscribe to receive an email notification with design inspiration.