My Creative Workbook
Christine de Beer - effortless floral craftsman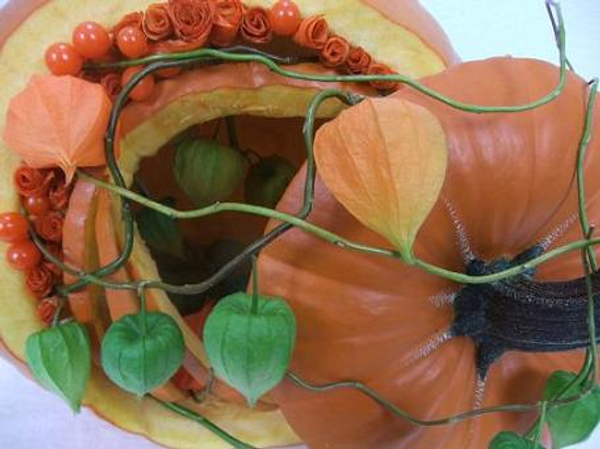 Physalis
Spiral flowers from Chinese lantern sepals for my Thanksgiving Harvest design.
Common name
Chinese lantern, cape gooseberry, Peruvian cherry, Inca berry
Origin
Indigenous to South America but was cultivated in South Africa in the Western Cape during the 19th century, imparting the common name "cape gooseberry". Also found in Japan
Varieties
The varieties found in Japan (Physalis alkekengi (Franhetti)) have larger pods than the green and yellow varieties found in South Africa
Colors
Green pods first appear and colour to gold, yellow or bright orange as the fruit ripens
Vase life
As "stem flowers" the husks will keep in water for ten days. If the fruit is left inside the husk its shelf life is thirty to forty five days. In permanent arrangements the husks will last for up to two years. Keeps its original colour well.
Uses
The cape gooseberry fruit is edible and look fantastic on desserts. The husks can be dried into a skeleton so that only the veins remain in tack. The pods look great in whimsical designs.
Conditioning
Give the stem a fresh cut and set into water to hydrate. Hang the mature stems upside down to dry.
Sign up for my weekly newsletter
Every week I add a new design with related tutorials. Be sure to subscribe to receive an email notification with design inspiration.