My Creative Workbook
Christine de Beer - effortless floral craftsman
Basket weave bunny tail grid to catch your floral details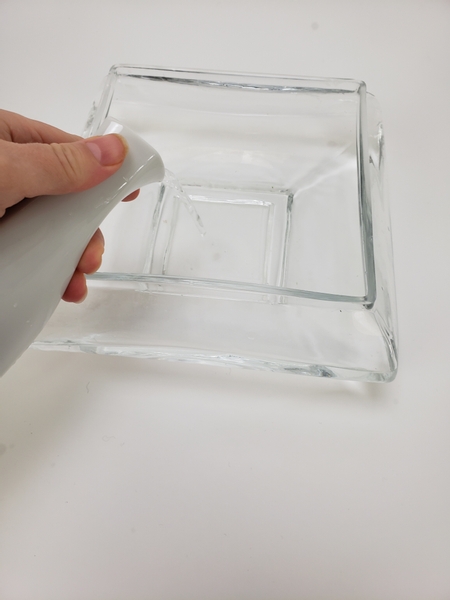 Choose a block shaped container for this design. Any square would do... even a deeper vase if you want to use longer stems. Fill your container with water.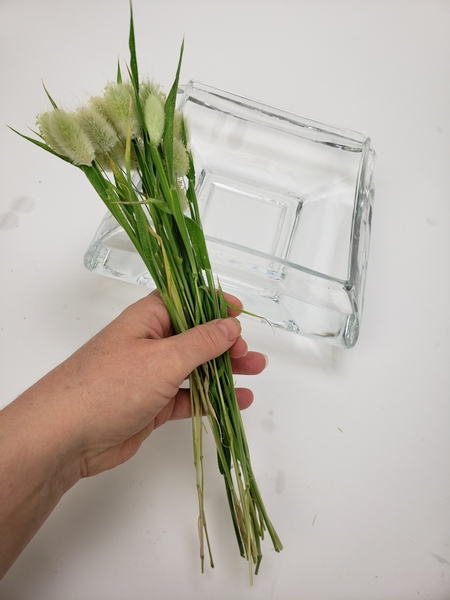 Gather a bundle of fluffy bunny tail grasses.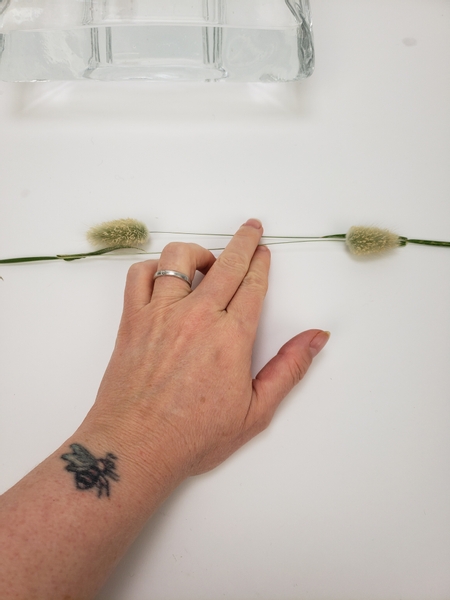 Pair the grasses so that you have a bunny tail pointing to either side.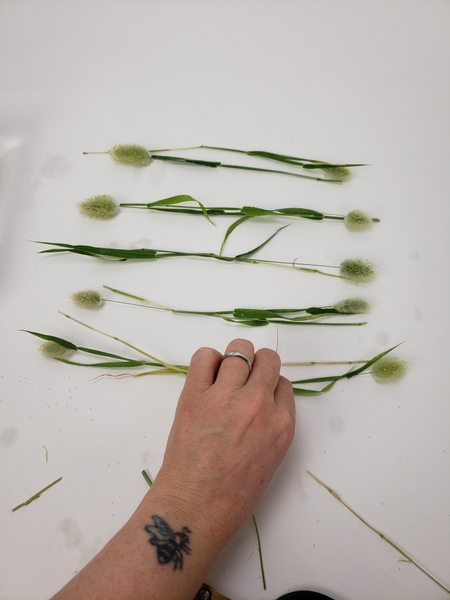 Place the grasses in rows on your working surface.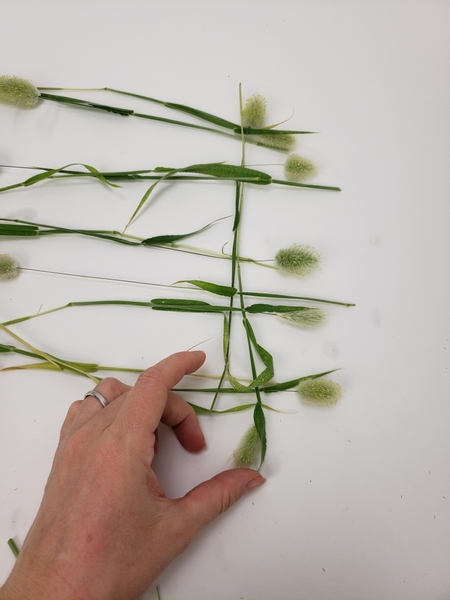 Weave in two more matched grasses through the rows.
I use a simple over and under weaving pattern. If you are unsure how to weave you can find a Tutorial below this post.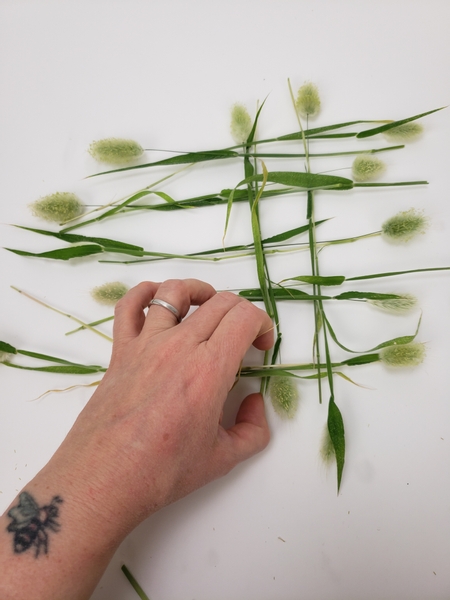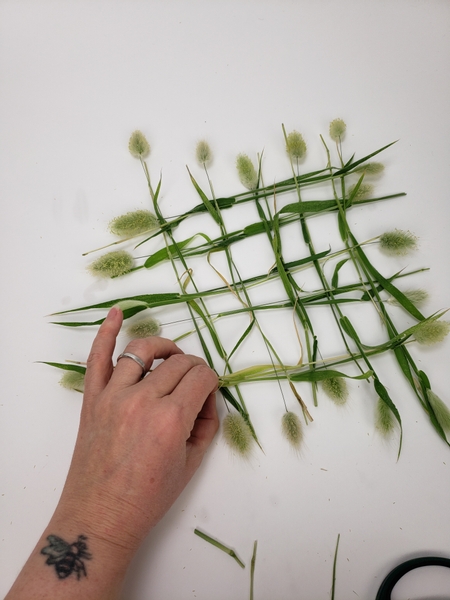 To complete the open weave grid
now the next part is the hardest! Picking up an open weave is always the most difficult part of a woven design mechanic. I tell you about my trick... and give you another option in our email this week. If you are not yet receiving my Wednesday morning (Vancouver time) email you can sign up below this post. Also, I would love to connect with you so reply to the email if you have a comment or questions... or say hi.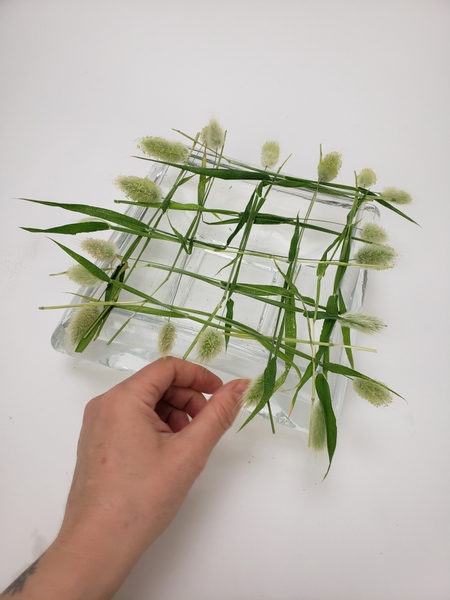 Carefully place the grid over the opening of your container...
Book readers: if you want the grid to last longer I suggest designing something like the grid I used on page 12. The blades of grass is now in the water and can continue to hydrate. Simply adjust this so that the fluffy bunny tails peek over the edge and the cut stems are in the water below.

For more information about my book. The Effortless Floral Craftsman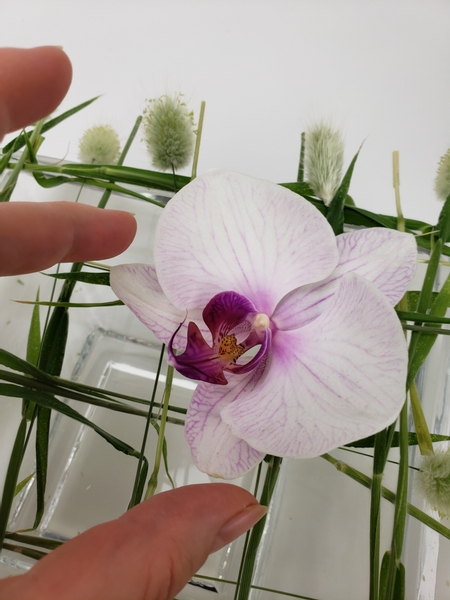 And place the floral details to rest on the grid but remain hydrated in the water below.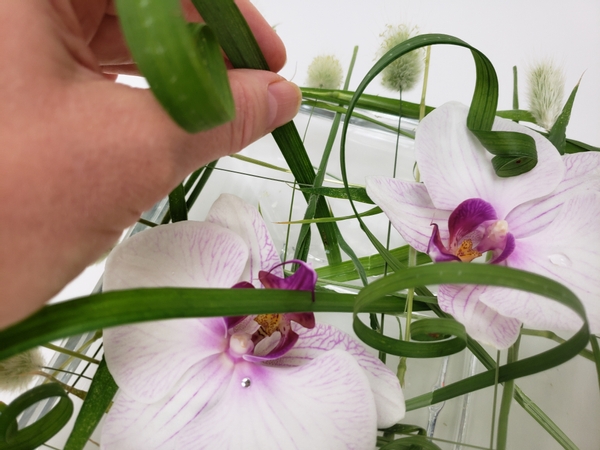 Add in a few curled grasses to dangle over the orchids. And add a few sparkling dew drop crystals to finish the design.
You can find a way to carefully curl grass in my book on page 288 but to get you started I also have an easy way linked here below the post.
Sign up for my weekly newsletter
Every week I add a new design with related tutorials. Be sure to subscribe to receive an email notification with design inspiration.