My Creative Workbook
Christine de Beer - effortless floral craftsman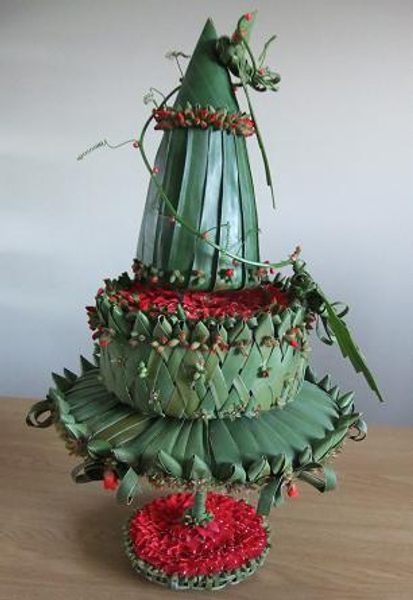 Phormium
Flax Christmas tree "cake" for the Floral Trends Design Group end of the year function. "On the second day of Christmas, my true love gave to me... two turtle doves"
Common name
Flax, New Zealand flax
Origin
New Zealand and Norfolk Island
Varieties
Cultivated varieties range from green through pink to deep russet bronze. Also variegated cultivars with leaves marked by contrasted stripes of green, red, bronze, pink and yellow
Colors
Grey green or coloured edges and central ribs. Dries to a light green or stone
Vase life
Eight to ten days. Dries to a light grey green
Scent
Sweet nectar produced by the flowers
Uses
Flax leaves are very versatile. Use the leaves as accents or line in a design or wrap oasis. Mostly I weave and plait with the fibers or strips.
Conditioning
Hydrate the long leaves by bathing them in a bath of cold water. Wipe the leaf clean and if needed treat with leaf-shine. Do not condition the leaves before ripping
Sign up for my weekly newsletter
Every week I add a new design with related tutorials. Be sure to subscribe to receive an email notification with design inspiration.