My Creative Workbook
Christine de Beer - effortless floral craftsman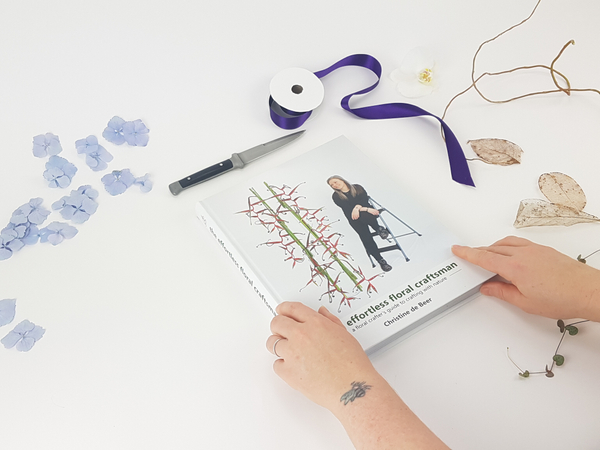 My book the effortless floral craftsman, a floral crafter's guide to crafting with nature will be available in three formats or editions:
Over the last few weeks I've introduced you to theCraftsmanship Edition
Today the ebook edition is launched on Amazon and next year the Design Room edition will be available.
When you visit the Amazon.com website you can now read the first 38 or so pages…FREE! While you are there, won't you please visit for a while and write me a quick review if you have already received your advance copy of the book?

The ebook is exclusively available from Amazon. The content is exactly the same as the printed book. Only less expensive and you do not have to wait for it to be delivered or pay any shipping fees. For your convenience you can download a free reader for any device and start reading today!

And you have told me that you are already designing and using the advance copies of the book! I am so blown away by the response I got. Thank you to everyone who supported me and took a leap of faith to order your advance copy.

Here's what some of our flower-buds are saying about the book:

Gordon Bruce Art: "I am very happy to be one of the first to purchase this excellent book. I have been a fan of Christine's floral artwork for years. When I found out there was going to be a book featuring her designs I wanted to pre-order it. Floral design is a very popular art movement with Christine being one of the world's most popular award winning designers. The book is very well made with high quality materials used. I liked the pictures that were of very clear high resolution photographs of the designs. Christine talks about her process and is a guide to aspiring designers throughout the book. I would recommend it to anyone."

Thalia Basulto, FiftyFlowers.com: "We're captivated by the elaborate (yet DIY-friendly) designs in Master Floral Artist, Christine de Beer's new book 'The Effortless Floral Craftsman,' a floral crafter's guide to crafting with nature. You'll find 300 how to's, design tips and a ton of inspiration using plant materials. If you're a flower design enthusiast, you'll want to get your hands on this book!"

Pim van den Akker, Flower Factor: "The Effortless Floral Craftsman, a floral crafter's guide to crafting with nature provides a lot of fresh ideas for delicate floral designs and innovative use of materials. Christine de Beer's works show skill and have quite an impact, despite their modest appearance. A lovely source of inspiration; Christine's book is something to keep an eye out for, we really enjoyed it!"

Vivienne Tumaru: "For over 2 years now I have followed the website and recently on Instagram the many designs Christine de Beer has posted to social media with interest reading the tutorials and many creative ideas. As October began 'the effortless floral craftsman' book images attracted my attention as I scrolled my latest email
Exciting and definitely interesting .. Just 1 week after placing my online order, my copy of the beautiful inspirational book, the effortless floral craftsman -a floral crafter's guide to crafting with nature - arrived delivered by courier, safely to my door in New Zealand. I will happily share with New Zealand friends and designers the opportunity to enjoy the content of this lovely book, encouraging them to purchase a copy for themselves or as a lovely gift to share. Careful packaging and thoughtful presentation of the hardcovered book announced the content of this delightfully illustrated book. Congratulations on such an inspirational and educational guide for floral design, easily followed text and fabulous design photographs.
Thank you Christine for your personal approach, sharing your floral journey and your supportive customer care."

Nancy Yowney, Boutstix Floral Magnets:"Wow!!, so many years of experience and creativity packed into one amazing book! Christine de Beer's amazing floral design book,The Effortless Floral Craftsman is truly a work of art! The book has design tips, design tool recommendations, caring for, drying and tying fresh cut flowers and the list goes on. If you are a designer, you are sure to find some new and fresh ideas!"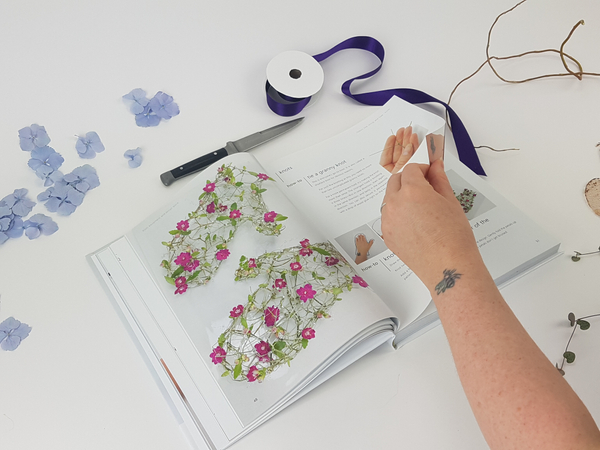 I have worked really hard on the book and have not compromised on a single detail to offer the readers of the Craftsmanship edition something extraordinary. I want this format of the book to remain true to my original vision and just a little bit extra special. As you might remember the book is partially handcrafted. The expert binders craft each and every book to the highest standard. The results are truly breathtaking. With that being said, making the book in this way takes time. With the great reaction to the advance copies we have come to realize that there is unfortunately no way the binders can make the books fast enough to fulfill the amount of books required by Amazon and the online retailers. We have decided that the Craftsmanship edition of the book will remain exclusively available from my online shop where I can sign each of these gorgeous books, gift wrap it and then tuck a new gift into the box- from my design room to yours as a special thank you.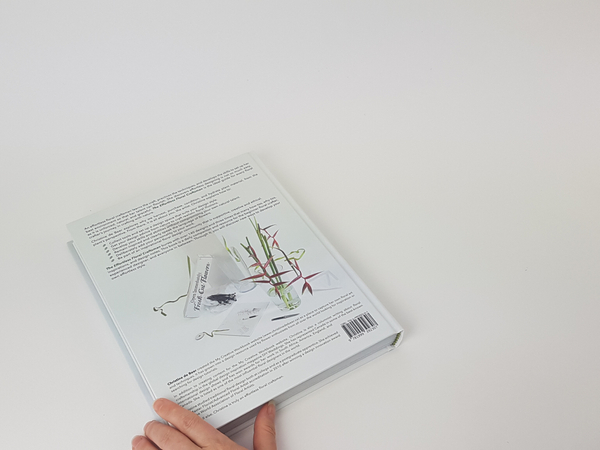 This does mean that we are making the more "mass market" book- let's call it the "Design Room" edition, a priority. We are looking into pulling in the release date so that everyone can get a copy of the book that suits their particular needs as soon as possible. The Design Room edition will still be great quality but be slightly smaller, slightly more standard, the pages will not be as glossy and overall just slightly less customized- in other words beautifully machined rather than beautifully handcrafted. This means it will be less expensive and production will be faster so you can order it from your favourite online retailer and benefit from their shipping discounts. This book will be available in 2019.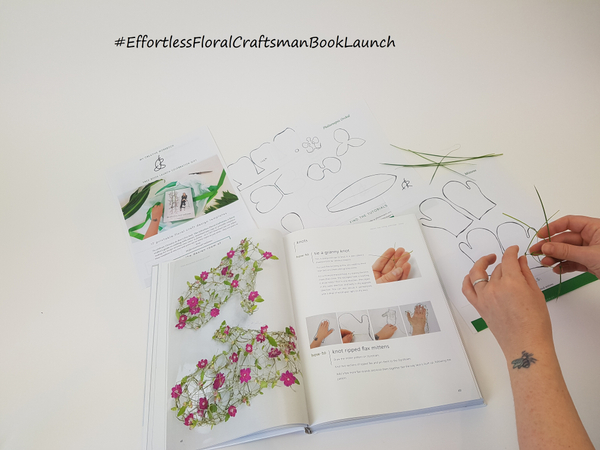 And to celebrate the launch of my new book and the ebook (of course!), I've created a FREE booklet with 17 of my most popular design templates that I have used here on My Creative Workbook over the last 7 years. Some of the templates were also used to create something pretty in the book (like our mitten design this week) but all the Tutorials are here on My Creative Workbook for you to start designing even if you do not have a copy of the book... yet
BOOK GIVEAWAY: To keep the book launch fun going, I am giving away a signed copy of the special hardcover craftsmanship edition of my book. If you regularly visit the My Creative Workbook website you know that every week I post a design with it's Tutorial. Which means each of these templates are part of a Tutorial and belong to a Design. How many design titles can you find? It's a bit of a scavenger hunt- I wanted the book to go to someone who REALLY wants a copy. See if you can find all 17 titles.

How to enter: Download your free template booklet and find the titles of all 17 design posts on My Creative Workbook website, then send the titles to me by replying to your newsletter email or email christine@christinedebeer.ca. We will draw a name next Tuesday evening so no rush, take your time and enjoy the templates.

Tip: you can take a short-cut by following the links below the templates in the booklet and then look below the Tutorial at the design pages.

Happy flowering!
Sign up for my weekly newsletter
Every week I add a new design with related tutorials. Be sure to subscribe to receive an email notification with design inspiration.