My Creative Workbook
Christine de Beer - effortless floral craftsman
Book readers turn to page 161 for a twig example of this design. You will also find loads of information on how to use a Kenzan (with a fun tip on page 165 to clean your Kenzan)

For more information about my book: The Effortless Floral Craftsman

But to get you started I have also included a Tutorial here on how to secure a Kenzan in the bottom of a container.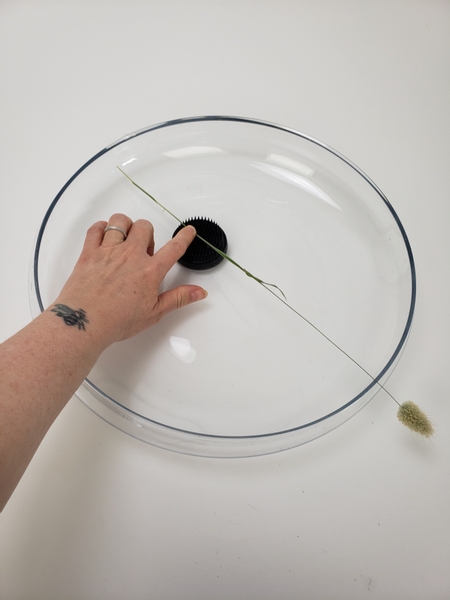 Press a blade of grass between the teeth of a Kenzan to secure it horizontally.
Make sure the grasses keep it's shape placed flat like this. The grasses should not droop. In this weeks email I tell you a bit more about securing the grasses in the Kenzan in this unusual way. Let's have a chat about it... or maybe you have a question or want to say Hi, you are welcome to reply to the email. If you are not yet receiving my Wednesday morning (send out at 8, Vancouver time) you can sign up below the post.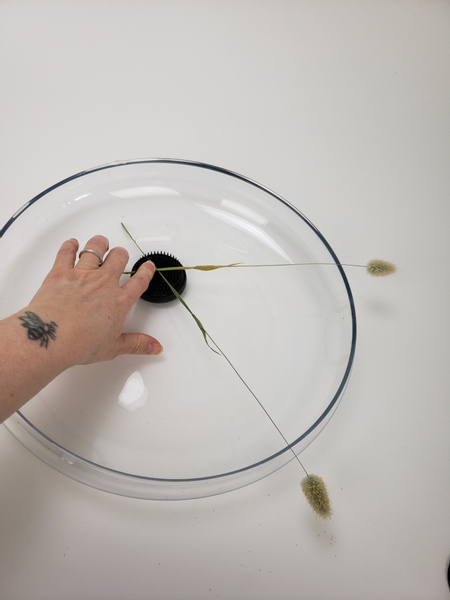 Press in the second blade of grass through the Kenzan teeth to overlap the first.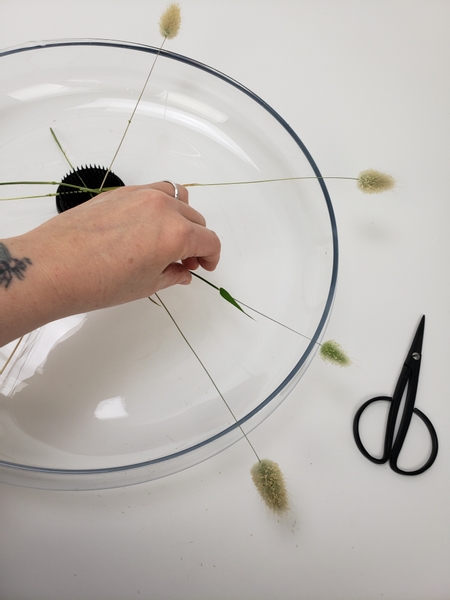 And the next blade of grass in between those....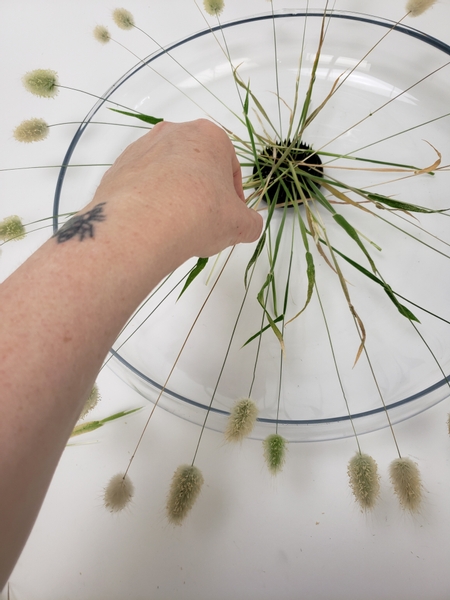 Add grasses to radiate all around the container.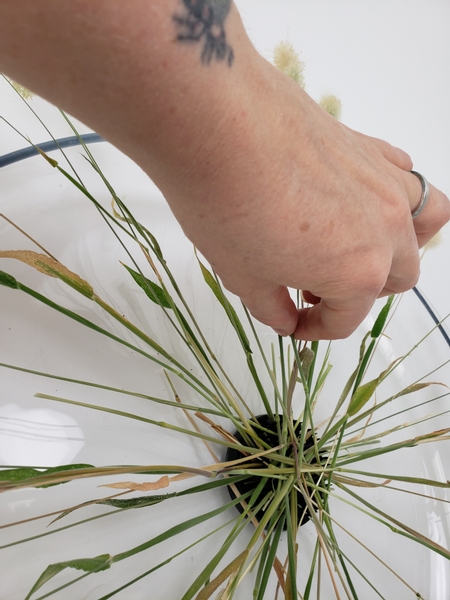 Concealing the entire Kenzan with grasses...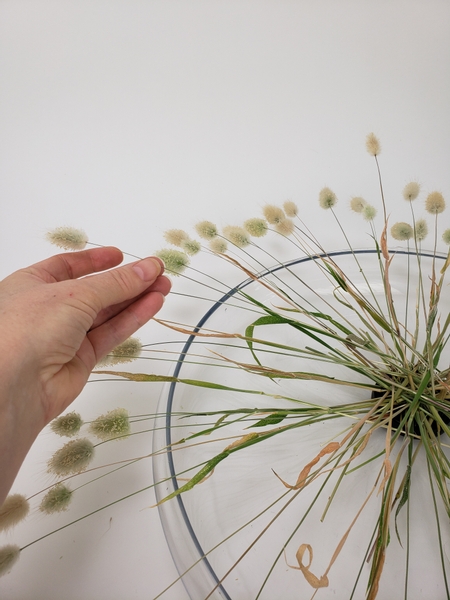 Placing each blade of grass at a slight angle to make sure the fuzzy bunny tails are slightly raised and not drooping.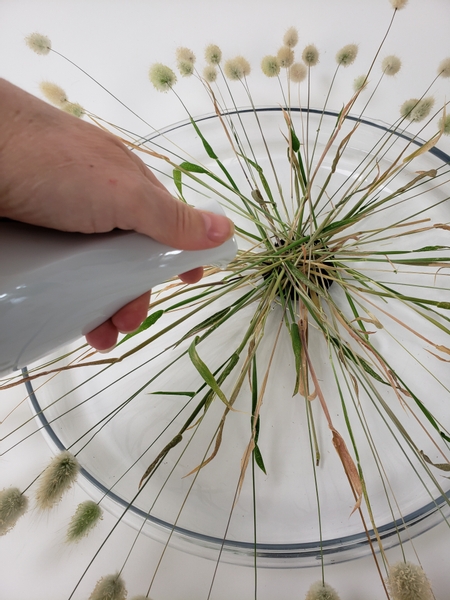 Fill the container with water to at least half way up the needles of the Kenzan.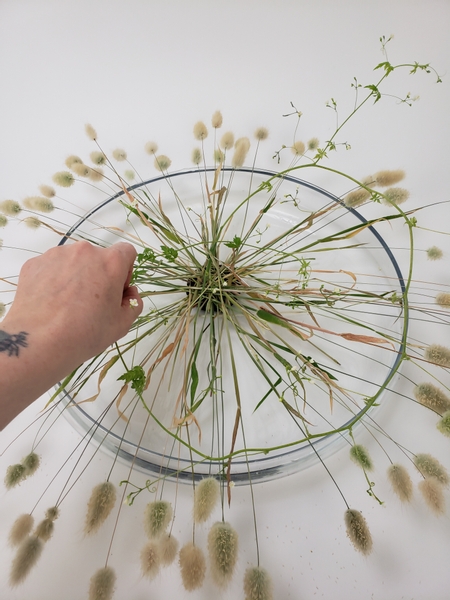 Drape a pretty vine over the radiating grasses. I have these Love In A Puff vines currently in flower in my balcony garden... gorgeous, right?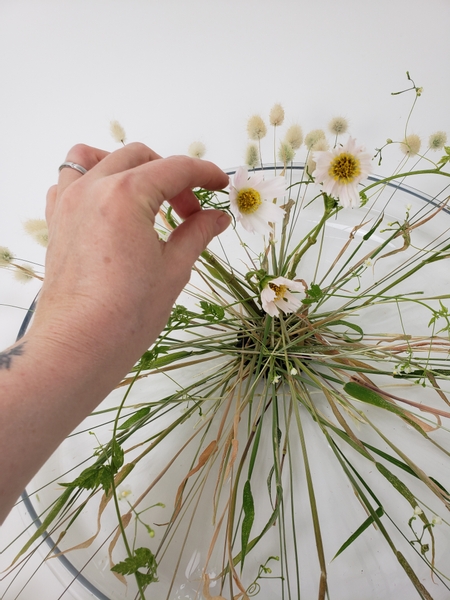 Add in a few flowers. Preferably something that looks like it might be growing next to the road. These Apricot lemonade cosmos flowers add just the right amount of "country road".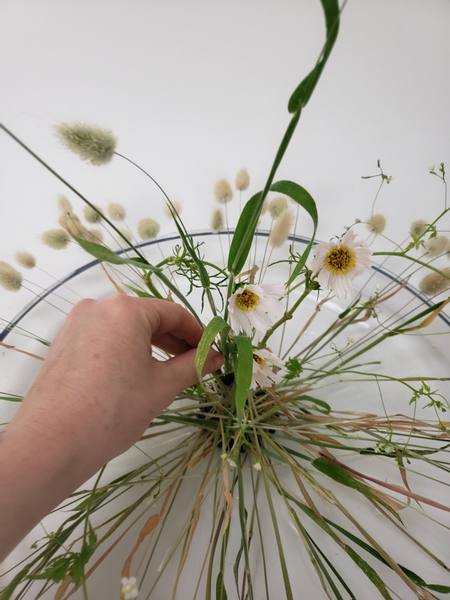 And secure a few more blades of grass between the Kenzan teeth to stand upright.
If you have a thick enough stack of grass at the bottom you can simply slip the grasses through and they will remain upright... or bundle them. If you are unsure how to bundle grasses see page 162 of my book or to get you started, see the Kenzan Tutorial below.

And as always I finish the design with a few sparkling dew drop crystals.
Sign up for my weekly newsletter
Every week I add a new design with related tutorials. Be sure to subscribe to receive an email notification with design inspiration.