My Creative Workbook
Christine de Beer - effortless floral craftsman
Not quite a wreath, not quite a basket armature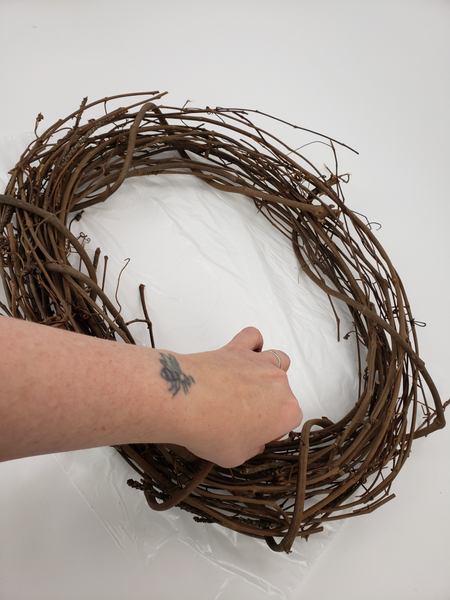 A great way to breathe new life into those dusty old vine wreaths. Look for the sturdiest three vines to cut out of the wreath.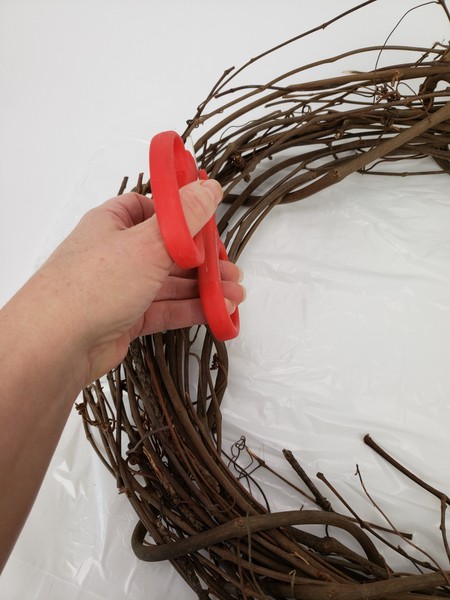 Simply snip the vine on both sides and pull it out of the wreath.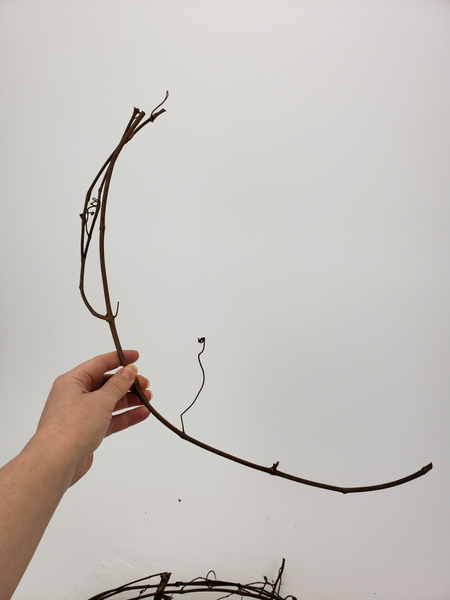 It should look something like this. It will become the sturdy foundation of the armature.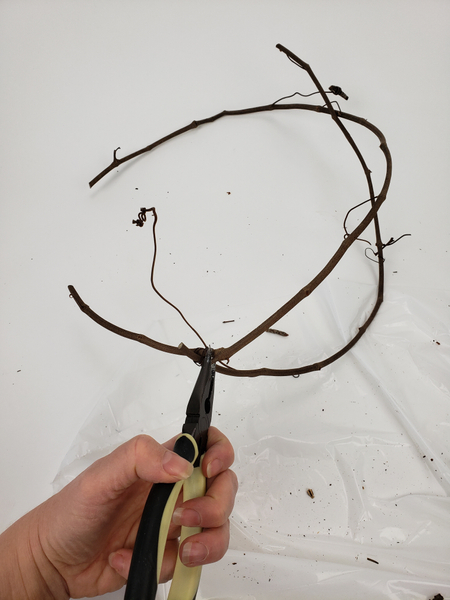 Connect two of the vines with wire. Do the same on the other side.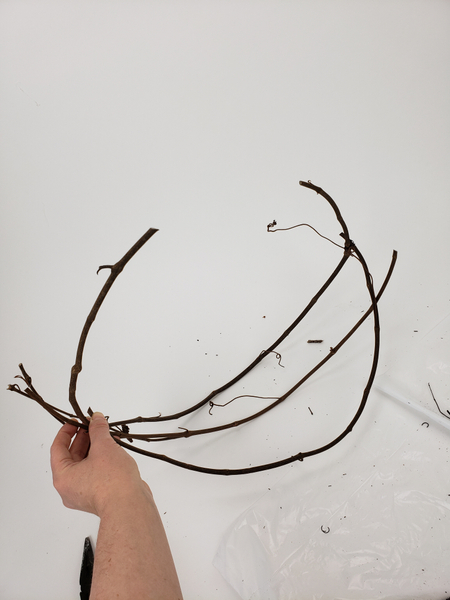 Place the third vine in the middle...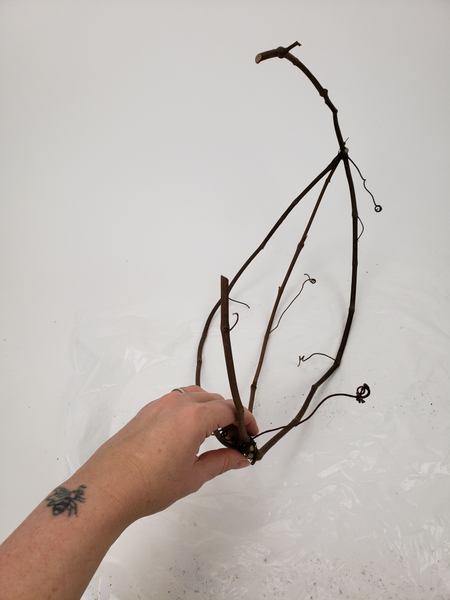 And wire the vine ends tightly together. You now have a boat shape to weave with.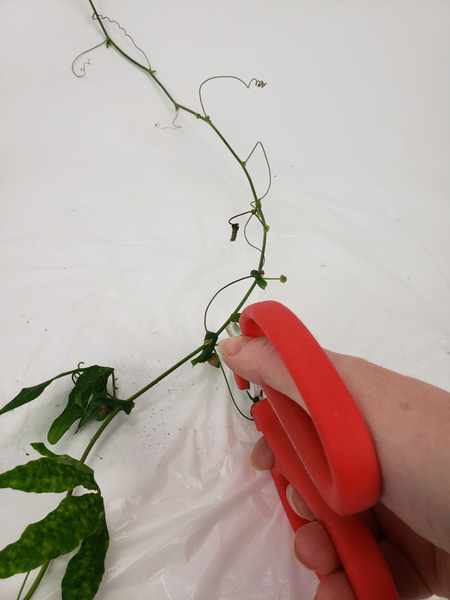 Cut away all the foliage from a passion vine. Be careful to leave the pretty tendrils on the vine.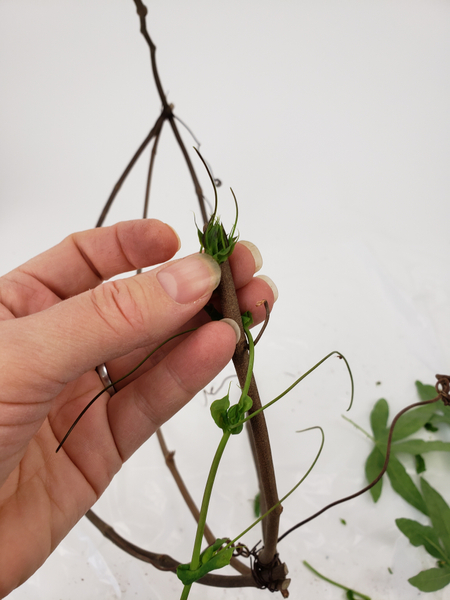 Secure the bud of the vine to the one end of the dried vine with a small drop of glue.
Design note: you can also knot the bud on itself, although it adds bulk. Wiring the bud will simply cut the delicate new growth... so glue really is best.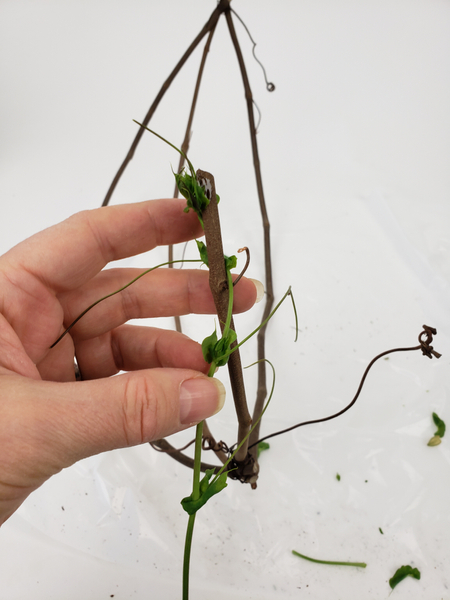 Twirl wrap the fresh vine around the dried vine.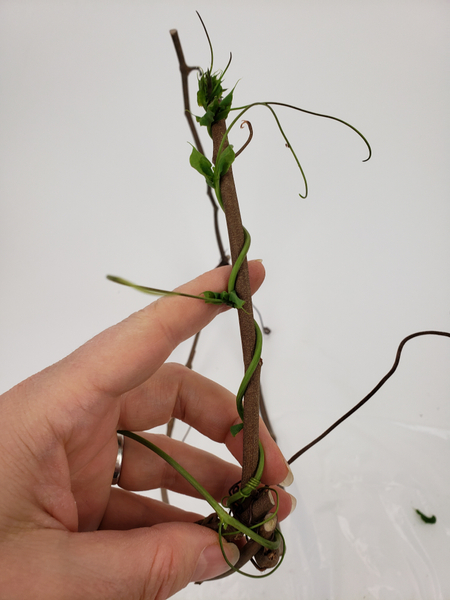 Make sure you allow all the tendrils to dangle freely.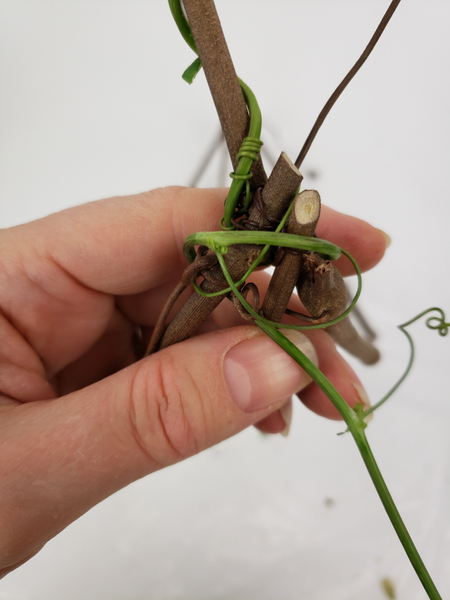 Conceal the wire slightly by wrapping the vine over it.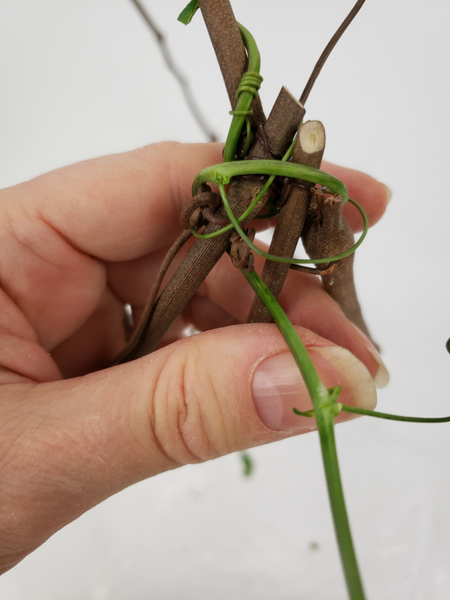 Slip the vine under the dried vine to start the weaving pattern.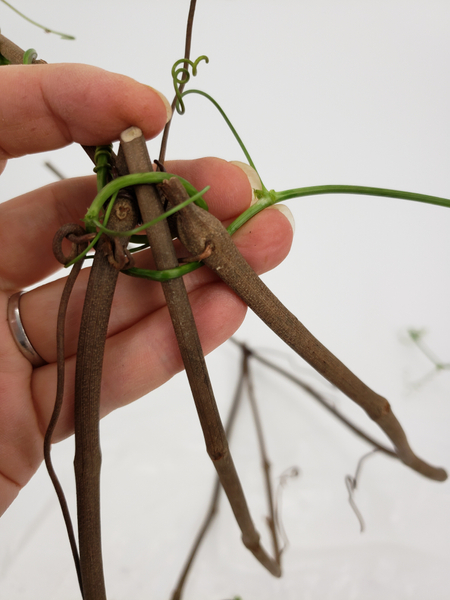 I will be weaving the vine in a simple under over and under pattern...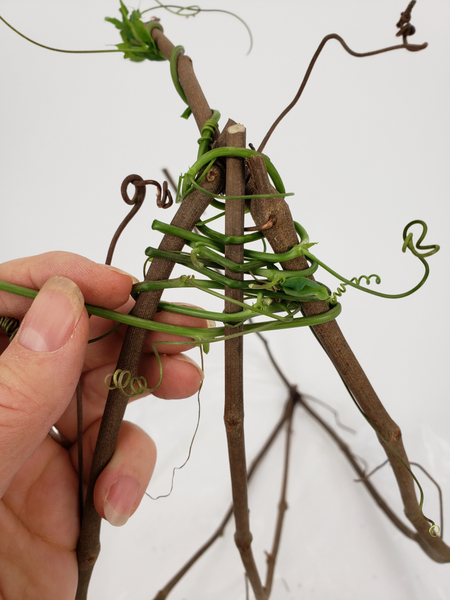 And to then a over under over pattern...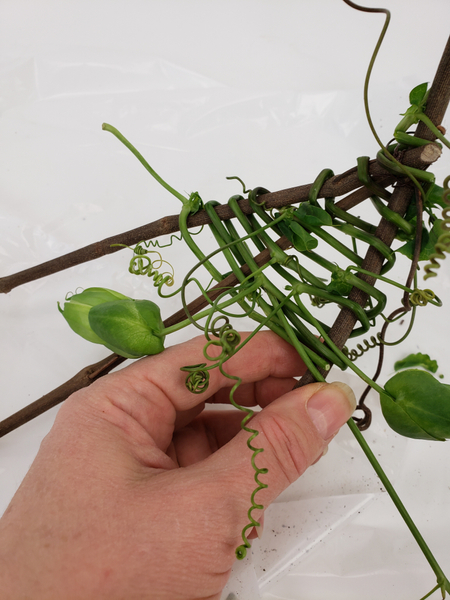 My vine still had a few flower buds on it and I simply wove them into the basket. To add a new stem hook it into the vines and continue to weave it into the basket.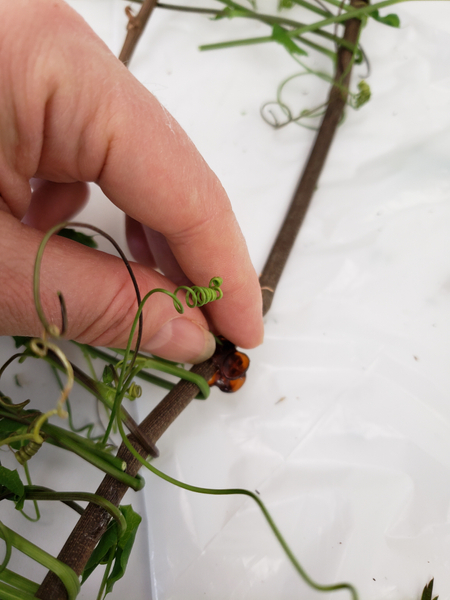 Use a tiny butterfly hair clip to keep the thinner stems in place while you get a fresh vine stem ready to weave in.
I have added a Tutorial about these little hair clips in the Tutorial section below if you want to explore more.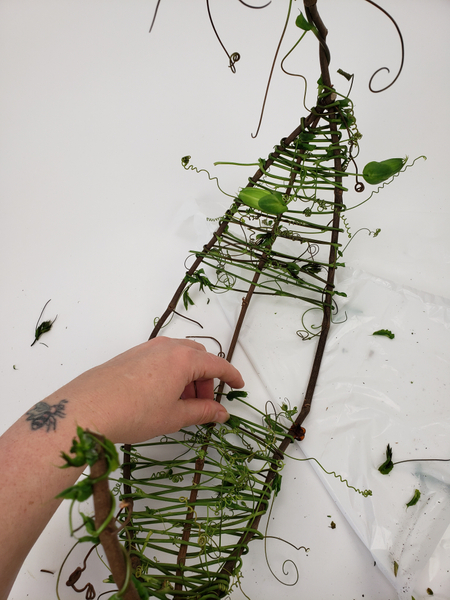 I find it easier to space out my vines by weaving from both sides working my way to the middle.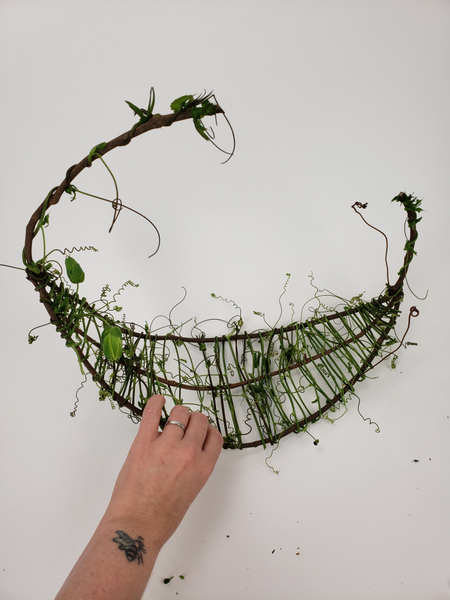 And then simply add vines until your weave is done...
Design Note: There is a more elaborate version of this where the armature actually becomes both a wreath AND a basket in my book... on page 145 where I tell you what to look out for when you are creating a contemporary basket design.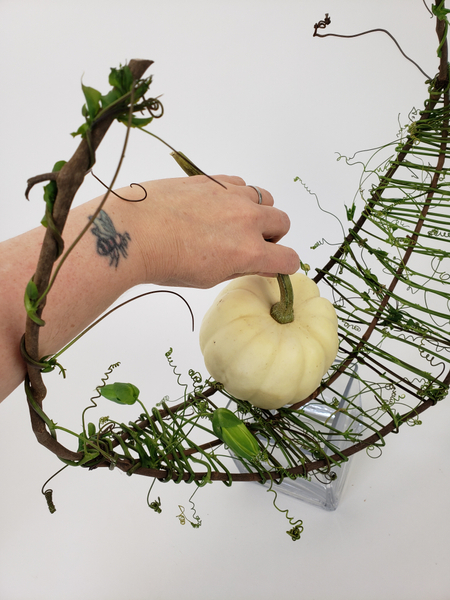 Rest the armature on a display container and add the rest of the design details.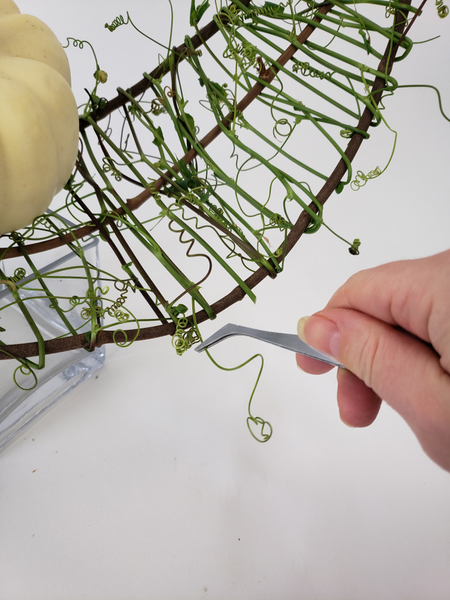 Manipulate the vines with tweezers into position. I have a special note for you about this in my Newsletter this week...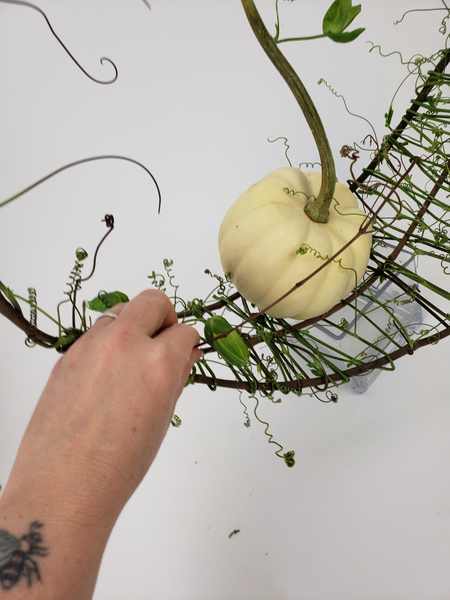 Glue in some more dried vines...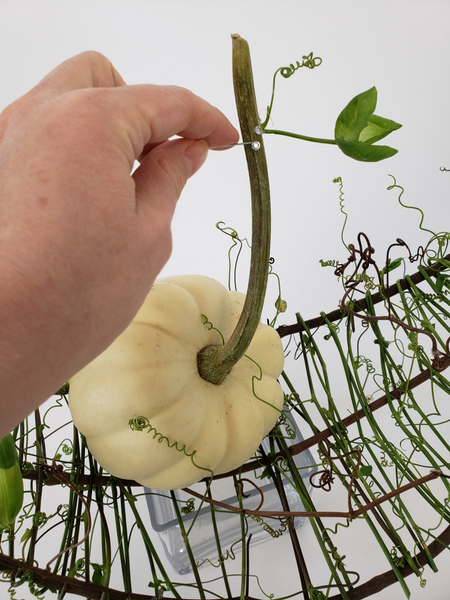 And finish the design with some sparkling dew drop crystals.
Sign up for my weekly newsletter
Every week I add a new design with related tutorials. Be sure to subscribe to receive an email notification with design inspiration.