My Creative Workbook
Christine de Beer - effortless floral craftsman
Sunflower heart autumn display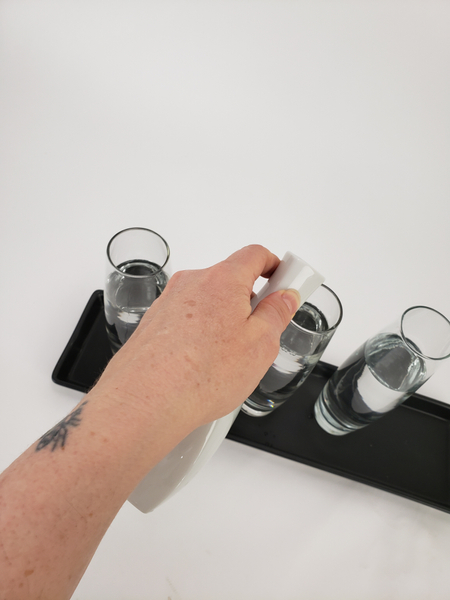 Place three bud vases in a display container. Fill the vases with water.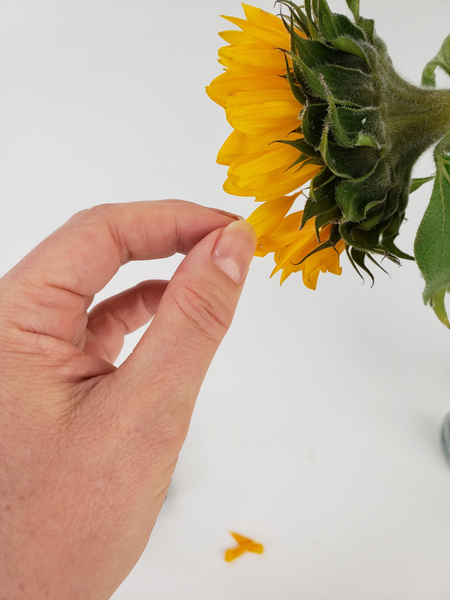 Pick out the petals of a sunflower... or three.
See the Tutorial below for more detailed instructions on how to expose the disk floret of a flower.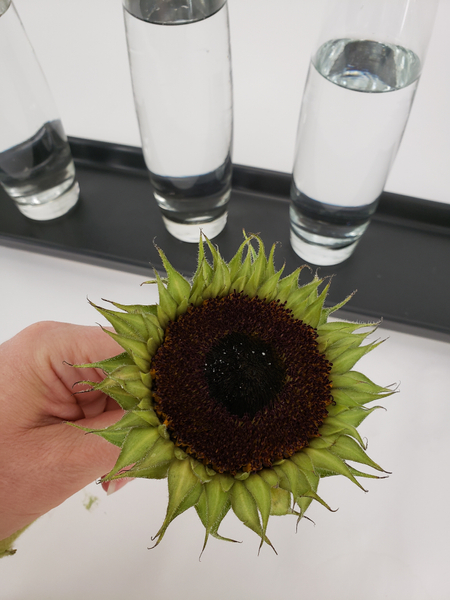 Measure and cut the sunflower stems. They should be short enough so that the flower head rests on the edge of the vases creating a platform.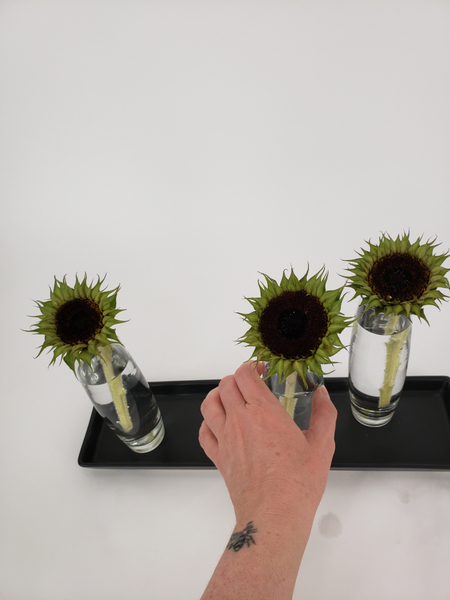 Place the sunflowers in the vases.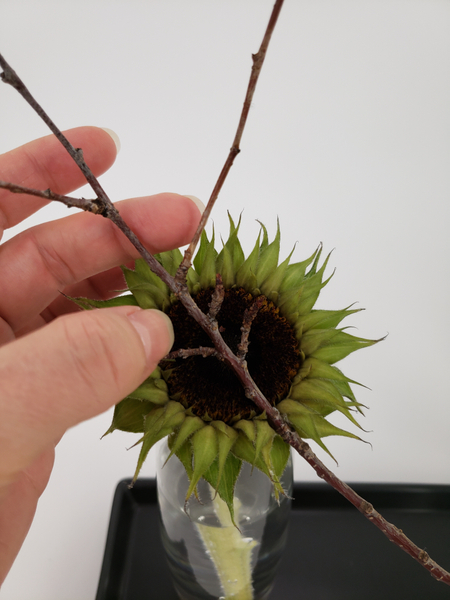 Place a pretty twig to cross over the sunflower.
As always, look at the twig. The colour mirrors both the red foliage I am gong to add and the green of the sunflowers- perfect to tie the design together.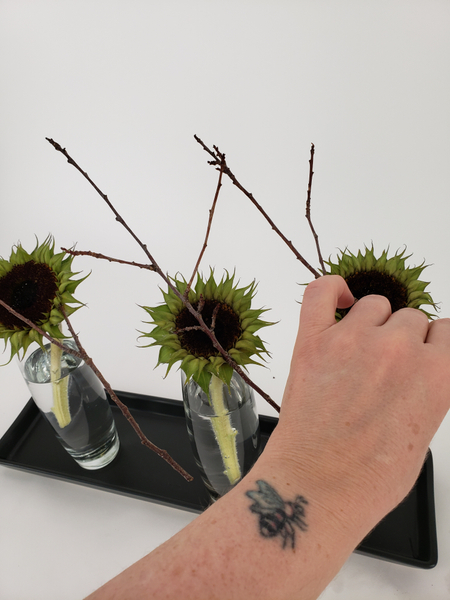 For a dramatic look extend the twigs well beyond the flowers.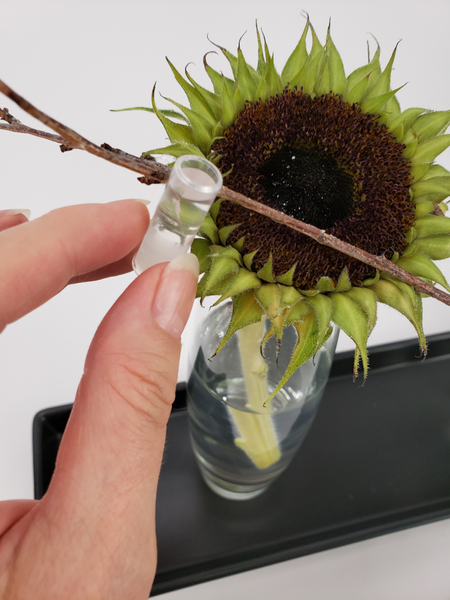 Glue in tiny water tubes.
Book readers: if you want more ideas of how to add water tubes to designs- not only positions but also creative things that you can use as water tubes, including one particular one that is sooooo fun that my editor wrote me a note saying "no way! I never thought of doing that!" turn to page: 184 to 197 (the tip that my editor wrote about is on page 197... the last one)

To learn how I make my own little water tubes see the Tutorial below.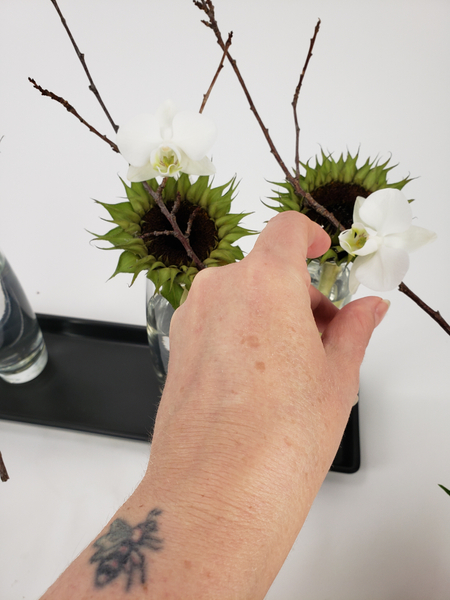 Place the orchids in the water tubes to make sure they remain hydrated.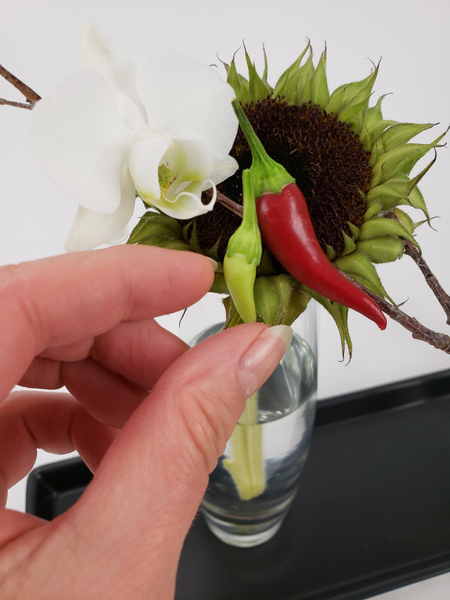 Glue in a red chilly pepper and a smaller green one.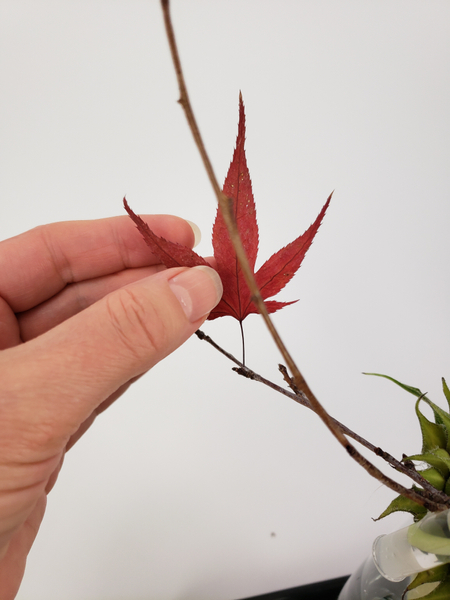 Glue in dried Autumn leaves...
This week in my newsletter I show you my special tip for how I glue these needle thin stems to stay just so in my designs. Every week I take one aspect of my design and discuss it in more detail in my once a week notification email. This also gives you the opportunity to reply to the email if you have any questions or tips to share so that we can connect. Make sure you are signed up before next Wednesday when I send out the next email. These tips are only available to subscribers.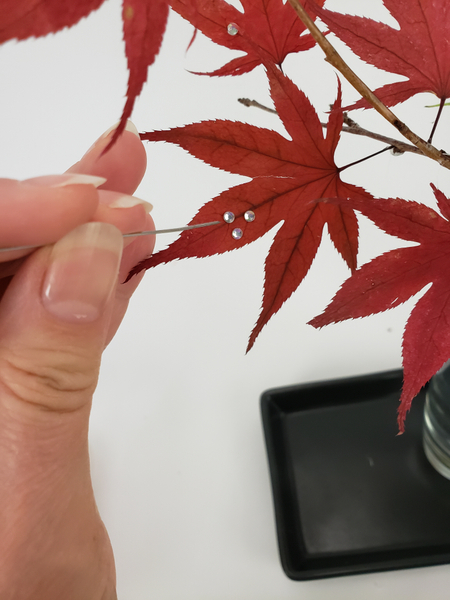 Finish the design by adding a few dew drop crystals... see the Tutorial below for more detailed instructions.
Sign up for my weekly newsletter
Every week I add a new design with related tutorials. Be sure to subscribe to receive an email notification with design inspiration.