My Creative Workbook
Christine de Beer - effortless floral craftsman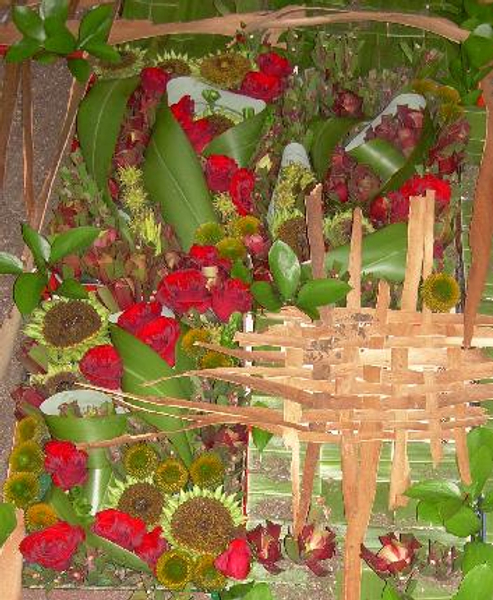 Helianthus anuus
Nature's Treasures, A Floral Art Exhibition at D'Ville Shopping Center Durbanville Floral Carpet with the members of the Durbanville Flower Club. For the mid section I used roses, sunflower heads, bark, potting soil and foliage.
Origin
America especially the Southern and Western regions.
Varieties
You will find both large (20-35 cm) and miniature (10cm) sunflowers. Most varieties cultivated for the cut flower market sheds less pollen than those grown for the seeds.
Colors
most popular sunflowers are the "moonlight" variety with its dark center and sunny yellow petals but you will also find brown, orange, rusty red and a striking dark red purple
Vase life
Sunflowers are thirsty and if you keep them well hydrated it will last for a week. They also dry well.
Scent
If you are familiar with sunflower oil you will recognize it by the scent
Uses
Sunflowers are very dominant and definitely attract attention. It has become fashionable in contemporary design to remove the bright flower petals and work with the dark center of the flower
Conditioning
Give the stems a fresh cut at an angle and hydrate in warm water with dissolved flower food for a few hours before designing. To air dry the flower heads need to be supported. You can either slip it into a paper tube and stand till its dry or hang the flower upside down.
Sign up for my weekly newsletter
Every week I add a new design with related tutorials. Be sure to subscribe to receive an email notification with design inspiration.