My Creative Workbook
Christine de Beer - effortless floral craftsman
Quick and Easy… Add just enough design to a tuft of bunny tail grass to hint at the autumn fun to come
I did this design just for fun-for-on-my desk while I waited for the bunny tails to dry and at first wasn't even going to share it. It is not really a DESIGN- design. But then when I stared at it I realized there is something to be said about it. There is something worth exploring here...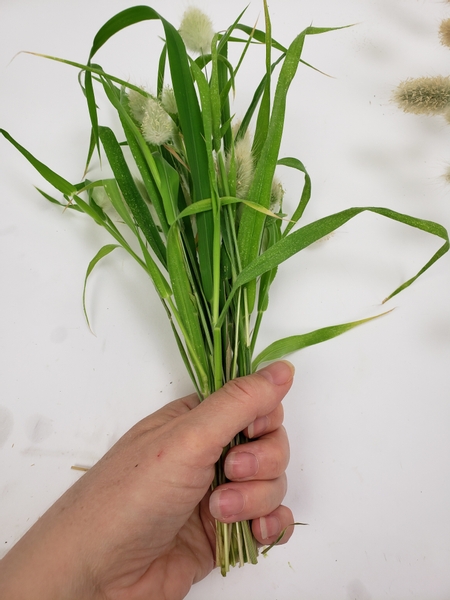 Cut a handful of grass to display in a small container.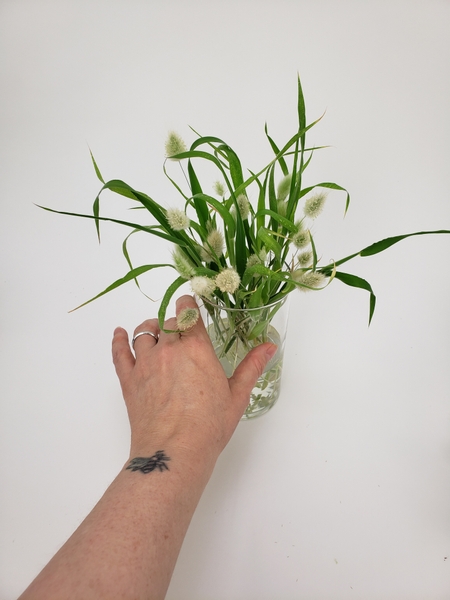 Let the bunny tails settle (shorter than what you would normally arrange them) in the container and arrange them to be pleasing but not overly styled.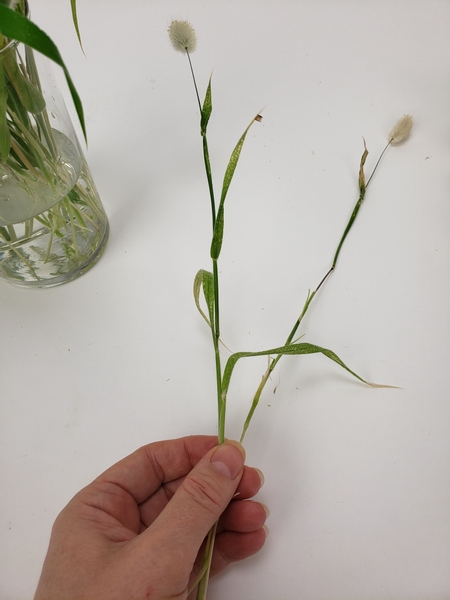 Cut two more bunny tail grasses to become your levitating ghosts...
Oh yes, these ghost grasses are oh so important to create the "look" of the design. It is worth spending a bit of extra time choosing the perfect two. I made a few notes to share with you in our email this week. They turn a handful of grass... into a design! I send out my design tip email every Wednesdays morning (Vancouver time) with just a short discussion of something that I noticed or is worth noticing about each design. You can sign up below this post to receive the email... and reply if you have questions or comments. Or say hi.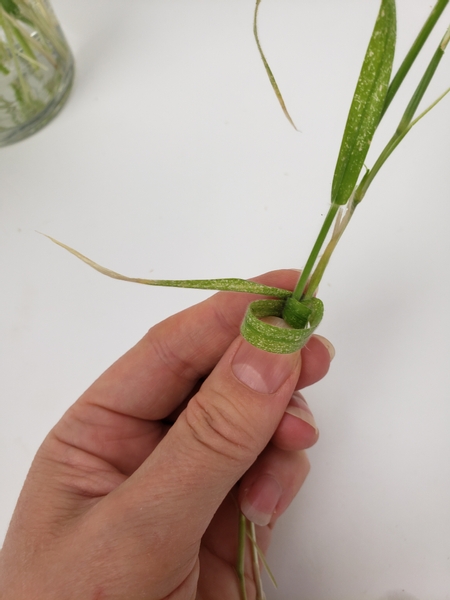 Wrap the grass around the two stems to latch them together...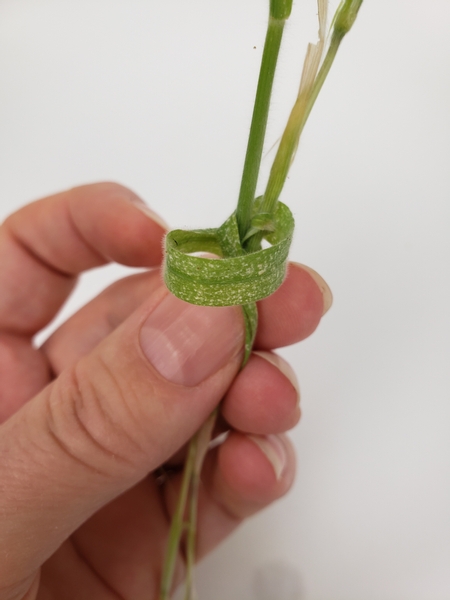 Loop the tip of the blade of grass through...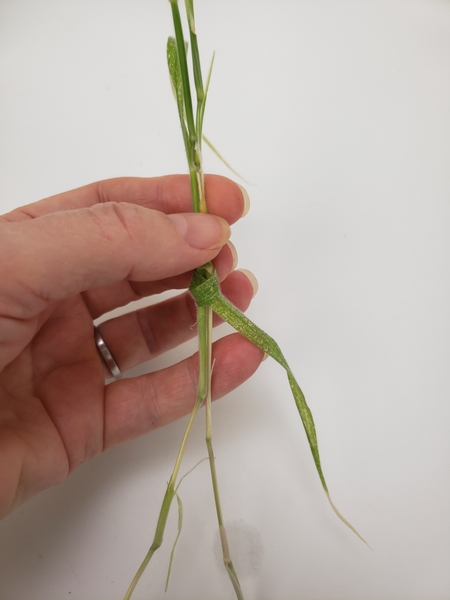 And pull the knot tight to secure.
Learning a few great knots will make your life, as a designer, so much easier. Book readers turn to page 49 where I show you my "go-to" knots. If you want to level up this design a more decorative knot , like the one on page 52 would look great!

For more information about my book: The Effortless Floral Craftsman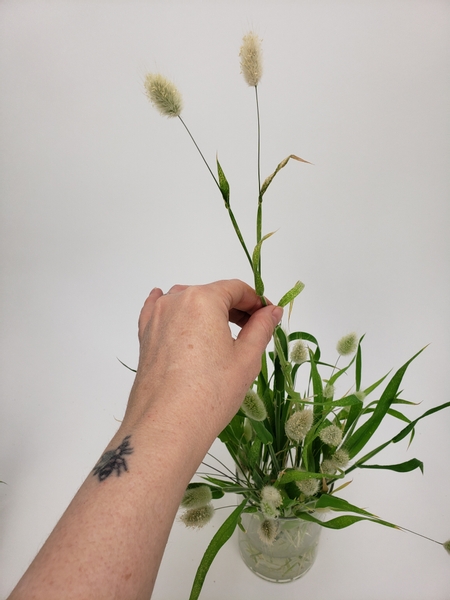 Insert the knotted grass into the container at a slight angle.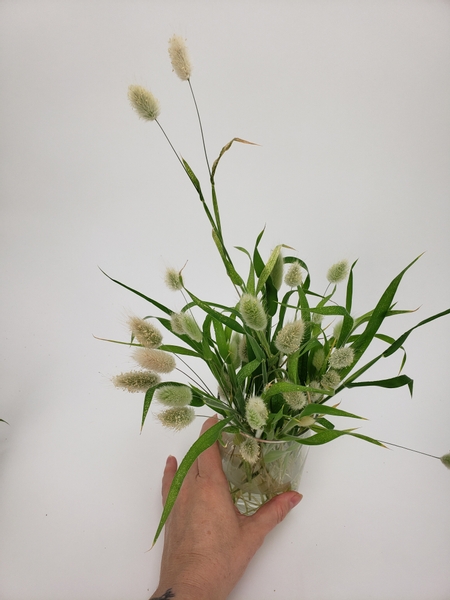 Stand back and stare at the bunny tails for a bit... follow the lines. Imagine the grass ghosts and see if something about the shape or the angle can give you a hint about what the ghosts are doing. How can you enhance their natural character? Is there a bit of fluff somewhere that reminds you of an emotion... enhance that.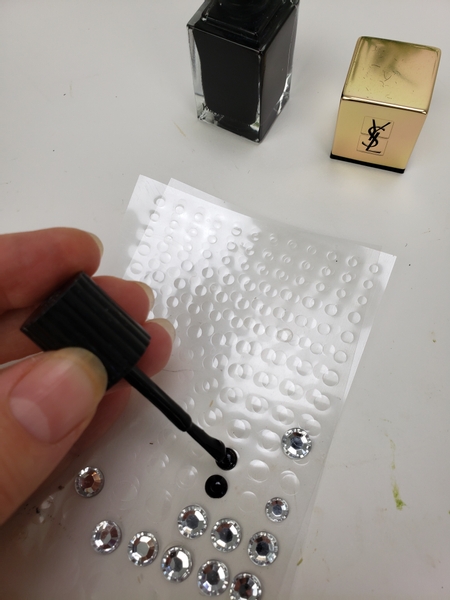 I think my bunny tails looked surprised... like they were leaning slightly back and saying... "whaaaaaaaat???" ... so I painted dew drop crystals with black nail varnish...
If you need more inspiration I have a few more designs linked below that shows you how to create characters.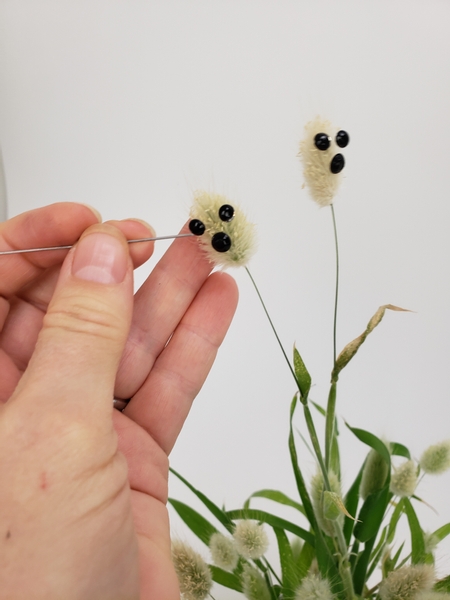 Two crystals for the eyes and one for an "oh!" shaped mouth.
I finished the design by placing these crystals on the bunny tail with a corsage needle to make sure it is secure without damaging my delicate floral details. You can see detailed instructions in the Tutorial below.

Quick and easy!
Sign up for my weekly newsletter
Every week I add a new design with related tutorials. Be sure to subscribe to receive an email notification with design inspiration.