My Creative Workbook
Christine de Beer - effortless floral craftsman
Counterbalance elegantly leaning Calla lilies with dressed up Dried Autumn Details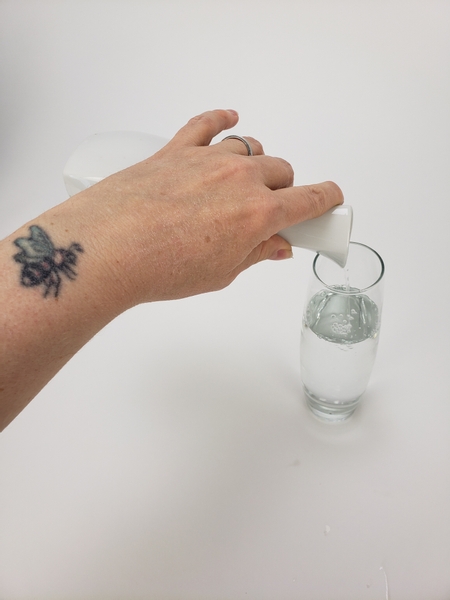 Fill a bud vase with water.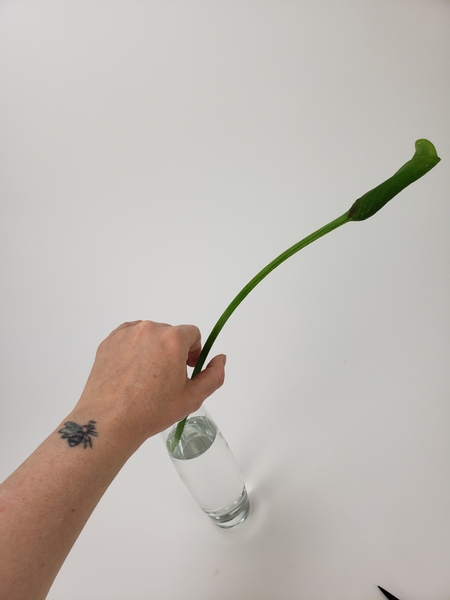 Add a long stemmed calla lily to elegantly slant to one side...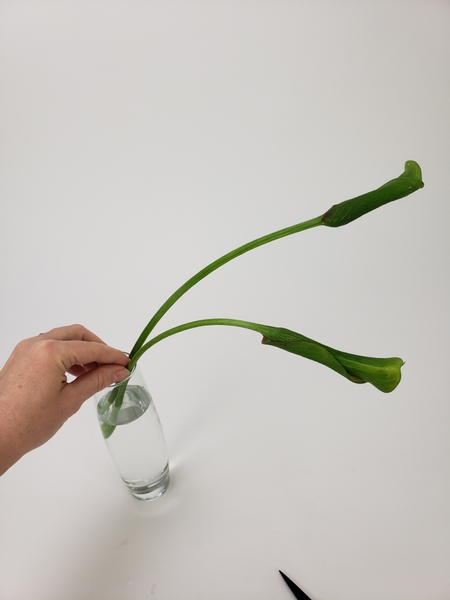 Add in another arum to gracefully curve in the same direction...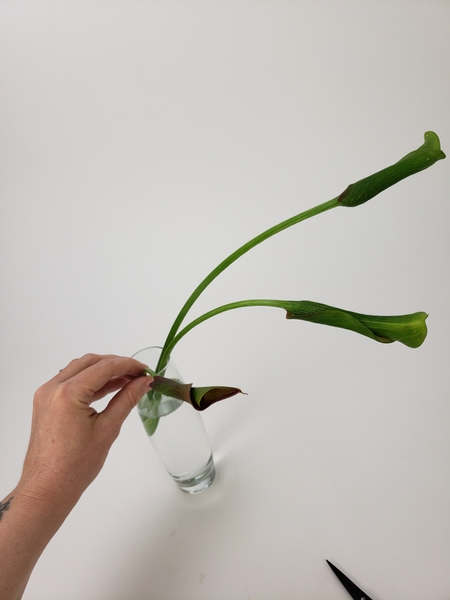 And a third flower stem slightly shorter than the other two.
... but also how elegant and gorgeous are these flowers? Perfect.
Add a few dew drop crystals to dried autumn leaves.
See the detailed Tutorial below if you are curious why... and how I add these tiny crystals with a pin.
Also, if you want to smooth the dried leaves or adjust them slightly I have a Tutorial for that below.
If you find your dried plant material is frightfully brittle turn to page 111 of my book where I show you my go to tricks for working with and preserving dried flowers and foliage.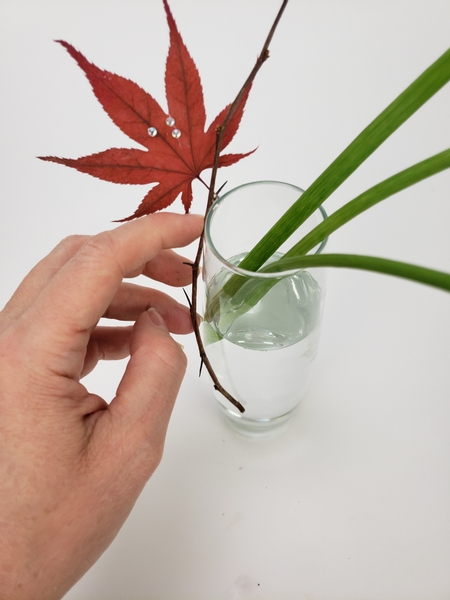 Glue the leaf to a thorn covered twig on the outside edge of the bud vase.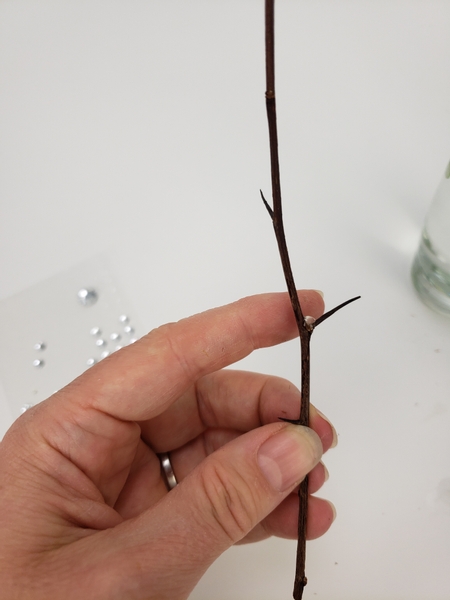 Design note: Add the tiniest drop of hot glue in the fork of a twig... or in this case right there where the thorn and the stem meets...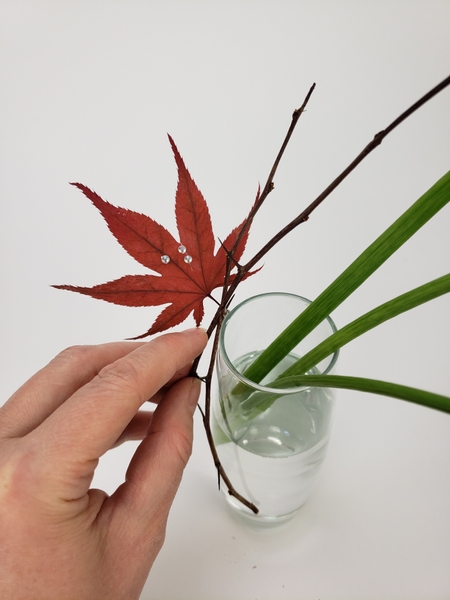 And glue the twig to the other twig by nestling the stem into the fork. This way the twig naturally leans away from the container creating a more natural angle.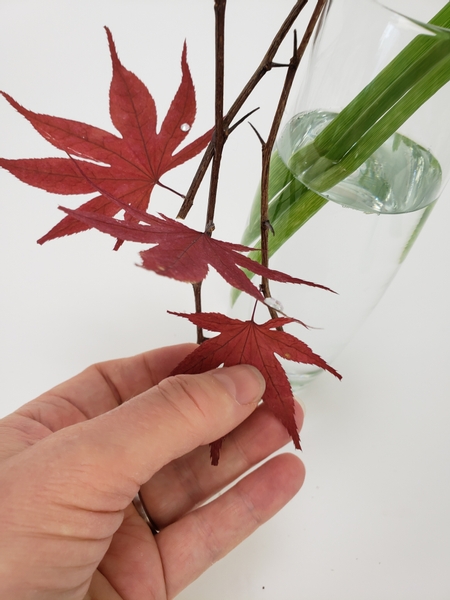 Build up the twig and leaf counter balance by gluing the details.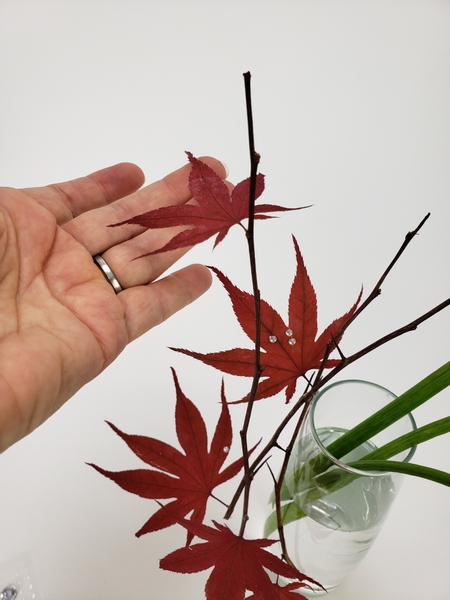 Design tip: to position the leaf exactly how you want it add a small drop of hot glue to the leaf and then place it and support it for 10 seconds to set. If you are in a rush I have a clip solution that will keep the details in place while it sets... see the Tutorial below.
Book readers turn to page 273 to help you decide where the leaves should be placed to create a believable floral illusion.
For more information about my book: The Effortless Floral Craftsman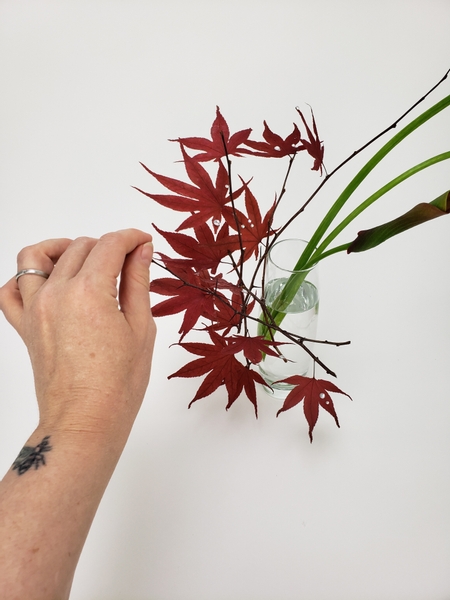 Build up the autumn display of leaves and twigs around the outside of the container.
This week in our email I explain how I decide how many leaves to add. I usually add a tip about the design to the notification email so that readers can benefit from a bit of background details before viewing the design... and reply to the email. The sign up is below this post.
Sign up for my weekly newsletter
Every week I add a new design with related tutorials. Be sure to subscribe to receive an email notification with design inspiration.