My Creative Workbook
Christine de Beer - effortless floral craftsman
U shape stems to anchor Fuchsia drops and Maple leaf Falls in a bud vase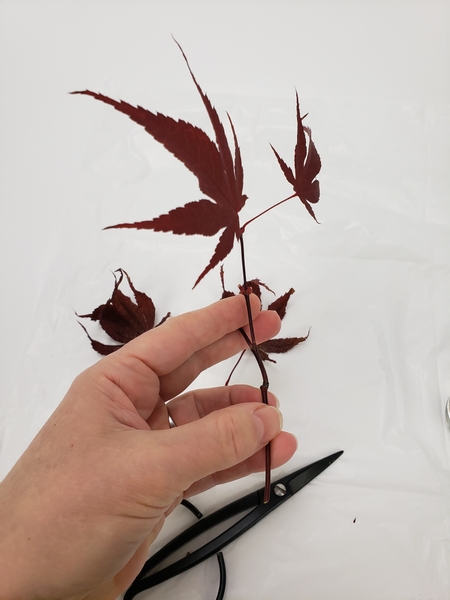 Test your leaf stem to make sure it is pliable.
Oh yes, there is a trick to bending stems exactly where and at the exact angle you need them. Book readers I discuss this on page 284 where I tell you how to manipulate twigs, stems and branches in a natural way. For more information about my book: The Effortless Floral Craftsman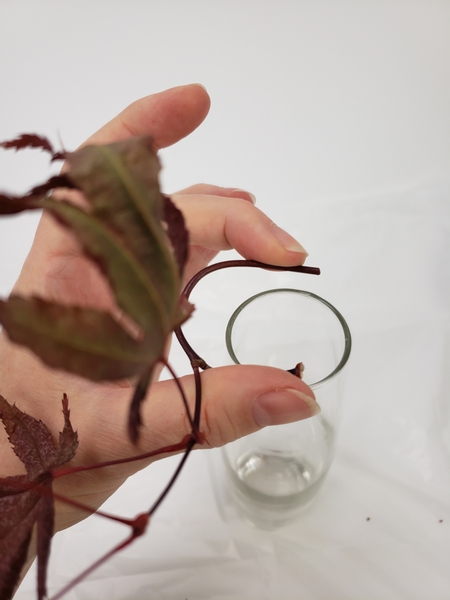 You should be able to curve the stem to fit into your vase without snapping or breaking it.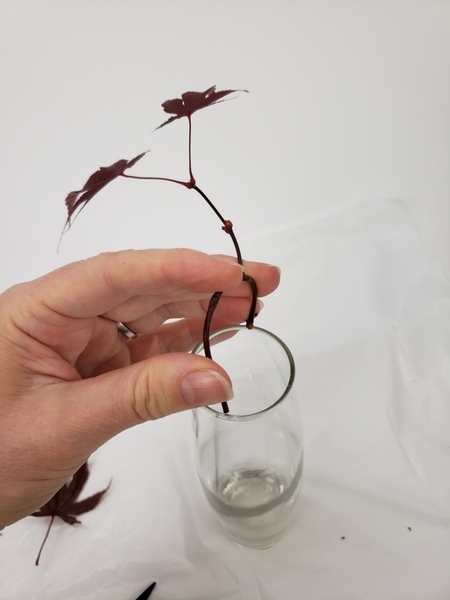 Slip the pliable stem into the opening of your bud vase...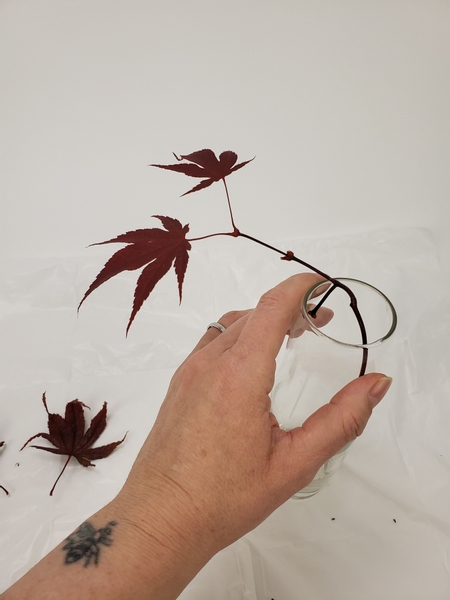 Most of your design details are anchored from this twig, make sure the stem kicks firmly in place.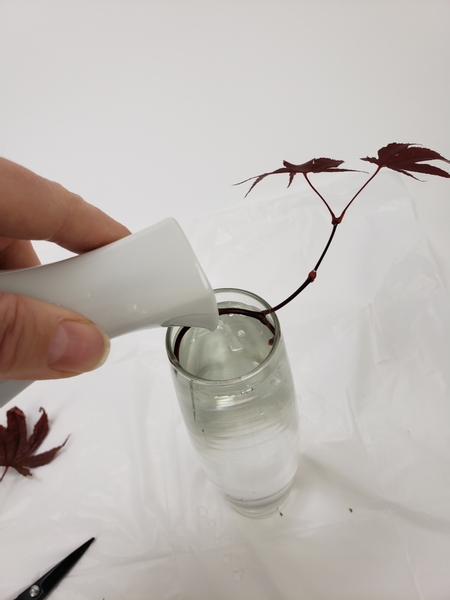 Fill the vase with water to keep the Japanese Maple leaves hydrated while you design.
I am also allowing some of my leaves to dry and curl slightly to help create the lines I need for this design. You can read more about it in our email this week. I send out an email every Wednesday morning (Vancouver time) with a few notes of things I think you might find interesting... or that I found interesting about this specific design for us to discuss in greater detail. If you have comments or questions you are welcome to reply to the email. If you don't have comments or questions and want to introduce yourself or say hi... please do! I would love to hear from you and this email address is a great way for us to connect. The sign up is below this post.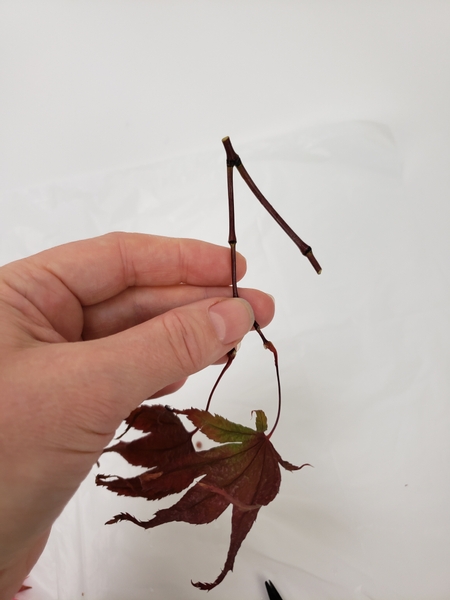 Prune a stem so that you have a neat fork to hook over the side of the vase...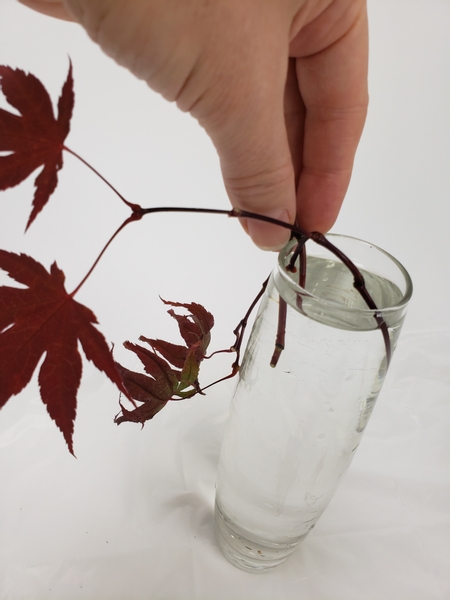 And place it next to the curved stem so that the leaves curve up outside the vase.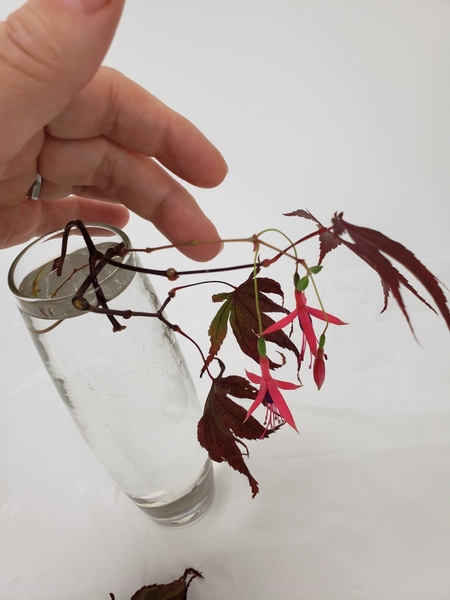 Hook the fuchsia flowers to drape neatly over the maple leaf stem to the side, using the anchored twigs as support.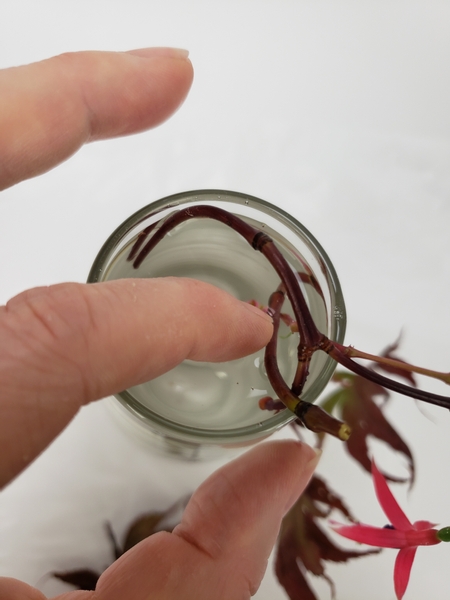 The fuchsia stems should be firmly in place between the anchored twigs to make sure it won't drop out of the water even when picked up.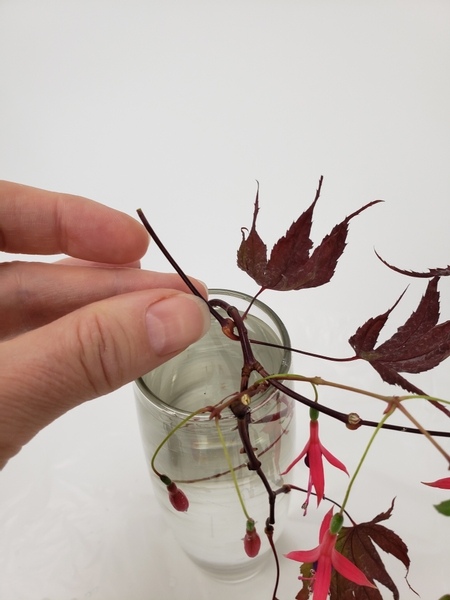 Hook a third pair of maple leaves through the curve to rest on the vase.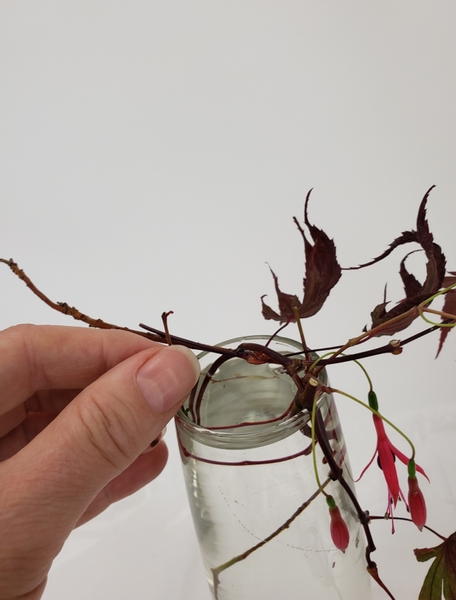 Cut another twig and remove all the foliage. Curve this twig and slip it into the vase to keep all the stems neatly to one side and firmly in place.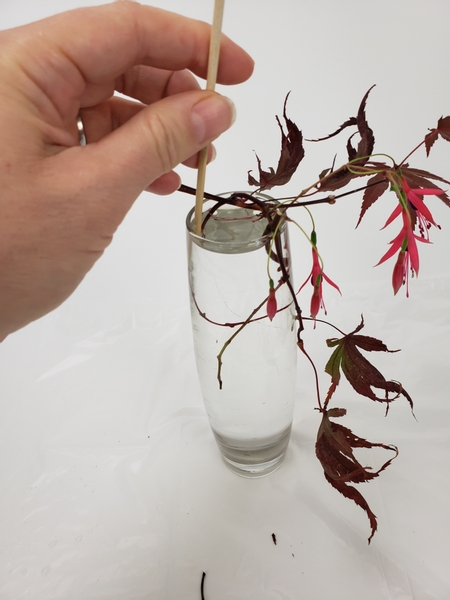 When the twig is firmly in place, take a step back and have a look at the design from the side. You might need to adjust this anchor twig with a long bamboo skewer so that it creates an uncluttered line when viewed from the side.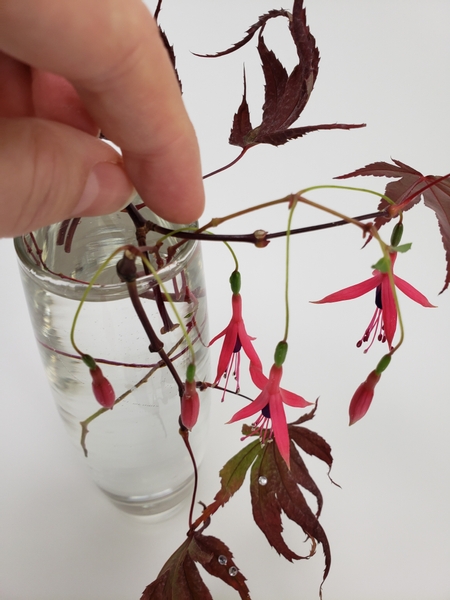 Arrange the drop of the fuchsia flowers so that they drape prettily over the twigs and leaves.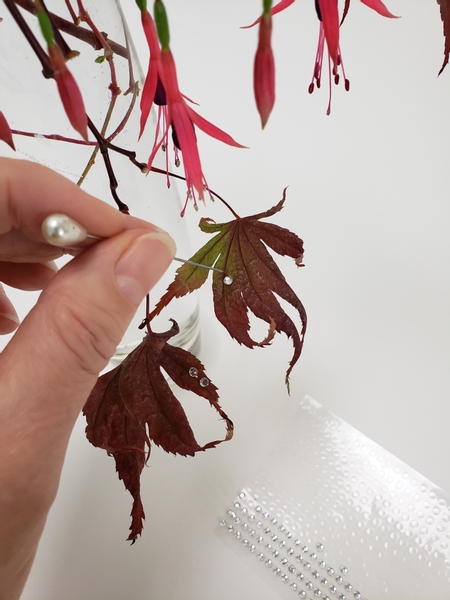 And finish the design with a few dew drop crystals. But be careful these leaves are brittle when they are dry.
See the detailed Tutorial below for how... and why I add the crystals with a corsage pin.
Sign up for my weekly newsletter
Every week I add a new design with related tutorials. Be sure to subscribe to receive an email notification with design inspiration.