My Creative Workbook
Christine de Beer - effortless floral craftsman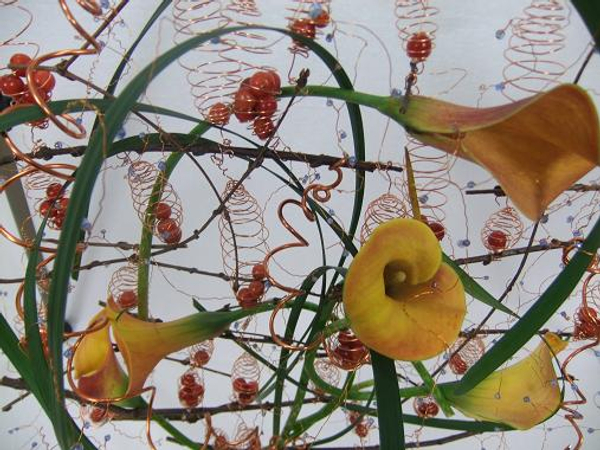 Zantedeschia
Calla lilies in my Direct Contrast design for the Floral Trends Design Group
Common name
Calla Lily, Arum Lily
Origin
South Africa, where the white flowers grows wild
Varieties
New varieties improve on vase life and are available in miniature. Increasingly more distinctive shapes are also available.
Colors
green, white, cream, yellow, dark purple, black, orange, mango, pink, and bi-coloured
Vase life
Up to three weeks. Tape the stem tip with water proof tape to keep the fleshy stem from splitting open.
Scent
slight floral fragrance
Uses
Fantastic to curve and drape. Also great for spiral designs. One of the few exceptions, when it comes to competition design where you can place a calla lily without a water source because it will remain turgid for days.
Conditioning
Calla lilies need deep water to hydrate properly. Give the stems a cut and set it in water to hydrate. When designing with callas make sure you protect surfaces from the sap as it will stain. The stain will be even more visible after washing! The stems ends will curl if you design the flowers in deep water.
Sign up for my weekly newsletter
Every week I add a new design with related tutorials. Be sure to subscribe to receive an email notification with design inspiration.