My Creative Workbook
Christine de Beer - effortless floral craftsman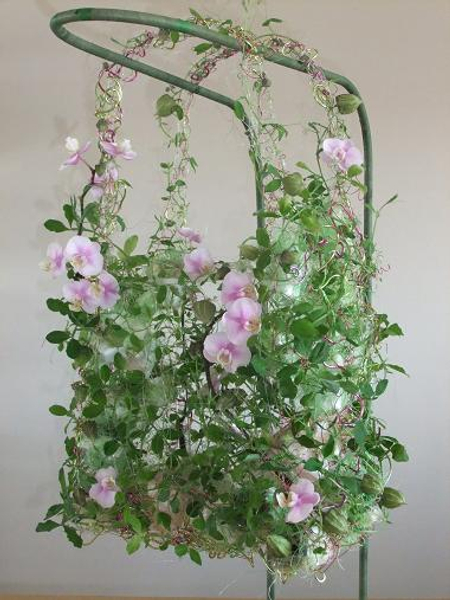 Lathyrus
This design was entered in the craft section of a show. I grew my bag over 12 weeks. Each day I would guide the tiny fresh growth of the Sweet Pea plants to completely cover the wire structure. Also pictured are miniature Phalaenopsis orchids and cape gooseberries
Origin
Southern to Central Europe
Varieties
The annual varieties have a strong fragrance and the perennials are grown for their tendrils. New varieties improve on vase life and are very popular as a cut flower.
Colors
white, cream, red purple, lilac, pink, violet, red, orange, burgundy, salmon, apricot and bi-coloured
Vase life
Seven to ten days with proper care. Avoid bright sunlight and humidity
Scent
Very fragranced. Especially varieties from Italy
Uses
I just love sweet pea tendrils. Unfortunately the flowers grown for the floral industry do not have the wonderful tendrils- those you have to grow yourself. Luckily this is easy, fast and hugely rewarding. It also has the most magnificent seedpods. The flowers look fantastic in a rustic just picked in my garden type arrangement. Perfect choice for romantic or fairy like designs for flower girls. Very feminine
Conditioning
Do not spray the flowers with water. It disfigures the petals. Strip the stems of foliage that might be below the conditioning water line. Give the stem a fresh cut at an angle and condition in warm water with dissolved flower food for a minimum of two hours but preferably over night.
Sign up for my weekly newsletter
Every week I add a new design with related tutorials. Be sure to subscribe to receive an email notification with design inspiration.