My Creative Workbook
Christine de Beer - effortless floral craftsman
It is High Time for Tea. Floral Craft and Art demonstration at the The Capilano Flower Arranging Club meeting
From craft to art- taking a delicious floral journey with technique

This is an overview of the Floral Art and Craft Demonstration at The Capilano Flower Arranging Club. Over the next few weeks I will add each design in detail and include all the tutorials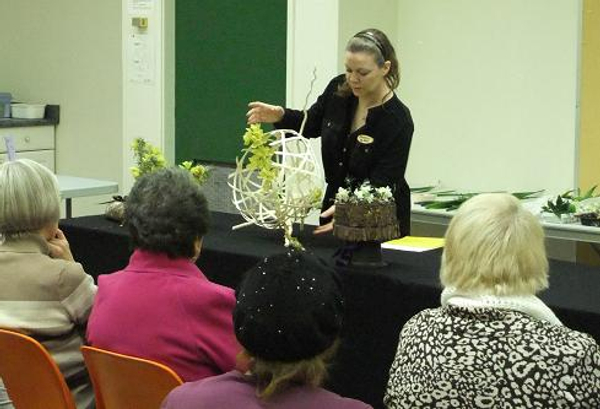 I demonstrated three floral craft cake designs and three matching floral art designs using the same design techniques and I incorporated my three techniques, where possible, in the other designs just to show how versatile it is.
Technique 1: Weaving

Here is a link to the two designs with their Tutorials: It's High Time for Tea: from craft to art, taking a delicious floral journey with weaving techniques

To weave is to interlace bands or strands or strips of material at right angles to build up a patterned mat, surface or sculptural form.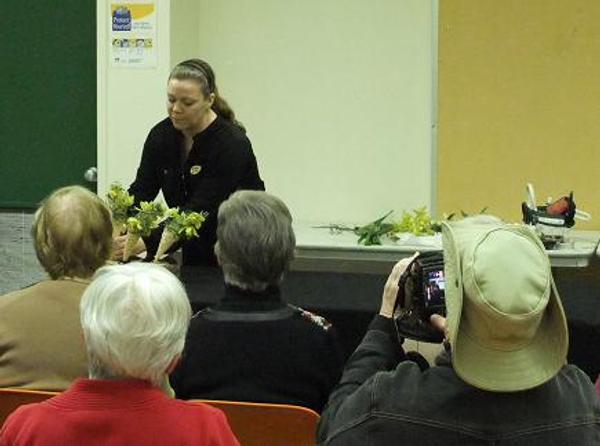 For my neat Kyogi paper ice-cream cone designs I demonstrated how to do a balanced plain weave, turned diagonal and then shaped in a cone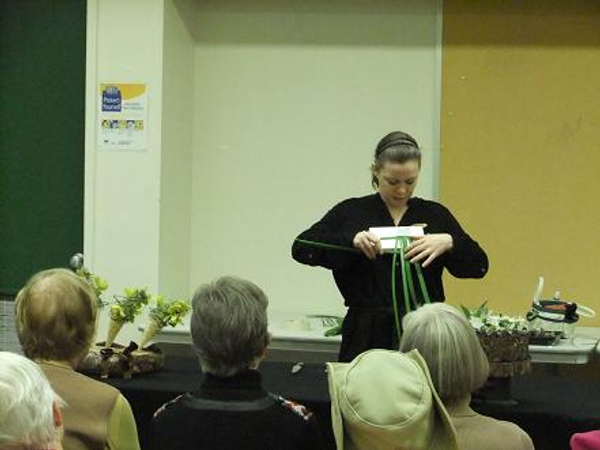 A plain weave looks like a checker-board...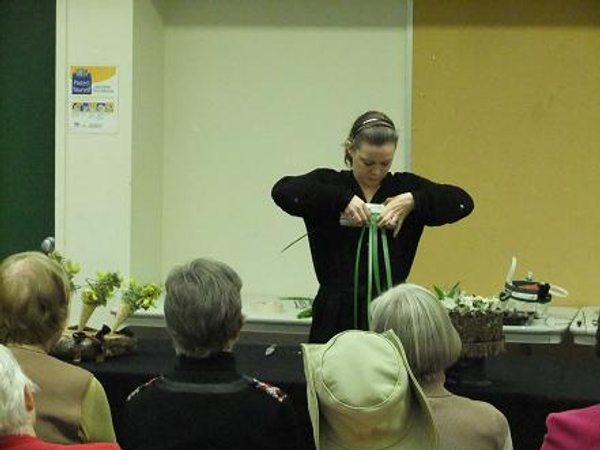 ...and is often described as a "one-up-one-down weave" or...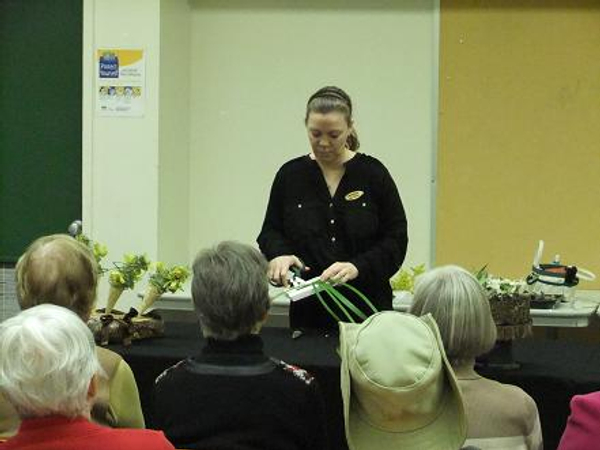 "over and under" pattern.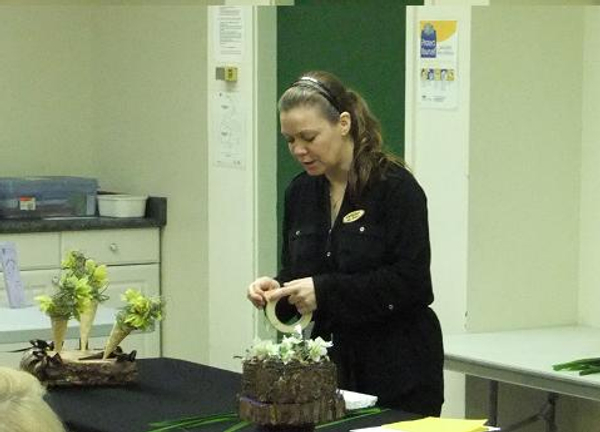 For the ice cream part of the design I glued a few strands of ripped dried cymbidium orchid leaves and wove it in and out and around the tiny test tubes and orchids to secure it in place
By combining a neat plain weave with a messy, less dense weave you can create a design that changes from arranged to disordered without being overly obvious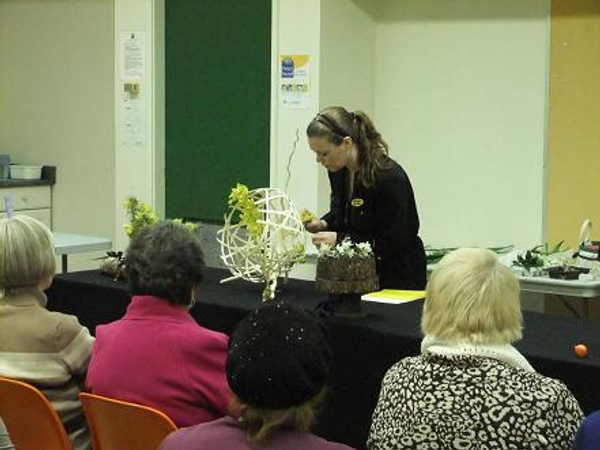 I then showed how to use the weaving technique...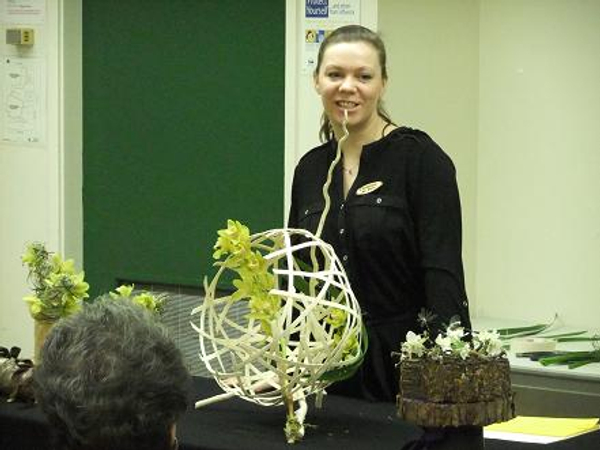 to make a less dense sculptural form...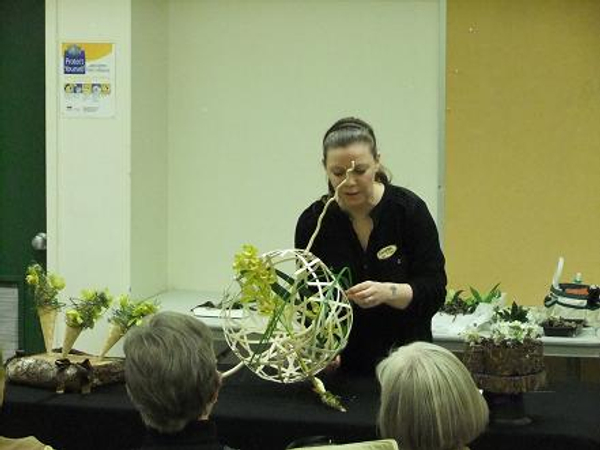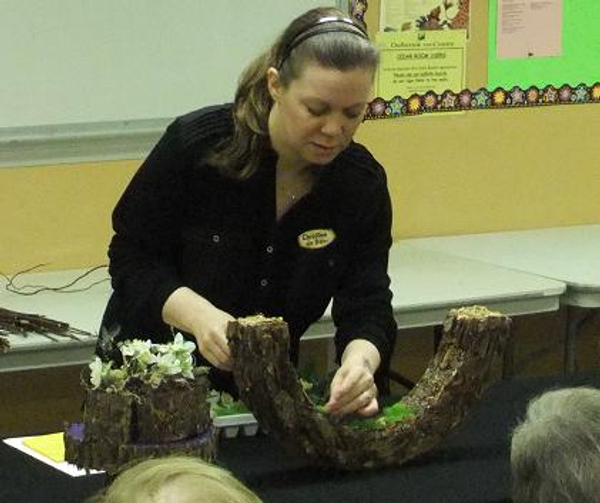 For my bark veneer cardboard cake design I demonstrated how to layer cardboard and cover it with bark using wood glue giving the stack the appearance of a log or chocolate cake.
The wood glue also seals the cardboard and adds strength to the design.

I then showed how the same veneer technique can be used to create a, sharp edged arc armature, for a floral art design.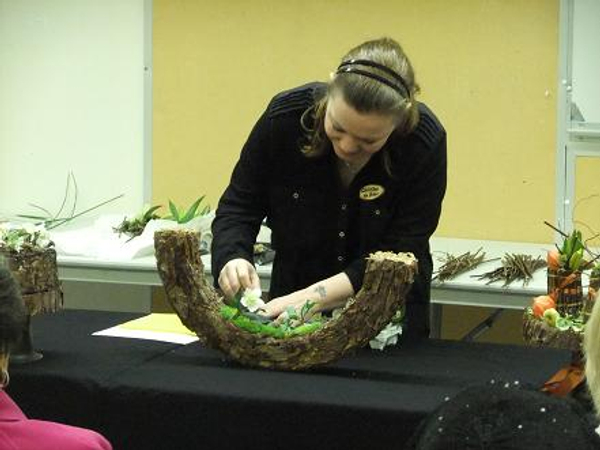 A bark chip veneer is a great way to create a precise shape that looks natural but can't be found in nature.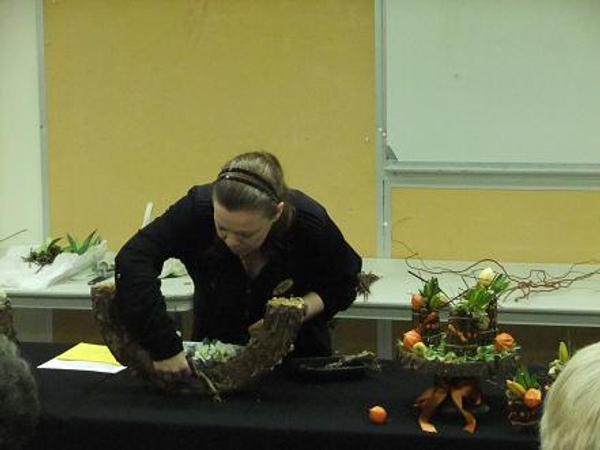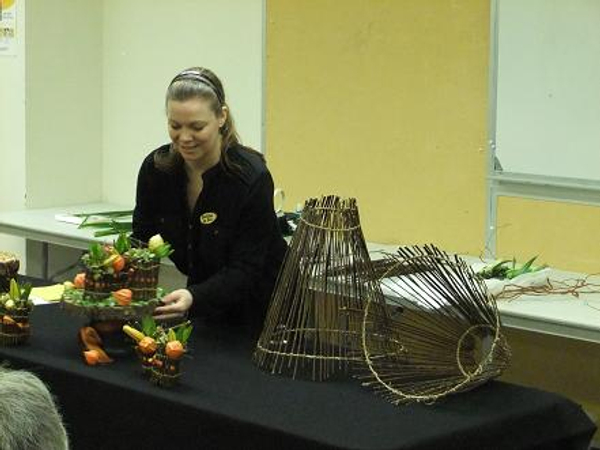 For my wire twig cupcakes and funnel shaped pick-up-sticks design I chose bind wire to attach the twigs to metal rings
The bind wire (a paper covered wire) creates a strong and stable armature without stealing any of the attention away from the plant material.

See the Tutorial below on how to make your own Paper Covered Wire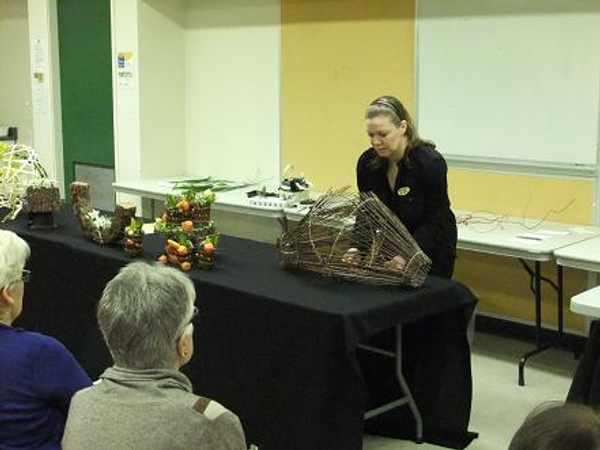 For my floral art funnel shaped pick-up-sticks design I demonstrated the value of a stable wired construction...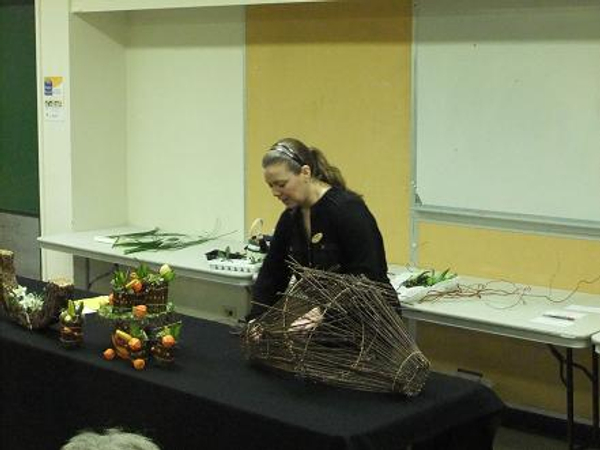 ... by finishing the design with twigs and lilies that are just loosely laid over the design, or hanged from twigs with forks in cut like a natural hook, or suspended with a wire hook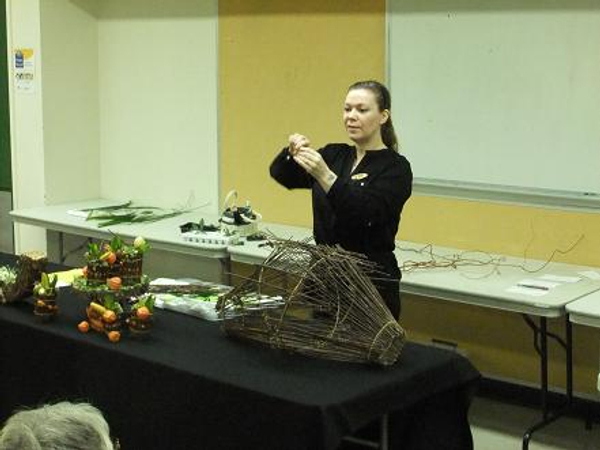 None of the twigs were fixed to the original armature.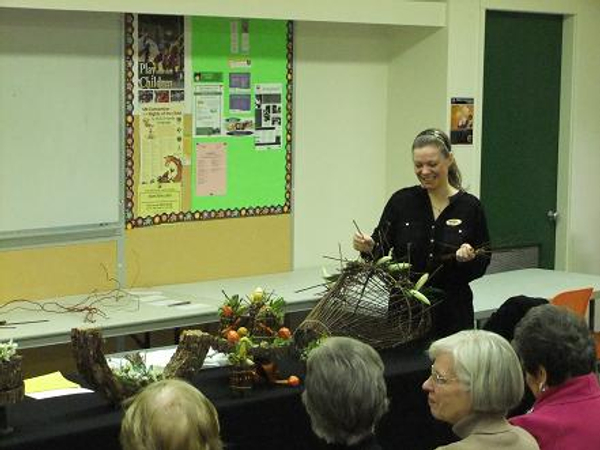 As I build up the design it becomes more and more stable...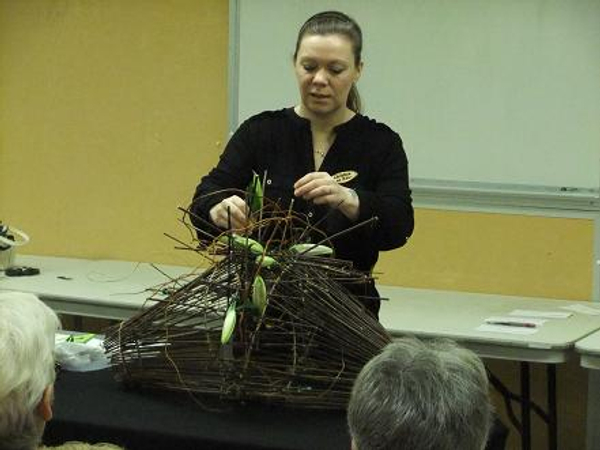 ... until all the loosely suspended twigs form a supportive unit resting on the wired funnel foundation.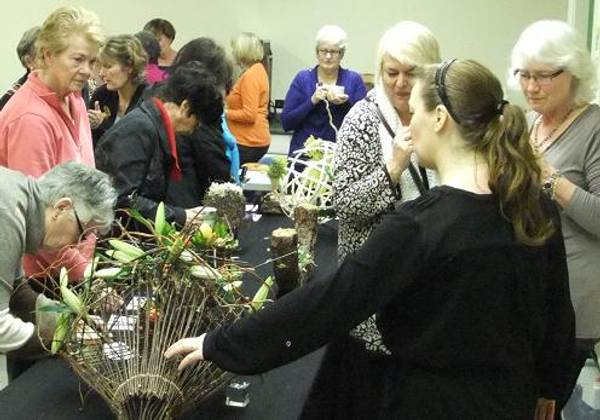 Thank you to the members of The Capilano Flower Arranging Club for inviting me to share my ideas with you.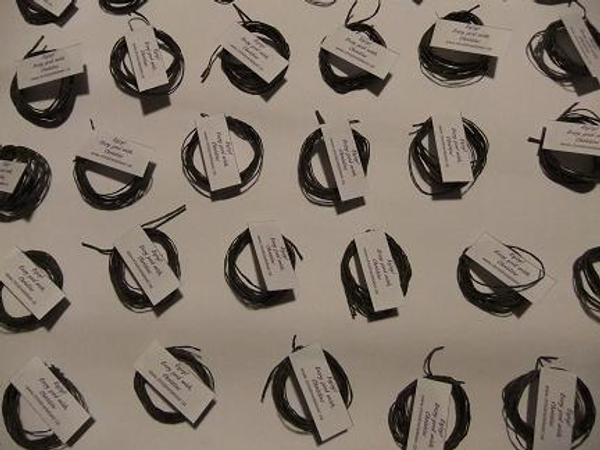 The demonstration favors were the green version of binding wire I used in my demonstration.
Sign up for my weekly newsletter
Every week I add a new design with related tutorials. Be sure to subscribe to receive an email notification with design inspiration.