My Creative Workbook
Christine de Beer - effortless floral craftsman
How to dress a shop bought artificial wreath to go from meh to: it looks so real!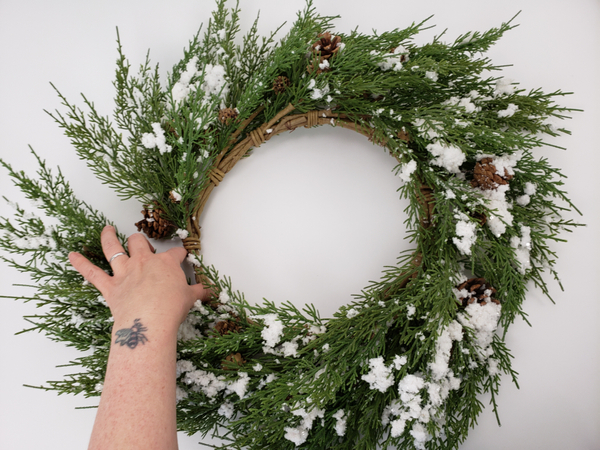 This is our starting point. It is a great quality wreath from Gardenworks. It is just a bit... well... obviously faux to begin with.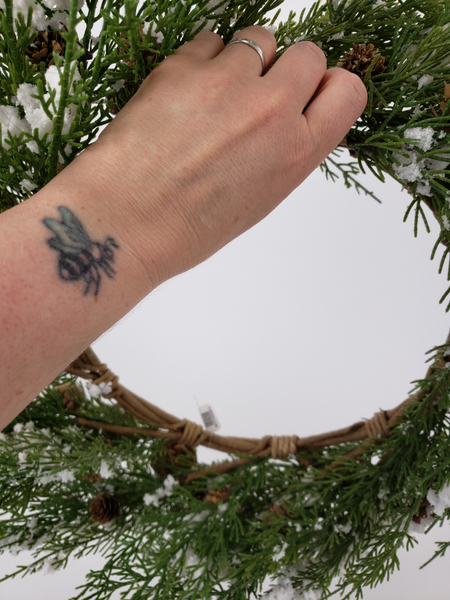 Hold up the wreath as you want to hang it and see how it shapes up. This one is a bit floppy to my taste and again... so obviously faux. These are the first issues I will deal with before designing. Just like with fresh plant material where you groom and condition the plant material you have to do the same with artificial stems and branches.
See the Tutorial below for my top 15 tips on how to design with permanent botanicals.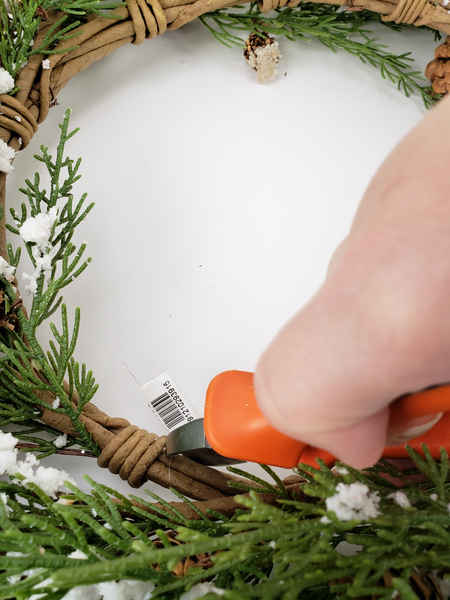 Snip out any price tags or bar codes.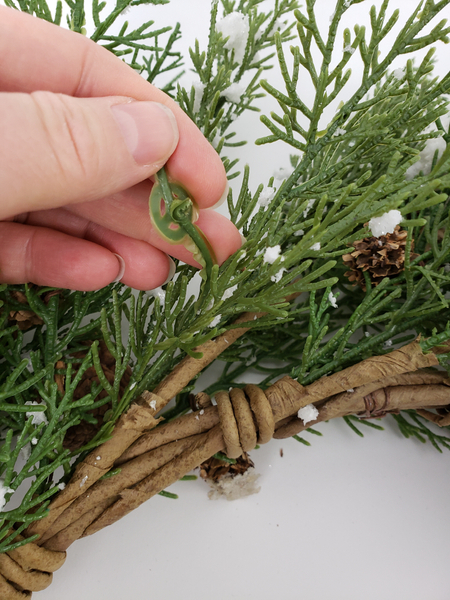 Give your wreath a thorough inspection to remove any plastic bits that might have been left behind when it was moulded.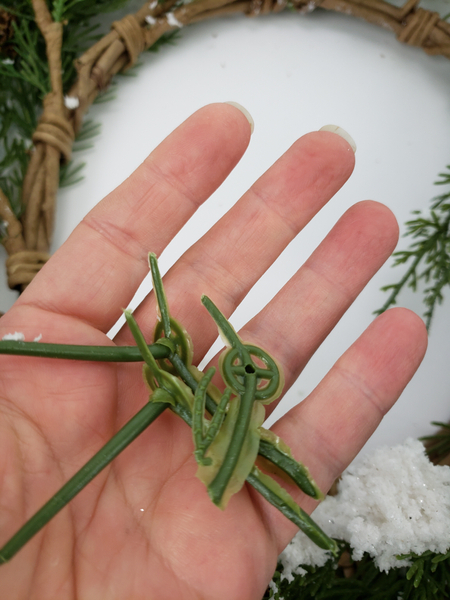 Cutting these out will immediately improve the entire look of your faux wreath.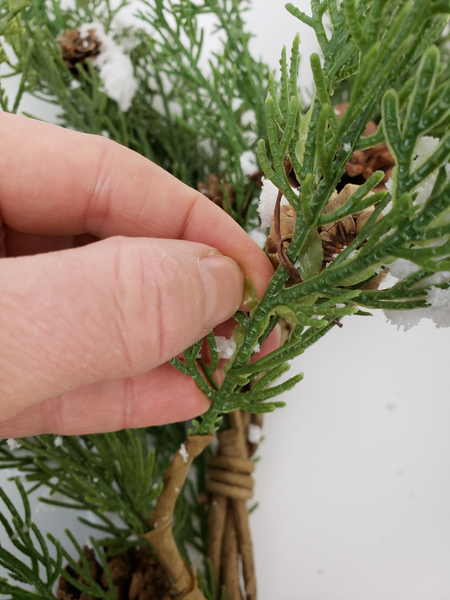 Then go back and remove all the thin bits of plastic. Again this little bit of extra effort makes such a huge difference in the final look of your design.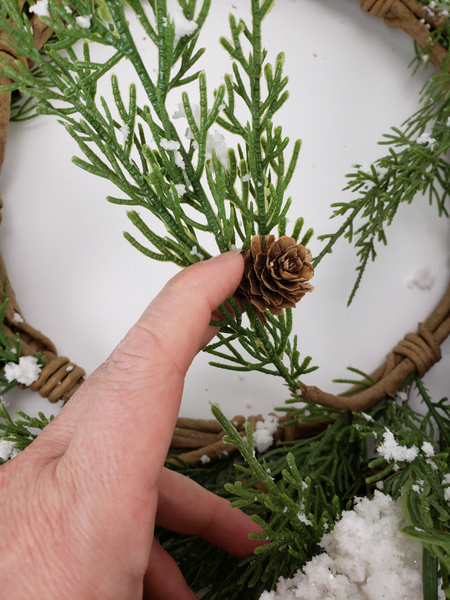 Inspect all the decorations that are already on to make sure they are in good condition.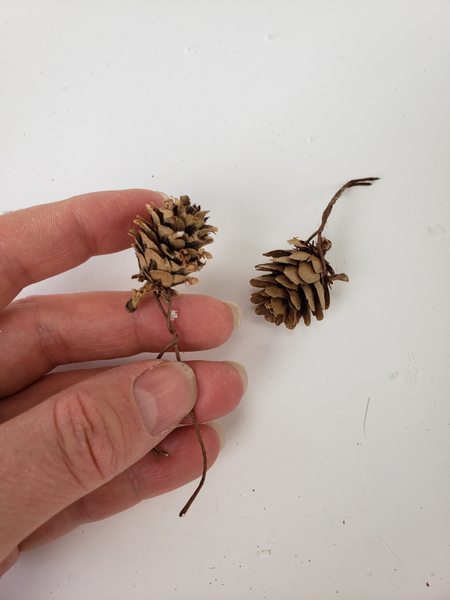 Rewire anything that is not in perfect condition.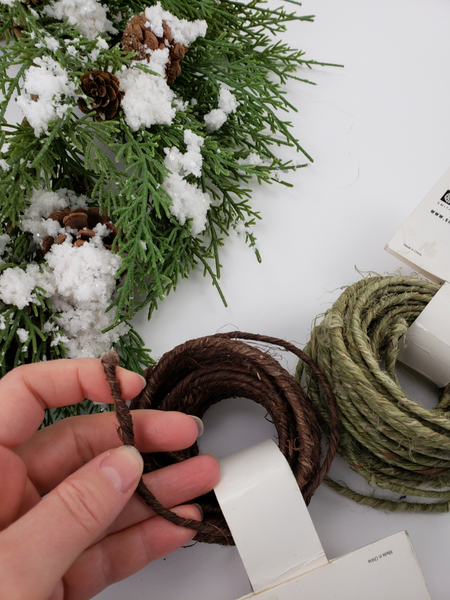 I will start by rewiring my wreath. Instead of normal wreath wire I am using bark wire so that the wire can also give the wreath more structure to carry the heavy decorations and make it less floppy.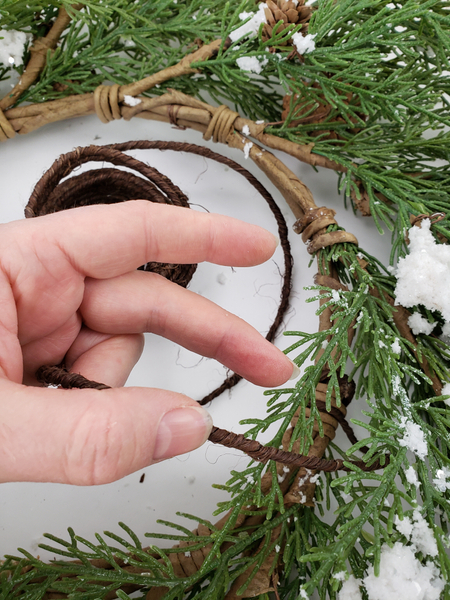 Secure the bark wire to the wreath by twisting it on itself.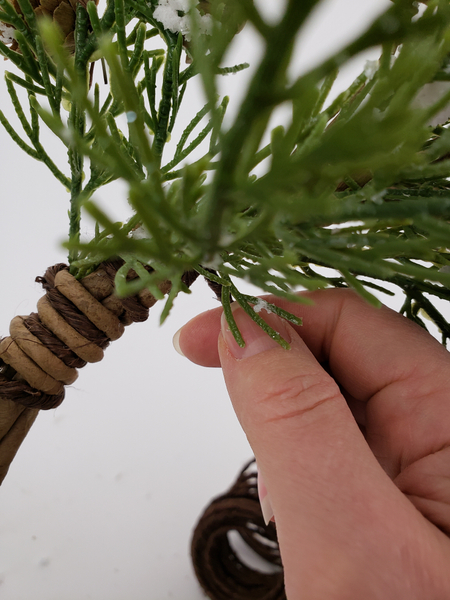 Wrap the bark wire tightly around the wreath. Because the wreath comes without a wreath frame this wire also acts as a frame once you start decorating.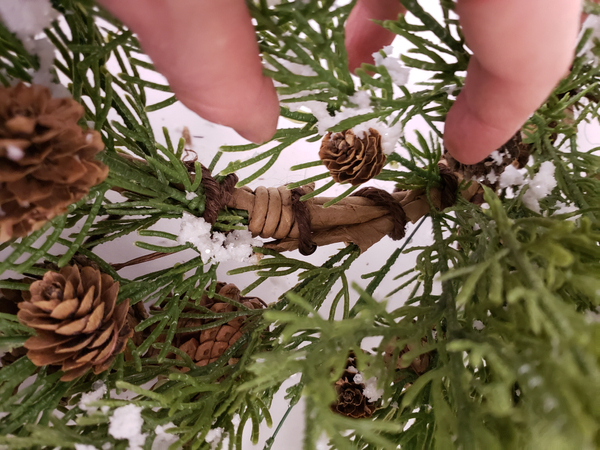 Re-position and wire the side branches of the wreath to give it better shape as you go around the wreath.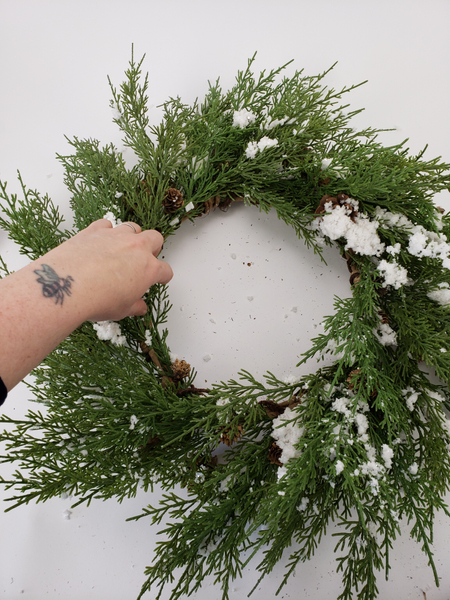 My rewired wreath is now ready for me to start manipulating and shaping it.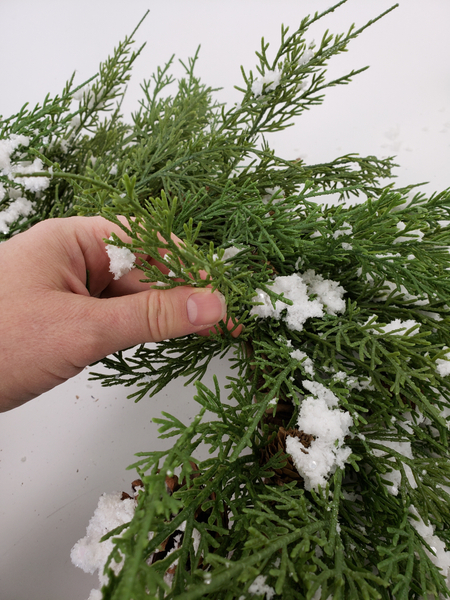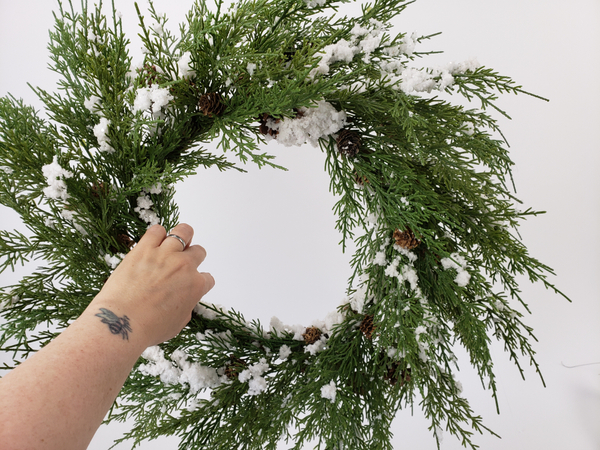 And bend the wired stems so that they radiate out and around.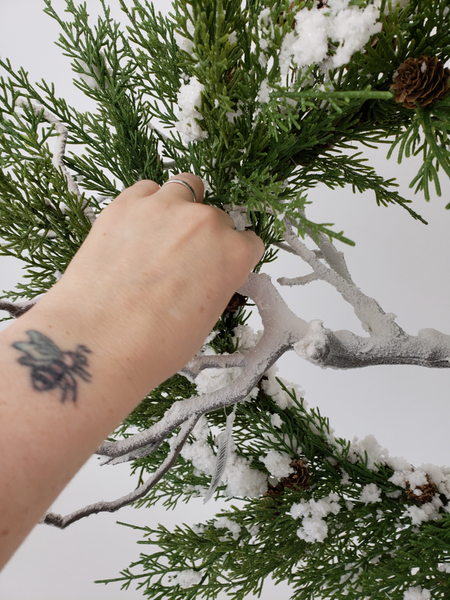 Add all those design details in that makes it distinctively "you". For me it is this snow covered branch, adding not so shiny baubles (yes, I am a minimalist at heart and even at Christmas I shy away from overly shiny stuff. See the Tutorial in the Tutorial section below on how to make those) and a tangle of ribbon instead of a bow for a real winter wonderland wreath. Again, the Tutorial for the ribbon tangle is also below in the Tutorial section.
I have more details on how to add bits of your personality to your work, how to discover what exactly that is and how to protect your unique creative spark in today's design world in my book. Book readers turn to page 257: Effortless style to read more.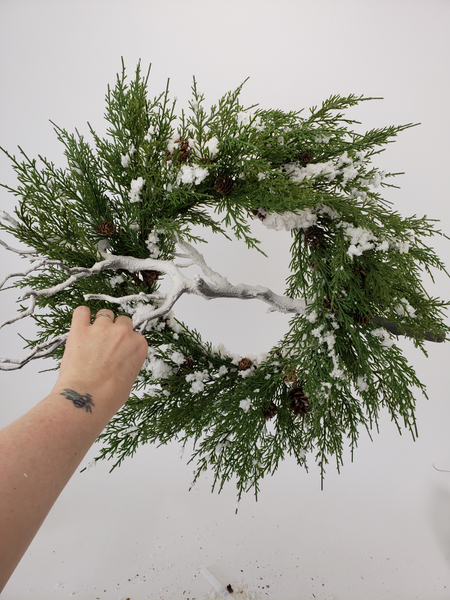 Place the branch so that it extends to the back and the front to create dimension
This week I also have a bonus tip for subscribers about this. Make sure you are subscribed to my weekly email to receive advance notice of the newest design and also read the exclusive tip.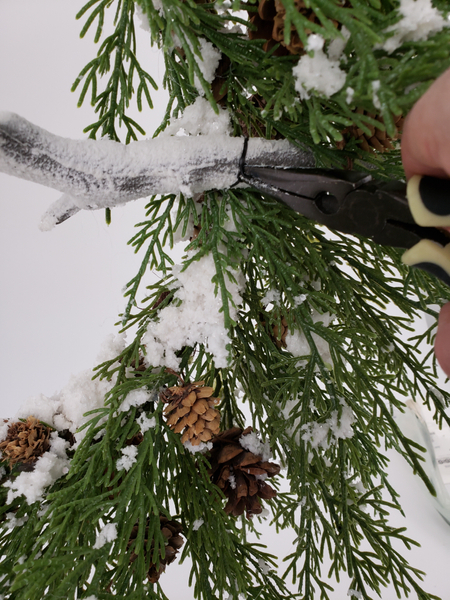 Wire the branch to the wreath frame to make sure it is secure.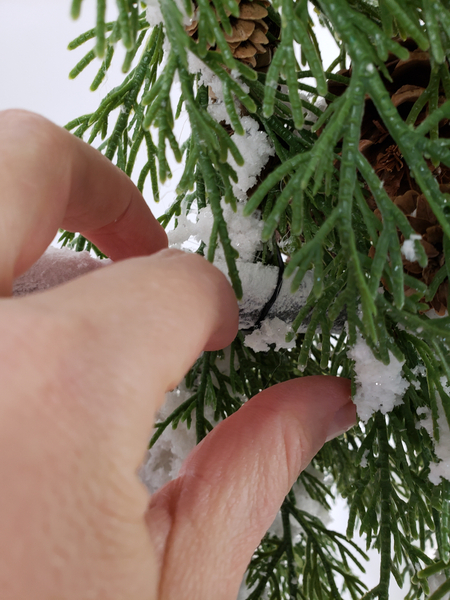 Make sure the wire is not visible by securing it behind the branches... and...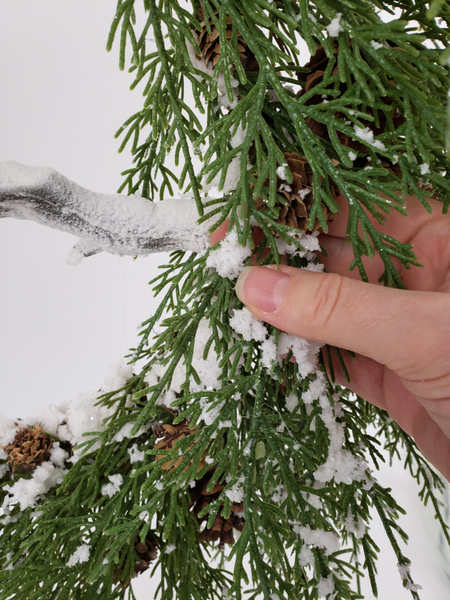 Conceal the wire with artificial snow.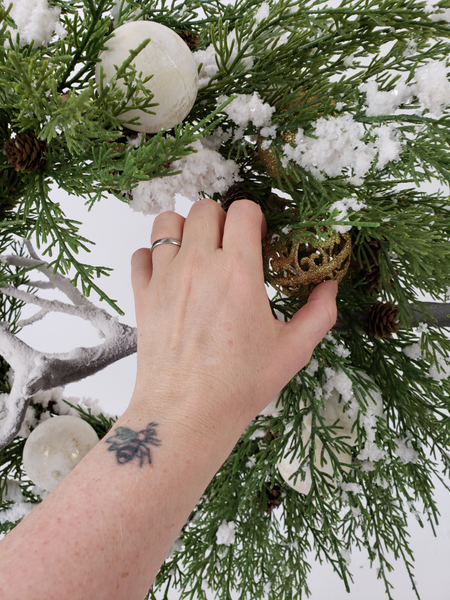 Wire in the baubles. The Tutorial for the frosted bauble is in the Tutorial section below.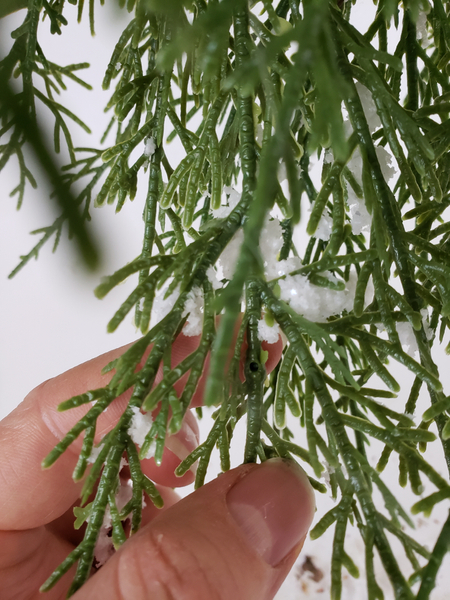 Give the wreath a final inspection to look for any tell tale signs that this it's a faux wreath...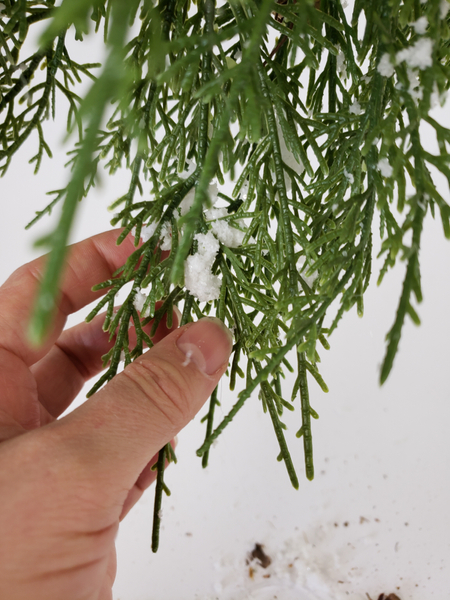 And cover the imperfections with artificial snow.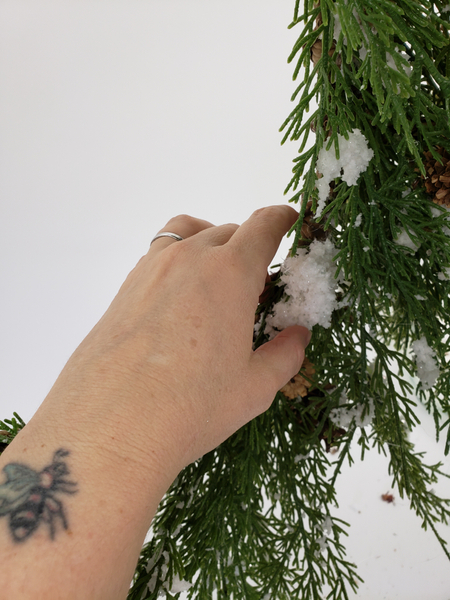 Lastly I added more snow to create an illusion to connect the entire design and make it look like a unit. See the Tutorial below for How to fake a blizzard in floral designs
Book readers: page 273 will give you a lot more design inspiration on exactly how (and why!) to create an illusion in your designs.
Sign up for my weekly newsletter
Every week I add a new design with related tutorials. Be sure to subscribe to receive an email notification with design inspiration.